Every weekday morning (almost), I get up with my husband at 5:15. I make him a handheld hot breakfast and one of my easy, packable lunches. I give him a smooch and send him out the door.
I'm a great wife, but that's not the only reason I do it. I do want him to eat healthily and take care of himself. But really, that's not why I do it either.
I. Am. Cheap. My main drive to get up at 5:15 am Monday through Friday is because I do not want him to spend $25 a day for breakfast and lunch.
FREE Meal Plans And Grocery Lists!
delivered straight to your inbox – sign up below
I had a conversation with him last week about money. I was curious about what he thought when he expected money to come in.
I was pretty sure I knew the answer – being married for 25 years.
If he has extra money coming in, for example, income tax return, what does he think about first? Does he think: I should invest this into a Roth IRA? Should I beef up our emergency fund? Should I add a new roof to the garage?
Nope.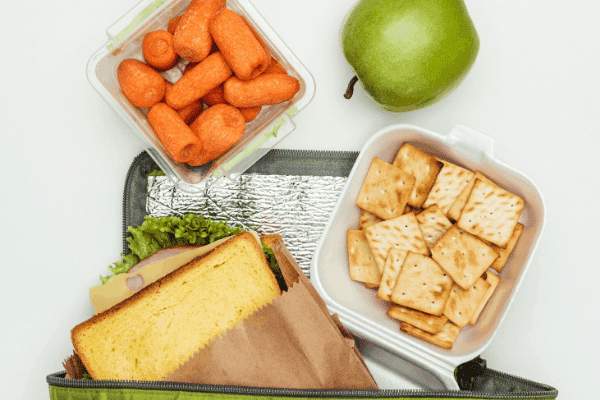 When asked, the first thing he thinks of is…What can I buy?
He is at Home Depot right now, getting moldings for the upstairs. He has been there for 3.5 hours.
I just texted him to make sure he was ok because the weather worsened.
So, because my husband is a spender and not a saver, I know that I have to set up the situation so there is little to no opportunity for unnecessary spending.
And because it is five in the morning, these have to be easy, packable ideas. I cannot tell you the number of times I have forgotten something because I was half asleep. Easy, packable ideas are the name of the game.
Make Lunches To Save Money
My husband leaves the house at about 5:35 to be at work by 6. There is no way he will get up at 4 AM to sit down, have breakfast, and drink his coffee before he leaves.
He heads into the office so he can participate in the morning meeting, and then his team gets their assignment and heads out in the crew truck.
My husband is on the road traveling from one power plant to the next power plant. He is not ever in one place, and there isn't any place to warm up leftovers.
FREE Meal Plans And Grocery Lists!
delivered straight to your inbox – sign up below
Also, many of these hydros are not near a place to purchase lunch without getting in the company vehicle and driving for a bit. It's best to send him lunch. The same goes for many other professions- these are great cold lunch ideas for construction workers who might be in the same boat.
Then, the other guys will stop at the corner for "breakfast and coffee'. To keep dropping $10 on a breakfast sandwich and a coffee, we prep the coffee maker the night before and set the timer.
I think this is better than a Yeti. It stays hot ALL DAY, and it doesn't leak. We invested (actually, I found it on clearance at Target) in a Contigo travel cup, but you can find these on Amazon, too.
So if he wants to save coffee for later, he can just put it in the side pocket of his lunch box with no worries.
He also has a manly large cooler-type lunch bag like this one from Amazon.
It fits everything in quite well and keeps my cold lunch ideas for my husband at the proper temperature.
Then, I make him an egg and cheese breakfast wrap to eat on the way to work.
Savings: $10
A delicious lunch is also prepared with plenty of food. I would instead pack more than he needs than not enough. With plenty of snacks to deter an impulse purchase later in the day.
This all has to be good cold food because he doesn't have access to a microwave.
Consider that coffee break between that early morning breakfast and the noon lunch.
Pack a protein bar, a bagel with cream cheese, or a muffin to stop an impulse buy at the donut shop.
A meal with a side and a drink will cost around $10. And then a snack in the afternoon – muffin, chips, or brownie and a juice will be another $5.
Savings: $15
I make lunches to save money, but I also make breakfasts and coffee and provide snacks. All in the name of money savings.
5 Tips For Thrifty Work Lunches
My husband's lunches need to taste good, and they need to be eaten cold. But they also need to be simple, easy, and economical.
Because if they aren't, what's the purpose of doing all that work.
So here are some of my tips to save money. While also making some thrifty work lunches that will meet the rest of the above criteria.
As with any household management task, meal prep is essential when packing lunches. When creating your meal planning outline for the week before you make your grocery list, consider the meal plans for lunches.
Think repurposed leftovers. Cook tonight for tomorrow's lunch. Are you making mac and cheese? Make extra pasta for macaroni salad.
Also, don't forget the reusable water bottle like this one from Amazon. It's a must!
Here are a few other tips for work lunches.
Buy in bulk.
We tend to shop at BJ's Warehouse a lot. Things like yogurt, cheese sticks, and snacks are all bought in bulk and then separated. Also, apples and pears will last quite a while, and I find them cheaper in bulk. Here's a post all about saving at membership clubs.
Use reusable containers.
Using those reusable containers makes sense not only for your budget but also for the environment. I love our reusable containers.
I use them for both boys, myself, and leftovers. Here is the link to my favorite stainless steel lunch containers – Square deep containers with lids, rectangle containers with sections and tops, and round stainless bowls with lids from Amazon.
Create your own "Lunchables" or "takeout."
Kids are not the only ones who like those little Lunchables. When my husband tries to cut down on bread and pasta, he loves cheeses and meats.
Making a little Lunchable with salami, a few different kinds of cheese, some olives, or maybe a few nuts and a piece of chocolate makes lunch seem fancy.
Creating mini sandwiches, subs, or wraps that you might get in a posh sandwich shop also keeps cold lunches exciting.
A turkey bacon wrap with ranch dressing, avocado, lettuce, and tomatoes or a mini-sub roll with roast beef, swiss and Russian seems more special than just ham and cheese.
Buy it when it's on sale.
Stocking your freezer with proteins when it's on sale is an innovative and thrifty move. Yogurts and cheeses freeze well.
Of course, grabbing those chicken thighs when they are forty-nine cents a pound will make a pretty tasty and cheap chicken salad in a pita shell.
Buying a whole roast for five dollars a pound and cooking it yourself will save you six dollars a pound at the deli. $10.49 per pound for roast beef is crazy-expensive.
Plus, they put a lot of salt, colorings, and preservatives.
Think outside of the (bread) box.
Consider ditching the old slice of bread for other options. Wraps, rolls, and buns keep sandwiches pleasing and exciting to the eyes and the taste buds.
Not only sandwich bread alternatives but keep going. Try a shrimp and orzo pasta salad or extreme deviled eggs.
Even a green, meat lovers salad (less green, more meat) with a favorite dressing would be different and exciting.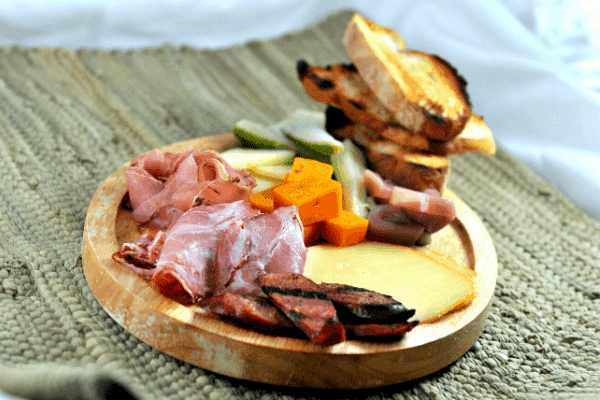 10 Lunch Ideas For Work (For Men)
These are some cold lunch ideas that I usually make for my husband. Sometimes, he might also get a peanut butter and jelly or bologna sandwich. Because sometimes, life happens. And sometimes, if I didn't sleep well, he would get a twenty-dollar bill. These are some great lunch ideas for work for men, especially when they have no way to heat leftovers.
These ideas are great for anyone on the road for work every day, those who work outside or anyplace they cannot get to buy lunch. These are great cold lunch ideas for construction workers, too.
Bacon Chicken Ranch Wrap
Grilled chicken, cold bacon, baby spinach, diced tomatoes, cheddar cheese, and ranch dressing. Make sure there is enough stuff into the wrap, but not so much that it bursts open.
Serve with chips, a pickle, a piece of fruit, and a little something sweet.
Orzo And Shrimp Salad
Boil up some orzo or small pasta of your choice and let cool. Add veggies like cucumbers, tomatoes, and black olives. Use the canned shrimp or some pre-cooked frozen shrimp, feta cheese, and Italian dressing.
Serve with some berries, a dollop of yogurt, and some granola. And a sweet treat to close out lunch.
FREE Meal Plans And Grocery Lists!
delivered straight to your inbox – sign up below
Charcuterie Board
This might be one of my husband's favorites. Now, I don't give him the cutting board and all the fancy stuff, but I pack up some Italian meats, a few kinds of cheese, some dipping mustard, olives, and nuts.
I might add some grapes or apples and pears too. Sometimes crackers go along with the meats and cheeses. It's an adult version of a Lunchable.
Chicken Salad And Dipping Chips
Dice up some grilled chicken and mix it with mayonnaise. Add some onion, celery, craisins, grapes, or hot sauce, depending on your likes.
And use tortilla chips or those big scoop corn chips for eating. You could also use bell peppers or cucumbers as dippers if you were trying to eat uber-healthy. Don't forget a piece of fruit and a sweet treat.
Mega Deviled Eggs And Veggie Dippers
Just add enhancements to regular deviled eggs. Think bacon, diced ham, or browned ground sausage. Overstuff them for a complete meal. Add some sliced vegetables and dip to balance it out.
Also, don't forget some cookies and grapes.
Meatlovers Salad
My husband isn't a huge fan of salads. But, if it has less "salad" and more meat, he will eat it. I am talking about a small layer of spinach topped with either deli meats and cheeses or leftover dinner meat.
Add some diced veggies (just a little) and a good salad dressing, and he's okay. As always, some snacks and fruit go into the lunch box.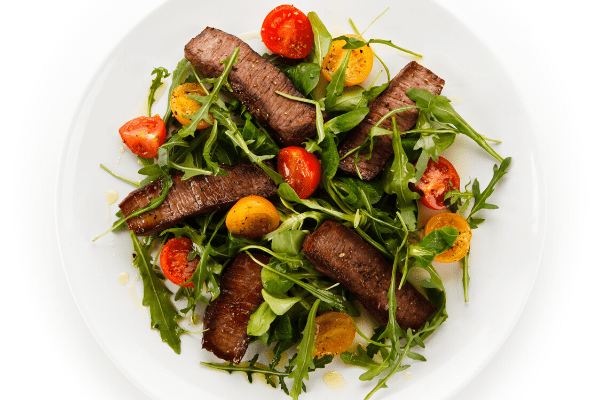 Turkey Bacon Rollups
This one is easy peasy. Deli turkey, a slice of cheese, a piece of bacon, and roll it up.
You could slice them to make them bite-size or send them whole for dipping in some Russian dressing or spicy ranch. Add some chips, a fruit salad, and a piece of banana bread.
Loaded Potato Salad
A regular potato and mayo salad, but add bacon, scallions, some hard-boiled eggs, and some shredded cheese, and it will fill up that hubby and be super tasty.
Don't forget some carrots and blue cheese dip and some brownies for dessert.
Tuna Macaroni Salad
Traditional elbow pasta with tuna, mayonnaise, and peas. Nothing special here. Some cut-up veggies, maybe some cheese, pepperoni, crackers, fruit, and one of your famous homemade granola bars.
FREE Meal Plans And Grocery Lists!
delivered straight to your inbox – sign up below
Spicy Chicken Dippers
Cold, grilled chicken breast cut up in chunks and tossed with buffalo sauce, BBQ sauce, or honey garlic sauce. Some carrot and celery sticks with some blue cheese or ranch dressing on the side. Serve with coleslaw, a pear, and a few peanut butter cookies.
Those are my ideas for a healthy lunch. I am keeping it frugal at the same time. Even though these things might cost a tad more than peanut butter and jelly, they will be cheaper than buying meals out every day.
Consider what your husband likes to eat. He may love egg salad but despise tuna salad. You could meal prep five of those mason jar salads, which would be the bee's knees.
Some great lunch ideas for work for men.
Final Thoughts On Easy Packable Lunches For Your Husband
If you can't bear to watch large amounts of money disappear on workday meals, consider these ideas for cold lunches. It will save time and money and is just healthier for you. And if your husband is like mine, you may not be able to count on him to make his lunches. You might need to take the lead on this.
Related Posts: