As mama always says, breakfast is the most important meal of the day. When life is busy and you're running out the door to work or school, having a healthy, cheap breakfast that you can eat on the go is easy with a bit of planning. Check out these inexpensive breakfast ideas on the go.
Who Needs Cheap Breakfast Ideas To Go?
Anyone who wants to maximize their mornings can benefit from a to-go breakfast. Whether you want something to eat in the car, on a train or the school bus (if allowed), cheap and frugal breakfast ideas are a bonus.
As a starving college kid, finding a cheap student breakfast I could eat while running out the door to class was something that interested me.
I was not good at getting out of bed and being at the cafeteria on time when I was 18.
These breakfast on the go ideas are excellent for someone who doesn't care to eat first thing in the morning. Bringing these to work in an insulated bag to have them later will cut the spending you might otherwise do.
Best to start your day with a good meal.
I'm not a fan of cooking. My family says I'm good at it, but honestly, I would prefer to not do it. These cheap and healthy breakfast recipe options can be great for anyone.
It's an inner struggle because I'm also very frugal. So I'm almost forced to cook – there's no way I'm spending all that money on convenience foods or worse: restaurants and take-out!
How to Prepare Affordable Breakfasts
Plan ahead.
Planning for those busy mornings can make the morning rush go smoother. This includes creating a meal plan ahead of time – not only for dinners but for breakfasts and lunches.
Having the items that you need.
Having a well-stocked pantry will save you from running out to the store when you realize that you have nothing ready at 8 PM on a Sunday.
Building up a stockpile of dry goods like flour, sugar, chocolate chips, and canned fruit will guarantee you can whip up something on the fly.
Enlist the help of appliances.
Consider using slow cookers to make oatmeal overnight or breakfast casseroles. Use your Instant Pot to hard boil eggs. Thes appliances can help make those jobs easier.
Batch cook.
Bake double and triple batches of things to freeze for later. Many of the baked goods on this list freeze so well. And you are heating your oven just once instead of three times can help you save on electricity.
Cheap and Easy Breakfast Ideas for Your Husband
My husband has to be at work by six. He gets up, showers, and runs out the door. He either eats on the way to work or during his morning meeting.
I would rather he have hearty breakfast meals and eat healthily rather than get a take-out donut.
Having something that he can eat hot on the way to work requires that I wake up at five to prepare. If I just don't want to do that, I have to plan and make things that he can grab and go.
This is how I have come up with the list. Most of these are things I have made for him with a few fun, new ideas.
This post may contain affiliate links. Please see the disclosure statement for more information.
Ham and swiss egg cups
No recipe is needed for these. A dozen eggs, milk, diced ham, shredded swiss cheese, and some salt and pepper. Mix all together and pour into a sprayed or silicone muffin pan. Bake at 350 until done.
The variations are endless with egg muffins. Searching Pinterest is a great way to gather ideas.
Bacon and cheese omelet wrap
You could make it super frugal and use meat and veggies leftover from dinner. Create a thin omelet in a pan with all the veggies that you would like. Then add some cheese and cooked bacon and roll it up. It's great for eating in the car or a budget breakfast.
Pumpkin bread and cream cheese
Here's my recipe:
Prep time 5 minutes
Bake time 40 minutes at 350 degrees
Yield 3 mini loaves or two dozen muffins
1 cup pumpkin
1/2 cup melted butter
1 cup sugar
2 eggs
1/3 cup water
1 teaspoon baking soda
1/2 teaspoon of nutmeg
1/2 teaspoon cinnamon
1/2 teaspoon salt
1 1/2 cups all-purpose flour
Mix in a big bowl in order and pour into greased mini loaf pans. Bake at 350 degrees for 40 minutes or until a toothpick comes out clean
Either spread. Cream cheese on them or make a cream cheese frosting.
Add one brick of cream cheese, softened to 1 cup powdered sugar, and one teaspoon vanilla. Whip until creamy and fluffy. Spread on top or pipe inside coming from the bottom.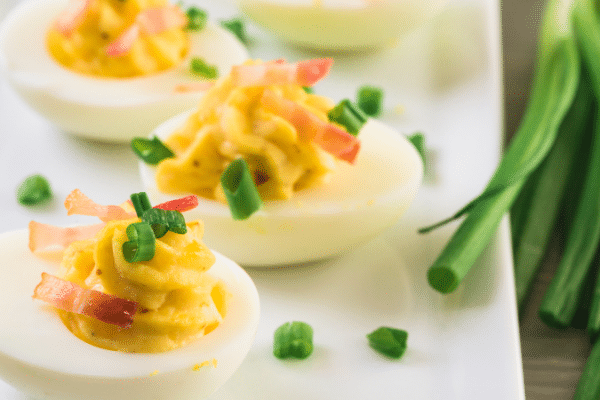 This post may contain affiliate links. Please see the disclosure statement for more information.
Breakfast deviled eggs
These are one of my husband's favorites. Make your traditional deviled egg with mayo, salt, and pepper. Then add bacon bits and some finely shredded cheese. Add mixture back to the egg whites and top with chopped scallions.
Egg sandwich
English muffins are my husband's preferred bread substance for egg sammies. But he also doesn't mind a bagel. We like the sausage patties from Aldi for these breakfast sandwiches best. And then add a fried egg, a generous amount of sharp cheddar cheese, and ketchup (also, I like hot sauce).
Trail mix oatmeal
make a big pot of old-fashioned oatmeal and separate it into glass serving-sized dishes. Then you can microwave it and add it to a thermos. Top with your favorite nuts, dried fruits, some seeds, and some good chocolate chips.
Oatmeal is always a delicious low budget breakfast.
Homemade hash and egg burrito
This is the perfect breakfast when you have leftover steak or pot roast. Dice up potatoes and fry in some butter. Then add the diced or shredded beef.
Scramble some eggs in there and add the entire mixture to a burrito wrap. To toast it up a little, we like to grill the rolled-up burrito in a frying pan.
This is an excellent choice for a cheap breakfast on the go for your husband because you are using leftovers, and it's easy to eat on the way to work.
Although, if he is eating this in the car on the way to work, he might need a big clothing protector.
Bagels and hummus with cucumbers, sprouts, & peppers
A healthier choice for an affordable on-the-go breakfast. Make a veggie sandwich out of a bagel, some hummus (on both sides), and layer thin sliced cucumbers, peppers, and sprouts. Reduce the costs by making your hummus.
Sausage quesadilla
Brown, some ground sausage, melt some cheese onto any soft taco, and fold in half. Serve with sour cream or salsa. Or, if you are taking this to eat in the car, add them inside.
Maple pumpkin oatmeal bars
This is a new recipe from Iowa Girl Eats that I cannot wait to try. I think my husband would love these! Like a muffin but better.
Peanut butter waffles and jelly
I use our favorite pancake and waffle mix and add peanut butter powder to make these waffles. You could also use the protein waffle mix for added substance. Spread some strawberry jelly in the middle of two waffles and eat it on the way to work.
You can always use frozen waffles. Then add the peanut butter and jelly, but it won't be as cost-effective.
Cheesy potato breakfast bowl
This breakfast bowl is a much better choice for reheating once you're at work rather than trying to eat in the car. Simply cook some frozen hash browns, scramble some eggs, add some vegetables, and top with cheese.
Once you get to work, warm it up in the microwave for a hearty, protein-packed breakfast.
Mini maple pancake sausage roll-ups
These are a great make-ahead option and easy to eat on the go. Simply add the maple pancake syrup to taste before cooking the pancakes. Then roll the pancake around a cooked breakfast sausage link. Make a big batch and freeze.
Egg bake
One of our favorite go-to meals (not just for breakfast). Add tater tots or hash browns to the bottom of a 9 x 13 pan. Scramble a dozen eggs, add salt and pepper, shredded cheese, and frozen chopped broccoli.
Top with more cheese and bake at 350 until cooked (about 35 minutes).
This is great as a warm-up option also for work breakfasts or lunches.
Banana bread
Make-ahead, so it's a quick and easy grab-and-go meal idea to save money. Who doesn't love a loaf of good banana bread? Add nuts or, even better, chocolate chips to win breakfast.
Here's my recipe:
Prep time 5 minutes
Bake time 40 minutes at 350 degrees
Yield 3 mini loafs
3-4 ripe bananas smashed
1/3 cup melted butter
3/4 cup sugar
1 egg, beaten
1 teaspoon vanilla
1 teaspoon baking soda
pinch of salt
1 1/2 cups all-purpose flour
Mix in a big bowl in order and pour into greased mini loaf pans. Bake at 350 degrees for 40 minutes or until the toothpick comes out clean.
BELT Sammy
Bacon, egg, lettuce, and tomato sandwiches are a new take on the original and perfect for breakfast. Also, a great traveling breakfast.
Fruit parfait with homemade granola
It's about that year when I like to start making homemade granola. It's also an economical option to a store-bought bowl of cereal and a healthier option, also. Here's a great recipe from Cookie and Kate that very similar to mine.
Top your favorite yogurt with granola and add some berries.
This would also be good with cottage cheese.
Savory veggie crepes
Full disclosure, I've never made these before. I've eaten them and enjoy the savory over sweet. But I thought I could include this (at the suggestion of a friend0 as they are an excellent option for cheap breakfast ideas on the go.
I enjoy my crepes with goat cheese like this one from Martha Stewart.
Egg and sausage balls
These go-to breakfast sausage balls are perfect if you are leaning into low carb. Simply combine a pound of ground sausage, one egg, a block of softened cream cheese, and a cup of shredded parmesan cheese. Form into balls and bake at 350 until done.
Easy to warm in the microwave and eat on the road.
Apple french toast pockets
This little sandwich crimper from Amazon is perfect for on-the-go meals. Use two pieces of bread and fill the middle with canned apples or diced apples tossed with cinnamon and sugar.
These are good! If you like your apples less "raw", sautee these apples first. Cut and crimp the apple sandwich and dip it into the egg french toast mix, then cook as you would regular french toast.
Meat lover's breakfast panini
We have a panini maker. If you don't, simply make this like you would a grilled cheese.
Cook up a sausage patty, some bacon, and ham. Lay down one slice of bread, add a piece of cheese, all your meat, and another slice of cheese. Then close the lid to cook your panini.
If you cook the sausage patties and bacon before, you can quickly just reheat them, saving time.
Spinach and feta crustless quiche
I am a lover of quiche. Making it crustless will allow it to be eaten on the go much easier. This recipe from Budget Bytes adds mushrooms. And now my mouth is watering.
Lemon blueberry biscuits
I created this when I was looking for a scone recipe but didn't have the ingredients I needed. So I pulled out my drop biscuit recipe and added a tablespoon of lemon juice and 1/2 cup of frozen blueberries.
Top with a quick icing (powdered sugar and water) and it's delicious. We all love them.
Drop biscuit recipe
2 cups all-purpose flour
1 tablespoon baking powder
1/2 teaspoon salt
1 tablespoon white sugar
⅓ cup melted butter
1 cup milk
Spicy Italian breakfast taco
Brown some spicy Italian sausage and slice it up. Add sour cream, lettuce, tomatoes, and cheese to a soft taco shell. You could even add guacamole or avocado to make this more Mexican than Italian.
Apple pie breakfast cookies
My husband loves apple pie. Instead of cake for his birthday, my mother-in-law bakes him an apple pie. She is a mater apple pie maker.
This is on my list to make for him. We have the apples already so this will be a perfect cheap breakfast idea on the go for my husband.
Here's the recipe from Amy's Healthy Baking.
Veggie and meat breakfast calzone
I love making these with the biscuit dough in the rolls. They are so affordable and make for a quick job. You can also make these with your favorite pizza dough.
Roll out the biscuit dough to make bigger circles. Add ricotta cheese, mozzarella cheese, and your favorite veggies. Dice up some ham or bacon and add that. Also, turkey bacon works great in this, too. Then fold over the dough and bake at 350 until done.
Banana monkey muffins
Grab my banana bread recipe from above and add some walnuts, 1/4 cup of peanut butter, and 1/2 cup of chocolate chips. Pour into a muffin tin and bake at 350 until done. Or just regular blueberry muffins (any kind of muffin will do) is a great grab-and-go breakfast.
Breakfast pigs in a blanket
Instead of hot dogs, use sausage links. Grab a tube of crescent rolls and add cheese, a sausage link, and a spoonful of scrambled eggs. Bake until done. An excellent warm-up to-go breakfast.
Blackberry rice porridge
I have been eating this since I was a kid. My mom would make me a version of this for breakfast whenever we had leftover rice. Warm up the rice with brown sugar and milk.
Top with blackberries or any other berry you might have on hand. Great to take to work and heat up.
Carrot cake zucchini bread
Any time I can sneak some added vegetables in, I'm game. This is a good recipe I have made for a carrot zucchini bread from Sweet and Savory Meals.
Loaded breakfast biscuits
Have you ever had the cheesy biscuits from Red Lobster? This inspired me to create the loaded breakfast biscuit for my husband to take to work.
Here's the recipe:
2 cups all-purpose flour
1 tablespoon baking powder
1 teaspoon salt
⅓ cup melted butter
1 cup milk
2 teaspoon garlic powder
1 cup shredded cheddar
1/8 cup of bacon bits
Strawberry pancake poppers
This is on my list to try soon – maybe a trial run on the weekend. I'm going to grab my favorite pancake mix and add some maple syrup and some frozen strawberries.
I have a mini muffin tin with silicone bottoms that would make this perfect. I'll come back and update this to let you know how it goes. Let me know if you've tried it.
Granola pan bars
I have been making homemade granola bars for a really long time. This has always been my go-to recipe except we use regular flour instead of almond flour and substitute or omit what we have on hand.
My husband doesn't like them crunchy so you can actually eat these without breaking your teeth.
These are a heap and easy breakfast to eat on the go. Even good for a snack, too.
Check out this recipe from 100 Days of Real Food.
Final thoughts on Cheap Breakfast Ideas On The Go
This list holds a lot of really great ideas for breakfast ideas for your husband and family whether they are eating at home or running out the door each day.
Trying to keep it cheap, easy, and healthy is always a challenge to fuel their mornings. Planning and preparing ahead will always make the morning rush that much easier.