Are you planning a road trip and looking for breakfast ideas? Don't want to rely on fast food for your next road trip? We've got you covered.
What to eat for breakfast should be considered when planning long trips.
Budget is also something you need to consider when going on a long road trip. Buying breakfast at a rest stop or grocery store every day will be sure to be an extra cost.
Not to mention, the food at these types of places won't be the healthiest.
Unhealthy snacks can be tempting due to the lack of cooking possibilities. Breakfast is the most important meal of the day, so it's important not to load up on junk food.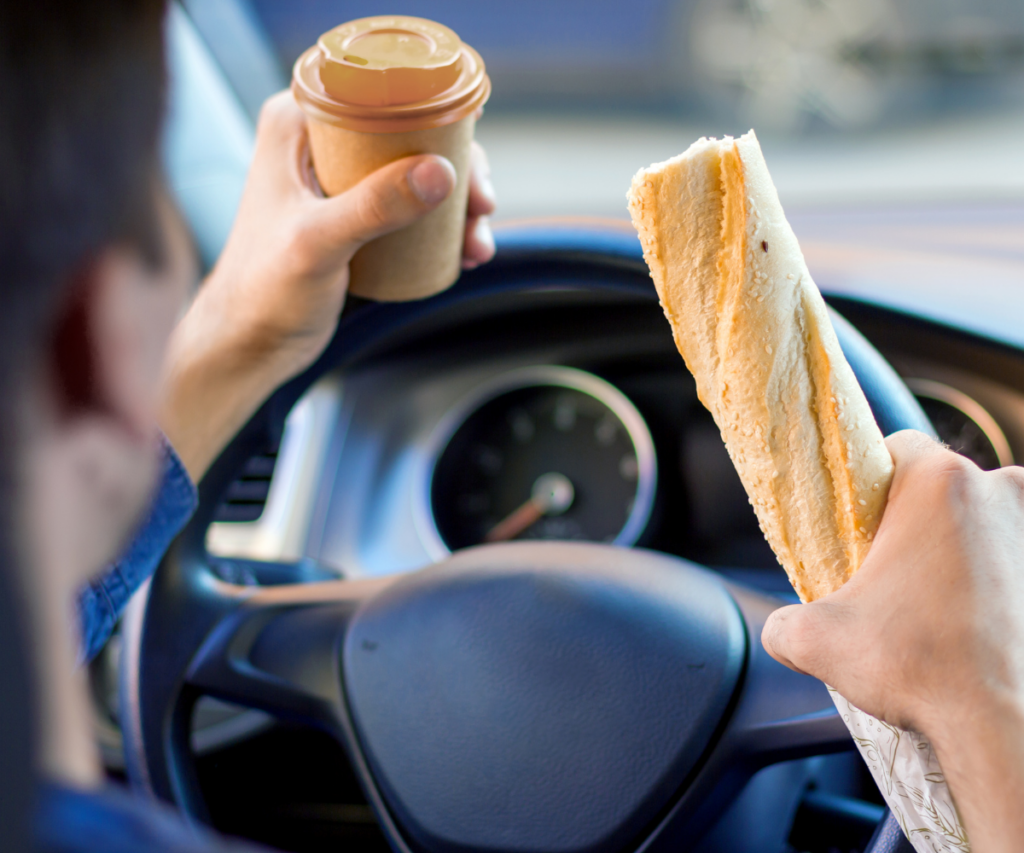 Best Road Trip Foods for Breakfast
Let's look at the ultimate road trip food list for beginners. Cost-efficient, healthy, and delicious foods can be had on the road. Breakfast doesn't have to be squashed sandwiches or overpriced snacks from gas stations.
The best foods for taking on a road trip are foods that are ready to eat, stay fresh for long periods, and don't need to be kept in certain conditions i.e. refrigerated.
Take into consideration the climate you will be driving in also.
So, let's take a look at the best road trip breakfast ideas.
Peanut Butter & Jelly Sandwiches
Who doesn't love peanut butter?…well maybe people with nut allergies, but other than that, most adults and little kids love peanut butter.
Add a little jelly and bread and this makes a fine breakfast. I used to have a PB & J sammy every morning when heading to class in college. it was easy, filling, and portable – a simple breakfast to eat on the walk to class.
Loaded with healthy nutrients, peanut butter is a delicious snack that you can use to make sandwiches or eat on its own.
You can even grab the individual jelly packets like they have at restaurants that don't require refrigeration.
Water
Take plenty of water on your road trip, particularly if you are driving through rural areas or deserts. Bringing your own water will also save you some cash.
You won't need to worry about buying liquids or unhealthy soda drinks.
Consider juice boxes as well. And Horizon makes shelf-stable milk (and chocolate milk) boxes perfect for a bowl of cereal.
Fresh Fruit
Fresh fruit is a great option for road trips, particularly if you are on a family road trip. The last thing you want is to give little kids sugary snacks when traveling!
Healthy snacks like fruit for breakfast are cheap, don't take up much space, and you can have them with a range of other foods including peanut butter.
Hard-Boiled Eggs
Boiled eggs are healthy road trip snacks and a great source of protein. A few minutes are all it takes to make hard-boiled eggs, and they can last up to 7 days in a cooler.
Pop them in a plastic container, and you don't even need cutlery to enjoy them. Simply peel off the shell and eat the eggs as they are.
Consider making deviled eggs, too. They don't seem to be as dry and still taste great (maybe even better than just a plain hard-boiled egg).
Deli Meats
Buying deli meats is a great way to save time on your preparation for your long car ride.
Many different types of meat can be picked up at your local deli including pepperoni, salami, chicken, and turkey. Deli counters offer something for everyone.
Cereal
Not a great choice for eating in the car but stopping at a rest area or having a bowl of Honey Nut Cheerios in a hotel can be a great option for road trip foods for breakfast.
They even have cereals in individual serving sizes that come with a bowl.
Grab some shelf-stable milk and you won't even need a cooler!
Granola Bars
Granola bars can be picked up at most convenience stores for a buck or two or you can plan ahead and buy in bulk.
Many granola bars are packed with fiber and protein, so keep you feeling full for longer – perfect before a long day's driving.
You can even make your own and control ingredients and sugar. Or just pick up a box from the grocery store.
Granola bars are a great snack between meals and can give you a boost of energy. No cooking or preparing is required, so they make one of the best road trip foods.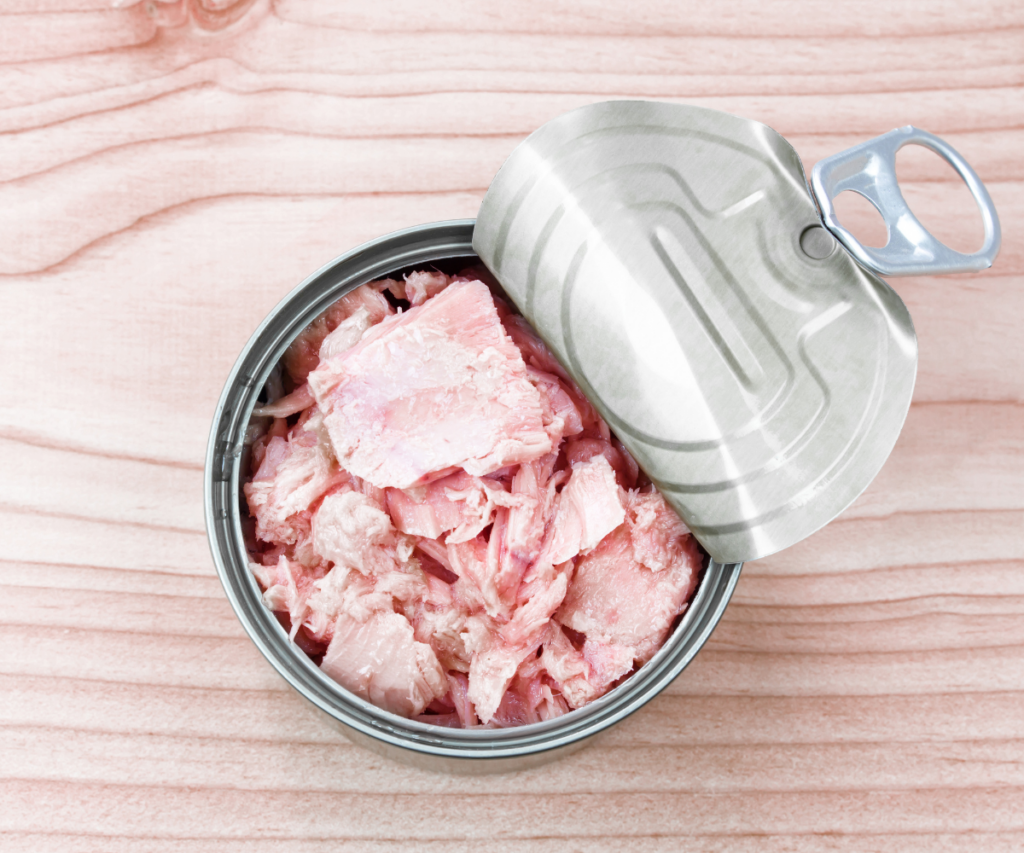 Tuna Salad
I know this might be an odd choice for breakfast but people have fish for breakfast – think lox and bagels. It might be an odd choice but it's full of protein and will keep you full.
Healthy foods like tuna salad are a favorite for those on the road. Tuna has an abundance of healthy fats and is perfect for a healthy breakfast on the road.
Making your food is also cheaper and saves time when driving as you don't have to find somewhere to buy items.
Keeping your tuna salad in a cooler or ice pack is recommended as the tuna can spoil quickly. Refrigerated, a tuna salad should be good for 3-5 days.
Protein Powder
Protein powder is a great way to fill your body on a long car ride with all your necessary proteins.
People with dietary restrictions may also need to take protein powder as a supplement for nutrients they can't get from certain foods.
Add a couple of scoops of protein powder to water in a shaker bottle and you're all set.
Pro Tip: pick up a battery-powered blender or a Magic Bullet Blender and a Jackery, and add greens and fruit for a smoothie on the go!
Muffins
Buying or baking muffins before a trip can add another layer of breakfast foods for a road trip. Add some fresh fruit or a hard-boiled egg for protein and you have a yummy and balanced meal.
Fruit And Nut Bars
Bars are very easy to indulge in when you're on a road trip. Sold everywhere, relatively cheap, and quite delicious it's no wonder they are so tempting.
Some are loaded with fruit and nuts like Kind Bars and others are just fruit like Nutrigrain Bars. You also have high protein bars that were created for hikers and backpackers like CLIF Bars.
Many low-fat and sugar-free bars are available, so you can opt for them rather than high-sugar candy bars or sweet treats.
Bagels and Cream Cheese
If you have a cooler with you (and in my opinion, a MUST), bagels and cream cheese is an awesome choice for breakfast and road trips.
Pair this with a fruit salad or some beef jerky or meat sticks and you have a healthy breakfast to eat on the go.
Storing your cream cheese in a cooler or something similar will ensure it stays fresh and long-lasting for your trip.
Beef Jerky
Beef Jerky is one of the easy-to-pack foods that is loved by millions. Long-lasting and won't take up much space in your car, beef jerky is low in calories and high in fiber, keeping you full throughout the day.
Check out my friends from Adk Jerky for the best jerky around!
String Cheese
String cheese is one of the best road trip food ideas due to its versatility, deliciousness, and its low-price.
Eat the string cheese as a snack, mix it with a salad, or add it to a sandwich. Kids tend to love string cheese and have good times eating this cheese in its unique texture.
Pretzels
Pretzels are always a good idea, whether you are socializing at a party, camping, or on a road trip with your friends or family.
Having a solid protein to dip them in like peanut butter or hummus (and paired with some fruit) would be an acceptable breakfast.
Available to eat without any preparation or needing to be kept in a fridge, pretzels are a perfect snack for the road.
Trail Mix
Trail mix can be bought at most supermarkets or you can create your own at home. A mix of dried fruit and nuts, and a trail mix for breakfast on your road trip will count towards your 5 a day.
Trail mixes are also quite cheap to make, and you can eat them throughout the day as a snack.
Overnight Oats
These make-ahead ideas are perfect for a road trip. Store them in the cooler and just grab a spoon when you're ready to eat. They are a complete meal with fruit already included.
Yogurt
Because many yogurts come in individual serving-sized containers, this makes yogurt an excellent choice for road trip breakfasts.
Pair with some fruit or granola added for a little bit of crunch, and you have an easy breakfast on the road!
Avocado And Pita Chips
Avocado is a delicious healthy fat that will fill you up and is portable, easy to eat, and requires no refrigeration.
Although avocado toast is super trendy right now, it's hard to make toast on the road. Why not try pita chips or even tortilla chips?
You could purchase guacamole cups at the grocery store and keep them in a cooler and get even healthier with cut-up veggies to dip with. Don't forget to add a little protein to keep you full.
Salt & Pepper
Salt and pepper travel-sized shakers are available to buy. Taking up minimal space and adding more flavor to your road trip breakfast, salt and pepper are a must-have.
Non-Food Items for Breakfast on Road Trips
Essential and recommended non-food items you will need for eating breakfast on the road include;
Final Thoughts On Ultimate Road Trip Foods for Breakfast
Planning the perfect road trip is almost as exciting as the actual adventure. Whether you're headed out for a weekend getaway or a one-day drive, it's important to remember breakfast.
And luckily, there are plenty of delicious and easy breakfast options you can bring along with you! From homemade pastries to fresh fruit and quick on-the-go snacks, there are lots of choices that can be customized based on your dietary restrictions and preferences.
Plus, all of these road trip foods give you the energy you need to make it through the day. No matter where your journey takes you, invest in some good food and enjoy your road trip stress-free!