Whenever I mention Aldi to someone, they either like it or never have been. Rarely have I met someone who doesn't care for it. I am sure they are out there, but they don't exist in my house. There are things I wish Aldi sold, but for the most part, I can honestly say it is my favorite!
There are so many reasons Aldi is my favorite store. As a self-proclaimed expert on this grocery store, I would like to share with you all the reasons I love shopping there!!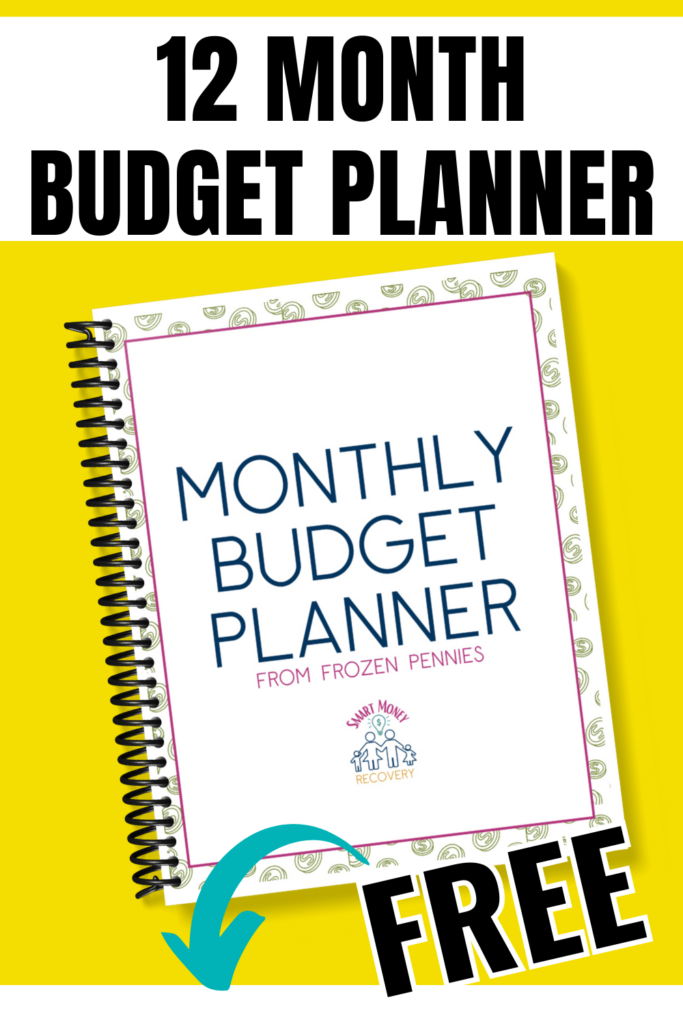 All About Aldi
What is Aldi?
The Aldi grocery store that we know in the United States is a combination of two grocery stores started by a family in Germany. There is Aldi Nord and Aldi Sud.
The story is that the family-owned store was split because the two brothers disagreed on selling cigarettes. The Aldi we have in the US is operated under Aldi Sud and Trader Joe's under Aldi Nord.
Nord and Sud are two different companies and have been since 1966. So when someone says the same company owns Aldi and TJ's, that is not entirely true.
How To Find An Aldi Near You
This little store seems to be popping up everywhere.
Although they are much smaller than traditional grocery stores, there are things I can not find there: the no-frills layout and the idea that you need to bring your bags, pack your groceries, and remember a quarter deposit to rent a cart makes it all worth it!!
In my state, there are 150 stores. Here's how to start saving at Aldi and find an Aldi near you!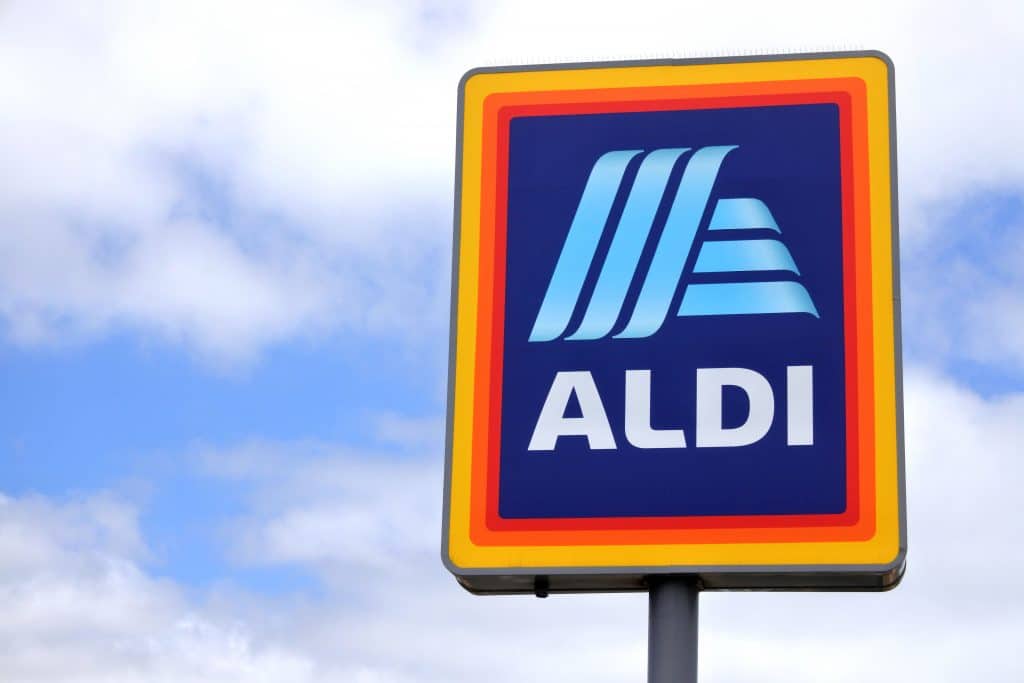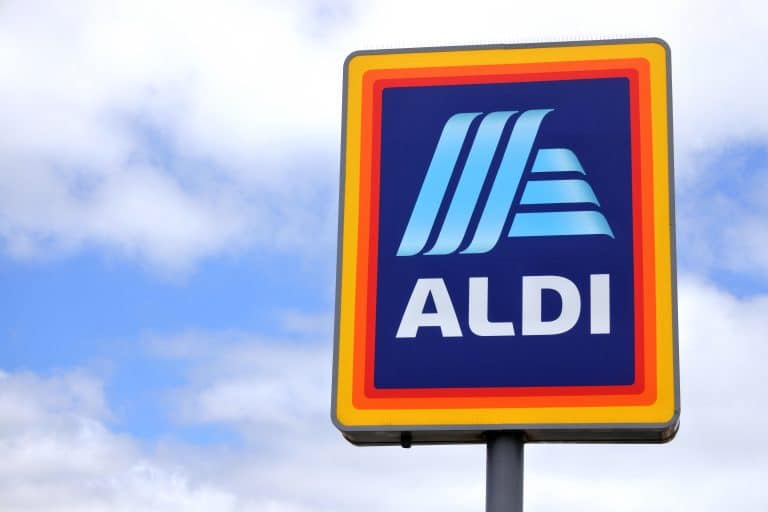 Aldi Hours
My local Aldi store is open daily from 9 am to 8 pm. Many holidays are closed.
This is from the Aldi site:
"All ALDI stores are closed on New Year's Day, Easter Sunday, Thanksgiving Day, and Christmas Day. All ALDI stores will be open for limited hours on Memorial Day, Independence Day, Labor Day, Christmas Eve, and New Year's Eve."
This was not always the case. They have expanded their hours at many stores over the years. Make sure you check your store for more specifics on hours and closings.
Aldi Coupon Policy
Most Aldi items are their brands which is one of the reasons why prices can stay low. They also tend to keep those prices low when they have name brands.
Although I do find that when they have name-brand products, they aren't much different than regular prices from anywhere else.
Because of this, they do not accept coupons. If you see one of those coupons floating around social media for $10 off, I can almost guarantee it is fake. Your best bet is to bring it with you and ask.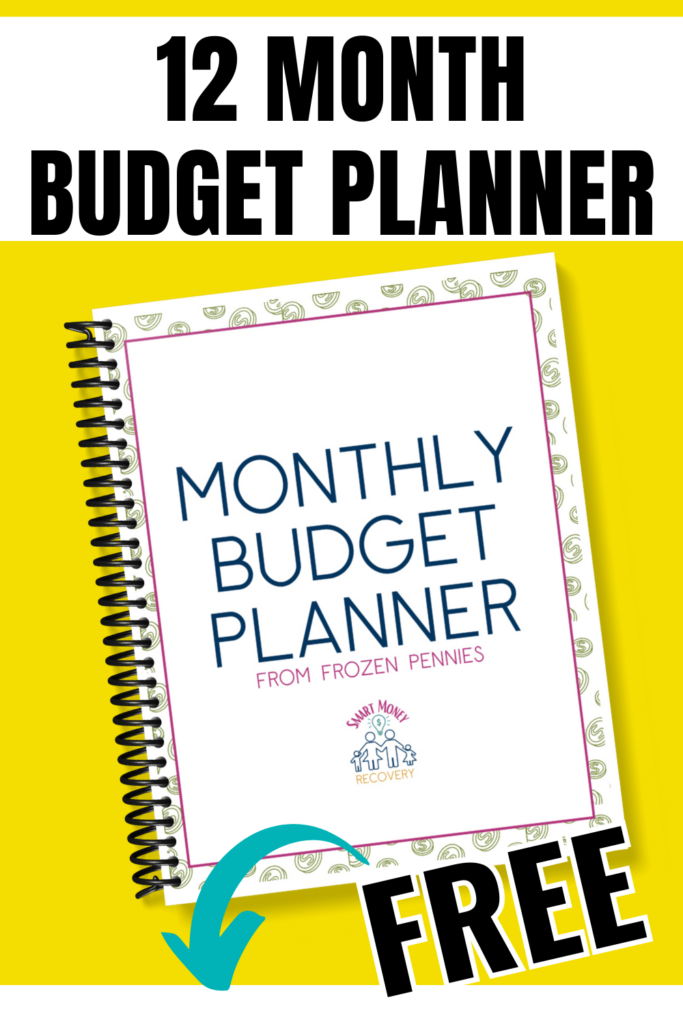 Tips For Shopping At Aldi
Get to know the store. Most of the stores are small. Just a handful of people are working there, and you are doing most of the work yourself.
Before you leave the car, make sure you have your bags and a quarter.
The quarter is to rent the cart. You get it back at the end of your experience after you return the cart to the corral. It's not a massive deal unless you forget that quarter.
The bags are for your groceries. They don't give bags away like Walmart. They'll sell them to you, but bringing your own is best. You could use the empty boxes found throughout the store for free.
The store is set up, unlike a typical grocery store. The front of the boxes where the goods are shipped is cut off to expose the products. They are not lined up and stacked, looking pretty. They're still in their boxes.
Most stores are much smaller than the average grocery store. This means that when it's a busy time of day, it will get really crowded, really fast. Shop wisely.
There are very few name-brand items. Most are their brand which will give you the saving at Aldi that you are there for in the first place. I suggest buying and experimenting with some of the brands and choices. Some may be different (better even) than what your taste buds are used to.
You'll bag your groceries. Cashing out is a little assembly line-like. All groceries are taken out of your cart and put on the belt by you. They are scanned and placed into an empty cart by the cashier. Then you pay and take your groceries to the counter to bag yourself. It moves fast. I always aim to be faster than the person scanning my items!
Bagging all that stuff isn't my favorite part, but I do it, so it keeps my bill lower. The bagging part is just ok. At least my bananas aren't placed on top of my bread!
I have to share the best tip for keeping track of your grocery budget while working your way through Aldi.
It's a CLICKER!!! This little thing fits in your hand, and each click represents a dollar amount. Technically it's called a Hand Tally Counter, but it is super fun to use while grocery shopping!
The Best Foods To Buy At Aldi
No store can beat the organic prices and no other way to experience saving at Aldi! I have shopped at every store and my area, and these are the best!
Organic Pantry Best Buys
Organic oatmeal. The flavored instant organic oatmeal is a great alternative for a quick breakfast. Apple Cinnamon is my oldest's favorite.
Organic oil. Organic oil is not cheap! Addi carries olive, avocado, and coconut oil at great prices!
Salad dressings. I LOVE the Chipotle Ranch Organic dressing. Their regular ranch and Caesar are also super yummy. I do wish they would add Thousand Island to the choices.
Spices. The spices offered are limited. I know they have cinnamon, Italian, and garlic powder. Others vary by store.
Sugars. Both the brown sugar and cane sugar prices are great. The only time I found cane sugar cheaper is at Bj's Warehouse, and that's for a LARGE bag.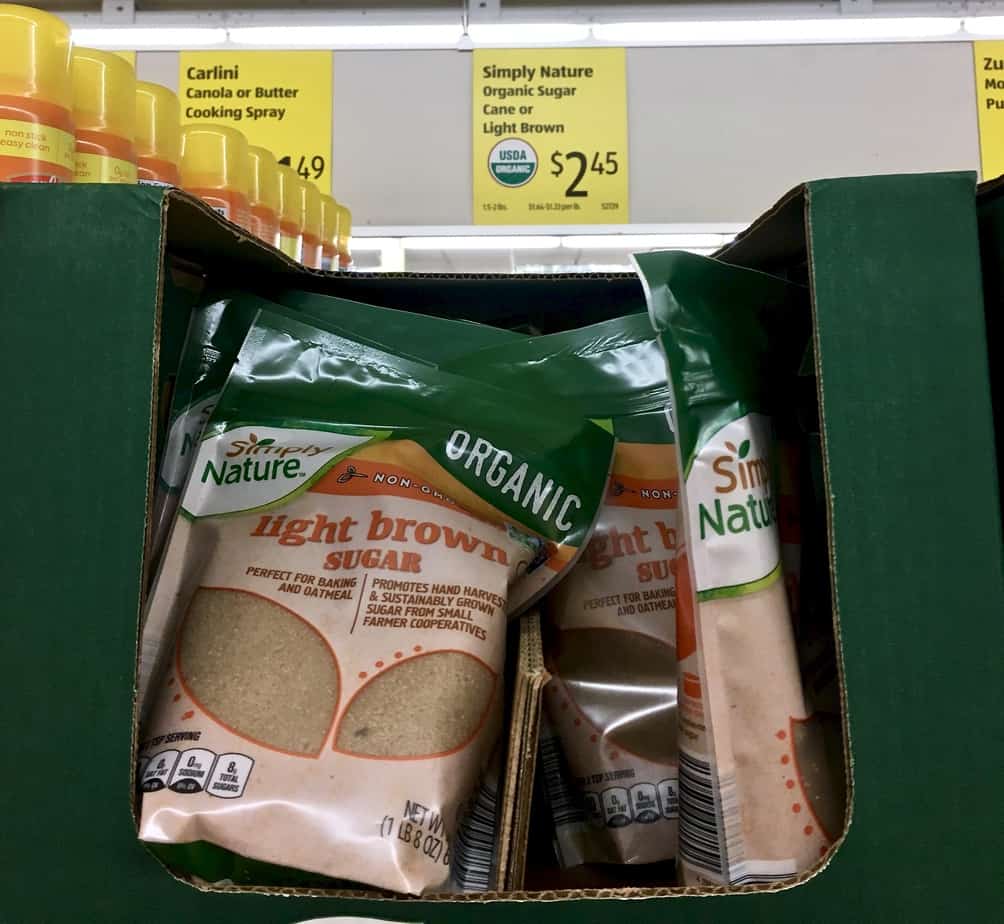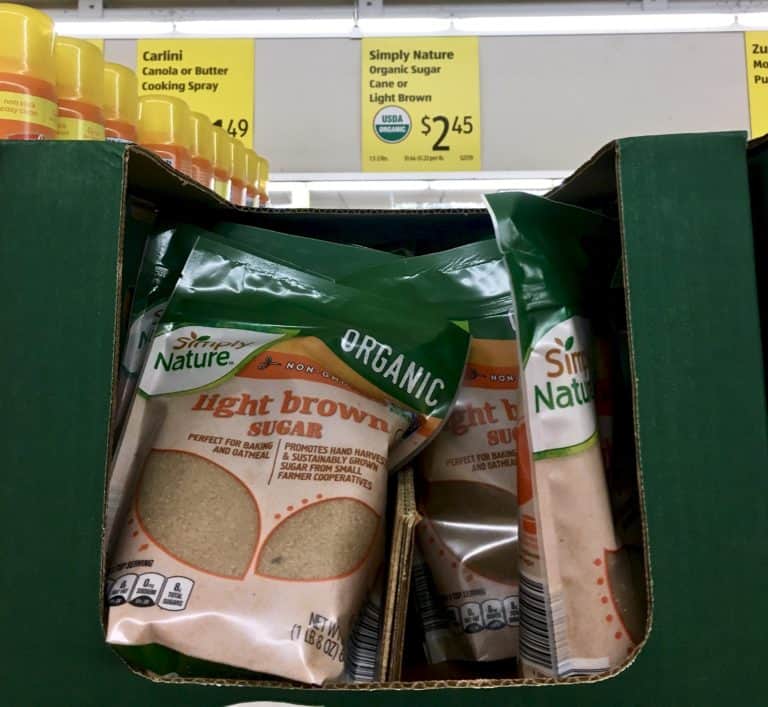 Ketchup. The taste of Aldi Organic Ketchup is better than the big brands. We are fans!
Boxed Macaroni and Cheese. Quick side dish or lunch for the boys. Tastes great and less than Annie's! I also use this for my "Hamburger Helper" knock-off meal!
Pasta Sauce. Adli's Pasta sauce is by far the best-tasting pasta sauce I have had. It works great in a pinch, and the price is spot on.
Pizza Sauce. Sometimes Aldi has Special Buys" that they bring out to test. A few months ago, I bought a bunch of organic pizza sauces. I haven't seen them since, and I have two left. If you find them in your store, grab a few!
Organic Rice. We are a big fan of rice around here. Their rice is excellent, but I found precooked frozen rice at a special buy a while back. I hope they have more of that because it was awesome!
Applesauce. The all-natural applesauce is good in a pinch, but a few times, I have seen the organic applesauce as a special buy and have bought CASES. As we go through a lot of it in our house, getting the best price is crucial, and organic is the best.
Canned Soup. Their selection of organic canned soup is limited, but the tomato is my favorite. Their chicken noodle and lentil soups need some salt but work in a pinch.
Canned Tomatoes and Beans. Again, these things are limited, and the savings are significant. I wish they would add an organic white bean to their permanent stock.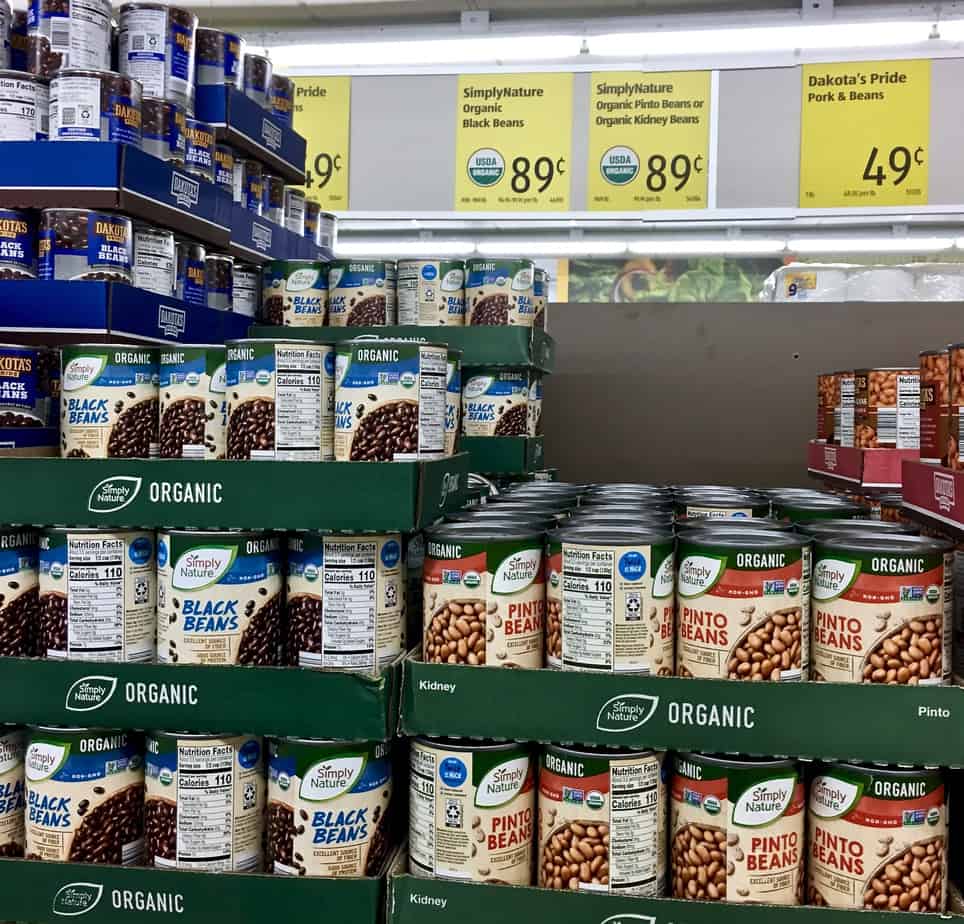 Apple Juice. Best price around for organic apple juice. You can't beat it.
Coffee. Their organic bagged coffee prices are fantastic. And the Fairtrade aspect makes it PERFECT!
Salsa And Chips. These go together because we eat them together. Ali's mild organic salsa pairs perfectly with their organic tortilla chips.
Pasta. The choices are limited, but the ones they have, we love. I wish they would bring in some organic elbows.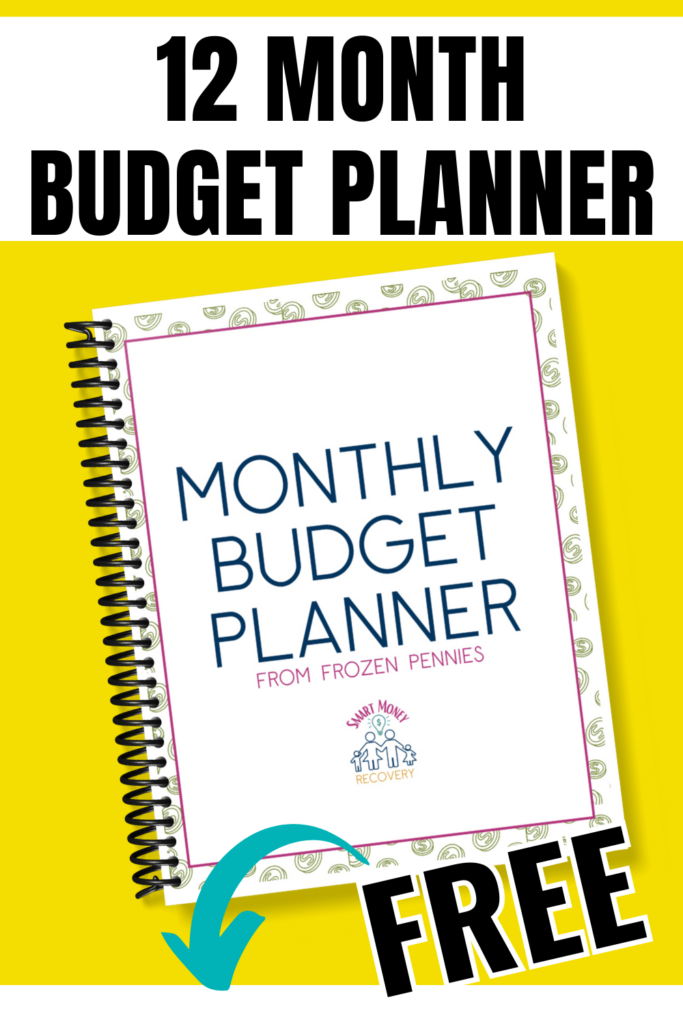 Organic Refrigerated Deals
Salad Greens. A close runner-up regarding prices to Bj's Warehouse, but I am happy with them when I need to grab them there.
Milk. I have searched everywhere for the best prices on organic dairy, and Aldi wins (voted #1 in our family for taste)!
I cannot find it cheaper ANYWHERE!!!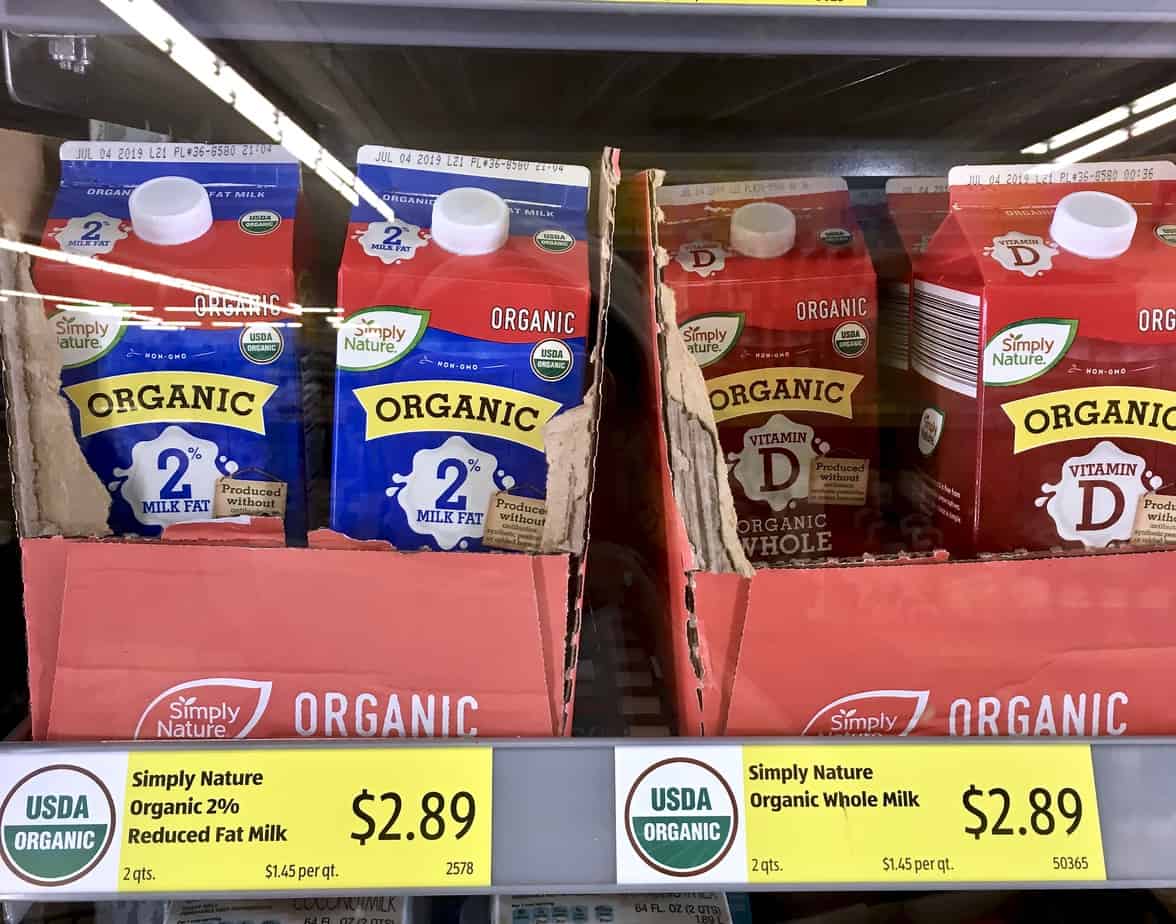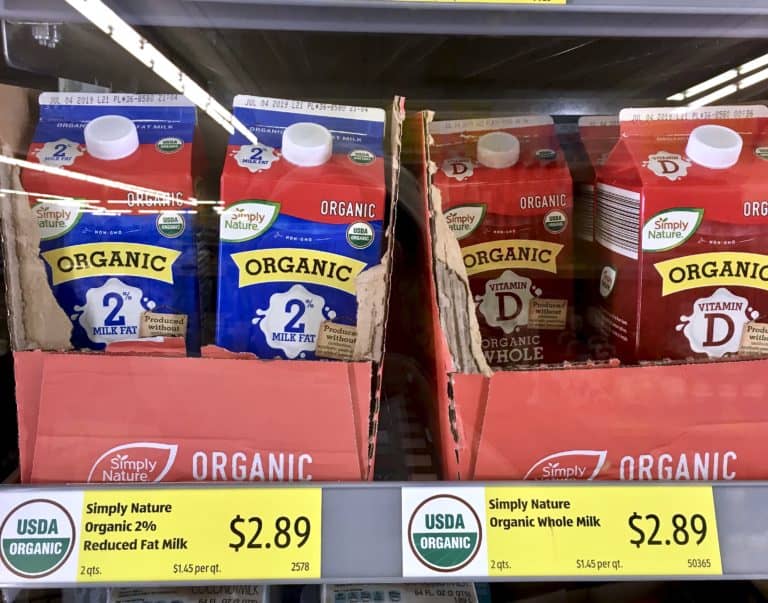 Eggs. I preface this because we usually buy our eggs from a local farm. But, because Aldi and the farm are in different directions, if I need both eggs and groceries with limited time, I will grab the organic cage-free eggs from Aldi. We are happy with them.
Yogurt. The best-tasting vanilla yogurt I have ever had. So thick and creamy. There is no comparison.
Frozen Organic Fruit. In the offseason, it is cheaper to buy frozen strawberries for yogurt than it is to buy fresh organic. Also, the blueberries for muffins are fantastic!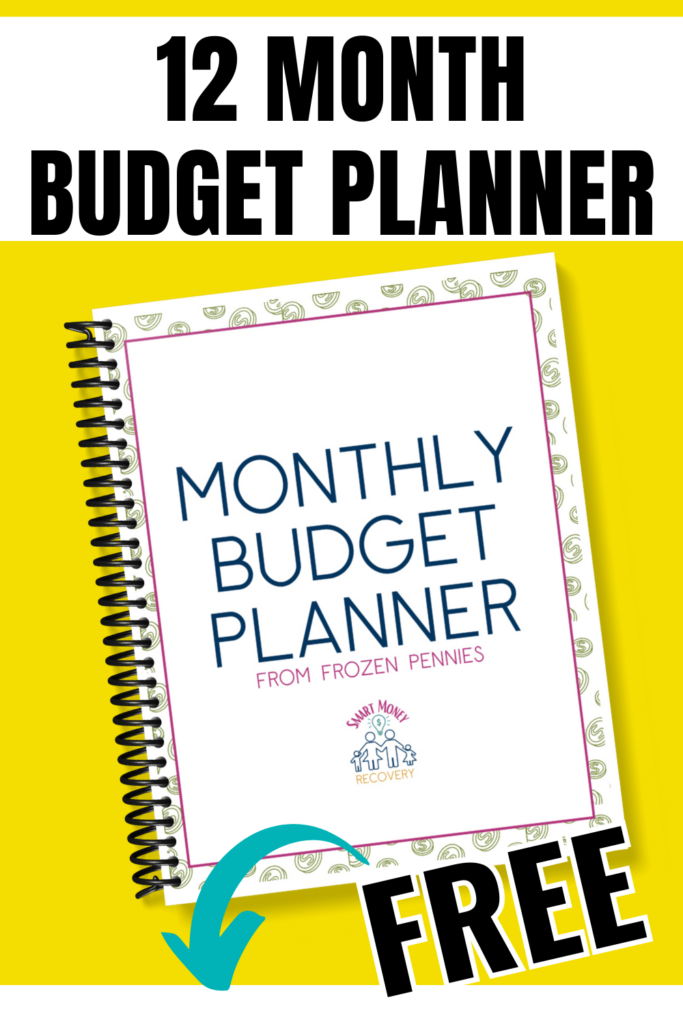 Organic and Grass-Fed Meats
Organic Chicken. They have three different kinds of Aldi chicken. There is the regular, the "Never Any," or the Organic. I can't express how great the prices are on the Organic. Have you ever priced organic chicken? Check out Aldi!
Grass-Fed Organic Beef. The only organic beef Aldi has ground beef. It's still the best price. I wish they would offer more.
Nitrate-Free And Sustainable Favorites From Aldi
Tuna. Skipjack tuna is pole-caught ad sustainable, and it tastes great. The price is so much better than the Wild Planet I used to buy.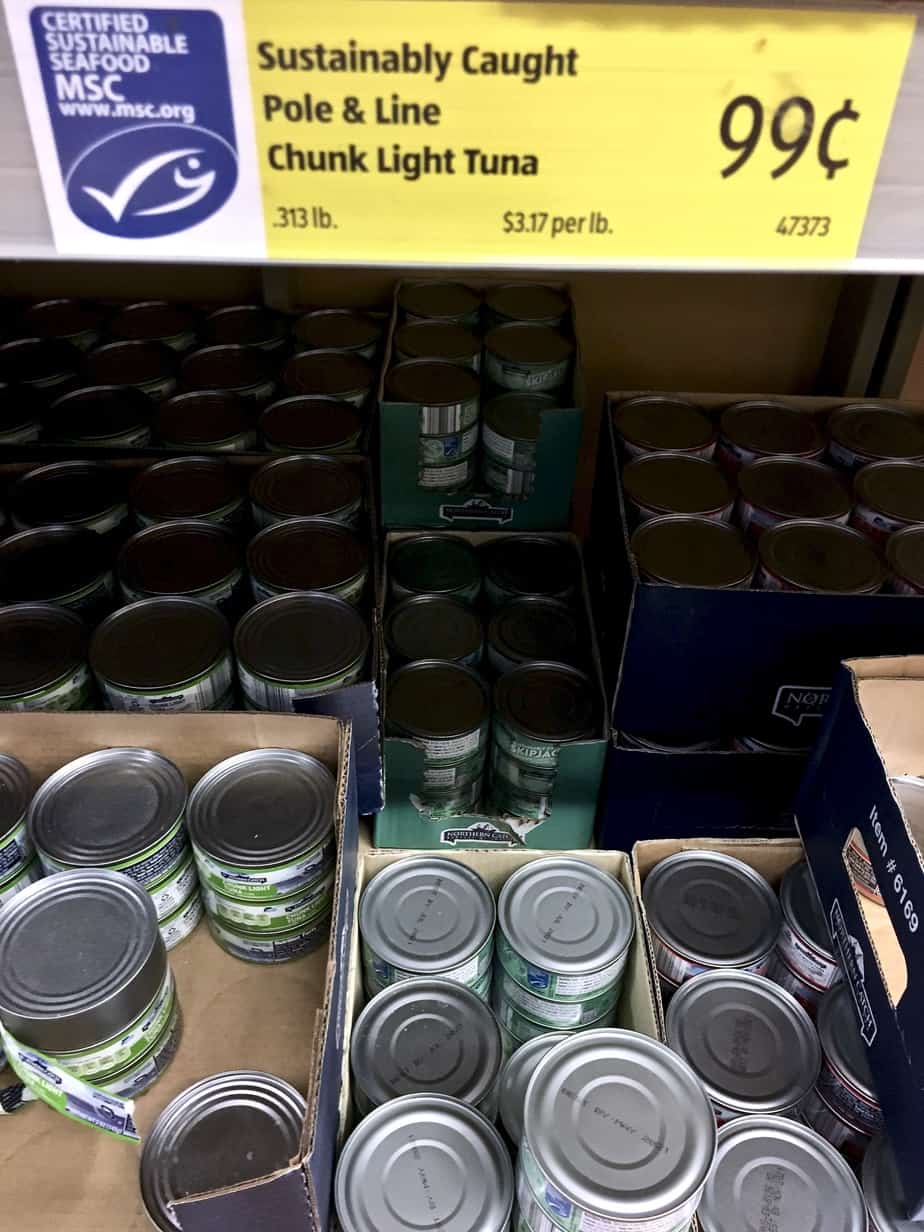 Aldi Bacon. Nitrate-free and DELICIOUS! I hate buying any other!
Sandwich Meat. Never Any brand of sandwich meat is delicious. And the prices make it even better.
Real Vanilla. No imitation here. And pretty yummy!
More Aldi Best Buys
Chips. My youngest's favorite snack. I buy two bags for each pay period. The price works.
Nuts. Great prices. Better than any other.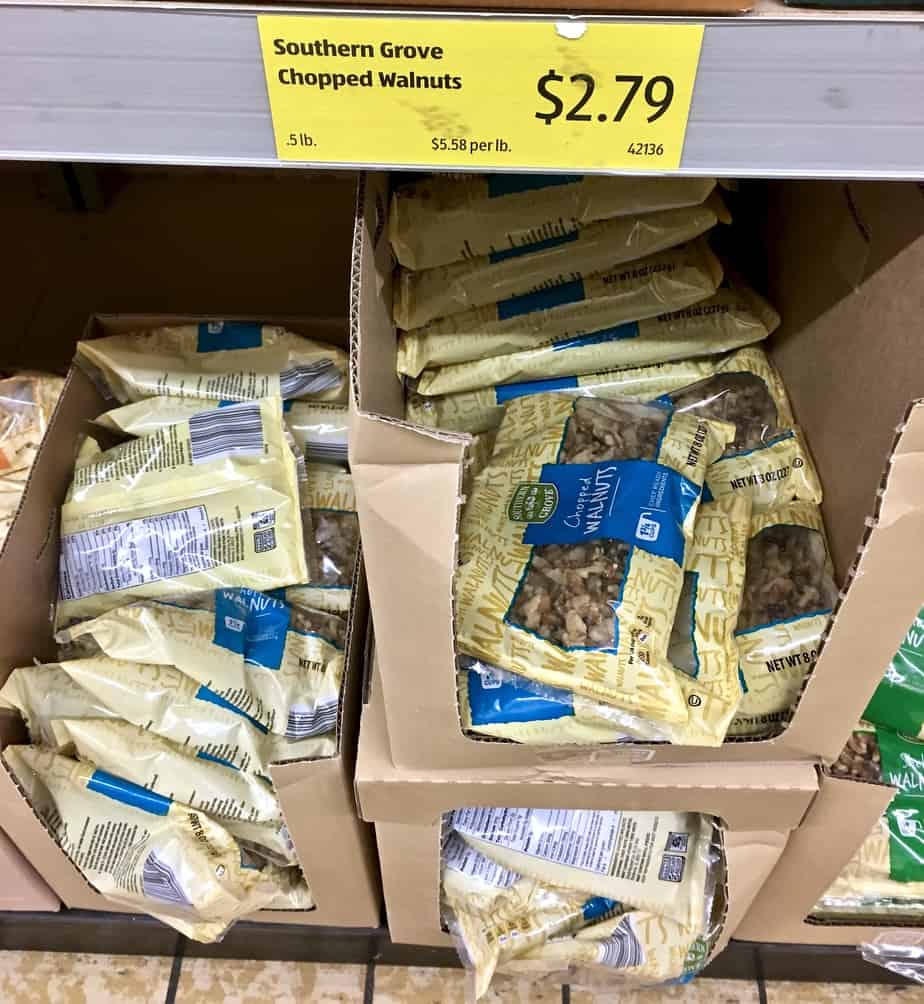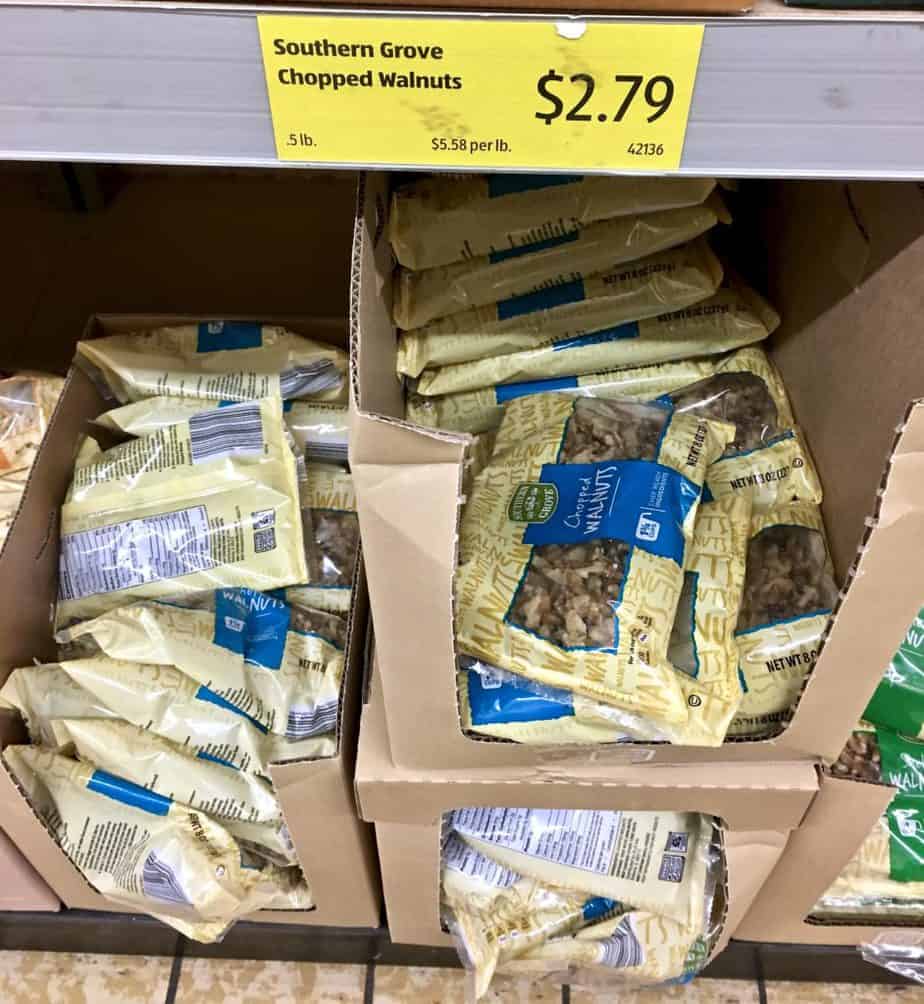 Chocolate chips. I don't buy these much unless they put them on sale. But they are less expensive than regular grocery stores.
Cookies And Crackers. If you would rather buy cookies, you can't beat the prices of Aldi cookies. The crackers like graham crackers and saltines are the lowest I have seen.
Cheeses. So many cheeses. From sliced, goat, cottage, shredded, sticks, cream cheese, and ricotta – All the cheeses are cheaper than I have seen elsewhere. And they taste fantastic! Oh, and the authentic grated parmesan is so delicious!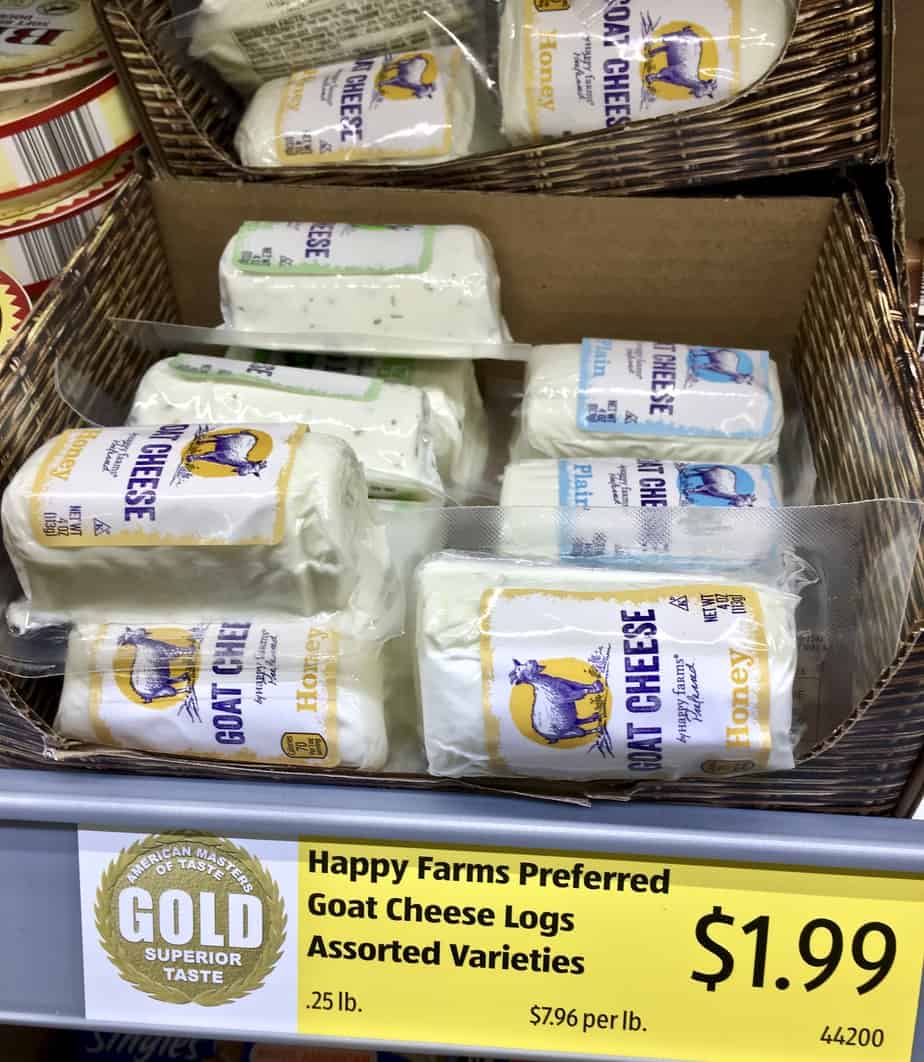 Butter. Best prices. Hands down.
Sour cream. Tastes great and is super cheap.
Paper Products. You know how you go to a grocery store and need toilet paper, so you decide to buy it? And then realize you spent more than you would have at Walmart? That won't happen at Aldi. The paper towels, tissues, paper plates, and napkins are great. Great prices – fantastic quality!
Garbage Bags. Best price over every other store. Spending a lot of money on garbage bags is terrible. Spending lots of money on garbage bags that don't hold up is even worse!!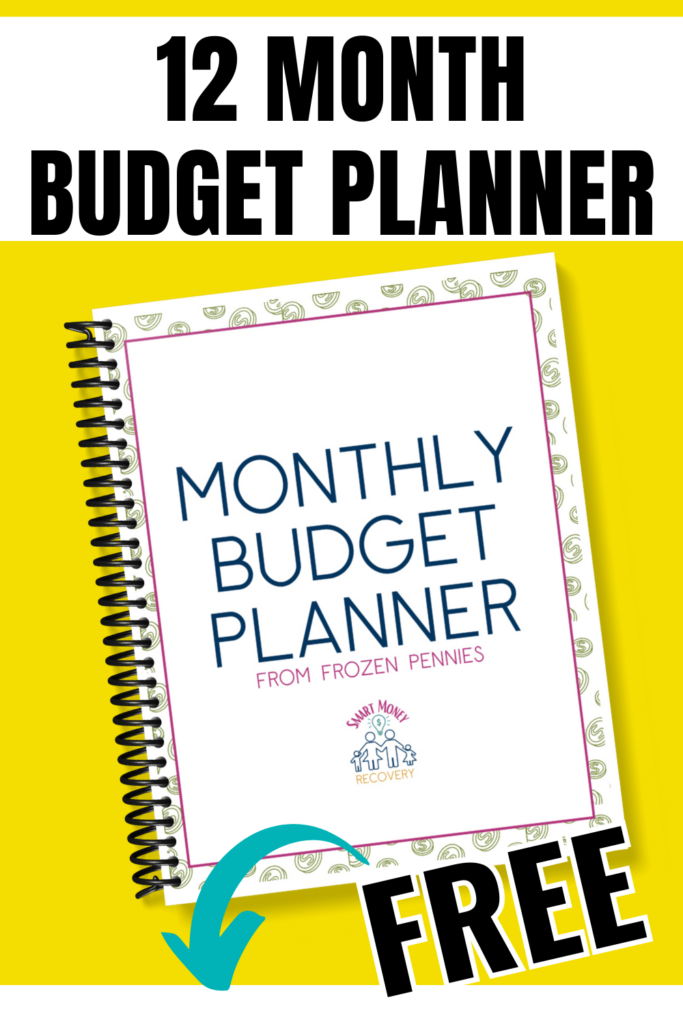 Aldi Meal Plan
My meal plan is a crucial component of saving at Aldi. I plan a 14-day meal plan which includes two leftover nights and one date night. Usually, I also include one take-out night, but because we're trying to finish up our renovation, I am trying to save money where I can. For my grocery budget this week, I spent $127.75, under the average budget but more than I wanted. But we needed stuff, so…
Breakfast Meal Plan
Our breakfasts are pretty basic and repetitive throughout the week. Eggs, breakfast wraps, and cereal are the main parts, along with fruit and yogurt. Maybe I will make some muffins, as I did buy some blueberries. And coffee is a HUGE part of breakfast.
Lunch Meal Plan
Leftovers, peanut butter sandwiches, and wraps are why we can keep saving with Adli. I don't usually buy sandwich meat. We will use the leftover meat for wraps and salad toppings. This makes lunch pretty easy.
Dinner Meal Plan
This is where the majority of our planning and shopping comes into play. I plan a side dish, main dish, and vegetable for each night. I have some great and easy recipes that coincide with the store making the savings at Aldi work best.
For example, we will have roasted chicken twice this week and will use the rest of the meat for soup, a casserole, sandwiches, salads, and toppings for a pizza.
We will have ground beef for burgers, hot meatball sandwiches, and meatloaf.
Desserts and Snacks
My boys love ice cream, and we have a local convenience store called Stewarts that makes their ice cream. My husband and youngest LOVE their ice cream(I don't like ice cream; they think I am nuts!).
The problem is…it's $5 a half gallon. That's not cheap. They can go through that in two days!
So, I have found that if I buy ice cream sandwiches and fudge bars, they last longer and are cheaper. Twelve ice cream sandwiches are $1.89. That will last them six days, and the portion control is better for them, too!!!
I also grab cookies, crackers, and chips. One of each for snacks. When they are gone, they are gone.
I have been shopping at Aldi for years and compare their prices in my Grocery eBook.