Food is an expense that occupies a significant part of every household budget. It might be easier to plan your grocery budget for a family of two, three, or more members. But grocery shopping on a budget for just one person can be challenging.
It is tricky to consider a single person's grocery estimate when you have a tight budget.
What Is A Good Grocery Budget For One Person?
According to the USDA, the cost of a single person on a "thrifty plan" is between $50 and $63 a week.
Your monthly grocery expenses for one person depend upon your income, expenses, needs, and wants. It is impossible to avoid food purchases; we can't stop eating.
A typical household of two or more people can have a grocery budget of approximately $300-$400 per month, considering the basic food they need to eat. But when you are trying to budget your grocery only for yourself, you don't need as much food.
Hence, your monthly grocery budget can be as low as $125 a month when trying to be extra frugal with your money.
It isn't that tough to stick to only the foods you need and not spend a penny on packaged and processed foods that can take away a considerable part of your grocery budget.
Budget Grocery Shopping For One
Having a hard time choosing ingredients when cooking for one on a budget is not uncommon. You're not alone if you struggle to find recipes for one when shopping on a tight budget. Most people end up wasting food when they try to cook for one.
You might feel it's easier to order takeout or delivery than coming up with a single person's meal plan and cooking for yourself every day. Yes, it's easier, but it will be way more expensive when you don't want to exceed your food budget.
If you stick to some basic rules of grocery shopping for one, you will save a lot of money and won't be wasting any food.
Make a personalized meal plan for one
Stick to your shopping budget
Make a grocery list before heading to the supermarket and stick to it
Pay by cash as it can save you from overspending
Effective Strategies To Budget Grocery On A Tight Budget
You're not alone if you're tired of wasting money on groceries every month. Most people feel like they can't win when grocery shopping. But some strategies could help you save money without making drastic changes to the way you eat.
What's in Your Pantry? Plan Meals Accordingly
Meal planning is a standard method to save time and money. Whether you cook for one person or more, meal planning will help you stay aligned with your grocery budget.
Try it another way instead of finding a recipe online and planning your meals. Search for a recipe that you can make with your ingredients. Make the most of your pantry by preparing meals around what's in it.
For example, if you have only onions or potatoes, find a recipe with these ingredients rather than piling up your pantry with stuff you might not ever use.
This way, you won't be wasting any food and will reduce the amount of money you're spending.
Buy Ingredients In Small Quantities
I know it's tempting to buy things in bulk when they are on sale. But, most of the time, the bulk ingredients go wrong when they are left unused. If you have a habit of buying things in bulk and stocking up, make sure they have a longer shelf life.
But when you aren't sure how much you will use, stick to buying ingredients in small quantities. It will help you spend less and waste less.
Buy More Veggies
Meat can rob a lot of money from your monthly grocery budget. I know it's hard to avoid eating meat when you are a die-hard fan of it. If you can't see past eating less, you need to find ways to save money on meat.
Another way to save money on your grocery list is to buy more veggies than meat. You can limit your meat-eating days and go vegetarian. Eating vegetables is cheaper than meat. Hence, following a vegetarian or vegan diet a few times a week by eating beans, lentils, and plant-based proteins and keeping animal protein for special occasions can help save money.
Look For Sales
If you need some quick ingredients that you can use sooner, you can look for a clearance sale that offers the food products at lower costs because they are nearing their expiration date.
Every week, grocery stores have sales. When the foods you love or usually eat are marked down, it makes sense to buy in bulk. You can purchase them in bulk and store them where you have room during sales.
Shop With A Calculator
It's hard to ignore your favorite food items on the shelf, even if you are on a tight budget. They may unintentionally end up in your cart when you're not cautious and intentional with your spending.
The better way to grocery shop for one on a tight budget is to carry a calculator when you shop. Add every item's price to the calculator and keep checking the spending limit. Just remove that food item from your cart if you're overspending.
No Need To Follow The Brands
It is possible to love the cheese of a specific brand and spend extra to get it. But when you can't get over the branded stuff, you pay a lot more than you actually should.
Look for a lesser-known brand of cheese or any other ingredient you want to have in your recipe, and enjoy the same flavors while relishing your favorite dish at much lower costs.
Shop From Farmer's Market
Farmer's markets are an excellent place for everyone who wants to shop for groceries on a tight budget. The farmers are direct sellers and do not burden you with their branding, marketing, and advertising costs.
The ingredients in the farmer's markets are cheaper and much fresher than the packaged or canned ones. Make use of a farmer's market for all your grocery needs, and you will be surprised to see the amount you save on your grocery bills every month.
Freeze The Ingredients
If you have stuff leftover and there's a chance they'll go bad, freeze them for later use. Freezing extends the shelf life of food, and you can save your food from going bad quickly.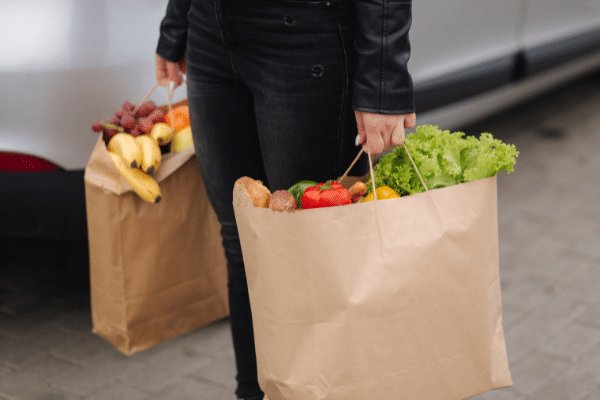 Batch Cook
Consider making a big batch and freezing it in single-serving containers. My cousin does this. He loves shopping in the warehouse stores and making big batches of things to freeze. He's single and works from home. It wouldn't be strange to open his refrigerator and freezer to find 35 bowls of turkey soup.
You can do the same with spaghetti and meatballs, casseroles, and your TV Dinners.
Stock Up The Food That Has A Longer Shelf Life
Spices, dried beans, grains, and lentils have a longer shelf life. Even onions and potatoes do not go bad that quickly. If you know how to store them properly, you'll have less food waste.
Stock more of these ingredients as they can be handy for you whenever you need a quick meal and you want to save your supermarket visit.
Compare Prices With Other Grocery Shops
You may have to visit a few grocery shops to compare the prices of the ingredients you need for your meal plan. This way, you will be able to find the cheapest deal and can save a lot of money on your grocery bills every month.
You can also use grocery comparing apps like Basket, Flipp, and Grocery King, which can help you compare the prices at your fingertips.
Shop Online
Online shopping has become a matter of convenience for many. You can order everything with just a few clicks, and you aren't tempted to buy more than what's on your list.
Also, shopping online will let you know exactly how much you've spent, making it easier to add more or take stuff out of your cart.
Check for some good online deals on grocery shopping, and you will be able to grocery shop for one on a tight budget with ease.
How To Meal Plan For One
Meal planning is a great way to save time and money on your cooking schedule. But planning meals for one person can be a difficult task for sure.
Here are some tips to meal plan for one:
Look for recipes that are sufficient for one person's needs.
Meal plan as per the availability of ingredients in your pantry.
Divide your grocery into individual servings if you've purchased them in bulk (portion it out for one time meal for one person).
If you end up having leftovers, eat them the next day. Or you can freeze them to eat later.
Cook your meals in large batches and eat them up several times a week. It's okay to repeat a menu when you are on a tight budget.
Final Thoughts On How To Grocery Shop For One On A Tight Budget
Even if living alone is not easy, you can make your grocery budget easier. Shopping for groceries on a tight budget does not need to be overwhelming when you can plan and implement them strategically.
Although it may seem daunting at first, you can efficiently grocery shop for one person on a tight budget with a little bit of planning and creativity. Just consider your own dietary needs and preferences, plan out your meals in advance, and make the most of sales and discounts. With a little bit of effort, you'll be able to save money while still eating healthy and delicious meals.
Have you tried any of these tips for grocery shopping on a budget? What worked best for you?