If you're a follower of the cash envelope system, you might already be familiar with the Savvycents Wallet.
Melinda Claudepierre started the company in 2009 after reading a book about budgeting with cash and getting tired of the paper envelopes constantly ripping.
Melinda was so sweet to send me a wallet for review and even though there was no charge for the wallet, the opinions I have are all my own.
This is the third Savvycents wallet that I have owned in the last ten years. I have been a fan for a very long time. I'm a self-proclaimed SC expert by this point.
The first was a pink and green polka dot wallet, followed by this teal and white chevron pattern.
This post may contain affiliate links. Please see the disclosure statement for more information.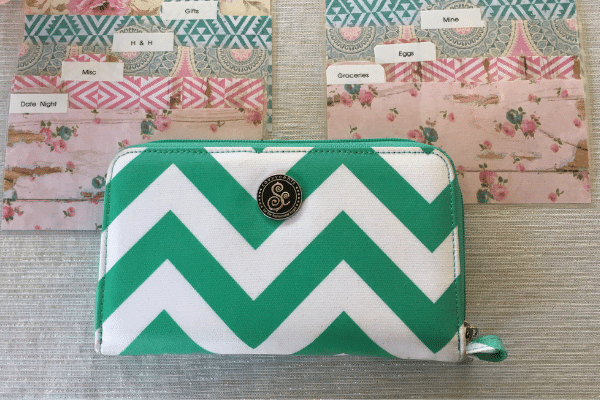 Now, I have this amazing blush pink design and I'm in love. Pink is my very favorite color.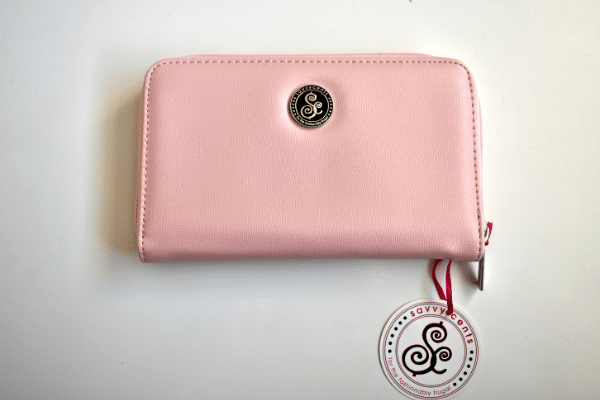 Why Use a Cash Only System?
The cash only system has become increasingly popular over the last 20 years. Most people are buried in debt and desperately trying to dig themselves out. Dave Ramsey has found a system of debt payoff that truly works for most who have dedicated themselves to the process.
Learn more about the cash only system in this article.
Finding a system that works for you is so important when you are trying to get your personal finances in order, the Savvycents. wallet is a great choice.
What is the Savvycents Wallet
The Savvycents wallet is a full-size wallet that is separated with slots for cash. It has 5 accordion-style pockets for cash categories with plastic tabbed dividers that you can personalize.
There are two clear ID slots. There is also an elastic snap to keep your cash slots closed so money stays secure.
On the other side, there are six spots for cards and one full length pocket perfect to keep your receipts.
The measurements are 4″ x 8″ x 1″ when completely empty.
There is a hidden wristlet strap that I will explain more about later.
On the back, there is a zippered coin pouch. The front has the metal emblem. The zipper has a heavy duty zipper pull, is quality, and does not stick.
The color choices are so great. There are colors and patterns for every taste. The colors as of now are purple, red, bronze, navy, black matte, sky blue, blush pink, and camel. There are also three patterns: cheetah, Burberry, and bone eyelet.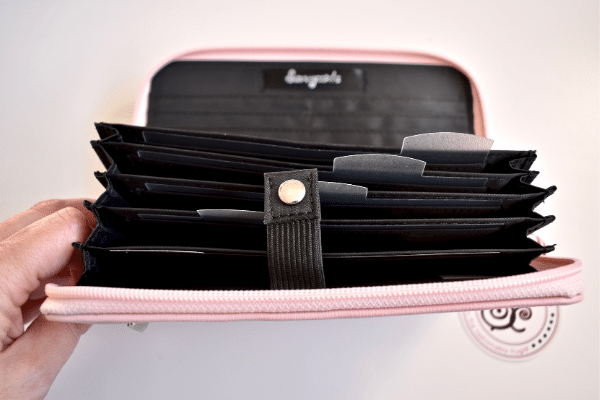 What I Love About This Cash Wallet
The color.
It's that perfect blush pink that I've become smitten with. It couldn't match my personality any more if I had created it myself. And there are so many other colors to choose from if perfect pink doesn't work for you.
The wristlet feature.
The wristlet strap is tucked away on the side makes any busy woman's life that much easier. When you are trying to carry groceries, children, or pets, you can just hang it off your wrist for hands-free tasks. I love it when going shopping so I don't have to carry my entire purse through the mall. That thing can get HEAVY! Perfect for Christmas shopping and Black Friday!
It makes cash management easy.
The Savvycents wallet makes using a cash-only system easy. Gone are the days of pulling out envelopes and fumbling for the right bills in the grocery store line with 20 people behind you at dinner time.
Just head directly to the tab marked grocery and hand over your money.
Plenty of room.
There is also enough room to throw my cell phone in. It's wide enough so my cell phone will fit – even with the case.
It looks like a normal wallet.
Even though you are working that debt payoff and are committed to no plastic, you aren't having to announce to the world that's what you're doing. its stealth budgeting.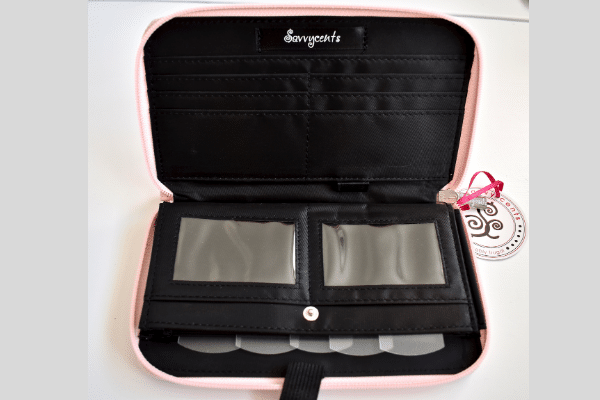 What Can Be Improved
The inside color.
The black inside is too dark for me. I think if it were a lighter color then it would be easier to see and find what you are looking for. Particularly in the change pouch area.
The change pouch.
Although it's just ok, I wish it were a little bigger. With using a lot of cash, I would love a little more room. One side expands and I think it would be perfect if both sides expanded.
The card slots.
These slots for cards and my ID feel very tight. The other wallets I have owned all felt a smidge too tight. it would be nice if they had a slightly easier card slot.
The Customer Service Is Excellent
When I emailed Melinda to tell her I was interested in their wallet, her response was prompt and professional. The wallet was processed and shipped within days and shipping was only three days.
I highly recommend the Savvycents Wallet. Like I said, I have been a user for at least a decade and can't wait to take this pretty pink wallet out into the world!