We all know that managing our money can be tricky. It's easy to lose track of expenses, overspend on things we don't need, or just have no idea how much is coming in vs. going out. The cash envelope wallet system for budgeting is a popular way to manage your finances more effectively and with less stress.
I love cash. I'm sure you've heard this before. I love the freedom and structure cash gives me. I love that I can plan my month (week or day) out and know how much money I have for that time.
There are way too many things I'm in charge of, and one less thing to worry about makes my life a little easier. Cash makes my life easier.
Do you feel like your money is always slipping through your fingers?
The cash envelope wallet budgeting system will help you understand where your money goes. It's simple to use and easy to understand so it won't take too much time in your day.
You'll be able to see exactly how much is coming in vs. going out and what you can do with that extra cash at the end of the month!
This system works because it forces you to spend only what's available for each category. If there isn't enough money left over for groceries this week, then no grocery shopping until next week when more funds are available!
No more impulse purchases or spending beyond our means – just a clear view of our finances daily.
What Is The Cash Envelope Wallet?
Essentially, the cash wallet system is similar to using cash envelopes for your cash. Except there are no envelopes.
You still have the same categories for money minus a way to budget the proper amount of cash in each group you might overspend in.
You would decide on the amount you will spend, place it in an envelope (or something similar) or your budget categories, and spend as needed. This budgeting technique is great for those trying to get out of debt and are giving up on debit cards or credit cards to make it happen.
However, when that is gone, it is gone — no whipping the plastic or taking it from another source.
You just have to wait for the next paycheck.
For example, groceries. I spend about $400 monthly on groceries: $ 150 every two weeks and $100 monthly at BJ's.
My cash envelope wallet gets that amount of money each month.
If I have extra, it will go in the miscellaneous envelope to spend on whatever we need.
Having the right system for using cash is essential.
I have tried several different cash envelope wallets over the years and created one that works well for me.
It allows me to use my favorite wallet that I got for Christmas a few years ago, and I know the possibilities are endless.
First, let's take a closer look at the most popular cash envelope wallets.
This post may contain affiliate links. Please see the disclosure statement for more information.
Top 21 Best Cash Wallets for Budgeting
1. Rachel Cruze Wallet
The new wallet from Rachel Cruz is a higher-end leather wallet available in two colors, black and camel. It has four pockets specifically for cash and is a full zip-around wallet.
Rachel Cruz's wallet has a wristlet strap, card slots, and a change pocket. It has no cell phone holder, but you can sneak it in depending on size. You can check out the NEW Rachel Cruze Wallet here.
It's not the least expensive, but the quality is good. The zipper seems strong and glides well.
2. Savvy Cents Wallet
The Savvy Cents Wallet was my first cash envelope system wallet, and I loved it. Grabbing this was a great idea for our money management. When I got mine years ago, they had limited colors. They now offer more than one different design. Mine was a white and teal chevron. This pink is fantastic – I might need to order this one!
This is the BEST inexpensive wallet at an affordable price. And you can buy this directly from Savvy Cents instead of through Amazon.
What I like most about these wallets are the slots they have in them and the plastic tabs to label your categories.
Regarding price, it's one of the most affordable wallets and will last. I found my tastes had changed, and with a new Michael Kors wallet for Christmas, I wanted to switch it up.
You can learn more about the Savvycents wallet in this article: Review of the Savvycents Wallet
14 Cash Envelope Wallets From Amazon
3. Bella Taylor Wallet
The Bella Taylor Cash System Wallet is a cloth design that is quite adorable with the buckle hardware in the front. I found the different colors and designs quite limited, but the inside is bright and easy to get to.
There are little tabs to label each category, but they are a tad hard to read, in my opinion. When standing in line at Target, the last thing you want to do is fight with your money.
I find the raised tab dividers easier to manage. But if you want to be subtle about it, you might enjoy it!
4. Divvy Up The Savvy Spender Wallet
The Savvy Spender Wallet by Divvy Up has one large compartment to house fabric nylon envelopes. These envelopes come with magnetic closures and labels.
This does not appeal to me. One more moving part to get lost. As with Bella Taylor, the names are more difficult to see.
It wouldn't be as confusing once you get used to which color is assigned to which category.
For me, this seems awkward.
5. Dave Ramsey Wallet
Dave Ramsey, the author and founder of The Total Money Makeover and the guy who made using cash cool again, has had a Cash Envelope Wallet out for YEARS!
It has paper envelopes inside. You can order the replacement envelopes, which is excellent.
It comes in limited colors and styles, but it is very affordable.
It has a tracking notebook, envelopes, and all the other important spots for receipts, change, cards, and a checkbook.
There is also a smaller black version for men or others who don't care for something this size.

6. All In One Budget by RK Day Planner Wallet Combo
The All-in-One comes with a wallet with 12 envelopes, 12 budget sheets, and one binder note for organizing – offers plenty of room to store your cards, coins, envelopes, coupons, and GIFT box package. This wallet has a ring binder to attach the envelopes and is a good starting price at under $20.
This is one of the most affordable wallets on the list. And as a planner wallet combo, it's a zip-around planner wallet organizer all in one.
7. Mou Meraki Women RFID Blocking Genuine Leather Bifold
This cash wallet by Mou Meraki will have to be modified with envelopes or dividers. But it is a great size for the dividers above and a good price. And with the RDIF (Radio frequency identification) blocking, you can add safety to the list.
8. Mundi File Master Women's RFID Blocking Wallet Clutch Organizer With Change Pocket
With three accordion slots, the Mundi File Master Wallet makes a great DIY cash wallet system.  And it has RFID blocking.  This wallet comes in several patterns and styles and is sold on Amazon for around $20.  Plus, this light blue is so pretty!
I love the look, and it's a good cheap wallet.
9. Soligt All-in-One Cash Envelopes Wallet with 12 Budget Envelopes & Budget Sheets
The Soligt cash envelope wallet's envelope budgeting system includes one stylish wallet in red with 12 envelopes, 12 budget sheets, and 1 binder note for organizing.  This has the ring binder adapter to hold your cash envelopes in place securely.
This is one of the best budget wallet brands.
10. Afmat
All-in-One Cash Envelop Wallet

The AFMAT Wallet from Amazon has 24 waterproof money budget envelopes and 24 budget sheets. It also comes with 24 labels &and one marker.  A great system for cash budgeting. 
This is also an affordable envelopes option.
11. Saveyon
Slim Budget Envelopes

Planner Purse Combination
This wallet by Saveyon has a divider accordion-style wallet that is a little less cumbersome than envelopes.  It has six tabbed envelopes and budget sheets to track your spending.  Comes with RFID-blocking safeguards.
Best zipper wallet for the money.
12.
Nautica Money Manager RFID Women's Wallet Clutch Organizer
This wallet by Nautica is the perfect size for DYI cash envelope wallets.  The measurements are spot on for the cash divider printable above.  It comes in many colors and has great reviews!
13.
Magicfly Zip Around Planner Wallet

This great affordable option comes in at under $20 with good reviews.  This Magicfly Cash Envelope Wallet has 12 budget envelopes, sheets, and labels. It's waterproof and lightweight for tracking all your spending.
This is a cheaper version of Filofax, and it comes with cash envelopes.
You could even get the money zipper pouch and put those in this. The plastic money envelopes might last longer than the paper ones.
14.
Expanded Horizons RFID Blocking 10 Divider Cash Envelope Wallet
This Horizons wallet is accordion-style with eight pockets and labeled windows to customize. It might be one of my favorites. No dividers or envelopes are needed.
15. With You All In One Cash Wallet
I just love the color of this All In One Wallet.  It's a larger size and has a wristlet band.  It has 12 laminated budget envelopes, 12 sheets, and 12 label stickers.  Good reviews, and it's just so pretty.
16. Kate Spade Planner Wallet
Check out this Kate Spade agenda if you're looking for a higher-end wallet planner. It is so cute, and you can add inserts to customize it any way you want. Who wouldn't love a Kate Spade cash envelope wallet? Ask for one in the coming holidays!
8 Cash Envelope Wallets From Etsy
17. Personalized Envelope Wallet & Binder
This cash envelope planner and wallet by Konate Kreations can be customized with whatever envelopes you need.
I love this idea because everyone has different needs – and this type of wallet has plenty of space for all envelopes.
This is the same type of cash envelopes I use for my sinking funds.
18. Cash Wallet by Vintage Fabric Finds
This hand-made custom fabric envelope wallet from Vintage Fabric Finds has individual zipper pockets with little tabs to write your category on. This is a cute wallet with up to 10 pouches, depending on your needs.
19. A6 Binder Cash Envelope System From The Average Budget
This A6 binder cash envelope system from The Average Budget comes with your choice of wallet binder, six very pretty envelopes, as well as labels, trackers, and bank withdrawal slips.
19. Cash Budget Wallet System by In Stitches Creations
In Stitches Creations makes these gorgeous patterned cash envelope wallets with up to 8 pouch envelopes. This wallet is so fun and comes with a wrist strap (which can be VERY important).
20. Fabric Cash Wallet from The Happy Quail
This envelope wallet from The Happy Quail is just gorgeous. The patterns used are so pretty, with up to 10 sections and a clear label to mark your categories.
21. How to Make a DIY Cash Envelope Wallet
After using the Savvy Cents Wallet for many years, I received a nice Michael Kors Wallet for Christmas.  So I had to devise a way to make it work for me.

Should You Buy a Cash Envelope Wallet or Make Your Own Cash Envelopes?
There are some great wallets on this list ranging from the best cheap wallets to the high-end Kate Spade wallet. But there are other options.
As I mentioned, I tried all sorts of clips (the binder clip and paper clip method), and they all seemed awkward and bulky.
I found myself fumbling around trying to get the clips off, and then trying to hold the wallet, clips, and money felt clumsy.
So I needed to create a system similar to the Savvy Cents cash envelope wallet that had worked so well for me over the years.
This was when I knew it was time to DYI cash envelope wallet! It's a great way to use this budgeting method with no extra cost.
I traced their dividers and created ones that fit perfectly into my new wallet.
Then I went through my scrapbooking paper stock and found patterns I loved.
I traced them, cut them out, used my label maker to create custom labels, and then laminated them to make great waterproof envelopes without the envelope part.
This is by far the best system I have ever had, and it's a great option, along with your budget binder. It's mainly a filing system for cash! Find the free printable pattern for these above.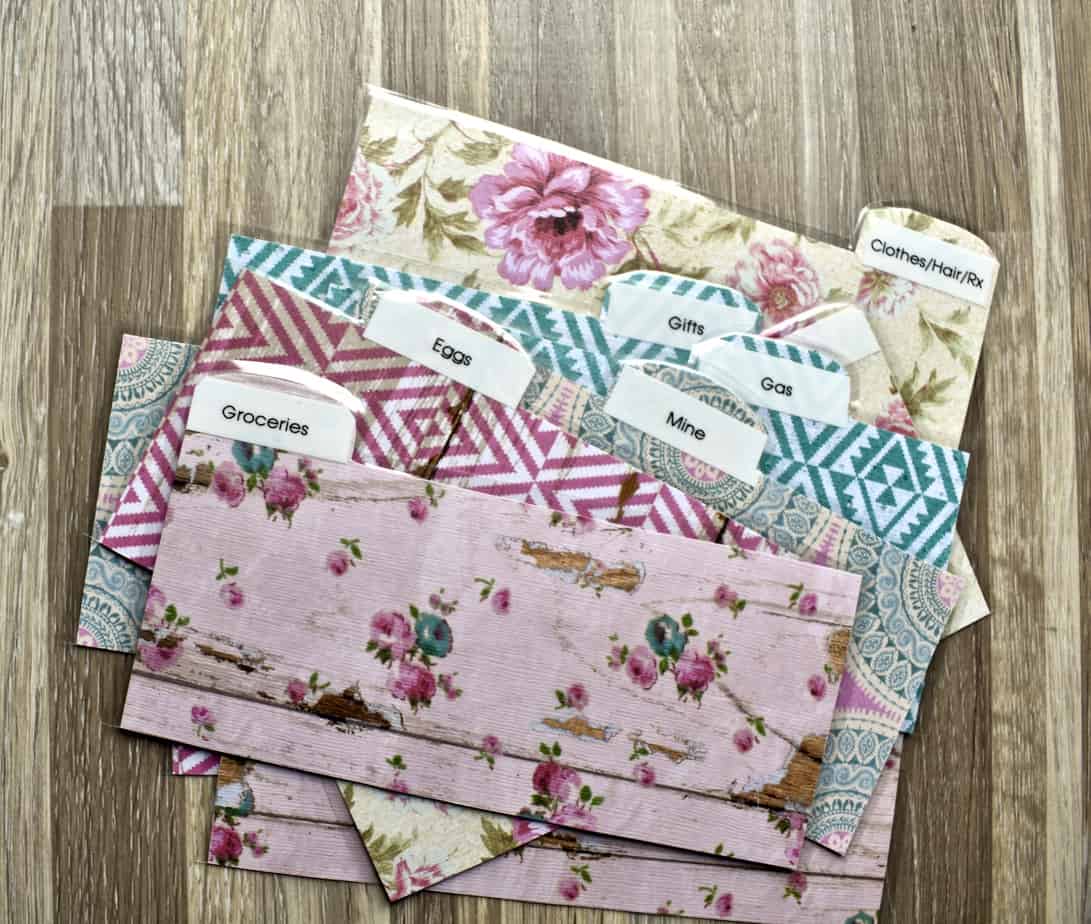 What Envelope Categories Are In My Cash Envelope Wallet?
Here are the categories that I have in my wallet. As I mentioned above, I rarely have cash in all of these at once.
Groceries. Self-explanatory. BJ's money once a month would also sit here.
Eggs. We get our eggs from a farm, so I like to have a separate spot for this. There is no place to get change, usually, so it helps to have the exact amount.
Mine. Yup…all mine.
Gas. Yes, I use cash for gas.
Bella. This is our old lady pup, and this is for anything that pertains to her – spa days once per season, food, or vet.
Date Night. Twice per month, we go out on a date night — nonnegotiable.
Misc.  Whatever we might need.  Car parts, home repair money, and DMV will all go in here with a sticky note if required.
H & H. House and hygiene. So, Target. I head there once a month with a list.
Gifts. This could be anything from a birthday to Valentine's Day.
Clothes/Hair/ Rx. Shopping, haircuts, or prescriptions would get stuck in here. This would also have proper sticky notes if needed.
Final Thoughts On Cash Envelope Budgeting System And Wallets
I honestly love the ease of a cash envelope wallet. There's nothing worse than the feeling of holding up a line when trying to get your envelope out or sort through your cash.
The cash envelope wallet has been around for a long time, and it is no surprise that there are many different types.
We've rounded up some of the top sellers in this blog post, but we encourage you to check out which suits your needs best by reading reviews on each product page.
Once you find the perfect match, you can return to an organized routine with monthly budgets and paychecks divided between categories.
All while maintaining peace of mind knowing that everything will still add up!