Money is always a hot topic for families. How much should we save? How can we make our money work harder for us? What are the best short-term financial goals for families?
If you're looking for some guidance on how to grow your family's wealth, check out this list of 15 great short-term financial goals.
From building up an emergency fund to investing in your children's education, these tips will help you make the most of your finances. And who knows, maybe even turn into some long-term financial goals!
In order to become financially secure, you need to set short-term financial goals as well as mid-term, and long-term financial goals for your family. A short-term goal is something we aim to accomplish within a short period of time. For example setting goals for a week, a month, or even a year.
Typically, any goal beyond five years can be considered long-term and any goal between 1 and 5 years is considered a medium-term (or mid-term) goal. A short-term goal is one that can be achieved within a year.
Often, short-term financial goals for families involve saving a specific amount within a short period of time. Your lifestyle, income, and specific goals determine the amount of money that you'll need to save towards your goals.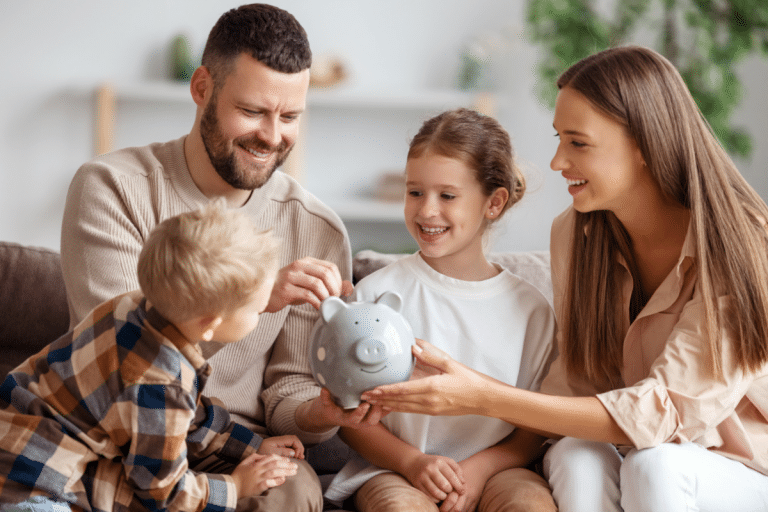 What Is Considered Short-Term Financial Goal
When it comes to financial goals, we consider anything under a year to be short-term.
To create a dream life for your family, having short-term goals is always a good idea. You can use it to manage your money well, secure your financial future, and also have a little fun.
You set a short-term goal when you want to achieve something in the near future. While the long-term goals require a long period of time to achieve.
Both long- and short-term goals can help you in the financial future of your family but shorter goals help you think about what you can do right away.
Short-term financial goals are ones that involve your extra money in a more focused or shorter manner than most of your other goals.
The purpose of short-term financial planning is to solve immediate problems and develop strategies that will produce results within one year.
Goals should be achievable and easily changed because of unexpected situations.
Why Are Short-term Financial Goals Important?
When you set short-term financial goals, you can gain the awareness you need to reach your larger, longer-term financial goals.
Achieving short-term goals is relatively easy compared to achieving mid-term or long-term ones.
The most important reason for setting short-term financial goals is that reaching financial milestones will give you the ability to develop and achieve your long-term financial goals in a realistic way.
By paying off debt, covering unexpected expenses, and funding life goals, you'll not have to worry about money when you have your financial goals in place.
It is important to open short- and long-term savings accounts as soon as possible to safeguard your financial future.
The power of short-term goals to achieve success on a personal and professional level cannot be understated.
In order to reach the financial security of your family, it is important to understand and focus on our short-term goals.
Key Benefits of Setting Short-term Savings Goals:
You can stay focused on your longer-term goal by establishing short-term goals.
Having short-term goals helps you make sense of your overall financial planning.
When you give yourself specific deadlines (shorter ones) for completing tasks, you'll be able to stay on track and avoid procrastination.
A short-term goal helps you review your own capabilities of accomplishment and helps you set much bigger goals in near future.
What Are Long-term Financial Goals?
In relation to your finances, a long-term financial goal is an undertaking you wish to complete in the far future. More specifically, it is an investment strategy that can be accomplished over a period of five years or more.
Your long-term financial goals target your long-term financial stability rather than short-term or mid-term goals.
Having long-term financial goals means that you aim to achieve something in the far future.
In terms of long-term financial goals, typically, a single solution does not fit everyone since each individual has different expectations and priorities.
To manage your finances effectively, you need a long-term financial plan.
Setting long-term goals differs from setting short-term ones, which usually have a smaller time frame and less accomplishment to show.
Key Benefits of Setting Long-term Goals:
Establishing long-term goals allows you to make your dreams a reality. Not only do they help you accomplish difficult tasks, but they also help you prioritize your work and identify what you consider to be successful.
A long-term goal shows you a path to achieve your dream.
When you start working on your most important long-term goals, you become more focused on life.
Every goal-setting enhances productivity by eliminating procrastination. Long-term ones have more impact on your productivity as you tend to put extra effort into them to make them a reality.
You have a clearer vision of your future finances when you set your long-term goals. It adds up to a more apprehensible path to achieving success in your financial life.
As a result of the long-term objective to reach your goals, you are motivated to achieve them every day and can visualize yourself having achieved them someday.
They help you make better decisions for your family's financial future.
Examples Of Long-term Financial Goals
In general, most people hope to achieve the following long-term financial goals in their lifetime:
Save for retirement fund
Saving for kids' education
Become a millionaire
Save money to buy a house
Achieving financial security and freedom
Investing in a roth IRA or certificate of deposit
Short Term vs Long Term Financial Goals For Families
Just like every drop of water creates an ocean, long-term financial goals are made-up of short-term goals. A long-term goal gives your work direction and purpose. Your larger goals are more likely to be achieved if you have a lot of short-term goals. A short-term goal breaks up the work into manageable steps to make it more palatable.
When you have long-term goals, you can strive for big goals in your financial life. Whereas creating short-term goals is setting a ladder to achieve the mid-term or long-term ones. Short-term goals are often baby steps towards larger goals.
What Are Some Examples of Short-term Financial Goals
You can have several short-term savings goals for you and your family. The list has no end, but choosing the most important ones is the necessity to be focused and realistic towards your goals.
Here are some examples of some of the most common short-term financial goals for families:
Building emergency fund
Paying off credit card debt
Saving for the annual vacation fund
Paying school fees
Buying a family car
Buying a new appliance for home
Saving for the holiday season
Paying off personal loan
Paying off students loan
Home renovation
Buying a new gadget like a laptop or smartphone
Saving for new furniture
Increasing your credit score
How to Prioritize Financial Goals For Your Family?
In order to achieve any of your dreams, you need financial goals. With so many competing demands on your time and attention, setting proper financial priorities can be overwhelming.
To achieve your goals, staying focused is essential. When you have too many savings goals, it's hard to focus on what you need to do to reach them. You should limit your choices as much as possible.
If you want to achieve short-term financial goals, you must make sure they are within your reach. You might think that it's a good idea to try to achieve all of your short-term financial goals at once, but that's not always the case.
Prioritizing your finances is the key to achieving most of them. Even if you are unable to achieve them all, you'll still be able to accomplish most of them by prioritizing the most important ones.
Steps To Prioritize Financial Goals For Your Family
Make a list of your financial goals
Categorize them into short-term, mid-term, and long-term goals
Set a deadline for each financial goal
Classify your goals into needs and wants
Put your needs on top of the list
How to Budget and Save Towards Your Financial Goals?
Having financial security requires you to set short-, mid-, and long-term financial goals. When you do not have a budget and a goal in place, your money gets spent in various manners. Having no focus on money can make you poorer day by day.
To have a sound financial future for your family, you need to start budgeting and saving towards your financial goals. Here are some steps to help you accomplish your family finance milestones:
Choose the best budgeting methods suitable to your income, expenses, and family needs.
Be realistic towards your goals and do not overdo them
Lower interest rate on what you can
Create an emergency fund that can help you combat any unexpected expenses
Save money towards critical illness fund and do not use this for other reasons
Track your debt
Pay off credit card bills and utility bills on time to avoid penalties
Get an insurance policy to secure the future of your family
Be intentional while spending your money
Invest your money in better earning options like the stock market
Try to live on a single income while you can save the other one to achieve your short-term financial goals
Opt for frugal living to maximize your savings
Final Thoughts on Short Term Financial Goals for Families
A person's financial success cannot be attributed to luck. When you make the right decisions and set short-term, mid-term, and long-term financial goals to attain them, it becomes a reality.
Setting financial goals lets you keep track of your progress so that you'll always know where you stand. Start saving for your future whether it's short term saving or long term.
You'll be better prepared to achieve your intermediate and long-term financial goals if you achieve your short-term financial goals first.