Any possible way you can move toward a simpler financial life today is a step toward a more peaceful life.
All of the financial areas in your life including budgeting, insurance, investing, and retirement can get out of control. Having a streamlined system will help you keep everything in order and without overwhelm.
What Does Your Financial Life Look Like?
Are you aware of where your money is going, how much you have, and where your investments are? Or are you on the hot mess money express?
When you imagine your financial life does it look like Marie Kondo has been there or an episode of Hoarders?
I know the examples may sound silly and a little extreme but clutter breeds clutter whether it's in the basement or in your financial life.
Simplifying your financial life is just one more way to control your money chaos.
Why Do You Need to Simplify Your Financial life?
Knowing where your money is going is half the battle. Burying your head in the sand (as peaceful as that sounds) will only make the hole deeper. Whoever said ignorance is bliss was not talking about finances.
Having a bacis understanding and organization of your financial life will help you manage your money better. Everything is better when its organized and streamlined. Even your money.
Having an awareness of where your money is going and on what day of the month it needs to get there will reduce stress and help you get to those money goals that you might have.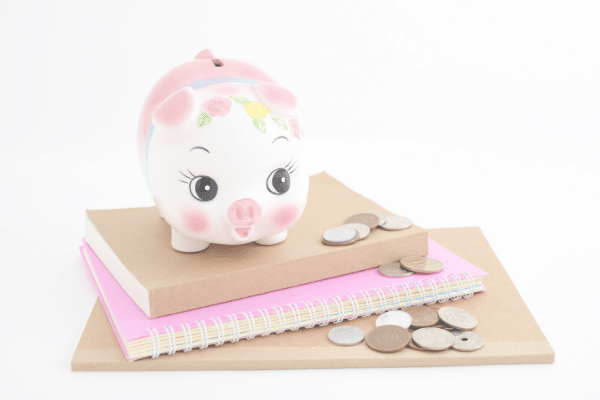 This post may contain affiliates. Please see my disclosure for more information.
How to Simplify Your Financial Life
Use cash
When you are out and about, use cash. You never have to worry if there's enough money in your account or whether your credit card will be declined. You never have to worry about paying a bill later or whether you can afford the purchase.
Get back to the basics and buy groceries the way our grandmothers (and great grandmothers) used to do it. A perfect example of how they simplified their financial life.
Automate
Have those fixed expenses paid for automatically. Have debt repayment automated so you don't have to think about it and can focus on other things.
No worries about forgetting to pay your cell bill if it's auto paid. No late fees or service interruptions. Our provider gives us a discount when we signed up for autopay.
Reduce Your Bills
Call your utility companies and your insurance companies and negotiate a smaller monthly bill. This is worth doing every year. I was able to reduce my homeowner's insurance and cell phone bill by calling this fall.
Consider reducing your mortgage by refinancing. If your interest rate is higher than you might qualify for today or if you have enough equity to offload the PMI, then it's worth chatting with your bank.
Get Rid of Debt
Paying off debt can really simplify your finances. The fewer bills you have to pay, the more streamlined your finances will be. Imagine the amount of money you would have every month if you could take back the payments you are making.
Dave Ramsey's Total Money Makeover is a great resource.
Consider the debt snowball or debt avalanche methods for getting rid of debt.
Cut Up Credit Cards
They are just not needed and are one more thing to think about, worry about, and deal with. When you are trying to simplify your finances, credit cards don't help.
Making sure they are paid on time and in full every month so the interest rate doesn't increase and extra charges accumulate only adds to the complexities we are trying to avoid.
Clean Out Paperwork
Go through the file cabinet and declutter anything that you might not need. Old bank statements or bills that are irrelevant. That owner's manual from the lawnmower you no longer even own, the electric bill from 10 years ago. They can go.
While you're at it, consider going paperless. Your bank doesn't need to send statements each month if you can just access them whenever you need them. Going paper list is a great way to simplify your financial life.
Consolidate Accounts
Many people find multiple accounts easier to manage. Some of us are micro managers and like to have multiple accounts for specific purposes.
If this makes your head spin and you find it overwhelming, then consolidate them into one savings account and one checking account. That's all you really need.
Automate Investments
Just like fixed expenses, putting your investments on autopilot will have you saving and making money with no additional thought.
We have my husband's 401K automatically transferred right from his check. No thought needed, just magically done.
Work on Your Money Mindset
This might sound a little hokey but what you think and how you feel about money matters. If you love money and welcome it into your life, it will find you. If you never have enough and are focused on debt, you will always be in debt.
It might be time to change your money mindset.
You get what you think about. It's the way of the universe. If you are thankful for what you have and know how to manage it, you will find more of it heading your way. My husband always says, "Money goes to money." I think he has a point.
Create a Budget
Creating a budget should have been number one. If you don't have one, you will get lost. It's like going on vacation with no GPS.
There are so many ways to budget. From physical planners to digital spreadsheets. From apps to downloadable printables. Everyone can find the option that's best for them.
Learn to budget and the entire financial world opens up for you.
Cut Services
This is any type of service that you are either not using or frankly, just don't need. All those tv streaming services, for example. We don't need ALL of them. Really, with the internet full of so much entertainment, we don't need any of them.
Cut back on other services as well. Do you need unlimited data on your cell plan? Do you need all of the coverage on your auto insurance? Can you ditch the NFL mega package and just watch regular football?
take a closer look at where you are and what type of entertainment you are paying for. There are a lot of ways to entertain ourselves for free.
Create Financial Goals
Goals make us superhumans. When we set our minds to completing a goal, it works. Creating financial goals will help you get that much closer to where you want to be.
Think of long term goals and short term goals when it comes to your personal finances. Sit down and write a few of those out so you can start working on those.
Consolidate Budget Categories
There could be a lot of budget categories. You have the main categories and then the subcategories along with the breakdown of the subcategories into proportionate categories. Or, you can just have five categories.
Home, Auto, Holiday, Food, and Misc. Done.
Unless you are a micromanager, consolidating and simplifying might just make your life a little easier and specifically, simplify your financial life.
Automate Savings
When you are working on building your emergency fund or saving for a large purchase, letting it ride on autopilot makes the job that much easier.
Auto withdrawal from your paycheck or account into savings account on a regular basis requires zero thought. it also requires zero stress.
Final Thoughts on Ways to Simplify Your Finances
Our brains think a bazillion thoughts a day. Creating simplicity and peace where we can allow our brains to focus on other things that aren't as stressful as money. Fabricating a lie that's financially stable and that we don't need to use our energy on gives greater purpose to life.