One of the hardest things you'll have to do when you're getting serious with your finances is to face the facts. The way you've been living isn't sustainable and has to be changed.
How do you pay off debt and still have a life?
You can make debt payoff the goal and still go out to eat, enjoy a vacation, and find joy by being intentional with your money and designating funds for those areas that hold value for you.
When you've been living without a budget, the realization that you need to strictly limit your spending can be downright depressing.
Depending on your personal situation, you also might find yourself saying no to your favorite things, foregoing activities, and postponing vacations. It can be hard to say goodbye to life as you knew it.
Chin up! I'm here to tell you how to pay off debt and still have a life that is fun and fulfilling.
It's not only possible to have fun while paying off debt, but it's also probable that your new way of life, which comes with less stress and more control will make life more fulfilling no matter what type of debt you have.
Create a budget
Really. This is the big one. I know it sounds cliche and cheesy but if you fail to plan then plan to fail. Having a budget allows you to spend on the things you find most important.
Putting a name to every dollar amount will make you aware and in control of how and where each dollar is going.
I truly believe that having a budget will not only give you a roadmap for your debt free journey, but it will also allow you to create the future legacy that you want.
Learn how to create a budget and decide where your values lie.
Reset your mindset

The most powerful tool you have for paying off debt and still enjoying life is a positive mindset.
Instead of focusing on all of the things you CAN'T have or do while paying off debt, it is time to turn your thoughts to all of the positive things that will happen when you are debt-free.
Once you decide that the debt life isn't for you and there will never be any more credit cards, car loans, or personal loans, and your money is now yours, and credit score isn't the most important thing, you will feel that mindset shift.
One good way to keep your mindset positive is to make a list of the reasons why you are paying off your debt.
For example, I want to have less stress. I want to save up for a house. I want to be able to help others, etc.
Make this list very visible (print it off and put it around your house), easily accessible (on your phone or computer), or both! Anytime you start to feel discouraged, you can refocus on the good that will come from paying off your debt and have a positive mindset.
Choose big financial goals

Remember the Mary Poppins song that says, "A spoonful of sugar helps the medicine go
down?" Setting big financial goals can be that spoonful of sweetness that will help you get
through this harder time of living frugally and paying off debt.

When you have something amazing to look forward to like a family trip, your own home, or a
new computer, you are more likely to keep on truckin' through the harder parts of living in a
financially responsible way.

Write your financial goals down. Think about them. Visualize yourself accomplishing those
goals. When the mundane day-to-day of paying off debt has you down, allow yourself to dream
about your financial goals. This will help you stay motivated and on track.
Reward yourself for reaching smaller goals

The journey to being debt-free isn't always a fast one. In order to keep your momentum, it is a great idea to reward yourself as you reach smaller financial goals.
These rewards don't have to be huge in order to make you feel good. Even something as simple as dinner out or a new book can be immensely gratifying.
Try breaking your debt repayment into smaller bite-sized goals and add a fun incentive for when you reach each of these mini-goals. Just make sure to add any money you need for your rewards into your budget!
Grab some printables from the shop and reward yourself with something small and special every time you fill one in for your debt snowball tracker
Knowing that this is a long term marathon (not a sprint) and breaking the goals down into more manageable chunks will keep the momentum and motivation up.
Tell a trusted friend when you hit those small goals and do a little happy celebratory dance in the kitchen with your kids.
Tell friends and family about your goals

Your friends and family can have a big influence on the emotional part of your journey towards paying off debt.
Sometimes we are nervous or embarrassed to tell people our debt situation…but it is a good idea to tell your close friends and family what you are working towards without getting super-specific.
Why? When friends and family know you are living frugally and working towards paying off debt, they will be able to support you in a healthy way AND you'll feel more comfortable expressing yourself in uncomfortable situations.
Think of it using this example: Let's say you choose NOT to tell your best friend that you are trying to pay off 10K in credit card debt.
You have a budget, you are working hard and BAM!
Bestie suggests you go on a girls' trip to Las Vegas.
If she has no idea about your financial goals, then it will be REALLY hard to tell her no or suggest an alternative idea that you can afford.
Suddenly you are stuck between a rock and a financially hard place!
Now imagine if you had been open with your BFF about paying off debt. Hopefully, with the knowledge she now has, she can suggest a bonding idea that is more affordable.
However, if your debt situation didn't cross her mind and she still asked you on the trip, it would be easier to remind her why the trip isn't feasible for you.
Again, there is no need to go into specific detail about your debt.
But telling your close friends and family that you are working on financial goals will make it much easier to have fun and avoid uncomfortable situations while you are paying off debt.
Find a group of people with similar goals
Having the support of people with similar financial goals and challenges is another way to make life more enjoyable as you work to get out of debt.
Sometimes this group will come to you in the form of friends, family, or co-workers that are working on their own financial goals.
You can also find support groups online.
How does a support group help you have a life while you are paying off debt? If your usual friend group isn't living frugally, it is easy to feel all alone.
Having a support group, whether in person or online can help keep you inspired and motivated.
From financial ideas to tips about having fun on a budget, finding a group of people that are encouraging and supportive as you pay off debt will make the journey more fun and less lonely.
Check out my Facebook group for saving money on groceries and more: Smart Grocery Budgets
Plan for wiggle room
To this day, I keep a buffer in our checking account. There is nothing ore deflating than an unexpected expense popping up that you hadn't remembered and throwing you entire budget off, causing overdraft fees, negative balances, and mess ups to your zero based budget.
This way, even when your husband says, I ordered a new snowblower part from Amazon (when you hadn't planned for that in this paycheck's budget), you are covered.
Budget "blow" money or "adult allowances"
Deprivation can derail even the best-intentioned budgeter. That's why I advocate that you set some money aside each month to use on anything you want.
You might have heard it called "blow money," or an "adult allowance" but the principle behind it is the same.
When you are working hard to pay off debt, budgeting a specific amount of money to use on anything you want eliminates that feeling of deprivation and helps you stay on track.
I recommend staying fairly conservative with the amount you budget for blow money. Keep your eye on the prize of paying down your debt!
Anywhere from $25-50 per adult per month seems to be an optimal amount that will let you have fun each month while still steadily progressing towards your financial goals.
Find new places to buy your groceries
A few years ago, I'd heard of this scratch and dent store in Vermont that had some REALLY cheap foods. So my sweet husband took us all for a ride to check it out. There were some pretty fun items there and we left with a big box of dried and canned organic things for $35.
It was a nice ride and a fun day out for our little boys and I found some bargains.
Don't be afraid to find new places to buy gorceries and think outside the box. Explore new neighborhoods to see what unique stores they have.
Check out ethnic grocers in different parts of town. You might be surprised at the prices.
Learn more about spending less on groceries: Groceries With Pennies
o
Get creative about activities/expenses
The saying, "Necessity is the mother of invention," applies well to living on a budget.
There is no reason that you can't have fun while paying off debt…you just need to be a little more creative about your activities.
Instead of going out to dinner, have your friends all bring a few ingredients and make a recipe together. Borrow books and movies from the library instead of buying them.
Follow your city's Facebook or Instagram account to find out about free, local events.
For almost every activity you can think of, there is a creative alternative that won't break the bank. Often these frugal and creative activities end up being more memorable and fun!
Don't be shy about suggesting alternatives to expensive activities…but also don't be surprised (or take offense) if your friends still want to go out without you sometimes.
Don't let your debts take over your life
Keep focused but know that life goes on while your working on getting out of debt. Spend time with friends and family. Go on a summer getaway. Enjoy Christmas traditions.
Life doesn't have to stop to get out of debt. It's your game and your rules.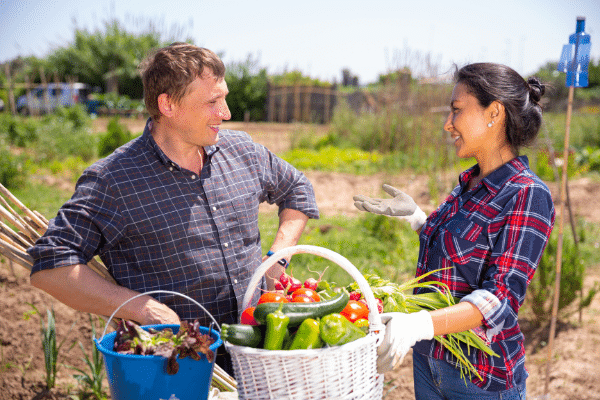 Borrow or barter instead of buy
In the days of barn raisings, it was very common for neighbors to share with neighbors. When it comes to having fun while still paying down debt, borrowing is a great way to have experiences without spending money.
Before you buy or rent something, ask around your friend group to see if anyone has the item you can borrow.
Just make sure you are a good borrower…return it in great condition and for bonus points include some homemade cookies or a thank you note. And don't be stingy with sharing with others.
Start a side hustle for spending cash
You hear a LOT about side hustles these days for good reason. There are so many opportunities available for earning extra cash on your own schedule.
If you are trying to pay off debt, a side hustle can add some cash to your pocket that can be used towards debt and/or fun.
Own your own car? Companies like Uber, Doordash, UberEats, and Lyft give you the ability to earn easy cash during your downtime. You can find other side hustle inspiration in this post.
I recommend that you give every dollar a job even when it comes to side hustle earnings.
You can certainly use some of the money for fun, but do it in a very deliberate way.
Put a specified amount into your blow money account and use the rest for debt.
Remember, the faster you get your debt paid off, the more quickly you'll reach your financial goals.
Play the game
How can you make this debt freedom journey fun? Can you see how much money you can free up by calling your cell phone provider and negotiating your rate? How about refinancing your student loans for a lower interest rate?
What other monthly expenses can you reduce? You may realize how much fun saving money can be.
Dig through your online statements to see where you can find subscriptions to cancel and expenses to reduce. For every $10 you save, give yourself $2. Then go out for ice cream or pie and coffee. Or just throw the extra money in a savings account.
Help others
You might be confused about how helping others can help you pay off debt faster and still have a life. I've found that when I help someone else, it takes my mind off my own troubles.
Serving others helps them and helps us too!
If your friends have plans that you can't afford, find a meaningful way to spend the day
by serving someone.
It doesn't have to be complicated…spend some time talking with a neighbor, pick up garbage at a nearby park or write a letter to someone. You can also find ongoing service opportunities to help fill your time.
Check for volunteer opportunities at local schools, Boys and Girls Clubs, or senior centers.
There are also lots of great service opportunities that can be done from home or in person on the
website www.justserve.org
Final thoughts on hacks to pay off debt and still have a life
Changing your habits to pay off debt and still have a life doesn't mean that your life is over. However, it does mean that your life might permanently look different.
You can choose to look at your new, debt-free way of living as an improvement on your old way of doing things.
Not only will living frugally help you accomplish big financial goals, but it will also help you feel more in control, less stressed and empowered that you can do anything you set your mind to.
By following these 15 ideas for how to pay off debt and still have a life, you might find that your new frugal habits are both fulfilling and enjoyable.
And when your friends and family see you creatively having fun, helping others, building wealth, and working hard for a better life you just might inspire them to work towards being debt-free as well.