Want to save money when thrift store shopping? Thrift store shopping can be the perfect way to find great things for little money. If you want to get a new wardrobe or decorate your house without breaking the bank, here are 20 thrift store shopping tips on a budget to help you get started!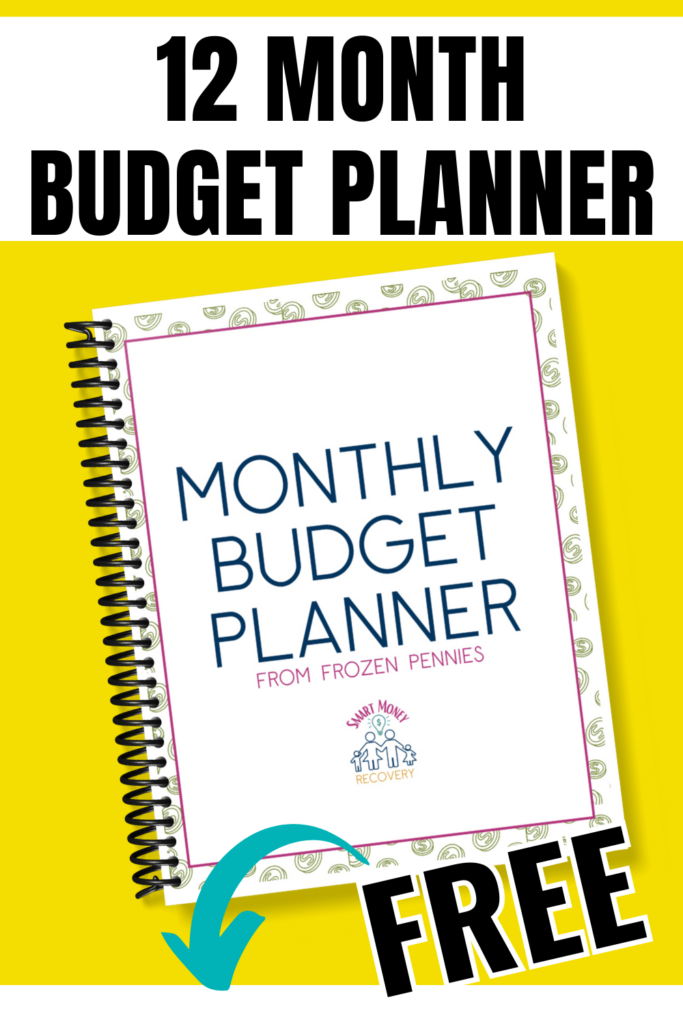 Buying Used Is Good For The Planet
Consider the environmental impact that buying gently used items can have. Buying secondhand is good for your budget, but it's also good for your planet.
Instead of buying new, try secondhand shopping for a change. You'll be surprised at how much stuff you can find and save!
It might sound like an unbelievable idea but think about everything that goes into making something from scratch. All those materials have to come out somewhere – on land or sea, sometimes faraway places where people live in poverty, so your clothes don't always end up right when they're supposed to.
It takes energy (not just fossil fuels) resources to get the products to the stores and the materials to make those products. The trees used for wood and paper, the chemicals used for plastic and fabrics, and the pollution as an end product for all the above.
It's a great way to help reduce the impact of things we consume. Reusing something that has already been produced is much more environmentally friendly than creating new products from scratch, and secondhand shopping means less waste going into landfills altogether!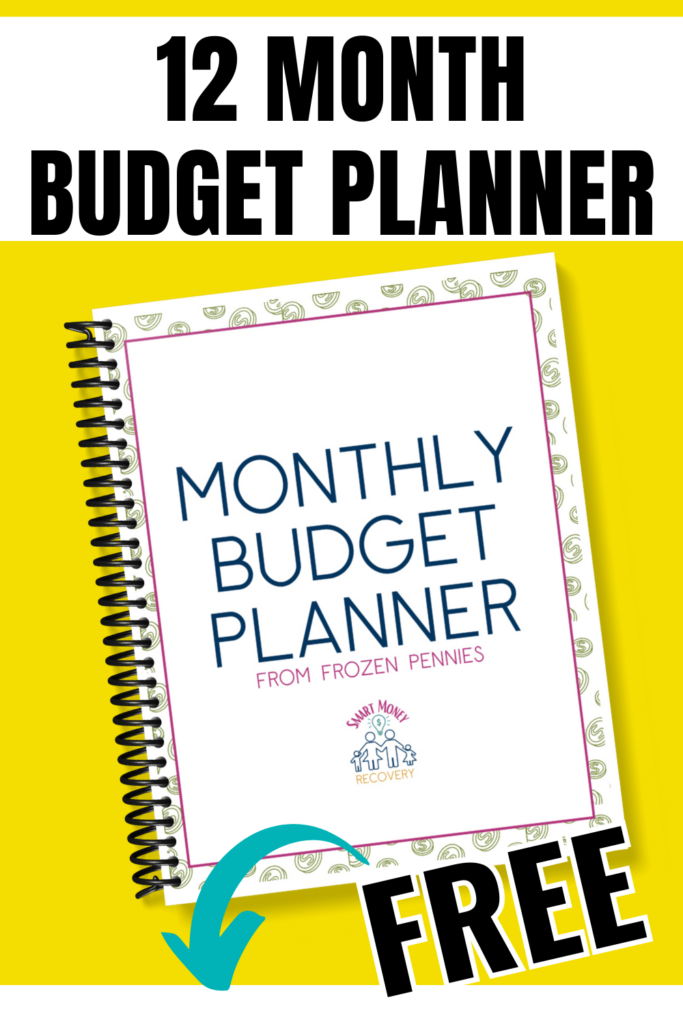 Buying Used Is Good For Your Wallet
One of the most obvious perks of buying gently used saves you money.
Buying gently-used clothing is a great way to branch out and try on styles you wouldn't otherwise. If it doesn't work, pass it along for someone else's use!
It also saves money by purchasing items from your list without spending more than necessary at once – plus, there are no shipping costs involved either because you will pick up these clothes right in the store (saving time!).
When you can buy something used, wait before buying it new so that your money goes towards saving instead of spending on unnecessary things.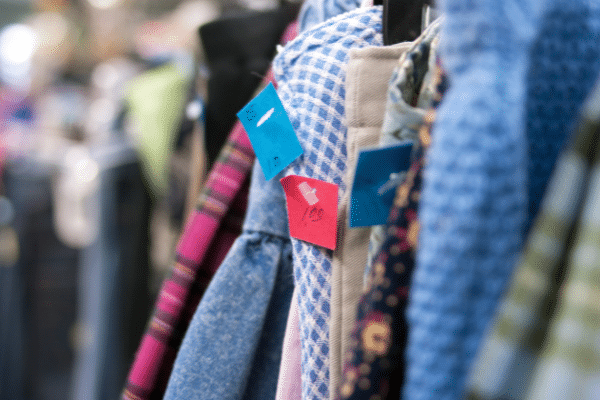 Buying Used Is Good For Others
Shopping at places like Good Will and The Salvation Army is not only good for you; it's good for others. Spending money at a local thrift store will also help your hometown neighbors.
The money made goes toward helping those in need. Whether buying Christmas gifts for children who have none or heating homes in winter, these organizations are doing good things for low-income families.
Donating to their fundraising efforts will make you feel double good when scoring the lamp of a lifetime!
How to get the most out of your thrift store shopping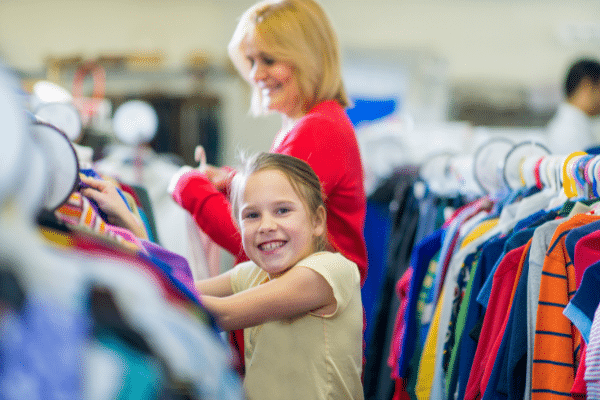 1. Make a list.
Keep a running list of the things you are looking for. Know your favorite brands and the clothing lines that fit you well.
Take notes on your phone if you want a new side table for the living room or more metal mixing bowls to refinish.
Keep your kid's sizes handy and the books you'd like to read.
That will help you not overspend.
2. Go often to save money when thrift store shopping.
Going thrifting often is the best way to find hidden treasures and get a good feeling when things go on sale at your favorite thrift stores. Don't let anything slip by if it's something you want because another shopper might come around and see how great that item is, and you'll miss it! That also allows you to learn about the best times of the day.
Consider going once a week if you're looking for specific items. And go the day they start their sale.
3. Keep an open mind!
Keeping an open mind is especially important for those new to thrifting! It's easy to go in wanting one specific item, but you'll often be surprised by all the great things you see.
Look for potential. If you find a bedside table that's the perfect height and style, yet the color is all wrong, grab it, clean it up, and slap a few coats of paint. Add some new knobs, and you have your dream nightstand.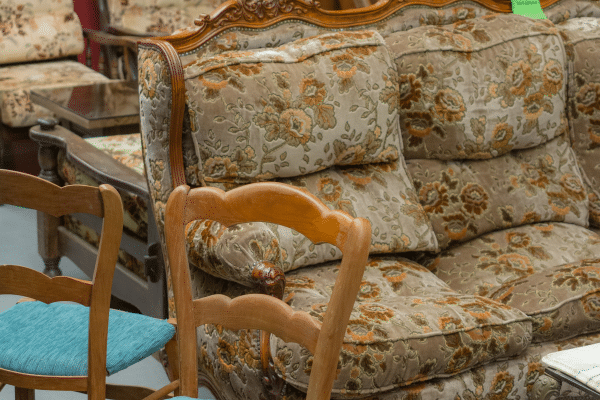 4. Don't be afraid.
The fact that it's a thrift store should encourage you, not frighten you! Have an open mind. People give away their unwanted clothes and things for very little money at thrift stores because the real value is giving back and helping others.
Don't let yourself be intimidated because someone else donated the items you've found. They would probably be happy to know that they helped score you a deal!
5. Find your best stores.
Look for thrift stores in neighborhoods with the designers you like best. I can't tell you how many great Land's End clothes I've found with tags still in higher-end neighborhoods.
Also, know which stores have the best prices. I found that Good Will has better prices than Savers, for example. And the local thrift shop is better than the chain thrift stores—a great way to save money when thrift store shopping.
6. Shop the racks and the floor.
The best stuff in a thrift store is often at eye level, not on top of or underneath things that are more difficult to sift through. You'll probably find some great treasures if you take your time looking over everything within reach!
A quick tip here: keep an eye on the floor when you go through racks because somebody will have pushed them to the side so they could get to something underneath it. That can be a great way of finding some real bargains!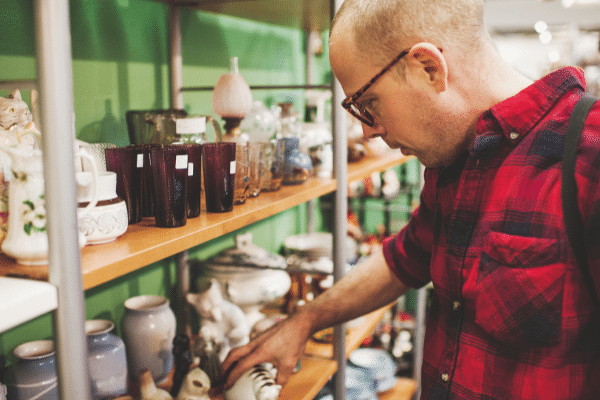 7. Make friends with the employees.
The people who work at thrift stores are always great sources of information, and they can help save you time in your shopping if you're looking for something specific.
If it's a secondhand store, then the employees might know who donated the items you're looking at, and they'll be able to let you know if it's a good or bad thing (e.g., which designer).
If they don't know, then they may be able to tell you what day of the week is best for getting those things you're looking for.
8. If you don't need it, put it back.
It's easy to get caught up in the fun of thrifting. Always think twice about your purchases. Buying things for cheap can be exciting, but if you don't need them, don't buy them.
If you don't need it, you're not saving money. Only buy items that you need and are on your list.
9. Look for designer clothes.
Thrift stores often have sales of one kind or another, meaning you may get some costly name-brand clothing at a fraction of the price! That is especially true if it's near the end of the season when they might need to make room for new items.
Consider whether the piece is "in fashion" or a classic piece that never falls out of style. Understand that if you will only wear it for one season, you can always donate it back when you're finished.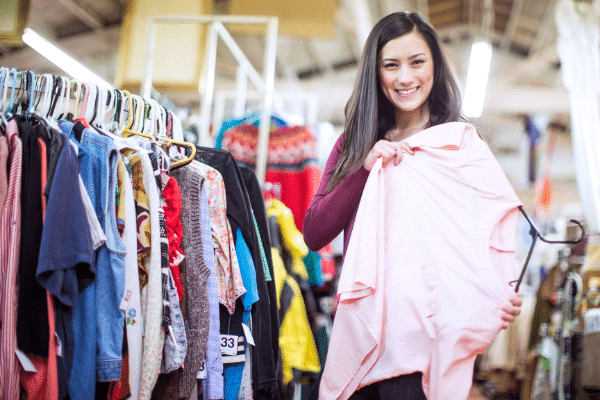 10. Shop the sales to save money when thrift store shopping.
Most thrift stores will have a color of the day. Each price tag is a different color, and the stores will choose one of those colors to mark down up to 50% off.
Seeing as most of these will be hidden, this is an excellent way to ensure you don't miss out on great deals! If you are often going, shop the color sales first.
11. Shop for your home here first.
Shop second-hand before heading to Target or Home Goods to redecorate your home.
That is an excellent way of finding cheap items that don't necessarily have to cost you a fortune. You might find some fantastic knick-knacks, candle holders, and vases to make perfect additions to your home.
You can create a beautiful decor style with things someone else got bored with.
12. Inspect your items thoroughly.
When thrift store shopping, inspect items well. Look for stains and holes in clothes. If it's a dry clean only sweater, it might not be worth that $5.99. Check for wear and how to launder your picks.
Consider whether the perfect blouse is worth taking 3 minutes to sew the hole under the arm. It might be if you love it and it's an ideal fit.
Check for cracks, chips, and marks on housewares. Make sure the lamps and appliances work. Most stores will have an outlet for you to test your potential buys.
13. Set a budget.
Always set a budget. It's so easy to overspend even on only a dollar or two things. And one of the best ways to stick to that budget is to use cash.
Setting aside a certain amount each month will keep you from overspending and give you the freedom to venture to and see if you can find anything on your list—the best way to save money when thrift store shopping.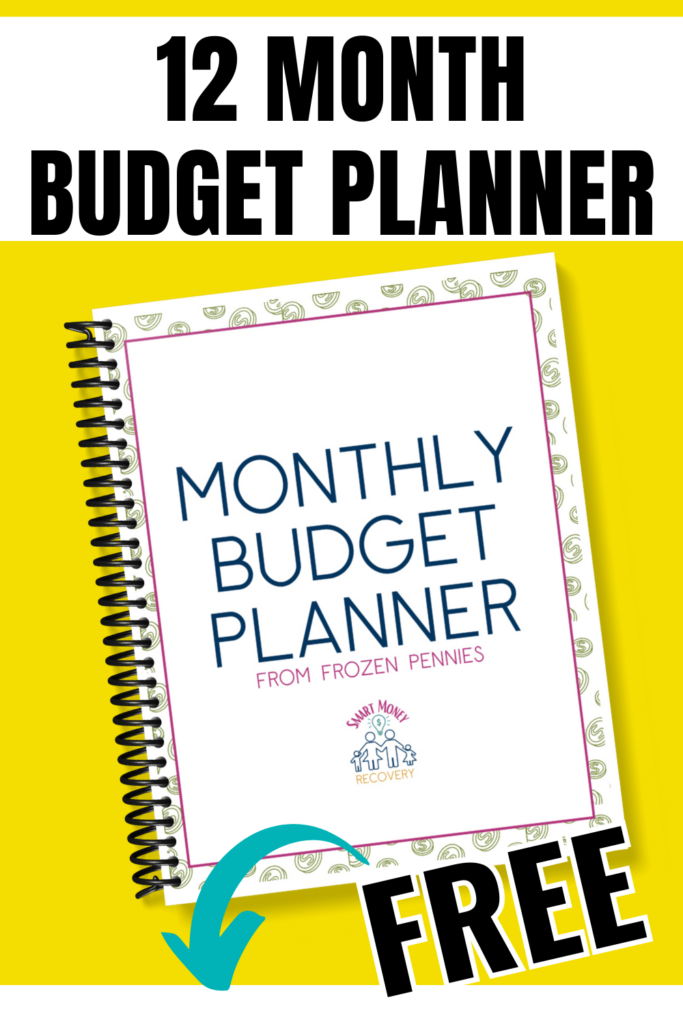 14. Join the frequent buyer's programs.
Many thrift stores have frequent buyer programs, so they send you a coupon for a percentage off of your purchase when you spend a specific amount. It's a great way to get your treasures for even less money.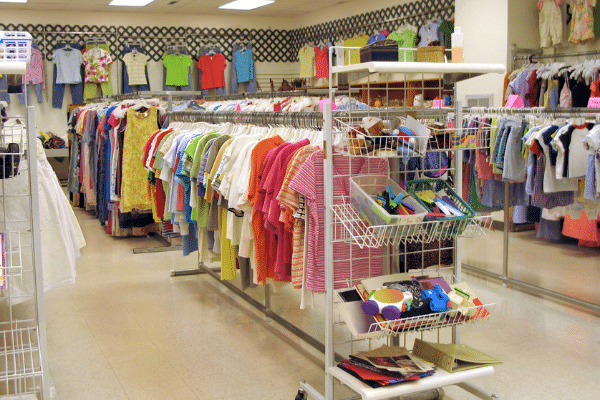 15. Dress for the job to save money when thrift store shopping.
If you're a frequent shopper of thrift stores, you've seen people trying on clothing in the aisle. Often, thrift stores don't have adequate dressing rooms or a place to try on clothing.
Dressing in thin layers and slip-on shoes will allow you to try on items right over what you're already wearing, making it easier to decide on a purchase. Trying things on is essential.
Most places do not allow returns, and you don't want to waste your money on something that isn't going to fit.
16. Shop midweek.
Skip the weekends. The stores are crowded, and merchandise has been picked over. Consider shopping in the middle of the week, if possible, after everything has been restocked and ready for purchase – a great way to save money when thrift store shopping.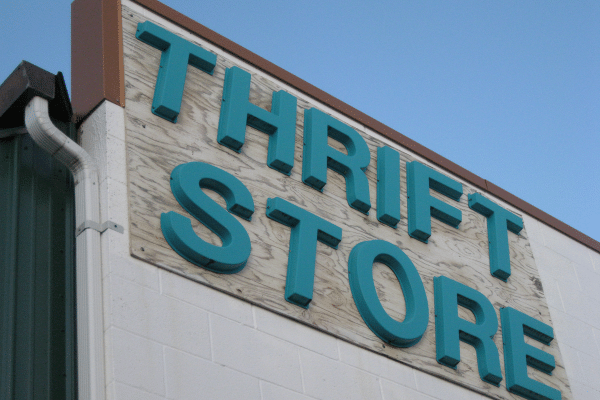 17. Google is your thrifting buddy
Don't be afraid to google the price of something to find out if it's a good deal. I found a like-new record player from Hearth and Home that was $40. After researching, I found that it was half the price of a brand new one – I didn't buy it because I didn't need it.
Also, google the labels to see who sells them and if they are quality pieces. There's a difference between White Stag and LL Bean spring jackets.
18. Look for items to repurpose.
Can you use mugs for planters, a stack of old suitcases as a side table, or a candleholder as a plant stand?
Don't be afraid to think outside the box.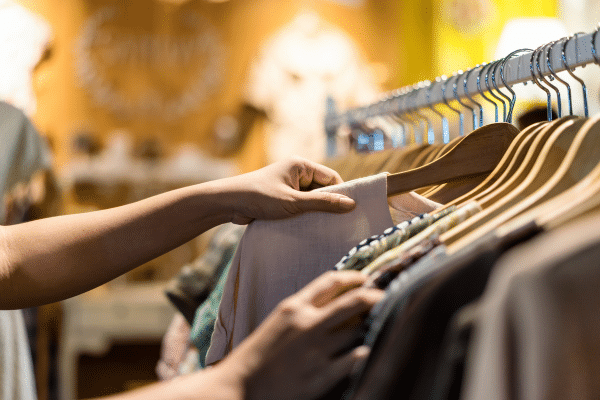 19. Set a time limit.
Know the items you're looking for, and don't give yourself too much time to browse. That will only give you time to spend the money you're trying to save.
Know your mission before you walk in the door. And be diligent—a great way to save money when thrift store shopping, for sure.
20. Keep your eyes open for new with tags.
These are by far my favorite finds. I can't tell you how many things I've found with tags still on them. I found a jacket, pants, and a brand-new sweater this past week. The pants were $5, and the tag said $58!!!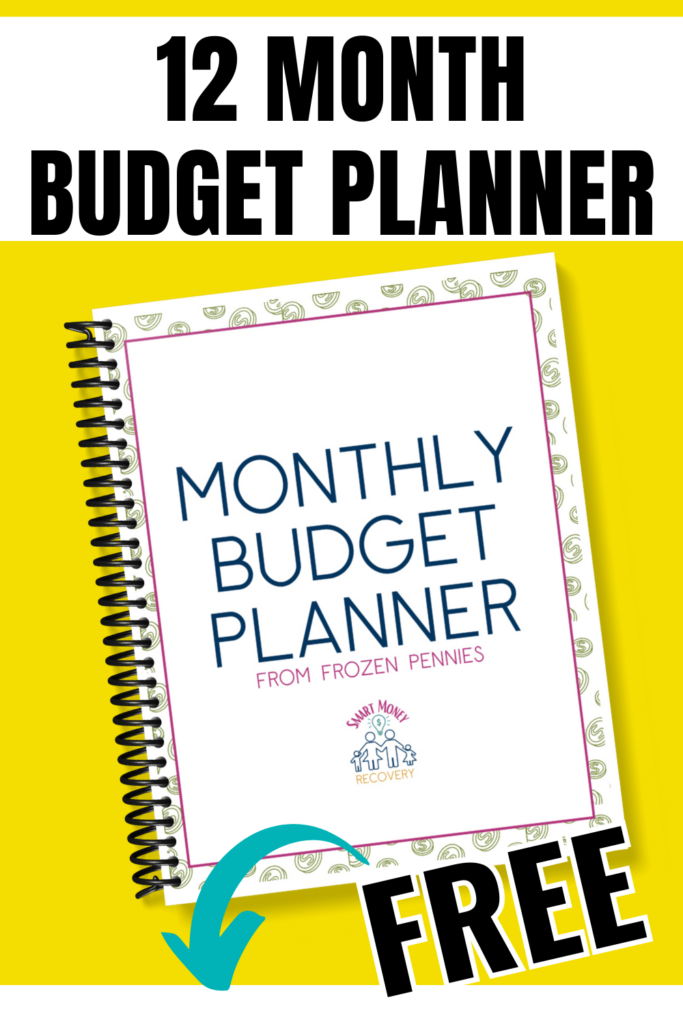 Final Thoughts on 20 Ways To Save Money When Thrift Store Shopping
Thrift stores are a great place to find inexpensive items for home and clothing, but there's more than meets the eye. The thrift store shopping tips will help you save money while finding your next treasure without breaking the bank or going into debt. And let's face it – shopping at thrift stores is fun!
Remember that it is important not just to buy what you want but also to stick to what you need. Set limits on yourself when thrifting so you don't break your budget in pursuit of an expensive item with attached tags.
It's easy to save money when you have these tips in thrift store shopping.
Now go out there and find fantastic deals on clothes, furniture, decor, and anything else that catches your eye. You'll be surprised at what you can develop if you think outside the box!