You're probably already aware that babies and children grow quickly, so you must buy new clothes for them often. Being super frugal, I'm here to give you 15 ways to save money on baby clothes.
There is no need to pay full price for baby clothes, ever. Buying secondhand, on sale, or trading with a friend are great ways to cut the cost of raising a child.
With so many brands and styles available, it's hard to know where the best deals are or what will suit your family's needs.
When you're a new family, saving money is important; if you can save on clothes, you can use that other for more important things.
1 Shop the sales
Babies and children grow quickly, so it's important to buy clothes for them often. However, that doesn't mean you have to break the bank to do so.
There are many ways to save money on baby clothes, and one of the easiest is to shop the sales.
Check out department stores, online retailers, and even second-hand shops during their sales events to find great deals on clothing for your little ones!
Shop at the right times. Sales are cyclical, meaning things go on sale at the same time of year. Grabbing summer clothes during the summer sale is a great money saver.
Another great way to save money on baby clothes is to wait until certain clothing brands are having their sales.
For example, if you know Target has their kids' shoes on sale in April, wait until then to purchase your little one's next pair!
Many shops have seasonal sales, which means you can stock up on baby clothes when they're having a big sale and then put the clothing away until your little one needs it.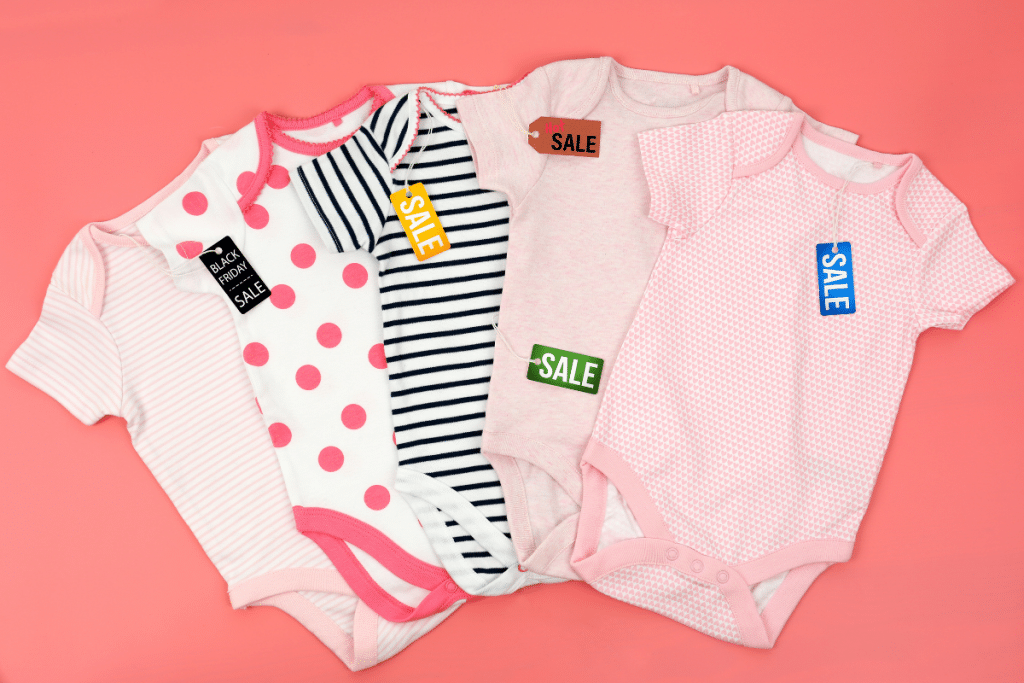 2 Consider buying secondhand clothing from a thrift store
Finding the best deals on baby clothes that will suit your family's needs can be difficult while still being affordable. However, there are ways to save money on baby clothes.
One way is to consider buying secondhand clothing from a thrift store. Thrift stores often have many brands and styles at much lower prices than in retail stores.
This can be a good option for families on a budget, as buying secondhand clothing is much cheaper than buying new ones.
I love thrifting. It makes my heart happy to find such great stuff at a fraction of the cost. AND…doing a little bit of good for the environment simultaneously.
3 Take care of the baby clothes you have
It's a well-known fact that babies and children grow quickly, so the need for new clothes becomes an everyday occurrence.
Take care of your baby's clothes – If you take care of your kids' clothing properly, they will last longer.
Washing them after each wear is a good idea to keep them looking their best.
Hang dry rather than using a machine if possible, as this will help prevent shrinking or stretching out of shape.
Buy some good spot treatment for those super messy spots.
4 Ask for hand me downs
One way to save money is to ask friends and family members if they have any children's clothes that their child has outgrown.
They don't wear them long enough to wear them out, so hand-me-downs, many times, are in perfect condition.
If your friends or family members have a big enough closet, they may be willing to give you their child's entire wardrobe.
Someone my husband used to work with had a son just a little older than our middle son, and they used to give me all their hand-me-downs.
My husband would come home every once in a while with a big garbage bag FULL of clothes!
Thomas was a HUGE lover of dinosaurs, so Chase had many pajamas and t-shirts with dinosaurs on them. He was fine with it -didn't even care.
5 Have a shower or ask for clothes as gifts
Build a registry at your favorite stores.
Consider building a baby registry at your local department store if you're not set on particular brands or styles.
This is a perfect way to get a full set of cloth diapers and covers if you plan on going the reusable route.
Department stores kike Kohls's or JC Penny generally have very reasonable prices for clothing.
Building a registry with them is usually your best bet if you are looking to save money on baby clothes.
Department stores will likely have a section set aside for babies. This is great because it means you can take your time browsing through all the different clothes and accessories, adding them to your list.
Also, Stores like Target have an excellent baby registry program where you can actually get freebies, too.
You can ask friends and family if they are willing to buy you baby clothes as gifts instead of giving them things they don't need or want.
This is an especially great idea for first-time parents with little to spend on items they won't need for very long.
Most grandparents are 100% willing to shop for your baby's clothes.
I reach out to my daughter in law at every holiday to see if my granddaughter needs anything and what size she wants me to buy. Sometimes, the next size up or the next season is more practical.
6 Shop online to find competitive prices on baby clothes
One of the most important things you can do is shop online for competitive prices and brands. You'll also want to ensure you're checking out sales- many stores offer discounts on baby clothes during specific times of the year.
You can also save money when shopping online by looking for coupon codes. Coupon codes are a great way to get discounted rates when shopping online.
They are also a great way to get free shipping, so if you have to pay for shipping, it might be worth waiting until the store offers free shipping on all orders.
Another way people save money when shopping online is by signing up for newsletters on online stores.
If you are willing to sign up for newsletters, you'll be notified of deals before the general public. You may receive weekly, monthly, or seasonal deals depending on the store.
Another great thing about shopping online is that some stores offer unique baby clothes that can't be found in department stores or other specialty shops.
You need to research the different brands available- one brand may offer many great deals while another may not.
Again – another tip for grandparents. Sign up for emails from stores like Osh Kosh or Carter's.
7 Check out your local consignment shop
Consignment shops are great, especially for moms on a budget. You can get new or gently used items that range from anywhere between half off to two-thirds of the original price.
When shopping at consignment stores, you'll want to ensure that the clothes you're buying are in good shape.
You'll want to look for stain-free clothes with no tears or rips and no excessive wear marks on them.
If you need to remove a spot from the clothing item, use an appropriate stain remover not to ruin the fabric of the clothes.
Consignment shops will often take things in on trade. So if your baby has outgrown some things, trade those in on some bigger sizes.
8 Consider a minimalist baby wardrobe
by considering a minimalist baby wardrobe, you can save money on baby clothes.
A minimalist baby wardrobe consists of versatile and multipurpose items, which means you can use just a few outfits for multiple occasions.
If you build your baby's wardrobe with color coordination in mind, you won't have to buy as many clothes because their outfit will match most of the time.
Choose one to three colors and find clothes in those colors.
This decision might mean you're washing more often because you don't have as many clothes, but your loads will be smaller.
9 Look on Facebook Marketplace for bundles or lots of baby clothes
Look on Facebook Marketplace for bundles or lots of baby clothes that are hardly worn or in the best condition. You can find many baby clothes that cost $0.50 to 5 dollars, and there is always a deal.
You should also look at your local Buy and Sell pages and Craigslist. Just keep checking back often because people will update their ads.
10 Consider buying slightly larger clothes so your baby can wear them longer
Consider buying slightly larger clothes so your baby can wear them longer.
For example, you could buy size 12-18 month outfits the next time your child is between 9 and 12 months old.
This will reduce the number of times you need to purchase clothes and give you more use for them.
Also, You can get away with putting your baby in "slightly" larger clothes for a short time.
They'll only be a little bit big, and then they'll fit – but you'll have two times as much use out of them. Rolling up leaves and pant legs are ok.
While it is true that you can go up one size when buying clothing for children, sweaters, and hoodies tend to be more forgiving. Babies don't mind if their clothes are a little baggy.
11 Buy gender-neutral colors and styles
Finding affordable baby clothes that fit your child's needs can be difficult.
However, a few tips can help you save money on baby clothes without compromising on quality or comfort.
One of the best ways to do this is by buying gender-neutral colors and styles. This will allow you to mix and match different pieces easily, which will help you get more use out of each item.
Not only will this help you get more use out of each item, but it also means you can pass them down to future children regardless of sex.
12 Shop Garage Sales for baby clothes
Garage sales are a great place to find affordable baby clothes. You can often find gently used and still in good condition. Be sure to check the size of the clothes before buying them, as they may not fit your child for long.
Take a moment to review each piece to ensure there are no stains, rips, or pieces missing from the clothes.
Make sure that everything is freshly laundered before purchasing it. You can always wash the clothes yourself (as I'm sure most parents would do). By going through these steps, garage sales can be a great place to find baby clothes at a lower cost
13 Borrow from friends or family
Start a clothing swap with other moms
Another way to save money on baby clothes is to start a clothing swap with other moms. This can be done by asking friends or even co-workers who are also parents if they are interested in getting together once every few months or weeks for coffee or drinks, then taking turns bringing the children's clothes they have grown out of.
14 Sew your own
Finding fabric at a bargain is pretty easy. If you have some sewing skills or are willing to learn, patterns for baby clothes are not complicated and can go together in the afternoon.
Consider watching some youtube videos on it if you want to be a little more self-sufficient and frugal. When looking for fabric, check thrift shops and garage sales.
Also, consider adult pieces with a lot of fabric for less money. Women's dresses and men's dress shirts are great choices to re-purpose into baby clothes.
15 Go without
It may sound like a crazy idea, but not wearing clothes can actually help you save money on baby clothes.
By foregoing traditional attire in favor of letting your little one go nude (or mostly nude), you'll avoid buying as many new outfits as possible.
Babies don't need to wear clothes if they live in a warmer climate. You'll need a barrier from the elements when it's chilly or you're heading outside into the sun. But on a warm day inside, simply skip dressing your baby.
Final Thoughts…
So, there are 15 easy ways to save money on baby clothes. None of them are difficult, and all will add up over time. Remember, babies don't need a lot of clothes, and they grow out of them quickly, so there's no need to pay full price.
Saving money on baby clothes can be done in a variety of ways. One great way is to shop for gently used items at garage sales.
You can borrow clothes from friends or family or start a clothing swap with other parents. The more you can save, the better.
And if you do any shopping online, be sure to use a discount code or check for sales. With some effort, you can clothe your new arrival without breaking the bank!
By following these tips, you'll be able to find affordable and stylish clothes for your child without breaking the bank.