Are you tired of the never-ending cycle of one diaper change after another and the constant expense of buying new disposable diapers?
If so, cloth diapers might be the solution you're looking for. Not only are they a more environmentally friendly option, but they can also be a budget-friendly choice for parents.
Let's explore how to navigate cloth diapers on a budget, taking advantage of great deals while prioritizing using natural fibers.
When it comes to cloth diapers, the key is to find the right system that suits your needs and budget. One popular option is a two-piece system with an outer shell and absorbent inserts.
The outer shell is typically made of waterproof material, such as PUL (polyurethane laminate), while the inserts are made of natural fibers like cotton, hemp, or bamboo.
This combination allows for easy diaper changes while providing excellent absorbency and minimizing leaks.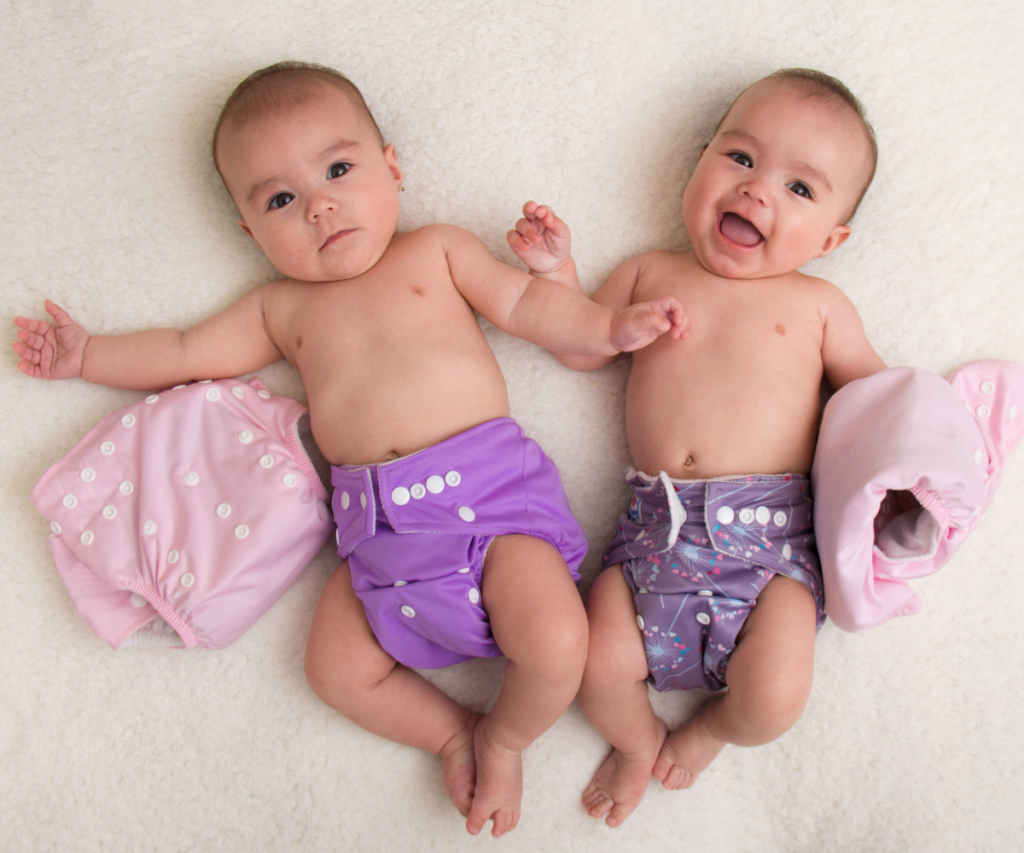 Cloth Diapers on a Budget
Exploring different ways to use cloth diapers and looking for great deals is essential to find the best diapers for your budget.
One cost-effective approach is to build your cloth diaper stash gradually. Add a few diapers to your collection as you become more comfortable with cloth diapering instead of purchasing a full stash all at once. Look for sales, discounts, and even second-hand options to find affordable cloth diapers.
When searching for deals, it's essential to prioritize natural fibers. These materials are gentle on your baby's skin and highly absorbent, reducing the need for frequent diaper changes and diaper rash.
Natural fiber inserts can be more expensive upfront, but their durability and effectiveness make them a worthwhile investment in the long run.
Another way to save money is to consider diaper rental or trial programs some cloth diaper companies offer. These programs allow you to try different brands and styles before purchasing. This way, you can determine which diapers work best for your baby while staying within your budget.
Cloth diapers can be an economical choice for parents, offering long-term savings compared to disposable diapers.
By being resourceful, taking advantage of great deals, and prioritizing natural fibers, you can create a cloth diapering system that is gentle on your budget and provides the best comfort and care for your little one.
How to Wash And Care For Cloth Diapers To Make Them Last
Proper washing and care are crucial for maintaining the cleanliness and longevity of cloth diapers. Follow these steps to ensure your diapers stay fresh and absorbent:
1. Wet Bags: Store dirty diapers in a wet bag or waterproof pail liner after a diaper change. That helps contain odors and prevents leaks until you're ready to wash them.
2. Pre-Rinse: Quickly rinse your dirty diapers to remove solid waste before washing them. You can do that by holding them under the toilet's flush or using a diaper sprayer.
3. Washing Machine Settings: Place your dirty diapers in the washing machine. Adjust the water temperature according to the diaper manufacturer's recommendations. Use a gentle cycle with a high water level to ensure thorough cleaning.
4. Detergent Selection: Choose a cloth diaper-friendly detergent that does not contain fabric softeners, enzymes, or fragrances. These additives can reduce the absorbency of the diapers. Follow the detergent manufacturer's instructions for the correct amount to use.
5. Washing Routine: Run a complete wash cycle with an extra rinse. That helps remove any detergent residue and ensures thorough cleaning.
6. Drying: Line drying in the sun is the most environmentally friendly option and can help remove stains. However, if you prefer using a dryer, select a low heat setting to prevent damage to the diaper's waterproofing and elastic components.
7. Fabric Softener: Avoid fabric softeners, as they can leave a residue affecting absorbency. Natural fibers like cotton may benefit from occasional vinegar rinses to maintain softness.
By following these guidelines and incorporating a consistent washing routine, you can keep your cloth diapers clean, fresh-smelling, and in excellent condition for your little one's comfort.
Various Cloth Diapering Choices
Cloth diaper choices range from pre-folds, flats, fitted diapers, all-in-ones, pockets, hybrids, and more, offering options for every budget, lifestyle, and preference.
Pocket Diapers with Microfiber Inserts
Pocket diapers, also known as China Cheapies, are a type of low-price cloth diaper from China.
You can typically buy these low-budget diapers for under $10.
A trusted name brand that sells pocket diapers is Alvababy cloth diapers.
Something to remember about pocket diapers is that they could be more absorbent.
So you'll want to invest in extra inserts for baby diapers.
Different inserts that are available are:
Microfiber Insert
Hemp Insert
Cotton Insert
And Bamboo Insert
These have pros and cons, but if you're looking for the cheapest option, then microfiber inserts are the one.
Prefold Diapers
Prefolds are another cost-effective choice when it comes to cloth diapers.
Prefold diapers are 3-panel rectangular-shaped pieces of cloth made with natural fabrics.
The companies create them with multiple layers, the most in the middle.
Though you will have to upsize as the baby gets bigger, they require less folding than flat diapers, and you can use them with future kiddos.
These are easy to use and inexpensive.
Once the baby has soiled, take it out, wipe off the diaper cover, put a new pre-fold in the diaper cover they're already using, and viola, you're done!
You may also like how it has multi-uses, from burp rags to cleaning cloths.
That makes them a great addition to any diaper bag for cloth diapering moms.
All-In-One Cloth Diapers
All-in-One (AIO) cloth diapers are popular for parents seeking convenience and simplicity. The all-in-one diaper combines the absorbent and waterproof outer layers into one complete diaper, making them incredibly easy to use.
With no separate inserts or covers, AIO diapers mimic the convenience of disposable diapers while offering the benefits of cloth. They often feature adjustable snaps or hook-and-loop closures for a customizable fit.
AIO cloth diapers come in various styles and materials, allowing parents to find the perfect option for their baby's comfort and convenience.
Flat Diapers
Flat cloth diapers are the original cloth diapers from my childhood. They're a great option (and probably the cheapest way to diaper a baby) when cloth diapering on a budget!
A flat diaper is a large piece of absorbent cloth (about 30″ x30″ or close to 27″ x27″ after washing) that you fold to fit the baby and then secure with a Snappie or diaper pins.
That is the best way to do this on a budget. These are very lost costs, and you don't have to worry about sizing up; you won't need different sizes.
You can fold them small enough for newborns up to potty training.
And to get the best value for your money, buy flat cloth diapers made of high-quality natural fiber, such as cotton or hemp.
This type of material is more absorbent and will last longer.
You will need diaper covers for these, but you can make your own on a sewing machine if you have some sewing talent.
But keep in mind that these aren't waterproof and will need a diaper cover over them as well.
Flour Sack Towels
People have been using flour sack towels for various purposes for years, one of them being a diaper.
These cotton fabric sacks are single-layer and can hold a lot of liquid.
Plus, they're super cheap to buy!
You can use flour sack towels just like a flat diaper.
Just fold it so it fits baby, secure it with diaper pins or a Snappie, and then use a waterproof shell over the top.
Just ensure all the flour sack towels are inside the cover.
Old T-Shirts
Have some old shirts lying around?
Maybe they're stained or got some holes in them, and now they just lay in the corner of your drawer waiting for the next time you do yard work.
Did you know you can use that old battered-up t-shirt as a diaper?
And it's straightforward to do!
Just cut the shirt like a diaper flat, and when you're ready to use it, fold it like a pre-fold diaper, secure it, and then put a waterproof cover over it.
Receiving Blankets
These are made of 100% cotton, and you can use them for many reasons.
Receiving blankets can be used as a blanket, a cover for mom or baby, a cleaning cloth, and even a diaper.
These blankets are so absorbent and inexpensive that they are an excellent option for cloth diapering on a low budget.
They are simple to use and make a great flat diaper (plus, I bet it's already on your newborn baby checklist)!
Buy Used Cloth Diapers
Check out garage sales and any local buy-and-sell groups for cloth diapers.
That can be a great place to find reusable diapers for a bargain!
A lot of time, parents who are getting rid of them will sell them for a lower price.
And if you have a friend or family member who you know has some cloth diapers lying around, ask if they'd be willing to sell them to you!
Many parents are concerned about their cleanliness when buying used diapers.
But with some cleaning and bleach, they should be completely fine.
Ways to Get Free Diapers
You'd be surprised that some programs will give low-income families free cloth diapers.
Some of these include:
WIC: WIC can provide information about nearby cloth diaper banks for mothers who qualify for WIC.
Cotton Babies Share the Love: With +100 locations, this program will loan low-income families cloth diapers until their 3rd birthday.
The Cloth Option: This organization allows families to apply to receive assistance for free cloth diapers.
Cloth of a Cause: Struggling families who live in Canada can apply for a loan of free cloth diapers.
These can be great options for families who are on a low income and something to look into.
Cloth Diaper Covers On The Cheap
Regarding cloth diapering on a budget, cloth diaper covers are a practical and affordable option. These reusable outer layers come in various styles and materials, allowing you to find budget-friendly options that suit your needs.
Look for covers made with durable materials like PUL (polyurethane laminate) or TPU (thermoplastic polyurethane) that offer an excellent option for waterproof diaper covers perfect for overnight use. Consider covers with adjustable snaps or hook-and-loop closures, ensuring a customizable fit as your baby grows.
Don't forget to explore second-hand options, such as cloth diaper buy/sell/trade groups or consignment stores, where you can find gently used covers at a fraction of the cost. With budget-conscious choices, cloth diaper covers provide an economical solution for sustainable diapering.
Is Cloth Diapering Cheaper?
In conclusion, buying cloth diapers on a budget is an attainable goal that can benefit your wallet and the environment. You can build an entire stash of affordable cloth diapers that meet your needs by exploring various options and taking advantage of deals.
Events like Black Friday offer excellent opportunities to find discounted prices on cloth diapers, allowing you to stock up on quality products without breaking the bank.
Consider investing in cheap cloth diapers that still provide reliable performance.  Remember, the price doesn't always determine the effectiveness of a diaper.  Many affordable options offer excellent absorbency, durability, and fit for your little one.
Using reusable diapers can actually save you between $800-$1,500.
Final Thoughts on Cloth Diapers On A Budget
Remember to include cloth diaper covers in your budget planning. You can pair these reusable outer layers with inserts or prefolds for a cost-effective diapering solution. Look for covers that are versatile, adjustable, and made with high-quality materials to ensure long-lasting use.
Building a cloth diaper stash doesn't have to mean purchasing exclusively new diapers. Second-hand options, including gently used diapers or diaper rental programs, can provide a budget-friendly alternative.
Just make sure to sanitize and disinfect any used diapers before use properly.
With careful consideration of your budget and smart purchasing decisions, you can embrace cloth diapering without compromising quality.
By doing so, you'll not only save money but also make a positive impact on the environment by reducing waste.  Remember, cloth diapers are an investment that pays off in the long run, providing comfort, cost savings, and peace of mind for you and your baby.