Having a successful garage sale is a great way to get rid of all those items you no longer need or want.
And make some good money from stuff you would probably donate anyway. This past Memorial Day Weekend, we had a garage sale.
My mom and grandmother have had garage sales for as long as I can remember, and there are some great garage sale tips that, if you follow, will make the sale go smoothly, all while getting rid of all that stuff and making a little bit of money.
Whatever you may call it (garage sale, yard sale, rummage sale), hosting a successful one doesn't have to be stressful, but it can be a lot of work. You can turn unwanted items into profits with the right preparation, pricing strategies, and marketing techniques, all while giving people a great deal on things you no longer need.
Here are my tips for a successful garage sale.
1. Create an advertising plan.
Reach out to your local community through different forms of media, such as flyers or social media posts. You can also list your sale on a local classifieds website or the local newspaper.
2. Get as much done before the day of your sale.
Have the tent and tables set up the day before and wrap a tarp around the streetside so people are not tempted to stop. The tables are all set up, and I can pull everything out. Don't wait until Saturday morning to put everything out. You want to be ready just in case you get early birds.
Take your time setting all of the things up. And I don't feel rushed or half asleep trying to finish everything the morning of the sale.
There is less rushing around and stress when everything is done beforehand.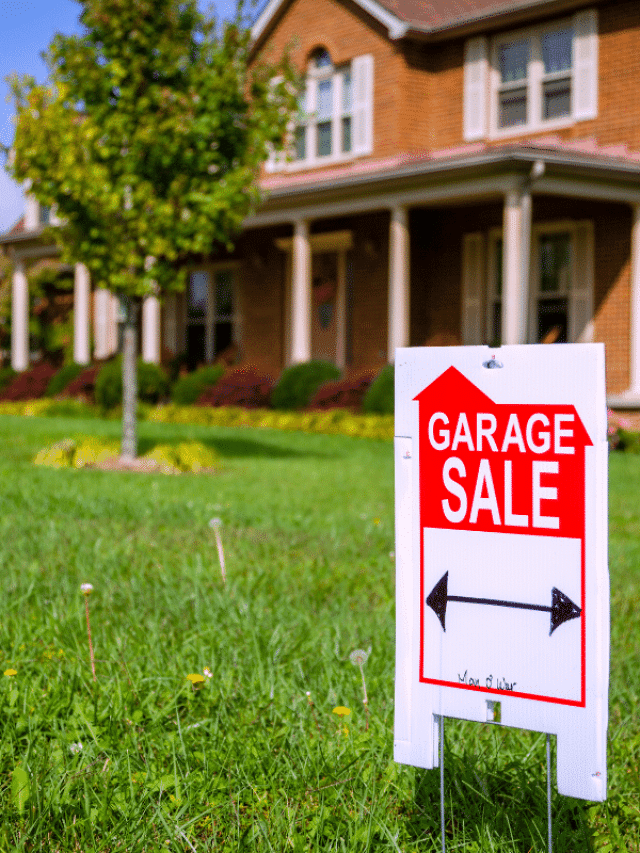 3. Be in the right state of mind.
This is my favorite garage sale tip. You're having this sale to eliminate unwanted things, not making enough money to retire, and not trying to sell your stuff for retail price. So price your items to MOVE!
4. Consider not selling collectors' items or valuable items.
If you have items you think are worth more money, you might want to set them aside and put them on eBay. This is a garage sale, and you don't want to pack everything back up again.
Depending on how much stuff you have and how much time, you can give yourself one to three days to sell. I normally stick with one day. I know why I have one, and I love getting rid of stuff, but I would rather do other things on a three-day weekend from 8-
4. Have your garage or yard sale during your townwide sale.
Many towns will pick a weekend in the summer to have a townwide sale. People come from all over to simultaneously hit up the entire tow's sales. There's a great draw to this, and it helps you make more money and is the best time to have a sale – when everyone else is, too!
5. Organize and label everything.
Add a sign if you have a table for kids' clothes sizes 8-10. If all dishes are fifty cents on the table, add one sign. Consider a table for lower prices and an area for higher prices.
6. Don't overprice items.
Assign reasonable prices and consider offering discounts for bulk purchases, like stuffing a bag of clothes for $5. Remember, you're trying to get rid of this stuff, so offer a fair price. Give the people a good deal, and then be done.
7. Price things consistently.
Pricing items similarly will make it easier for customers to shop and compare prices.
8. Make sure you have enough tables and shelves.
Having enough space to display your garage sale items will make it easier for customers to look through your offerings.
9. Gather supplies.
Purchase or gather supplies such as tablecloths, hangers, and clothing racks to help create attractive displays that draw in customers. Also, price stickers, price tags, paper, markers, and tape.
10. Organize the layout of your sale.
Place larger and more popular items up front and organize smaller items by categories. This will make it easier for customers to find what they're looking for and catch their eyes as they drive by. Group s
11. Clean up your items.
Ensure all the items you're selling are in good condition and clean before being displayed.
12. Be organized.
Arrange your items into separate categories (i.e. books, clothes, furniture), and make sure they're properly labeled with prices.
13. Consider offering snacks and drinks.
Refreshments will make customers more comfortable and encourage them to stay longer. You may want to sell them or offer them for free. This might be a great job for the kids!
14. Invest in good signage.
Attractive yard sale signs will draw in customers from a distance. Choose large signs that are easy to read and colorful.
15. Remember to get changes and small bills.
Have a mix of large and small bills on hand to make it easier for customers when they come to pay.
16. Choose a popular garage sale weekend.
Know the best days for sales. The kick-off of garage sale season is Memorial Day weekend in our area. The best way to ensure you sell everything is to have the most people visit your sale. Having a sale when others are making the odds better.
17. Group similar types of items together.
All clothes could be in one section, books and household items in another.
18. Offer delivery options for larger items.
If you have access to a truck, consider delivering items locally. You might even charge a small fee.
19. Keep track of what you make.
If you are having a sale with other people, keep track of who makes what. It's as simple as paper and a pen.
20. Have plenty of bags.
Have shopping or plastic bags available so customers can easily transport their purchases home. Also, consider boxes for those who have purchased a lot and newspaper to wrap glass. If you have an overabundance of reusable shopping bags, consider giving those away as well.
21. Have paper ready to do some math.
This is especially helpful for people who are purchasing a lot of stuff. Being able to add up prices on paper is helpful in not forgetting anything.
22. Check the weather forecast and plan accordingly.
Plan for a rainy day with tarps or tents. Ensure you have adequate shelter or plan to move the sale inside a garage or barn if necessary.
23. Price everything a few days in advance.
Don't wait until the last minute to ensure everything is clean and priced. If you can, set everything up a few days in advance and cover it, so nobody tries to buy early.
24. Join other people.
Consider having a multi-family sale. If you can get friends and family members to join in, the sales will be much bigger. When advertising a multi-family sale, buyers' excitement is much bigger.
25. Call for permits.
Some towns insist you have a permit for sale. Luckily ours does not, but best to be safe than sorry.
26. Create a "yard sale plan."
Consider drawing out where everything will go. This is helpful if you know what you have and how much. This will also help to know how many tables you might need.
27. Check the internet for prices on more valuable items.
Sites like eBay are great for checking the prices of things that might be more valuable. You would be surprised at how much certain toys are worth!
28. Be safe.
Make sure you and your family are aware of your surroundings at all times, especially if handling large amounts of money. Keep cash in a secure location and limit the number of small bills available to prevent theft. Have someone at the entrance check for bags or suspicious activity.
29. Don't do it alone.
It's sometimes too much to do by yourself, especially when you get the early morning rush. Ask a friend or family member to spend some time with you. It's a great way to catch up when the rush is over. Plus, you can keep a watchful eye while keeping track of transactions.
30. Have a cash box.
You will need a place to keep your money and make change. Consider an apron with pockets. Home improvement stores sell simple tool belts for just a few dollars, making great money aprons. This way, you are never leaving your money unattended.
31. Communicate with customers.
Talk to people and answer questions they might have about items you are selling. If a customer is looking for something specific, don't be afraid to ask them if there is anything else you can help them find or if there is something that hasn't been set out yet that you can check for them.
32. Consider cashless payments.
There are ways to send money through apps like Venmo, and you could also invest (or borrow) swipe gadgets that hook to apps like Square for credit cards or debit cards. This might be an option if you have many higher-priced items. Don't forget about old-school payment options like personal checks.
33. Have fun!
Garage sales are an opportunity to meet people, sell the stuff you don't need, have a good time, and make some extra money. Enjoy the process; it could be a great way to spend the day with family or friends. And if you make a little bit of cash, consider it a successful sale!
34. Pick the right day.
In some areas, the best day is a Friday; in others, it might be a Thursday. For our area, the best day is Saturday. And the busiest time is Saturday Mornings so be ready.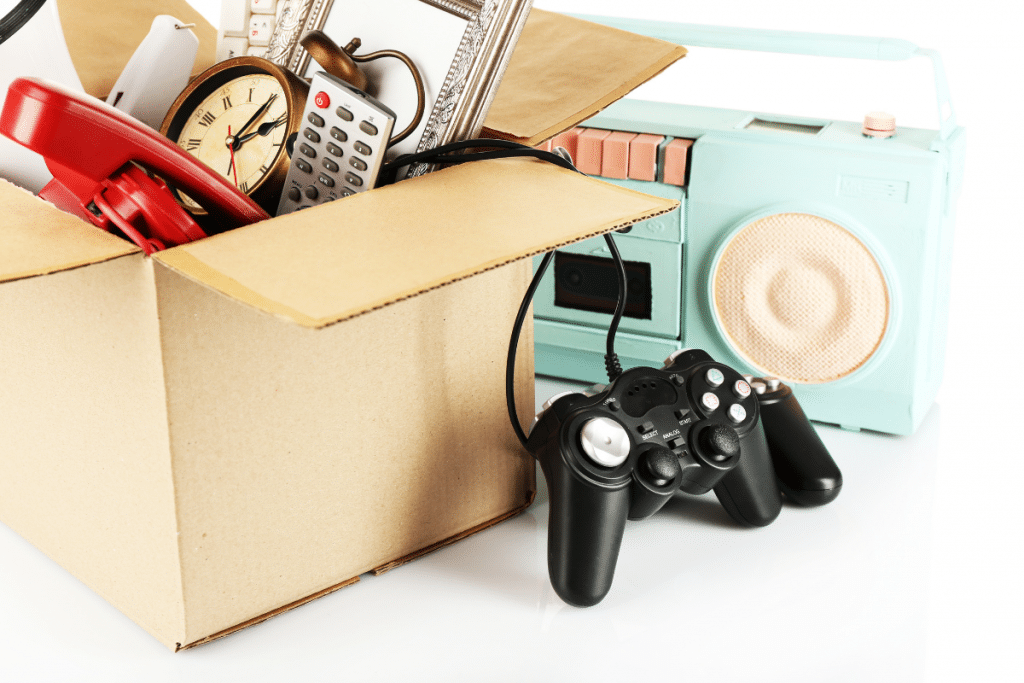 35. Don't be afraid to negotiate.
Some people love to haggle, and you don't want to miss out on a sale because you didn't give in a bit. Consider posting signs that say something like "All offers considered!" or "Make an offer!"
36. Make a plan for everything left over after the sale.
Will you hold them and try again at next year's sale? You could give them away on the front lawn with a free sign or donate them to a charity or thrift store like Good Will or Salvation Army. You could also donate them to a local shelter or animal rescue. Whatever you do, just have a plan.
37. Have a free box.
We always have a box of small toys for kids or kitchen gadgets that aren't worth selling. People love free and will often buy something if they've also grabbed something out of the free box. Plus, it's a great way to eliminate all the odds and ends you couldn't sell.
38. Plan for the next one.
The things that might be worth trying to sell again, pack up and store. Ensure they stay clean and dry so you don't have to clean them next time. Ensure all supplies are stored together so you don't need to buy more signs next year. If you feel like you've had a successful yard sale and want to do it again to make a little money next year, an easy way to prepare is to start at the end of this year.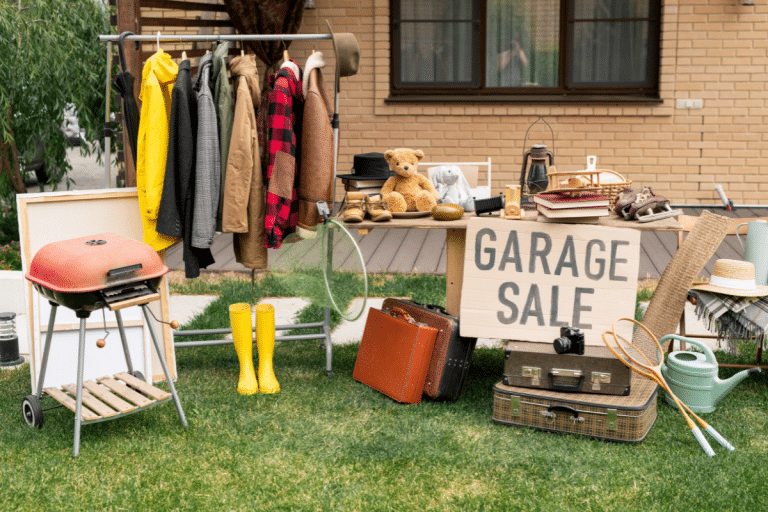 39. Clean up quickly at the end of the day and take down signs.
Make sure to clean up all the leftover items after the sale and take down any signs you posted around your neighborhood. This will help ensure potential buyers don't return and disturb your peace. It's also a good idea to let your neighbors know that the sale is finished so they don't get any unexpected visitors.
40. Group similar items together.
All clothes could be in one section, all books in another, and all toys in another. This way, it's easier for your customers to navigate the sale and go directly to the section they are most interested in.
41. Supply a power source.
Consider an extension cord if you have things that require power. Many times it's a nice gesture to allow people to check that blender on the day of the sale before they buy it.
Final Thoughts On How To Have A Successful Garage Sale
With these best garage sale tips, you will surely have a successful and profitable event. With careful planning, proper pricing, and thoughtful displays, you'll be well on your way to maximizing your profits and making the most money from your stuff. Don't forget to prioritize safety by being aware of suspicious activity and always having a cash box. Have fun, be flexible, and most of all, enjoy the process!