We all love keeping up with the hottest fashion trends. Everyone wants to look rich but spending a lot of money is not really a feasible idea for all of us. What if I told you there's a way to have fashionable clothes on a tight budget.
And it breaks our hearts when we can't really afford some good-looking clothes. The fashionista soul within us isn't satisfied when it doesn't get those fancy clothes.
Can you really look expensive on a budget? Yes, rich looks can be achieved without being a millionaire. You can look great while staying within your budget and you don't really need to break the bank to do so.
Would you like to know how to find nice clothes on a budget? Check out these tips!
How to Shop for Clothes on a Budget
Clothing doesn't have to be expensive to be great. Here are some shopping tips so you can save money and look fabulous at the same time. Here I explain how to buy classy clothes on a tight budget.
We're living in the age of technology where things are made easier, faster, and more cost-effective. You can find clothes that look expensive but don't really break your bank while shopping online.
Set Your Style Spending Goal
Make a list of the clothes you need or want to buy and stick to it! You don't have to shop every week just because there is a sale going on somewhere.
Create a style spending goal or budget, and stick to it. This way you can save money while shopping for fashionable clothes every time. Your style budget will keep you within your limit even if you feel like going on a shopping spree.
Save up for stuff that you really need so, when it's time for another round of shopping, you would have more budget to spend.
Know Your Body Type
Know your body type. You wouldn't want to buy that dress that looks gorgeous on the hanger but becomes too much on you, now would you? Your clothes should enhance your best features and downplay those flaws with your body type.
Buy what flatters you- Don't just go with the trend. Your figure should be your guide when buying clothes on a budget. You can still stay on the fashion loop if you buy clothes that fit your body type.
Buy Clothes On Sale
End of season or a festive period sale is a great idea to buy fashionable clothes on a tight budget. Some retailers offer great-looking and trendy clothes at an attractive price point.
Don't miss a chance when your favorite clothing brand puts its clothes on sale. Grab the nicest attire at the cheapest costs and save money on trendy clothes.
Make sure you do not overdo this. A sale might look lucrative but you may end up spending a lot more than your budget if you do not put a limit on your shopping.
Always go shopping with a pre-decided budget that will help you shop trendy without breaking the bank.
Consider a Capsule Wardrobe
Determine what your style truly is. You can check fashion magazines and blogs for this information or just look at your favorite pieces that you wear over and over.
Once you have the basics down, you don't have to buy a lot of clothes anymore. Make sure that all of your clothes fit one another so you won't feel bored with them after a few months.
Accessorize in an affordable way- Even if you're on a budget, that does not mean you can't accessorize at all. You can still buy accessories that fit your style and they don't have to be expensive.
Buy Evergreen Trends
I agree that trends come and go. Today's fashion can be tomorrow's outdated style. Hence, buying everything that is in trend would be a bad idea when you really want to look fashionable on a tight budget.
Instead, buy evergreen fashion. These timeless pieces of clothing will be with you in every trend.
Don't go crazy over any new craze or super trendy pieces. Stick to your classic fashion and you will still look fabulous.
Layer Your Clothes Creatively
Learn some fresh and creative ways of layering clothing that is both fashionable and practical. You may take a little time to acquire the art of layering your outfit, but it's worth every second.
You can grab a few pairs of clothes, layer them in several manners and create a new trendy look each time you wear a new combination.
Track Price Drops On Your Favorite Brands
Many of us have experienced situations where we purchase branded clothes, only to realize shortly after that the price had dropped. Price tracking apps would have been helpful in these situations.
You could feel guilty paying a lot more for a piece of clothing when you could get it much cheaper.
Here is a list of some of the best price drop alert trackers that may help you save a decent amount on your next shopping spree.
Follow blogs and online fashion sites that specialize in bargain fashion. They often share tips on getting the latest trend without spending too much! They also post updates on discounts, coupons, and promos.
Use Coupon Codes To Grab Best Clothes
Coupon codes make it possible to purchase high-end fashion for less. Online retailers offer promotional codes to encourage buyers to purchase on their websites. These codes offer lucrative discounts to the customers. You can get expensive and rich clothes at insanely cheap prices when you use these coupon codes to shop online.
Consider Special Care
When shopping for clothes, consider how you care for them. Avoid any high-maintenance cleaning and ironing fabrics. Dry cleaning isn't cheap and who has time to iron?
Buy items that are easy to care for and will last longer, too.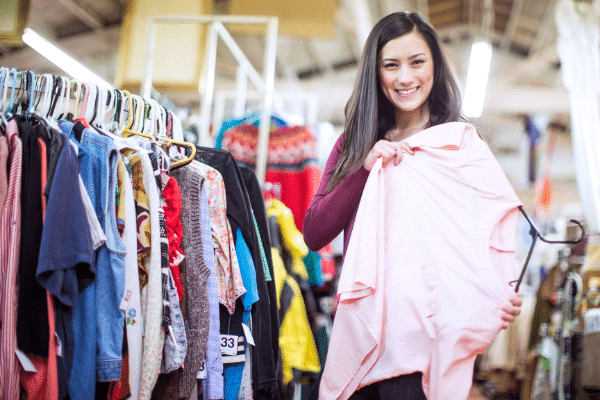 Buy Clothes From Thrift Stores
Like a treasure hunt, thrift shopping is filled with surprises. Most of the thrift stores run their shops on a no-profit no-loss basis. People donate their unwanted but good quality to these thrift stores. You may find the best of the outfits for the cheapest costs at a thrift store.
You can make use of it and add some cheap yet stylish pairs of clothes to your wardrobe.
Snap Up The Factory Seconds
Factory seconds are the clothes that have some minor flaws and that are extremely unnoticeable. If you purchase factory seconds, you will get more value for your money.
You definitely need to consider this option if you fashionable clothes on a tight budget.
Look for these at outlet stores like Nordstrom Rack but know your prices. Sometimes outlets are not a bargain.
Buy Quality Over Quantity
You may fall for the trap of cheap fashion. Cheap clothes might attract you and you may end up buying a lot of them just because they are cheaper than the other expensive ones in the market. You can find nice clothes on a budget.
But cheap clothes will cost you a lot more than you could actually save.
Cheap clothes do not offer quality. Most of them are made with cheap dyes and materials that do no good to you and the environment too. Additionally, they are not long-lasting at all.
Colors may fade away just after one wash and you may feel being looted in the name of inexpensive fashion. Better invest your money in quality over quantity.
Always have an eye for quality! Just because it's cheap doesn't mean it's good. If you have that one friend who always gets the best deal, learn from her.
Do not buy clothes just because they're cheap. Check for a quality item or two first before anything else! It would only be a waste of money if it can't last longer than a few washes or wears.
Carefully Consider Online Shopping on a Budget
Online shopping can be addictive if you do not have control over impulse buying. Everything you need is just a click away and it will make a hole in your pocket if you are not being careful.
Always try to go to the physical clothing store with a limited amount of money with you. It will keep your impulses in budget.
If you do love online shopping, it's much easier to find a bargain and compare prices. Check out your favorite store or online at their website for a bigger selection.
But be careful that you don't get sucked into the online vortex. And make sure you get free shipping.
Sell or Trade Old Clothes
You can also sell clothes you no longer wear. It's better to make money from the things you'll never use instead of spending on something new when there are tons of people willing to buy what you don't need anymore.
You can sell clothes, accessories, shoes, and even home décor items to your friends or on Facebook pages that are specially designed for this purpose.
Also, online shops like Thred Up will take your old stuff in and give you a credit for the stuff you've sent in.
Avoid Using Credit Cards
Using credit cards is another bad habit when you want to live a life on a budget. You tend to spend the amount which is not even earned yet, which means you are borrowing money from the future.
Try to stick to debit cards or cash-only shopping when you need to buy attractive clothes. Having limited cash in hand will reduce the chances of accidental purchases and you will be saved from feeling guilty later.
Final Thoughts On How To Shop for Fashionable Clothes on a Tight Budget
It is often very expensive to buy new clothes, and even more so if you do not have the right resources to obtain them. Setting a monthly or quarterly clothes shopping budget, buying only a few pairs of clothes, and avoiding impulse buying will definitely let you shop for Fashionable Clothes on a Tight Budget.
It's not hard to find a great deal on high-quality, classic pieces from designer brands when you're on a budget.
Believe it or not, you really can look expensive without spending a fortune. It just takes a bit of creativity and some savvy shopping skills. By following the tips we've outlined in this post, you can put together high-end outfits that will have people thinking you're wealthy – even if your bank account says otherwise.