Whether you are looking to be a stay at home mom, cut back to get out of debt, or just save some money, these tips will help you meet those goals and be the best frugal living mom you can be.
If you've decided to make some big life changes, there are a few prerequisites that as a financial coach I think you should have in place. Some of these may be the goals you are looking to complete with your new frugal rules.
Frugal Mom Goals
The Budget
The budget is a great tool to not only tell you where your going to spend your money but also the place where you can find the areas of overspending.
I love my budget. I love that it helps me prepare for every expense. There's no anxiety or guessing. I know that we will have money for dog food and that there's a sinking fund for Christmas. I like knowing when the electric bill is due and that its been paid.
Think of it as a way to let those worries go and know that the budget has your back.
Consider a budget binder to keep everything straight.
Emergency Fund
Preparing for change is important. Allowing yourself the security of an emergency cushion will help you focus on the task at hand. But things will go wrong. It will rain. Make sure you're prepared for that.
This might be the reason you have decide to move forward being a frugal mom – to build up that emergency fund. However you decide to do it and whatever your reason, do it as fast as you can to keep that momentum going.
Strength
The strength to teach your children to be happy with less material things because the payoff is so much greater. As the only child of a mom who worked most of her life, I remember feeling envious of others whose moms were home. I decided very early that if I could help it at all, I did not want to pay someone else to care for my children.
This meant teaching them the frugal ways generations of family members have taught me.
If there are financial goals to be met, setting limits with your children will do so much more good than harm.
Patience
If they aren't used to this new frugal living mom, then you'll need patience. Nobody likes change. Especially when they've got everything they want. Nobody likes to be denied the luxuries they already have.
Everyone will need to practice patience through this transition.
What Does a Frugal Living Mom Look Like?
I've put some deep thought into this. I think its important to understand that When you picture a frugal mom, she's not stressed about money. She's firm in the budgeting rules that are in place (whether on her own or with a partner). She's not cheap even though her husband teases her about that all the time 😉
The frugal mom understands and teaches about limits and knows there are bigger goals out there. She sees that being with her family is so much more important than the newest gadget that needs to go on a credit card because there's no money to actually pay for it.
She is ready to teach her kids what it means when she says, "It's not in the budget this week."
Teaching from a place of abundance and not a place of lack.
Children learn so much from us and a money mindset is no different. If they constantly hear, "We don't have enough money" or listen in on money fights, it will engrave those beliefs and paradigms in their mind.
Teaching them the understanding that its not the idea that you don't have the money, rather that you CHOOSE to spend your money on other things; savings, spending time with them, and debt freedom may be a higher priority than new toys and extravagant vacations.
This post may contain affiliate links. Please see the disclosure statement for more information.
Frugal Living Secrets With Kids
Baby Care
Get as much as you can used.
Babies grow out of stuff so fast that they only use most things for a few months. This means that finding high-end items used is fairly easy.
Not only does this apply to baby swings like that expensive mamaRoo baby swing but it also means dressers, rocking chairs, and even cribs and pack and plays can all be found used and at a fraction of the cost.
Ask for what you need.
Family, friends, and grandparents can't get enough of buying for babies. Make sure you ask for what you need so they have the option of taking care of that as a gift.
Borrow what you can.
Many friends and family are more than willing to let others borrow items that their babies have outgrown before the next one comes along.
Prepare ahead of time.
This not only means decluttering the cellar and deep cleaning the bathroom, but it also means stuffing the freezer full of meals and putting the dog food on auto-delivery.
Clothing
Consignment shops.
Kids grow fast. Rarely do they have time to wear out anything before it just doesn't fit any more. Consignment shops have some great clothes at good price and many times, if you bring clothes in, they will give you the credit toward a bigger size.
Salvation Army and Good Will
I love these choices for clothes. I specifically love when they have 50% off days. Finding a good thrift store in an upscale neighborhood will greatly benefit you when finding higher end clothes. This includes childrens clothes.
Garage Sales and Yard Sales
This might be the cheapest way to purchase children's clothing. You can easily purchase pieces for twenty five cents and up. Even better, find a neighborhood or town wide sale to get them all done at once.
Facebook Marketplace and other online options
You can find anything on FB Marketplace. My husband joined Facebook only for this reason (and to see pictures of our granddaughter). Other online sites like ebay or craigslist are also great resources.
Food
Babies
Newborns need food, too, right? So the cheapest way to go is to breastfeed. However, if you're unable to or decide not to, then finding an inexpensive formula may be a challenge depending on the needs of your baby.
Doctors' offices many times have coupons available as well as online at the brand's website. Also, emailing the company telling them how much you enjoy their products and how your baby is thriving with them may get you some coupons by mail.
Skipping store bought baby foods and purchasing a mini food processor can save a lot of money. Adding whatever you are having for dinner (minus the spices and seasonings) and giving it a spin can allow your baby to experience the same food you eat every day.
Your food budget has some flexibility to it. Learn how to cook from scratch and find resources that will help you decrease your grocery spending.
Toddlers and older children
Don't buy special toddler foods. Dino nuggets and spaghetti-o's are not cheap. Plus, they aren't really that good for growing bodies. Chose to feed your toddler what you eat from day one to teach their little palettes the foods they will encounter for the rest of their lives.
Decor
Decor is one of those things that is really not a NEED for children. And when you are a frugal living mom trying to meet your financial goals, it's just not a priority.
Warm bedding and curtains for privacy can be made or purchased at deep discounts. Look for bedding on clearance and second hand. Better yet, ask family members for those things for Christmas.
As children get older, decorating their rooms can be fun but it doesn't have to break the bank. Set aside money for the home and grab decor as you see it at a good price.
Don't be afraid to upcycle pieces to add freshness and your own spin. Grab used or free furniture and apply some chalk paint for a whole new look.
Get the kids involved for some artwork and crafts, too.
Toys
Babies only need a handful of toys. The building of hand-eye coordination, motor skills, and muscle building are all advantages of babies and toys. Items to chew on are also important and helpful in teething.
Toddlers and young children get SO MANY TOYS from family and friends. As a parent, putting boundaries on family who love to buy for your kids is a great way to limit the toys. Instead, ask for the things they need.
Parents rarely have to buy their children toys. Consider used toys. I have seen countless new toys still in packaging at yard and garage sales. Smaller children just don't know the difference.
Fun and Entertainment
Look for free entertainment. Try free days at museums and art centers. Explore nature with a day trip to the lake for fishing and swimming. Go on a hike. Find music or a play in the park.
Making small things a big deal at home can increase the excitement factor. Instead of having just a movie night at home, take the whole week to earn movie bucks so kids can buy their own snacks.
Pinterest is FULL of great ideas.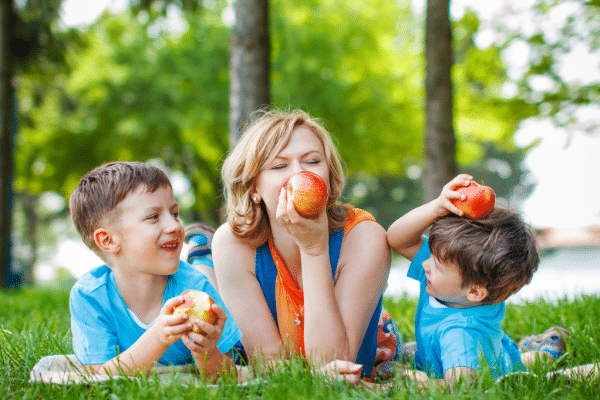 Books
I'm a big fan of books and I buy books for children at every holiday. So my first suggestion is ask for books as gifts.
Then, utilize the library. There are hundreds of books to read at your disposal. Make it a standing activity to go pick out books. Many libraries also have play rooms for littles to burn off some energy and grab some socialization.
Subscriptions, Activities, and Services
Cut out any subscription boxes or services you aren't getting enough value out of. Or if your children really love them, ask family for them during the holidays.
Find free activities to keep those littles busy. Our winters are brutal in the north country so having a place to go to change up the inside of the house or dissolve some energy is a great idea.
Think twice about too many paid activities like gymnastics, dance, hockey, or soccer. Pick one each year (or season. Children don't like to be overextended and parents don't need the added expenses.
Memberships or passes to museums, aquariums, and zoos are a great idea. These are usually cheaper than day passes over time and offer friends and family another type of gift to give.
Keep an eye on streaming services and online accounts for children. Make sure you are not paying for services that you are not getting enough value out of. Question whether or not life would suffer too much without them.
Coupons and Sales
Not only can coupons work for food, but they can also get you a price cut on toiletries and clothes. From baby formula to socks, keep an eye on sales and piggy back those coupons with the sale for added savings.
Also, remember those savings apps like Fetch and Ibotta. Their savings add up, too.
Holidays
When it comes to holidays, start smaller when your children or smaller. Easter baskets don't need to be elaborate. A few pieces of chocolate, a book, and a game could be plenty.
Birthdays and Valentine's Day can also be on a much smaller scale.
Christmas doesn't have to show gifts piled to the ceiling. Consider the 5 Gift Rule for those larger holidays.
17 Things Frugal Living Moms Don't Buy
Haircuts
Mani/Pedi
New Clothes
Cable
Fancy Coffees
Restaurants
Subscription Boxes
Bottled Water
Baked Goods
Cleaning Products
Napkins
One Serving Snack
Disinfecting Wipes
Juice Boxes
Paper Towels
Zip Bags
Gym Memberships
Haircuts
I cut my own hair. I've perfected the ponytail method and now I'm working on a bob type style. It's because Supercuts near me has a new owner and has doubled their prices. So, I'm out. I bought a good pair of hair cutting scissors and I do it myself. Youtube has some pretty great tutorials.
Mani/Pedi
You can paint your own but with the rise of Colorstreet, putting stickers on is so quick and much less expensive than the nail salon. Plus, it looks so much better than if I were to try to paint my own!
New Clothes
This doesn't mean you can't get clothes when you need them. It means that you don't shop for recreation and you do shop with intention. Most of us have a full closet – most of which we don't wear.
Trade in your old clothes for new to you clothes at places like Thred Up or your local consignment shop.
I purchase clothes about once a year and I have created a uniform of sorts. Same tops, same bottoms. Short sleeve shirts with a sweater and jeans when it's cool. Capri's or skorts with the same shirts when it's warmer.
Cable
Cable is so 2003. With streaming services coming so far in the last ten years, you can save so much money and find exactly what you need. We use Philo. It has everything we need for tv entertainment and it's CHEAP!
Fancy Coffees
Don't get me wrong, I love a good Grande Soy Latte with 4 pumps of caramel just as much as the next person. However, these treats are few and far between.
Treating yourself is important for self care – just not every day.
Restaurants
This is a struggle. There are many many nights when I would rather go out to eat than cook. If I lived in an area that had better access to delivery, I'd be dangerous.
Consider only going to restaurants on special occasions and finding recipes that are quick, easy, and cheap instead.
Subscription Boxes
There are many out there to chose from. Beauty, fitness, and even pet boxes that automatically come to your house every month to give you all the things you don't even need to entice you to buy other things that you don't need.
Skip them and set up a sinking fund to make purchases when you actually do need them.
Bottled Water
We all know that bottled water is an expense that can be curbed by refilling our own water bottles from the tap or a filtered pitcher.
It's not a big expense to buy a case of plastic bottles but when you are working on being a frugal living mom, every penny counts.
Baked Goods
Oreo cookies at my grocery store were over $4 a package. You could bake a LOT of cookies for that price!
The same goes for muffins, cakes, and bread. Considering spending less on baked goods and making your own from scratch. Also, most of this stuff freezes week so double your batch and add half to the freezer for next week.
Cleaning Products
If you are looking to save money and really just want your house to be clean, then making your own cleaning products is the way to go. Two staples that I buy in bulk are white vinegar and baking soda.
Add a little bit of essential oils from my favorite aromatherapist and your house will not only be clean but smell great as well.
Napkins
Switch to cloth napkins instead of paper. I haven't bought napkins in over ten years. I have a package in the cellar (in a plastic bin) for parties and BBQ's but on a daily basis, we head right to the cloth napkin basket.
I made my own with some cute fabric that a friend gave be but they are in desperate need of updating. I have my eyes open for some new material.
You can buy cloth napkins in bulk from Amazon and many other stores, too.
One Serving Snacks
The mark up on single-serving snacks is ridiculous. Buying in bulk and then separating them out into small reusable bags is a much better option.
Consider grabbing the snacks your family loves the most at warehouse stores where the costs are cheaper. I'm not talking about the little bags of pretzels they also sell. I'm talking about the mega bags or tubs of pretzels.
Disinfecting Wipes
As many of us have lived through, these have been in very short supply. It's interesting to see how many people feel these are a necessity when it comes to cleaning.
Diluting a tablespoon of bleach in 24 ounces of water and a rag will do the same thing. Or, if you like to take the more natural approach, vinegar or a Norwex cloth will do the same (Norwex cloths have silver in it which is anti-bacterial and anti-microbial).
I love the natural wipes for my toilet but have used paper towels and spray cleaner before.
Juice Boxes
Juice boxes might have one of the biggest markups that I have ever seen compared to large bottled juices. The time it takes to pour juice into a cup or reusable bottle does not compare to the money you are handing over at checkout.
In our home, juice was always watered down and given as more of a treat than a replacement for water.
Paper Towels
Have you seen the fabric paper towels that snap together on a roll? They are the cutest. I first saw them on Etsy but they are all over now.
It's always good to have a roll of paper towels on hand but for daily purposes and jobs, a rag will work just fine. Consider putting them away for a trial run and keeping a basket of cloths on your counter instead.
Zip Bags
These are one of the items I struggle with the most. For smaller things like packing lunches, I use stainless steel containers. But I buy meat in bulk and then process and freeze. So using zip bags that I can just throw out after having chicken in it feels safer.
But using a replacement for zip bags for storage can be a real money saver.
Gym Memberships
Gym memberships can be pricey and I understand the benefits. Living in an area that has frigid winters, very few want to excercise outside. Even in areas where the summers are triple digits, its tough to get your exercise in.
So dropping the gym membership and still finding creative ways to exercise is a challenge.
But, lets face it, that fee for these memberships can get pricey and finding alternatives when you are practicing the frugal living mom lifestyle can make or break the budget.
Final thoughts on being a frugal living mom…
In order to be a frugal living mom whether you are at home, work from home, or work outside the home, you have to evaluate your spending. Finding areas to cut back in order to reach your financial goals can be daunting and time consuming. But when you have the right mindset and motivators, you can take care of this without a problem. Make it a game.