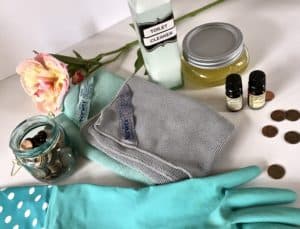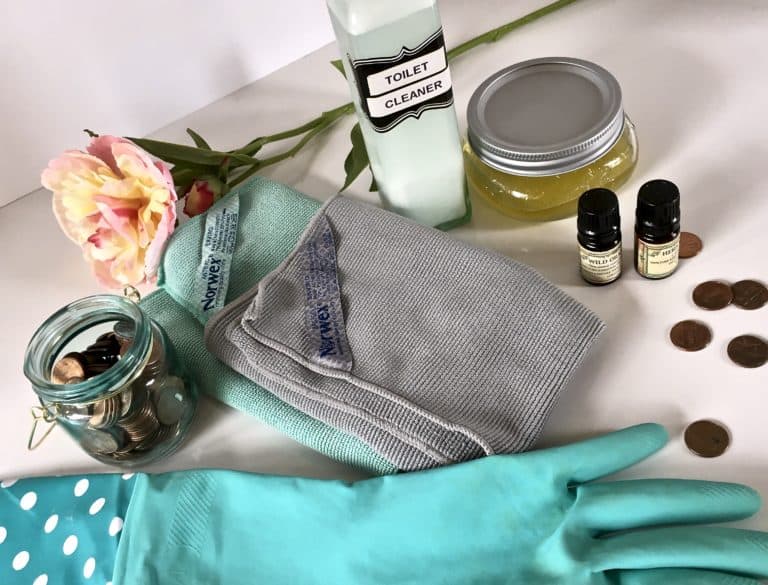 A friend of mine texted me the other day about a product to clean her leather furniture. The one she was interested in was a little out of her price range, so I told her to do an internet search on making a cleaner for leather.
I was sure that there had to be cheap cleaning products you could make at home for your leather furniture!  Normally, I just wipe mine down with my Norwex cloths but then I thought, they need to be cleaned and conditioned.  So I did a little search and came up with a pretty good cleaner.
You can make a cheap cleaning product for anything by just looking around your house.  There are antibacterial properties in so many household staples like hydrogen peroxide, vinegar, and alcohol.  Really, there is never any reason to spend extra money on store-bought cleaners.
The Dirty Truth About Cleaning Products
There is a reason that the government requires warning labels on many cleaners.
There is just no reason to purchase something that has been known to cause so many health risks including cancer when you can get the job done and maybe even better with a couple of things that you probably already have in your cupboard.
Don't let the nice smell fool you!  Those are toxic chemicals.  The truth is that clean does not have a smell.  We have been conditioned to believe that all those floral scents are the smell of clean and that is just not the case!
Those fragrances that you smell are called phthalates and are reported to be known and labeled as "probable carcinogens" by the EPA and the Department of Health and Human Services.
According to GreenFacts.org,  probable carcinogens are "Chemicals or other agents in the environment assessed by US EPA (Environmental Protection Agency) are classified into five groups based on the existing scientific evidence for carcinogenicity."  Which means they are linked to cancer.
Non-Toxic Leather Cleaner
I need a substance that cleans and a substance that conditions.  I thought white vinegar is something I use all over my house.  It cleans and sanitizes.  And then an oil base needs to happen for conditioning.
I read a lot of people use olive oil, but I was worried about the absorbancy of olive oil.  Then I thought about coconut oil, and although I think that would work well, it would need to be a two-step process instead of just one because coconut oil is in a solid-state.
I thought about jojoba oil, and although I have some on hand, I wanted to make it easy and cost-effective for you guys to make this.
So, I gave the oil and vinegar combination a shot.  I mixed a couple of tablespoons of white vinegar and a tablespoon of olive oil.  I grabbed my Norwex and…
Oh.  My.  Gosh. You guys…  it looked GORGEOUS!
But it smelled like a salad!!!  And the amount didn't go far at all, so I mixed another batch.  A half-cup of each and added a little wild orange essential oil from my favorite (20 plus years certified) Aromatherapist to break up the smell of vinegar.  My couches look new again.
I can tell you, it has been a while since I wiped them down last, so they were pretty dirty, but they look terrific!  They were dull before, but now they look like new!  I kept going back to touch them to see if they felt oily and they did not!!
Homemade Wood Cleaner
So I wondered about the wood I also have in my home.  I have heard that wood also needs to be conditioned even if it has been sealed to keep it from drying out.
So I took that same Norwex cloth and wiped down all the tables and shelves.  I then went back over with a dry one just to get any excess off.   They look beautiful.
I do not purchase any type of pledge and never bothered with conditioning any furniture, but this will definitely work its way into my cleaning routine.
Streak-Free Stainless Steel Appliances
Did you know olive oil works brilliantly on stainless steel appliances as well?  I had a heck of a time trying to get my stainless refrigerator streakless.
It was making me crazy, honestly.
I even bought method cleaners specifically for that purpose only to be disappointed.  I was reading a blog (I wish I could remember which one to give her credit) and she suggested olive oil.
When you do that though, you really need to buff it all with a soft microfiber cloth to get as much of the excess off as possible.  it doesn't soak in like wood or leather.  Another cheap cleaning product.
Then I got to thinking about other homemade cleaners that I use all over my house.  Everyone knows about vinegar and water for windows and mirrors.  And again, my Norwex cloths are the bomb.
Homemade Toilet Cleaner
At this point, my thoughts went right into the toilet, literally.   I really like Method liquid toilet bowl cleaner mostly because it smells like peppermint.
But so many of those natural cleaners are just so pricey.  So again, I thought about what I wanted in a toilet cleaner.  It needed to be semi-thick with clinging properties.
I wanted a cheap cleaning product that I could throw together in a couple of minutes.  It also needed to have some abrasive properties to scrub it with, and I wanted to disinfect properties.
Baking soda, vinegar, hydrogen peroxide, liquid soap.  Well, you can't combine baking soda with vinegar or hydrogen peroxide without a chemical reaction so that won't really work.
There is a recipe for homemade liquid laundry soap that seems to be pretty thick and slimy so I gave that a try.  At least something very similar.
Two tablespoons of baking soda, a few tablespoons of borax, and a 2-inch by a 2-inch block of Fels Naptha soap dissolved in about 2 cups of boiling water.
I chopped up the soap into the tiniest pieces I could get so they would dissolve better.  I bet you can also use castile soap, too.
After it cooled it got thicker and better consistency, I added a few drops of tea tree oil and a lot of herb mint essential oil.  I think it works great!  And it smells awesome!!
So there ya have it!  A couple of chemical experiments to make some cheap cleaning products that only take a couple of minutes to throw together!  Let me know if you try them and how they work!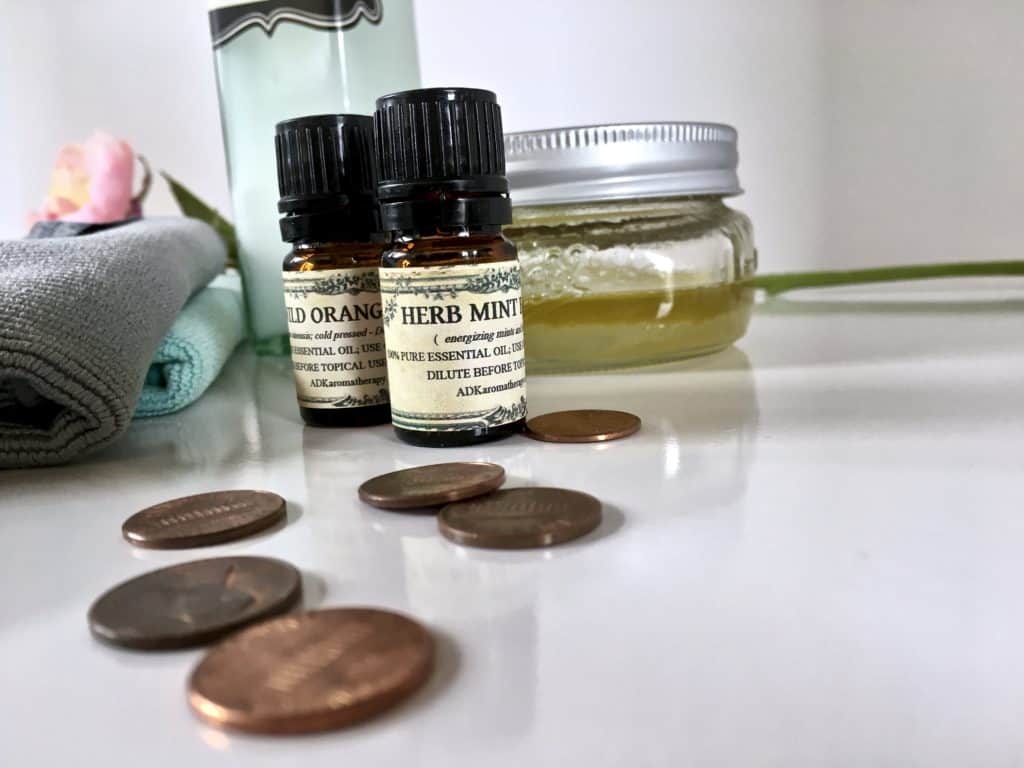 SaveSave
SaveSave
SaveSave
SaveSave
SaveSave
SaveSave