Summer is a time for being busy, enjoying the sunshine, and staying cool.  The last thing you want to spend all your fun money on food that heats your kitchen.
These cheap summer meals utilize appliances like outside grills, crock pots, and Instant Pots.
I was boiling pasta for a macaroni salad last week, and it raised the temperature in the house an extra 4 degrees on an already hot day.
The air conditioner would have to work harder to keep it comfortable, costing you more electricity.
Running your oven or stove in the summer heats your house and will cost you extra money to cool it.  Why not utilize some of the appliances you may already have that won't
The Instant Pot For Summer Cooking
Imagine pot roast in the oven for hours?  That would be torture!  You could have the same in an Instant Pot in under 30 minutes! Because the instant pot cooks things in record time, it will not give off the amount of heat that an oven would.
And, buying less expensive cuts of meat will bring down the grocery costs.  Check out the cheap summer meal ideas for the Instant pot below!
Slow Cooker When It's Hot Out
Slow cookers are also a great alternative to turning on the oven or stove. And you can have a full meal.
I will also plug my slow cooker in outside on the back deck to cook for the day, saving the house from the little bit of heat that radiates from my cooker.
Imagine a delicious meat sauce cooking all day in your crockpot outside for the top of the hot dogs that you will grill later!  That's a pretty cheap summer meal idea!  Check out more below!
Roasting Cooker To Keep Your House Cool
We have a large Nesco cooker that my gram got me years ago for Christmas. I also plug this in outside.
I cooked a turkey in July, and my electric roaster works excellent for baking! Cakes, banana bread, and brownies have been baked outside in this cooker.
You can use this cooker for anything you might cook in your oven.  That is the BEST way to keep your house cooler in the summer.
Grilling Is Made For Summer
Who doesn't love to grill?!? We just built phase one of our outside kitchen. And we are buying these countertop propane components for that.
We have a large grill, but we rarely need to use such a big grill as a family of four.  So these smaller grills will work just perfectly for our family.
We can cook our whole meal outside and not heat the house with these three components – the grill, the griddle, and the stove burners.
There are plenty of recipes for all of these small appliances listed below.  Check them out, and please let me know your favorites!
Beef Recipes Perfect For Summer
Everyone is always looking for another way to use ground beef.  When you can get it on sale, stock up because it's versatile and a slice of perfect meat to grill.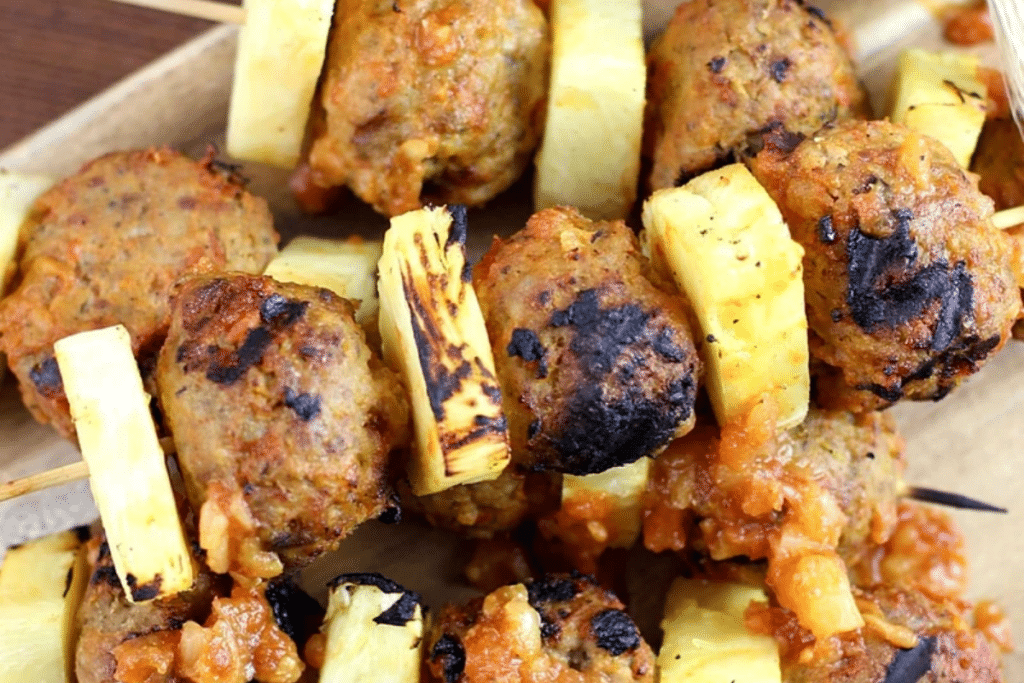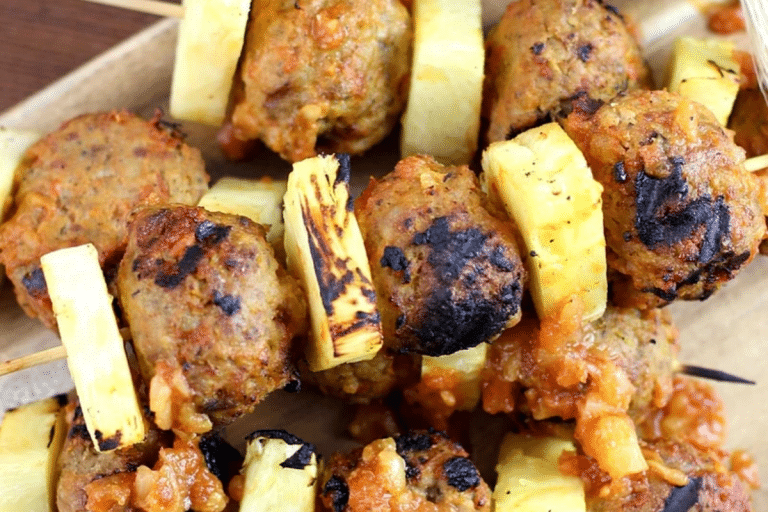 Grilled Pineapple Meatball Skewers
This recipe can be used as a meal or an appetizer, a fantastic combination of sweet and savory.  A quick dinner and kid-friendly, too!
Grilled Pimento Cheese Hot Dogs
This cheese sauce is a great way to top a hot dog, and no more boring ketchup and mustard.  This cheesy topping is a whole new level.
Oh my gosh.  So delicious.  This recipe called for steak. However, the joy of using the instant pot is that it makes any beef cut fall apart tender.  Using stew meat makes this recipe super budget-friendly without heating the kitchen.
I'm always looking for another creative way to use ground beef. These kebobs are like a tasty little meatloaf on a stick. Throw those on the grill for a cheap summer meal
This dinner s a cheap summer meal to make when all those zucchinis are ready for picking in your garden – or, in my case, when friends drop them off on my porch!
Mexican Beef Taco Lettuce Wraps
These lettuce wraps are a healthy and cheap recipe for those hot summer days when you can't eat anything heavy.  The perfect meal for hanging out on the patio, and who doesn't love tacos?!?
Anything put on a stick and cooked on a grill screams summer. These have your protein and your veggies all in one kebob.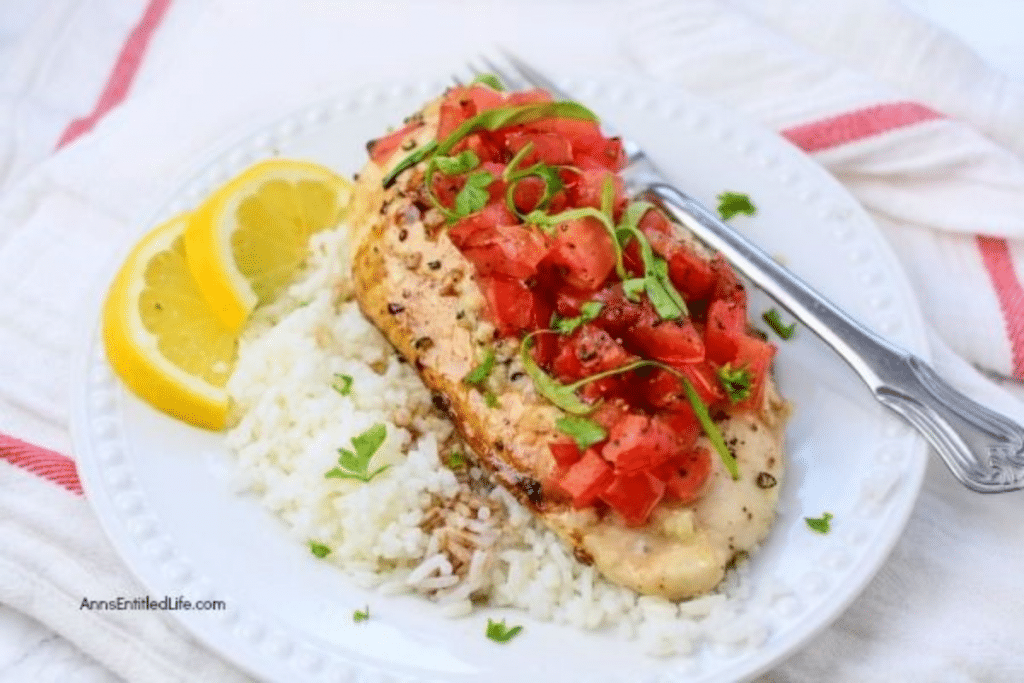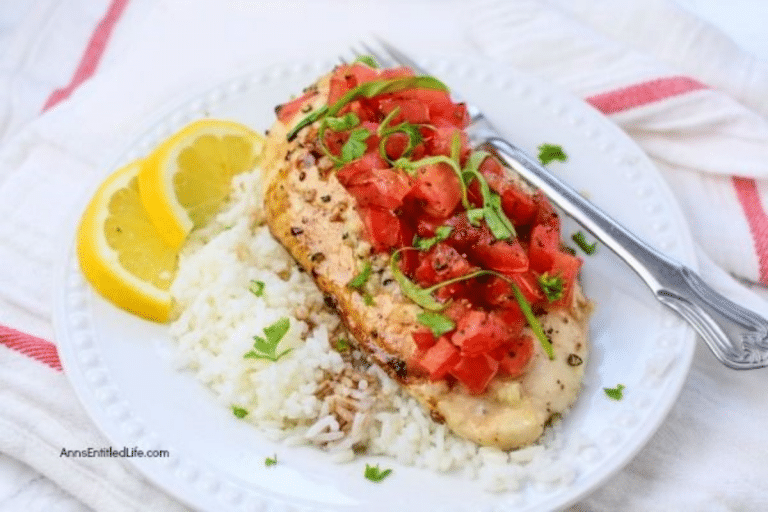 Cheap Chicken And Recipes For Hot Weather
Chicken breasts can be a little more pricey than other choices. Don't be afraid to swap out a cheaper part of the chicken or buy a whole chicken and use it for multiple meals.
Perfect light and healthy dinner recipe. Don't forget to save a little extra money by using chicken thighs with this instead of chicken breasts. Grab your tomatoes from your (or someone's local garden) and enjoy.
I love this recipe because it can be served cold, a perfect meal for my husband to bring to work for lunch.
Anything in an instant pot with chicken and a cream sauce makes my heart happy. This one is amazing.
Who doesn't love a good fajita?  This recipe is a cheap summer meal that you can make right in your instant pot, so you don't have to heat the kitchen.  Eat it in a bowl or serve it in a tortilla.
I love buffalo chicken anything.  These Buffalo Pinwheels are great because, in a pinch, you can use canned chicken. You are making this a more accessible and cheaper summer recipe.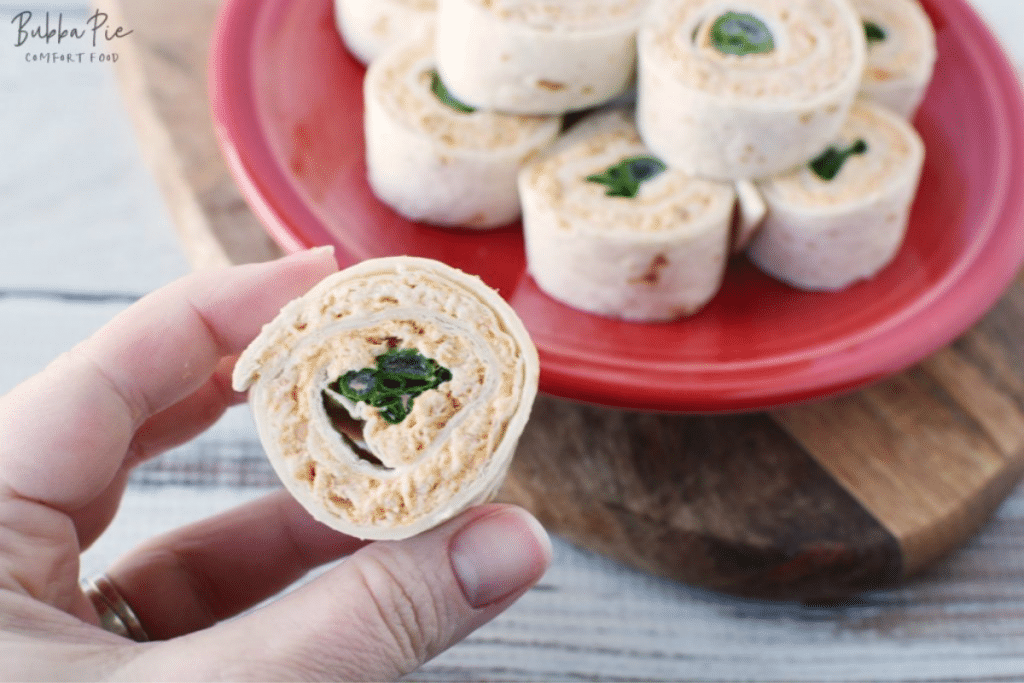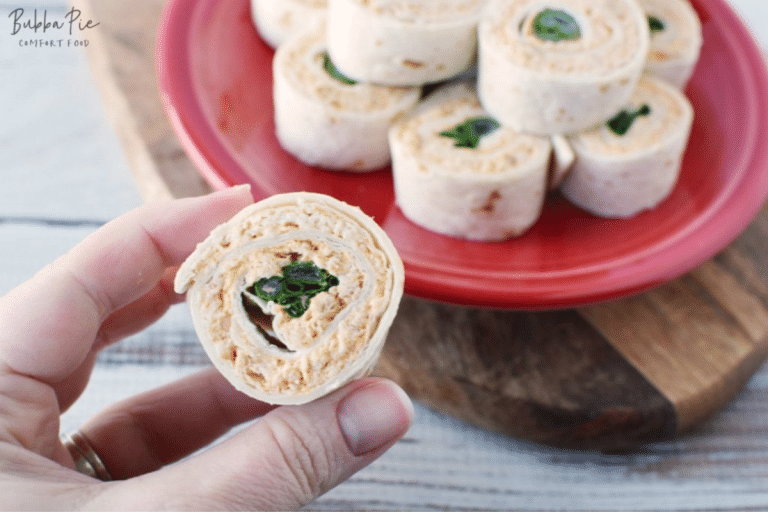 Cilantro Lime Chicken With Corn And Black Beans
This meal is a great cheap summer meal for a family.  Also, I love this recipe because it's a make-ahead freezer meal.  You can prepare this ahead of time and throw it in the freezer.  Then when you need a meal,  take it out of the freezer and dump it in the slow cooker frozen.
Crock Pot Lemon Garlic Chicken Dump
Here are another one of those meals you can prep and freeze ahead of time, allowing you to pull it out of the freezer and throw it into the slow cooker.
I love these meals for summer because when you are out by the pool for the day or go to the beach, you have a nutritious, yummy summer meal on a budget waiting for you and your family.
Siracha Chicken Noodle Lettuce Wraps
These lettuce wraps are another portable recipe that is great to take to work for lunch.  If you like a little kick, this is a fun choice.
Instant Pot Whole Chicken Recipe
In my frugal opinion, making a whole chicken is one of the most frugal family-friendly meals you can make.  It's the meal that keeps on producing.
Eat it once, then pull the rest of the meat off and use it for another recipe (or two), then use the bones to make stock.
And cooking it in the instant pot in the summer is fast and won't heat your house.
Carolina Style Instant Pot Shredded BBQ Chicken
I made this one the other night and served it on those sweet Hawaiian rolls.  And it's not even summer here.  You could even make this cheaper by cooking a whole chicken and pulling the meat off.
Three Ingredient Crock Pot Chicken Tacos
Honestly, chicken tacos are A.MAZ.ING. The perfect cheap summer meal for a family. Make ahead and great as leftovers for the next day's lunch.
This meal is on my list for this week. This salad is not a traditional chicken salad with mayo.  This dish is a chopped salad FULL of amazing veggies just in time for summer. Another excellent use for a whole chicken and a perfect take to work (or sit at the pool) lunch idea.
I make this recipe often.  It's a new spin on rice and beans.  You can serve it in a bowl and add sour cream, guac, and cheese or put it in a burrito shell.
The idea of throwing some wings in the instant pot and having a quick, cheap, and easy summer dinner recipe for the family makes my heart happy.  Wings are very economical and can be used as a light summer dinner or an appetizer to bring to a BBQ.
These chicken dinners are a healthy and light dinner idea for the summer. Anything wrapped in a foil packet is good in my book. These chicken dinners are perfect for the grill and allow for practically zero clean-up. Also, these are perfect for make-ahead meals to take camping.
I love the lightness of this dish. Pairing this with orzo makes this a cheap summer meal for the family. Adding the fresh veggies and grilling the chicken would make this dish even better for summer.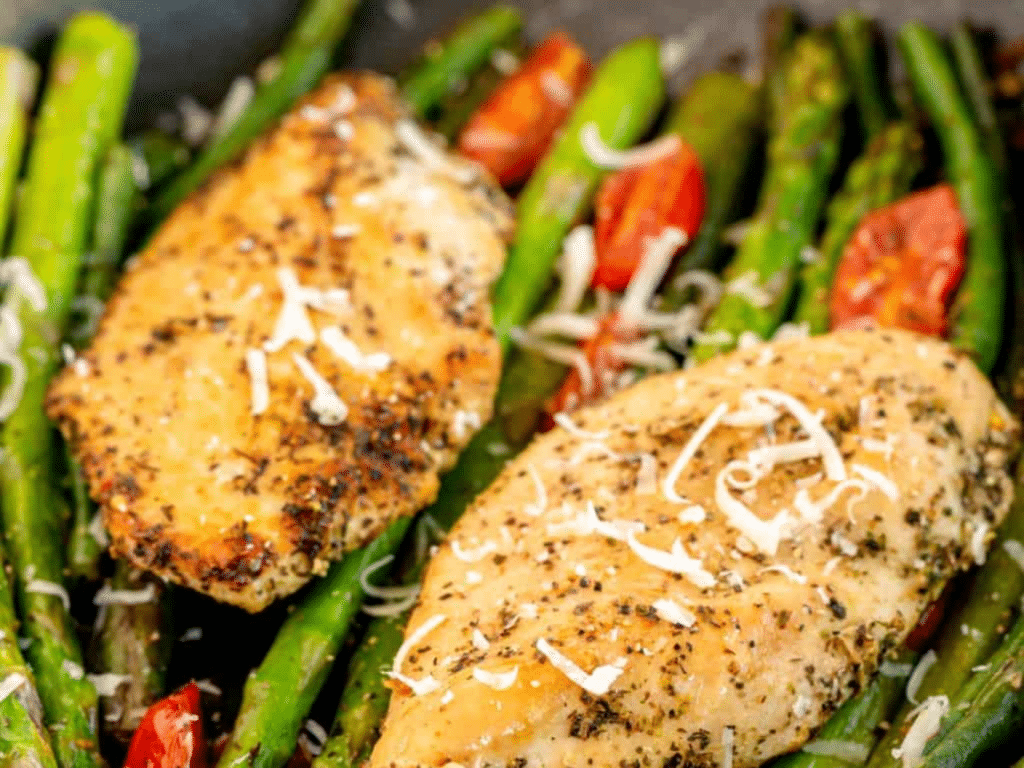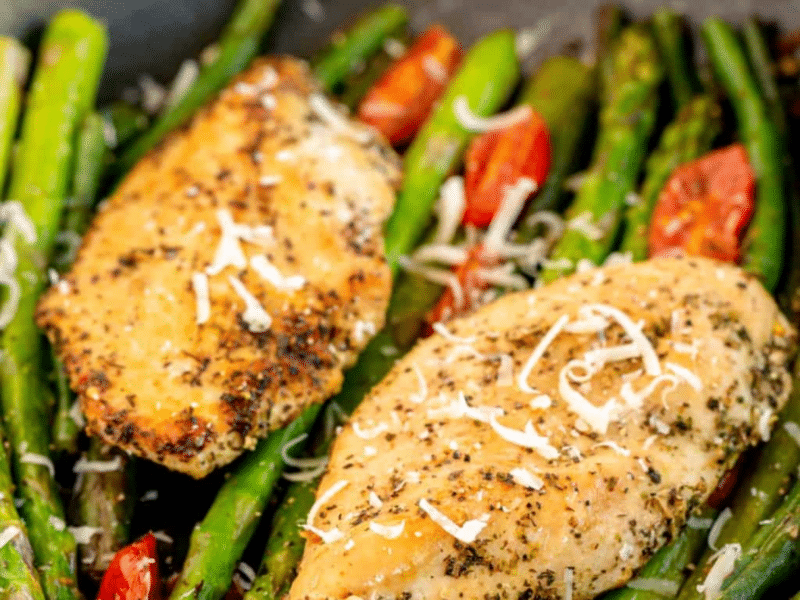 Chicken Provencal And Vegetables
This chicken and veggie dish is a great healthy, low-carb dinner to use all the garden's tomatoes and green beans.  Throw these chicken breasts on the grill and make this a perfect light summer meal on a budget.
Instant Pot Shredded Chicken Mexican Style
Have a summer get-together?  Try this instant pot idea for an easy summer recipe.  Serve it over rice, on a bun, or in a bowl for a low-carb option.  Try substituting chicken thighs for chicken breasts to make it more frugal.
Chicken Shawarma With Vegetables
Sheet pan dinners are the best.  And being able to throw them on the grill instead of heating your kitchen is a great hot weather meal idea.
Instant Pot Italian Chicken Olive Garden
This Italian chicken meal is one of my favorite meals to make.  I love adding a block of cream cheese to the end to make it creamy.  Serve over pasta for a nonhealthy yet very yummy summer meal idea.
An excellent dish for summer.  Whether it's just the family or a summer get-together, this BBQ Ranch Chicken uses the Instant Pot, so it's quick and won't heat p your kitchen.  Feel free to substitute less expensive poultry or cut to make this an even better cheap summer recipe.
Limited ingredient recipe makes this summer meal not only cheap but also healthy. It is easily transformed into a lower-carb dish. Serve over rice or on a bun.
Chicken Spinach And Tomato One-Pot Dish
This one-pot dish can be made outside on your grill or in an Instant Pot if you are well versed in transforming recipes. You are using the fresh tomatoes and spinach from the summer harvest for minimal cleanup and a delicious meal perfect for a light dinner in summer.
My mom gave me an electric frying pan for Christmas a few years ago.  Stir fry is an excellent dish to use for that.  Plug it in outside to make a healthy and yummy stirfry—a great way to use up all those veggies that are on the brink of going bad.
These are cheap, delicious, and Weight Watcher friendly.  The one ingredient that makes these taste amazing is lime—a perfect cheap summer meal.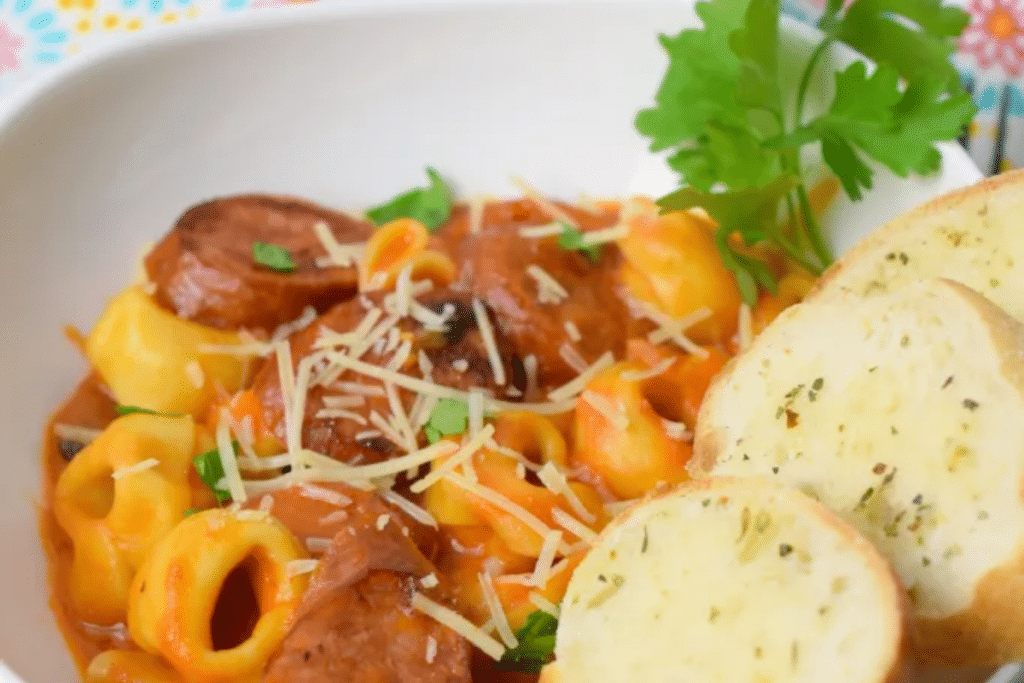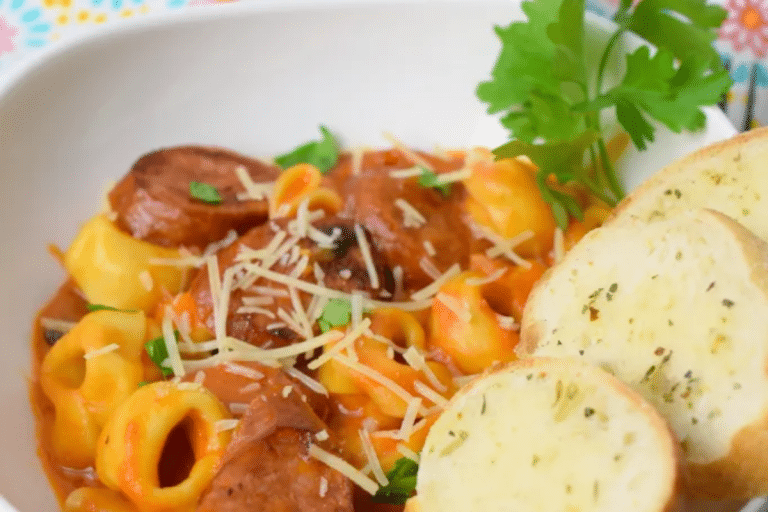 Pasta Dishes That Are Easy And Frugal
Boiling pasta is an excellent way to heat an already warm kitchen in the summer.  If you don't have a side burner on your grill, consider cooking the pasta first thing in the morning when it's cooler outside. It's worth mentioning these recipes as pasta is one of the cheapest foods you can buy.
Instant Pot Vegetarian Fajita Pasta
Any time you add pasta to a recipe, it is more frugal. Adding all these vegetables in season and on sale makes it double frugal—a delicious summer meal.
One Pan Creamy Tortellini And Sausage
I love this meal. It's hearty and creamy.  Make this outside in the cooker or electric frying pan so it doesn't heat the kitchen.
My mom used to make this for me all the time. It's one of my husband's favorite things to eat.  This one adds fresh tomatoes making it a perfect cheap summer recipe.
I am making this one tonight.  My husband is a huge fan of pasta, and I love Mexican.  All the ingredients are on hand. Add a dollop of guacamole or sour cream to the top.
Another quick, easy summer meal I am adding to my list.  Boil that pasta outside (or first thing in the morning when it's cooler) and toss the rest for a creamy pasta dish.  Add some meat or keep it as a simple vegetarian meal.
Applebee's Three Cheese Chicken Penne
One of those recipes that pair great with grilling chicken adds all the flavors for a yummy cheap meal in the summer.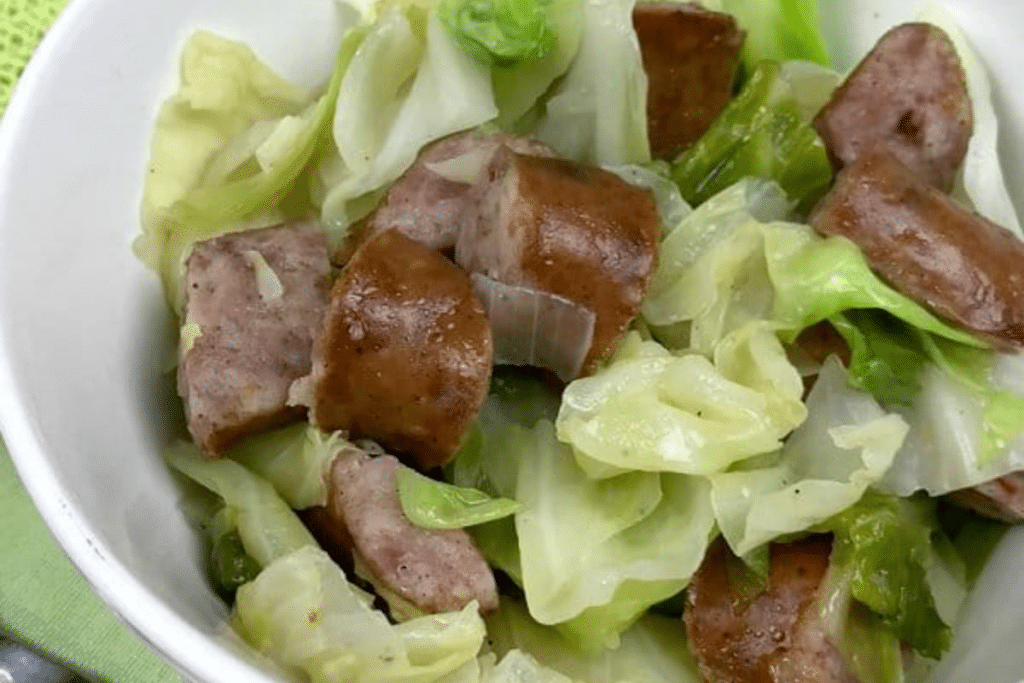 Pork Recipes Great for Summer Meals
Pork is one of the most cost-effective meats you can buy. Sausage, pork chops, and roasts are an excellent addition to your grocery budget.
Oh, my heart.  Ribs are a favorite around here.  Being able to throw them in the crockpot and then to the grill is a game changer!  The best cheap summer recipe.  Much more affordable to make them than to eat out.
Grilled Pork Chops With Peach Rum Sauce
This meal is a seemingly fancy dish great for summer company.  So easy, people will never know.
We make this year-round in our house.  Pair with frugal coleslaw, and it's the perfect, classic, and cheap meal for summer.
This dinner is another great meal to cook on the grill with a side burner.  Sausage and cabbage are super economical alternatives to other meat and veggies.
Ok. Who doesn't love bacon? I'm not the best at pork chops, but this looks worth another try. Bacon makes everything better, right?  Pork chops are one of the least expensive meats.  And the thought of wrapping them in bacon and throwing them on the grill makes my mouth water a little. I am adding this to my list.
Another hit for the Instant Pot in summer.  Serve this on a roll, in a burrito wrap, or a bowl.  You can't go wrong.
Slow Cooker Orange Ginger Pork
I just discovered the joy of oranges and pork. Ginger added makes for a delicious plus to this dish, and I will make this again.
Shrimp and Kielbasa In Alfredo Sauce
This dish combines some fantastic flavors and allows for the overflowing amounts of zucchini in the summer. It takes away nothing from the deliciousness and adds to the cheap summer meal. Leave out the shrimp if the cost is too high.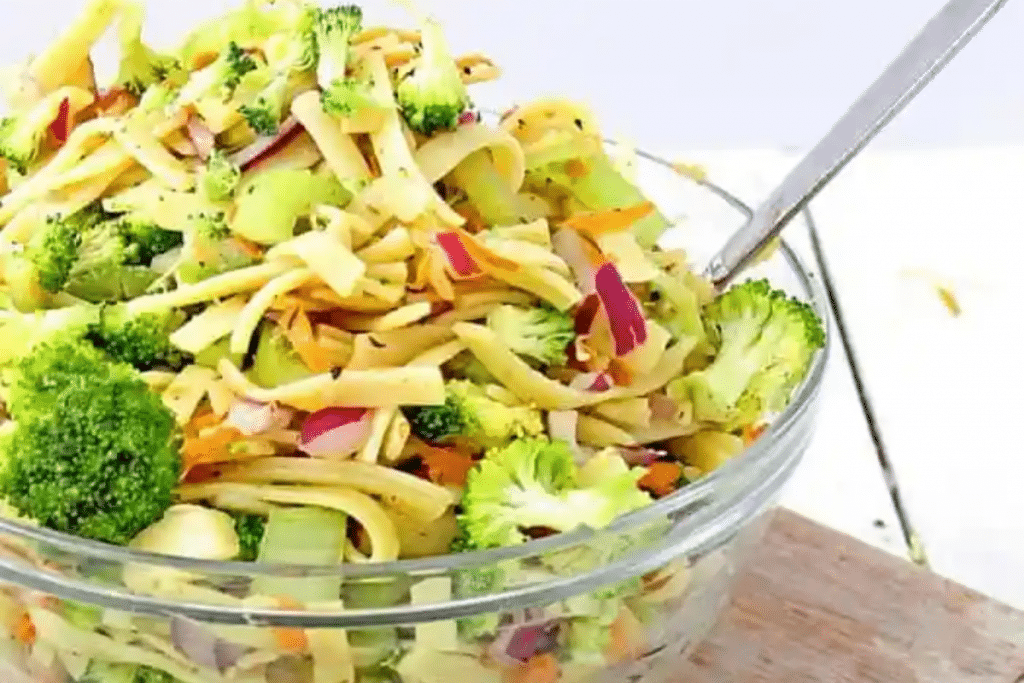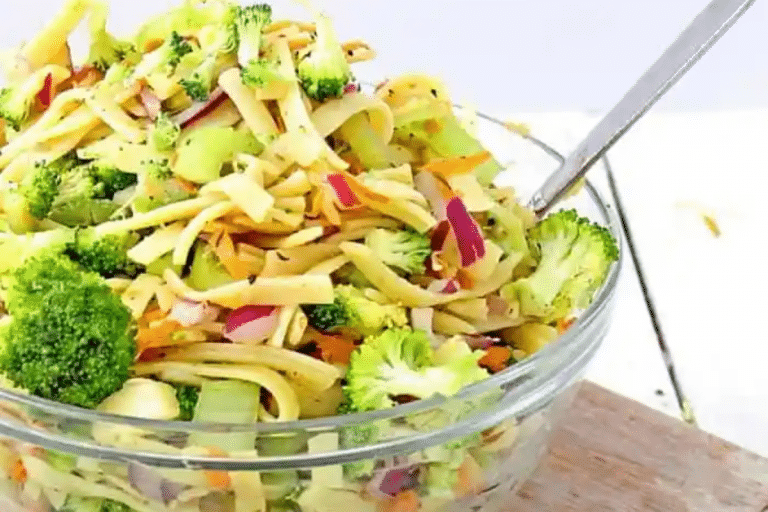 Thrifty Summer Salads For Hot Days
I just love salads in summer.  The plethora of fresh fruits and vegetables just make salads better.
Sweet Broccoli Apple Pasta Salad
A great salad for the summer and excellent for the end of summer during apple harvest, the combinations of flavors here are like a party for your taste buds.
This salad is a classic and frugal recipe; this meal is a staple at every outdoor gathering we have.  You can't find a cheaper summer recipe than tuna and pasta.
I don't use lime enough in cooking.  This recipe combines the cooked and cooled pasta with a bit of romaine lettuce, making it the best of both salads.
I have to admit; it took me a long time to get up the nerve to try berries in a salad.  But after I did, I never wanted to go back.  This strawberry chicken salad is the perfect salad for early summer when the strawberries are best.
A great take on some Thai flavors and a great way to use up leftover spaghetti, the flavors of this remind me of my favorite salad at Panera.  This recipe is a new favorite.
When it's too hot to cook, grab some pre-cooked chicken from the deli counter and whip up a 5-minute delicious salad.  Or make it cheaper by using leftover grilled chicken earlier in the week.
My friend Marci introduced this recipe to me years ago.  Skip the mayo to make this light and healthy tuna salad.  Perfect for eating with a spoon, lettuce wraps, or corn chips.
Make a batch of meatballs in the Instant Pot.  Use some for sliders and freeze the rest for salads later on. Being Italian, this works out perfectly for summer. Just unthaw, warm up and add to the salad fixings—a cheap and cool dinner for warm weather.
Add broccoli to just about anything, and I'm game.  And then top with bacon. Yum!  This frugal summer meal is a non-creamy pasta salad with loads of flavor.
I'm adding this to my list, another non-creamy salad – similar to German Potato Salad and something that would be great for the husband to take for lunches in the warm weather.
This apple chicken salad looks so good. Apple and chicken make a great combination. Add some lettuce and a nice fluffy roll, and you have a nice lunch or dinner out on the patio.
This dish can be an entire summer meal.  Also, a great side dish to take to a gathering.
I love any greek food, and this orzo greek salad is no exception.  The only thing missing here is some feta cheese.  Feta is easy to throw on top of a delicious lunch or cheap dinner.
Isn't it funny how some words make your mouth water? Zesty is one of those words. Adding beans for protein to this makes it a meal on a budget. Perfect for summer dining and kid-friendly.
Also adding this to my list for the summer.  I think my husband would like this. He loves pineapple in coleslaw, so this might be a winner.  It looks like an excellent refreshing salad free from anything heavy, perfect for hot days.
I'm not even waiting for hot weather for this one.  I'm making this salad this week! Add all the pickles. YUM.
A perfect salad to use all the harvest veggies: tomatoes, cucumbers, and a yummy side for all the BBQs.
Another great tuna idea without mayonnaise, this works perfect on top of a bed of lettuce and lots of added veggies from the garden—a yummy light summer dinner.
Use up all that zucchini from the garden with this salad. It's a lovely light and refreshing summer meal or side dish. Creating the ribbon pieces makes it easier to eat and pretty too.
Fresh Basil And Parsley Spaghetti Salad
I love this recipe as a way to use leftover spaghetti. The flavor combinations here sound delicious.
One more zucchini idea. I love salads with roasted vegetables. Even better if they are grilled veggies.
A great way to stretch that grocery budget is to add rice to the tuna salad—what a great idea.  Top a bed of greens or make a sandwich.
There are many beans for protein; no meat here means that this is a frugal recipe perfect for summer.  The vibrant colors and flavors up this salad on my list to try soon.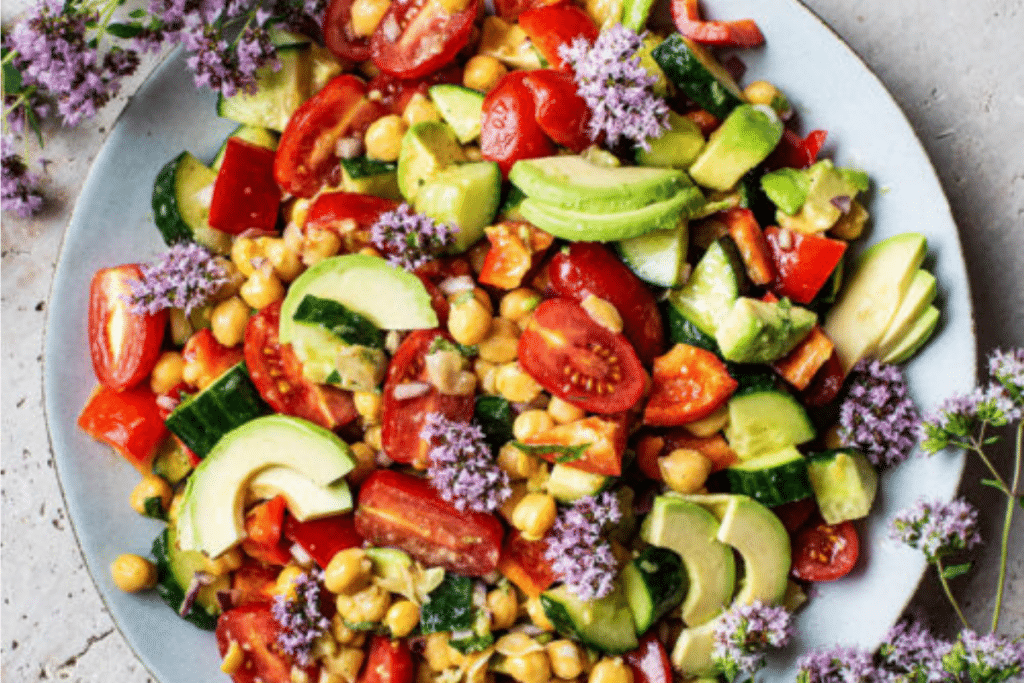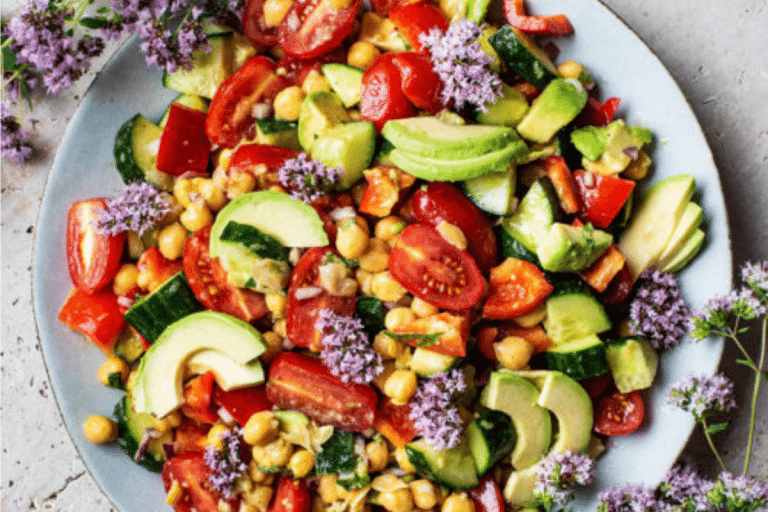 End Of Summer Greek Chickpea Salad
All these veggies are ripe and ready to be eaten at the end of the summer.  Another low-cost meal uses beans as protein.
This salad is a delicious new take on an old favorite around here.  Perfect for parties and gatherings.
This pasta salad is a lovely light summer salad that fits right in with a small budget. If you don't have a garden of your own, call out to others who do or stop into the local farmers market for some reasonable prices on fresh vegetables for this salad.
I am adding this to my list right away, not even waiting for summer.
Another interesting take on tuna salad with a new vegetable I have never heard.  Let me know if you've tried this one.
White bean and tuna salad is a budget-friendly and healthy way to make tuna (without the mayo) that looks delicious.
I hope you find something that you love here!  And let me know if you have ever done anything as crazy as using your crockpot outside, so your kitchen doesn't heat up!