Many people start their lives excited to buy their first home. They look to what the think they can afford and decide this will be their "Starter Home." At first, they don't mind living in a small house, but they are already making plans for bigger and better.
They look to the maximum amount the banks will give them with innocence in their eyes, not thinking twice that they would be one paycheck away from losing it all.
The Dangers of Too Much House
The Financial Crisis of 2008 was devastating to so many people and families. It affected not only homes but so many other financial avenues.
The stock market crashed, and people lost their investments. Others panicked and pulled out all their money, also losing growth potential. People were borrowing 100% of the value of the home with little or no down payment.
Some banks were being less than honest with borrowers on the amount of money they could afford to borrow.
Because the banks were so freely giving out loans, the prices of houses were inflated (supply and demand, right?). Adding the ballooning increase in interest, people could no longer afford to pay their mortgages.
Was it worth it to have more house than you could afford?
Living In A Small House To Save Money
We bought our 1100 square foot home in June 2002. This was right before the rise in housing market prices. I am talking weeks, here.
We bought our two bedrooms, one bath house on almost two acres for a little over $60,000. We had two boys who shared a tiny bedroom, and our bedroom was in a refinished attic space upstairs.
We bought it for the potential we knew it had.
We have added on – this was the plan all along – adding another bedroom, bathroom, and office upstairs with a plan next summer to add a laundry room, great room and fourth bedroom off the back….oh…and a pool!
But, we understood that if we wanted to buy a house, it would have to be something that we could afford and not risk losing for financial reasons.
We knew that it had to have enough space to add on but it had to fit our needs now until we could make that happen. It needed to work for us for YEARS!
Until we could get to a place where it was paid off, and we could put money into it to make it our forever home, we had to live in it as is.
So while we renovated the upstairs adding extra square feet and that much-needed bathroom, we lived in 800 square feet. Four adults(teen boys, am I right!?!) and a black lab.
There is nothing wrong with sharing a small space.
With the Tiny House Movement happening right now, we were cool before we knew how cool we were!
How Much 'House' Can You Afford?
Experts say to stick with the 25% rule. 25% of your monthly take-home pay should constitute your house payment (whether its rent or mortgage).
I went to Realtor.com and used their home affordability calculator to see how much house we could afford. Now granted, our debt to income ratio is pretty low.
In our area, we can afford a $300,000 house which would give us a $2400 a month house payment. This was also based on a 30-year mortgage
I find this to be interesting considering if we followed through with the 25% rule, we would have to at LEAST cut that in half!!
Honestly, if I were in the market for a new home, I cannot imagine spending that much money and for 30 years.
Not to begrudge anyone who is, but it's just not our style.
To get the numbers down to where I would be comfortable, $1,000 a month and a 15 year fixed mortgage, we would have to look at a house in the 100K area.
So, as people in the housing crash of 2008 learned, just because the bank will give you that amount, it doesn't mean its a good idea!
Living In A Small House With A Family
My boys are 18 and 21. Up until just recently, they have shared a tiny bedroom. There wasn't a lot of floor space, and the closet was small and awkward.
But you know what? They lived through it. Almost 20 years of having to work together and figure it out. #lifeskills
We had one bathroom. So if you were going to be in there for an extended amount of time, we learned to check in before heading in to do some business. "Anybody gotta pee? Going in to shower!" was pretty typical.
Our kitchen is (still) tiny. There are plans to add on to the back of the house. We plan on turning the dining room into an extended kitchen but for now…it's still small.
We are talking 'not big enough for two people' kind of small. But big enough to get the job done. And it's super cute!! There are two stools at a small counter area perfect for morning coffee!
We have a living room with enough seating for seven and an enclosed three-season porch which gets used A LOT! It serves as a mudroom, entryway, dining area and reading spot (equipped with a pretty white rocking chair).
We have an AMAZING backyard. Our weather here in Upstate NY is only nice about four months out of the year so many gatherings are spent outside when we can. We have a big deck off the back of the house with shade and seating, which gives us another option.
There is also a gazebo that my husband built and a fantastic firepit.
Humans really do not need a lot of space. There are plenty of ways to get away from the rest of the family for some alone time if needed.
Living in a small house teaches some essential life lessons like respect for others and thinking about how your actions are going to affect someone else.
Sharing a room is not going to harm your children. It's going to teach them coping skills and patience.
Because we bought this house, we were able to pay it off earlier than the 15 years we intended and deciding to stay here instead of moving up from a "starter home" we can set our retirement years up for success instead of uncertainty.
Where Do Little Kids Play?
There was plenty of floor space for the boys to play when they were small. We didn't have tons of toys, but they had a toy box and shelves with bins. So when they wanted to play, they pulled out their choice, and when the boys were done, they needed to put it back.
That's the best tip I can offer for living in a small house…pick up after yourself. Space will get so much smaller if it's messy. We had a table on the front porch for years dedicated to Legos.
And let them go outside. Create an outdoor living space to use when the weather is good.
There is a great fire pit and a swing, too. We have a beautiful grassy area for kids to run around on and play ball, run through a sprinkler, or splash in a pool.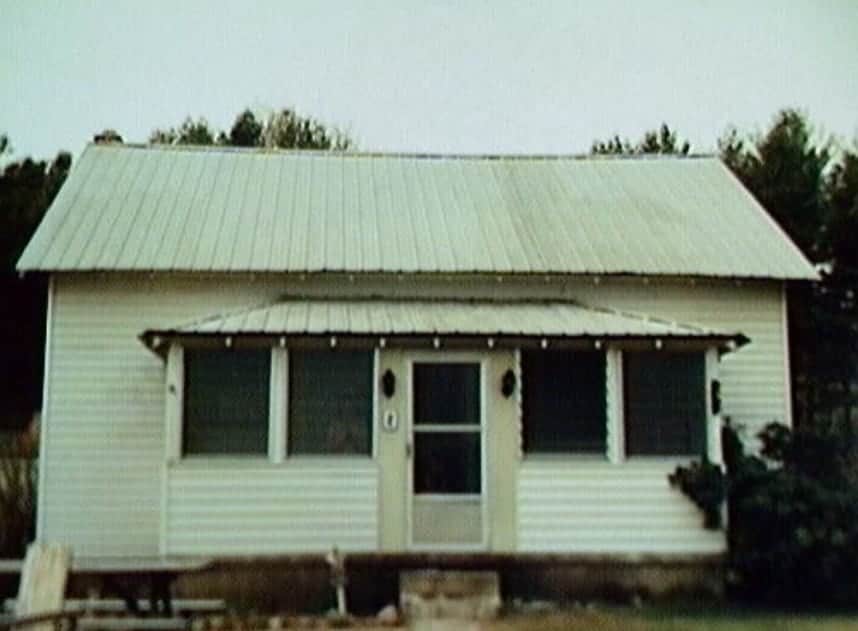 Benefits Of Living In A Small Home
Let's talk about the financial benefits of living in a small house.
Heating and Cooling
It costs so much less to heat and cool a smaller home. We pay $600 a year to heat our little house in Upstate, NY and the winter – it gets COLD!!!
We have three window air conditioners that cool the entire house. One in each of the two bedrooms and one in the living room works out pretty darn well.
If your furnace or central air needs to be replaced, it's going to cost less than having a furnace for a much larger square foot house.
Cleaning And Maintaining
It takes me about an hour to clean my entire home. It would probably take less time if I were doing a speed cleaning session.
Maintaining a smaller home is going to be less expensive because there are fewer things to break: fewer windows, fewer walls, and fewer doors, less square footage on the roof.
You still have the items inside the house that would be the same like appliances, but with fewer rooms to fill with furniture, there are fewer times they might need to be replaced as well.
Less cleaning is a HUGE benefit to living in a small home because most of us are not that into cleaning.
Initial Cost of Home
Of course, the initial cost of a smaller home is going to be less than a larger home. That's a given. But I have seen prices substantially less in our area.
I am an advocate of spending less on the house and then creating the perfect home for you and your family over time. Humans just don't need as much space as you might think!
Taxes
To go along with the initial cost of the home, you are going to find your taxes are less. And who wants to pay more for TAXES!?!
I don't think there is any more explanation needed here. Fewer taxes is a good thing.
Living In A Small House Can Be Cozy and Intimate.
One of the greatest things I love about living in a small home is that I get to see my family. I get to talk to these boys of mine and spend time playing games, watching movies, and having meals together.
They were never really able to get away with much growing up because we all saw and interacted with each other. I almost always knew what they were doing.
There are particular manners that you must use when you are living in close quarters. Being mindful of how your actions affect other people is essential. Your actions are magnified when living in a small house. You can get away with less.
For example, leaving shoes all over your floor when you have someone else sharing that room affects the other person. Especially if it's a small space.
Consideration for others as far as noise maters as well. If my husband and I go to bed at 9:30 to get up early the next morning, my son doesn't get to play on the Xbox in the next room after 9:30.
In this case, opinions of living in a small house are not favorable.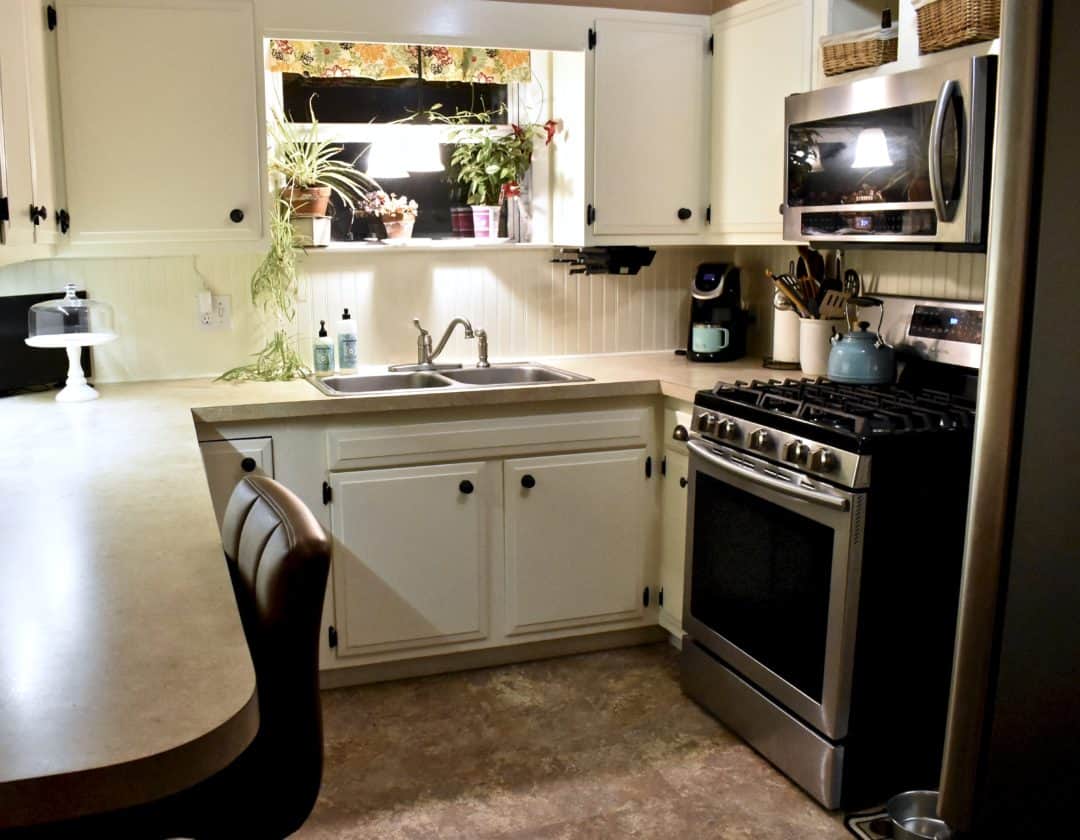 How To Live Comfortably In A Small House
The most important way to be comfortable in a small house is to limit the amount of stuff you have. Call it decluttering or minimalism if you wish, but everything you own must have a place where it lives comfortably.
Overabundance has no place in a small space. Feel free to embroider that on a pillow!
I am not a fan of clutter and disorganization. This is mostly out of necessity. When you have limited closet space, to tend to have fewer clothes. I discovered a Capsule Wardrobe years ago and found it so helpful in living with one small closet.
Declutter Often
I keep a bin near my washer and dryer for donations. I am often going through old things when the new stuff comes in. It can get overwhelming fast.
We take part in our Townwide Garage Sale at least every other year as a practice to get rid of things we do not use.
Most Americans have way too much stuff and are paying for storage when honestly, I don't think it is needed. Trying to impress people you don't really like with stuff you can't afford steals your happiness.
Organize Your Small House
Organization in a small house is a big deal. A place for everything and everything in its place is not just a cliche.
I love organization, and with a small kitchen, even my "Junk Drawer" is organized.
Some quick tips:
Keep Decor Simple
Neutral, light paint colors will make it feel open and airy. Utilize natural light as much as possible, and keep furniture pieces simple and light.
Do not overdue furniture. Try to get by with the least amount of furniture pieces as you possibly can. This will help to make the room look less cluttered.
Allow wall art also to be simple. Nothing too big or bulky. Sometimes wall space is limited, so choose things that you love like photos of people rather than ornate objects and art.
I hope you found this helpful. And remember – tiny houses are all the rage.
Comment below on the square footage of your home!