Having a garage sale is a great way to get rid of all those items you no longer need or want.
And make some good money from stuff you were probably going to donate anyway. This past Memorial Day Weekend, we had a garage sale.
My mom and grandmother have had garage sales for as long as I can remember, and there are some great garage sale tips that, if you follow, will make the sale go smoothly, all while getting rid of all that stuff and making a little bit of money.  
Here are my garage sale tips for a successful sale.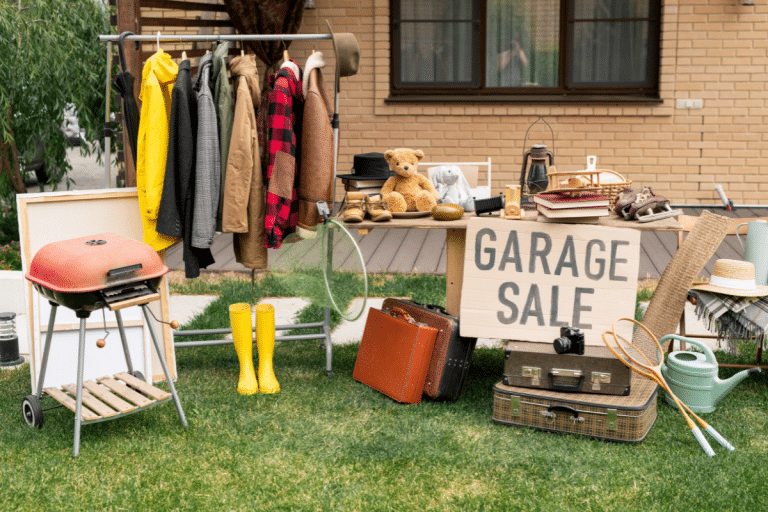 The Garage Sale state of mind
You're having this sale to get rid of unwanted things, not making enough money to retire. So price your items to MOVE!
If you have items that you think are worth more money, you might want to set those aside and put them on eBay. This is a garage sale, and you don't want to pack everything back up again.
Depending on how much stuff you have and how much time, you can give yourself one to three days to sell.  I normally stick with one day. I know why I have one, and I love getting rid of stuff, but I would rather be doing other things on a three-day weekend from 8-2.
Get as much done before the day of your sale.
Have the tent and tables set up the day before and wrap a tarp around the streetside so people are not tempted to stop. The tables are all set up, and I can pull everything out.
Take your time setting all of the things up. And I don't feel rushed or half asleep trying to get it all done the morning of the sale.
There is less rushing around and stress when everything is done ahead of time.
Price to sell
This means cheap. We sold a table and chairs (including leaf) for $25. It was the first thing to sell that day, and it was the most expensive thing we had out there. Chairs, bookcases, and the microwave were marked each for $5. All must go! I was not playing, and I gave myself one day.
This is a great technique. If someone makes an offer, take it. There is no way the stuff goes back into the garage or basement.
Be organized
I have a box in the basement that holds all of the tools I need for a garage sale. It has pricing stickers, markers, paper for signs, string, tape, and the box is perfect for the money.
It lives in the basement on a shelf, so I know where it is when I need it.
One of my favorite garage sale tips is to organize everything on the tables. Like things together makes it look neater and more appealing to the eye.
Another garage sale tip is to keep it simple. I had printed signs up that said, "Everything On This Table 50 Cents Unless Otherwise Marked". I didn't have to put stickers on everything! This saved a lot of time and prep work.
Make sure everything is clean.
This is so important. Nobody will buy that vintage Pyrex dish if it still has macaroni and cheese stuck on it.
Make sure everything has been washed or wiped down. A clean bookshelf will sell faster than a dusty one with cobwebs. If you're selling clothes, make sure they've been washed.
Have a hot, soapy water bucket and some rags to make sure everything looks gorgeous.
Also, if you are selling clothes, it isn't a terrible idea to wash them first.
Have a free box
I always come across some things that are not worth my target price of 50 cents, so they usually go into the free box. Sometimes they will buy something from you when they take a trinket from the free box, and sometimes they do not.
I am ok with either. I want the stuff to be gone.
People love free!
Many times, there are also small kids' toys that end up there. Kids also love free.
Advertise
Advertise on your town's Facebook Garage Sale Page, and also, if you have a local paper, that might be an excellent idea. It costs $9 to put in our local Pennysaver paper.
Don't forget the signs. Put signs everywhere. If your grocery store, coffee shop, or library has bulletin boards, print out a sign for there. Hang posters on the street corners near your house, too!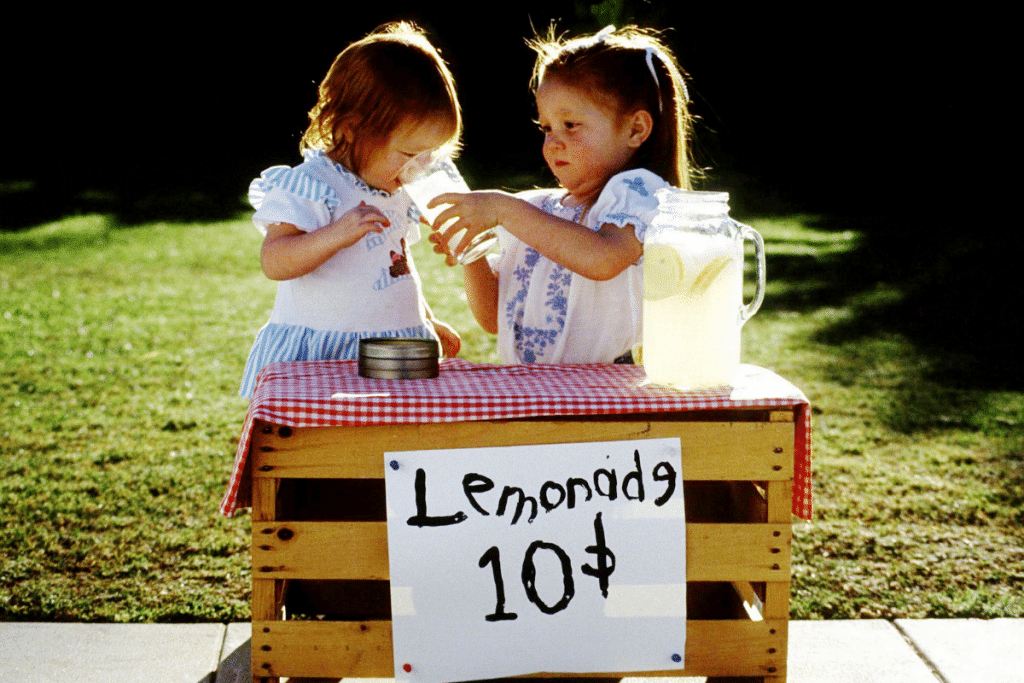 Sell beverages
This is a great garage sale tip from my mom. My mom always sold coffee at her garage sale for 25 cents a cup. She had one of those big tabletop 30 cup coffee makers; she bought some creamer and some sugar to put out there and a package of cups.
Always a nice gesture. If it is hot, you could get a tub of ice and sell bottled water.
Have kids? Let them do it or sell lemonade and cookies!!!
Dicker
Remember why you are here. You want to make a little money, but you want to get rid of your stuff!!
Feel free to negotiate or haggle.
But only a little.
Then take their offer. If something is marked $10 and they offer $5, counteroffer $7 and let it go! Remember, you do not want to pack it back up again!
Don't forget your change.
Many garage sale shoppers are prepared with small bills and coins, but it is always best practice to be ready.
I keep my money in a plastic pencil box that my boys used. It works perfectly! Be sure to go to the bank the day before for plenty of ones, some fives and tens, and quarters.
People are always happy when you can break a twenty-dollar bill.
Also, don't forget plastic bags and empty cardboard boxes for those who purchase more than they can comfortably carry.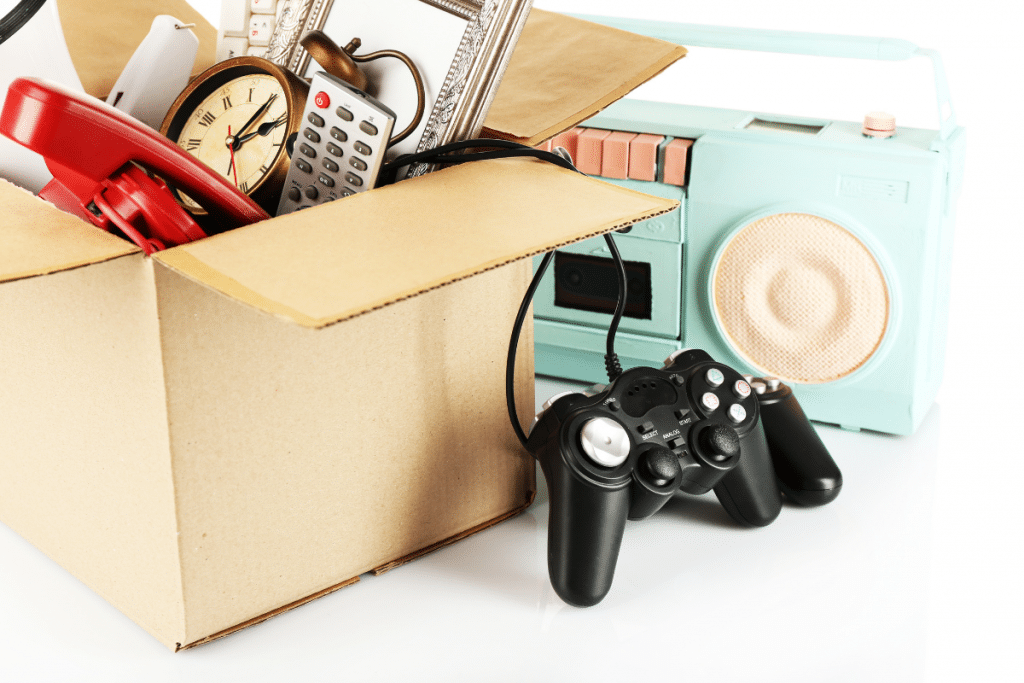 Plan ahead for the next Garage Sale
I will start now, planning for the next one. I have this substantial purple plastic bin in my basement where I put anything I come across that I don't want anymore.
It goes right in there with the lid on (to keep the dust off), and we can quickly pull it out for the next sale. Our townwide garage sale is in August, so anything that we did not sell has gone into a corner of the garage and will be sold.
After that is done, I will decide to try again next year or donate it to a church thrift store.
SaveSave
SaveSave
SaveSave
SaveSave
SaveSave