Christmas is quickly approaching. We're always looking for ideas o give out to our children's classmates at school or daycare. Ideas for Christmas goodie treat bags are challenging to come up with.
Christmas party favors, also known as a holiday goodie bag, are little gifts that are great options for holiday gift-giving among small friends.
Kids can be picky, and considering their likes and dislikes becomes essential when choosing goodie bag stuffers. The children often wait for the Christmas celebration with all of their buddies.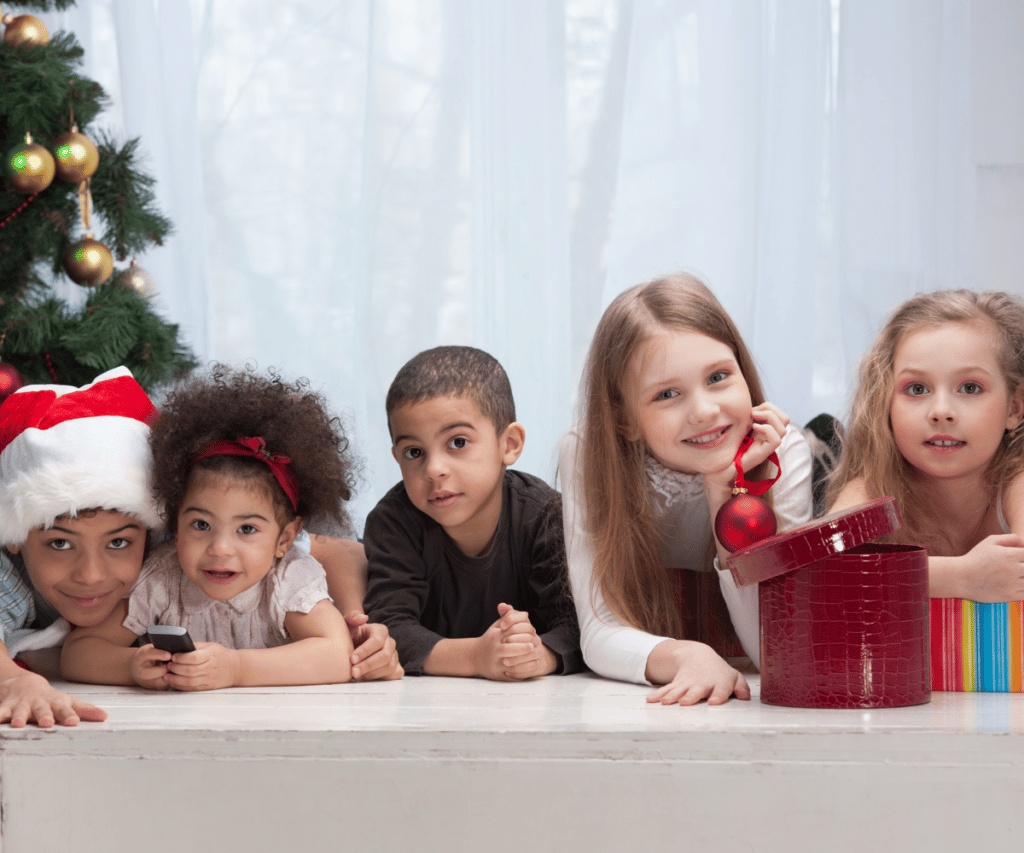 Christmas Gifts For Classmates On A Budget
Are you looking for Christmas goodie treat bag ideas for School Classmates or Christmas favors for a party without spending a fortune? Here is a list of the best DIY gift bags for kids' parties if you are looking for cool and unusual Christmas gifts.
Break out your craft supplies, pom poms, and hot glue gun to add decorations to those party favor bags filled with holiday treats.
You could even DIY Christmas gift bags by using brown paper bags decorated with fun stickers and printable gift tags or find printable bag toppers online.
Consider Dollar Tree for inexpensive and fun gadgets to add to your treat bags.
If you want the kids to feel excited about their goodie bag stuff, check these suggestions for some of the best goodie bag ideas for school kids. No need to gift wrap as the little bags are fun and festive.
This post may contain affiliate links. Please see the disclosure statement for more information.
What To Put Inside Ideas for Christmas Goodie Treat Bags for School
Slime Or Playdough
Slime is sticky but doesn't stick to the hands and is messy-free. As children play with slime, they get an opportunity to experience sensory experiences. Playdough is a classic children's holiday party favor. Both of these come in fun-sized containers, and you can buy them in bulk.
Personalized Pencils
You can not emphasize the fun of owning a custom Christmas pencil. The kids will cherish the joy of getting the pencils engraved with their names.
Slinkies
Add slinkies to their goodie bag and add some vintage fun to their goodies this Christmas. Slinkies are evergreen toys that never lose their charm. Kids love stretching and bouncing the slinkies for various reasons, including sensory stimulations and a lot of fun.
Jigsaw Puzzles
Christmas puzzles make an excellent gift for everyone. They come with random Christmas shapes, and the kids will have hours of fun completing the puzzle. Kids develop better hand-eye coordination and spatial awareness by putting jigsaw puzzles together. These puzzles are fun ways to practice fine motor skills and are a better idea than schoolwork.
Bubble Wands
Bubble wands are extremely popular among kids on every occasion, including Christmas parties, camping trips, Halloween, and birthday parties. Bubble wands can bring thousands of bubbles and giggles for the kids' fun parties. Kids need to wave or blow the wand to witness the mesmerizing world of bubbles.
Sunglasses
A pair of kids' sunglasses makes a beautiful gift for any occasion. Sunglasses make the perfect prize for games and activities during parties. It would be ideal for birthday party favors, classroom rewards, or holiday goodie bag stuffers.
Sparkle Crayons
Sparkle or glitter crayons make a delightful Christmas gift for boys and girls. These crayons can color dull drawings into super fun ones. Add some sparkle to Christmas goodie treat bags for school classmates and make every art session a fun glittery color carnival for them.
Keychains
In addition to being a practical gift, keychains are also highly emotional. Christmas keychains will capture kids' hearts and help them admire the goodie bag much more because they love the personal touch of the gift.
Notepads
Holiday notepads are another excellent gift idea for classmates this Christmas.
Hand Sanitizer In Fun Shapes
Sanitizer becomes necessary when kids don't have access to wash their hands. When you want to add a layer of protection along with your love and care for your classmates, fun-shaped hand sanitizers become the best idea for Christmas goodie bags.
Christmas Bookmarks
Kids love books, and they need bookmarks. Add some Christmas-themed bookmarks to their goodie bag to make their reading breaks more fun. You can find some cutest holiday-themed bookmarks with images of Santa Claus, reindeer, a Christmas tree, and a snowman.
Fridge Magnets
Magnets are excellent, and they easily attract the kids' attention. Add more fun to them by choosing the Christmas-themed fridge magnets for your classmates' goodie bags this holiday season.
Bracelets
A piece of charming jewelry adds extra glamor to the kids' goodie bag. Add bracelets or necklaces to the Christmas goodie treat bags for school classmates and let them feel special during this time of the year.
Painted Rocks
Rocks are the most simple goodie available in nature. They look dull, but once painted with kindness and love, they can win hearts. You can gift them some painted rocks or add the rock painting kits to their goodie bags; kids will surely cherish them.
Frisbees
Frisbees or flying discs can be a lot of fun for kids. Everyone enjoys frisbees. Add a flying disc to the classmates' goodie bags, making the holiday merrier. Flying discs are a must-have for beach vacations.
Coloring Books
Coloring is a hobby that has no age bars. Everyone loves colors and coloring books. Add some age-appropriate color books to the holiday goodie bag and some crayons or poster colors to make the goodie bag extra cheerful for the kids.
Pop Fidgets
Poppits or pop fidgets are a new entrant in the stimulating toys arena for kids. This fidget is a good toy for adults, kids, and older people since it relieves pressure, reduces fatigue, and promotes thinking.
Christmas Books
Books are excellent presents since they are insightful and can even inspire you to think in depth. Christmas storybooks are one of the best ideas for Christmas goodie bags for school classmates as they instill the importance of traditions and Christmas in the tiny minds of kids.
Doodle Pads
The drawing tablet or a doodle pad is a valuable educational tool for encouraging children's creativity and imagination. Kids can spend hours drawing and erasing the doodles. It's a great way to keep kids away from other gadgets and help them build creativity with some doodles.
Kids' Journals
Journals aren't just for adults; they are for everyone. Kids who keep journals can process their emotions, improve their writing, and express their thoughts. In addition to learning about free-form writing, journaling helps kids develop their emotional strength and creative mind.
Colored Pencils And Markers
Kids can express their creativity on a piece of paper by using colored pencils and markers. If you want to boost their imagination, add some fantastic colors to their holiday goodie bags and let their creativity flow.
Erasers
Erasers may sound too simple, but some fun-shaped pull-apart erasers will never fail as the best goodie bag treats for kids. These food-shaped erasers are a bright addition to the goodie bag, and the kids can also use them for educational purposes and as toys.
Candy Cane Treat Favors
Mini candy canes can be another great favor for the goodie treat bags. Let the kids enjoy some sweet goodies along with other fun additions.
Christmas Lollipops
Grab the best Christmas lollipops and stuff kiddie goodie bags with delicious sweet treats. You can add some creative chocolate lollipops to the goodie bag to make it a sumptuous treat for kids. The options are unlimited for hard candies, jelly candies, and candy cane pops.
Bookmarks
Bookmarks are a great idea for your holiday loot bag and encourage children to read more. DIY the bookmarks or buy them in bulk.
Reindeer Cookies
How about adding some reindeer cookies to the goodie treat bags for classmates? They will cherish the idea and flavors of these cute cookies. In addition to representing creativity, resourcefulness, and knowledge, reindeer symbolize a safe journey and persistence through travel.
Classic Homemade Cookies
Gingerbread cookies are a classic homemade cookie and are so fun during Christmas. Many of the kids may not have tasted gingerbread cookies ever. Add some classic gingerbread cookies to the goodie bags for classmates and introduce them to some traditional Christmas treats. Consider other homemade cookies too. Sugar cookies cut with a holiday cookie cutter and decorated is a festive way to say happy holidays to small friends and family.
Christmas Rice Krispie Treats
Another homemade treat, Christmas rice Krispie treats are a classic favorite among kids and adults. Its ingredients are simple for a delicious and satisfying fun gift.
Christmas Cups
Christmas cups and mugs are perfect if you want to add some versatile stuffers to the schoolmates' Christmas goodie bag. Christmas cups come in various vibrant colors during the holiday season. They are one of the best Christmas goodie bag stuffers for schoolmates.
Christmas Themed Straws
Kids love straws with cartoon shapes. Party straws come with Christmas decorations like Santa Claus, Snowman, a Christmas tree, and stockings. Add them to the goodie bags to make the party more fun.
Glow-In-The-Dark Christmas Tattoo
Kids love tattoos, and the Christmas-themed glow-in-the-dark tattoos are extra fun for your classmates. They come in Santa, Christmas trees, gifts, and numerous other patterns for you to add to the goodie treat bags. Have fun with the tattoos and other Christmas goodies.
Christmas-Themed Kids' Soaps
Add some Christmas-themed kids' soaps to the bags and add some extra charm to the holiday season. Gingerbread or Santa Claus-shaped soaps are adorable gifts for the little ones. Try DIY soaps with shea butter and other safe ingredients and put them in small jars.
Gift Card
Gift cards for kids are so much fun. Even a card for a few dollars on an ice cream cone would be a perfect addition and wonderful small gifts for classmates.
Christmas Socks
I found online at Dollar Tree you can get holiday socks for children. That might be a fun addition to your goodie back that isn't too expensive.
Final Thoughts On Ideas for Christmas Goodie Treat Bags for School Classmates
As the holiday season approaches, it's easy to lose sight of party favors and goodie bags for kids. We've created a list of innovative ideas for adding to the Christmas goodie bag for kids to help you decide what to include.
These suggestions for Christmas goodie bags are perfect if you're throwing a kids' Christmas party or want to give classmates a special treat this year! Grab this list of unique Christmas goodie treat bag ideas for school classmates and win their hearts this holiday season.