It can be hard to come up with new, affordable, and easy lunch ideas for kids but don't worry. We've got you covered!
In this post, we'll share some of the most delicious cheap school lunch ideas for kids and tips for feeding your kiddos nutritious lunches on a budget!
Nutrition Tips and Tricks
Making sure you feed your children adequately is a concern as a parent.
Fortunately, there are some fantastic nutrition tips that we would love to share with you to give your kids the best chance to grow up strong and healthy!
Read The Labels
The first secret is not even a secret. You can find the nutritional information on a label on the side of every food container you purchase.
These facts are crucial in establishing if your children are getting all the vitamins, minerals, fiber, protein, and other essential nutrients they require to stay healthy.
Add More Protein
Children's growing bodies need protein for bone and muscle growth and development. Plus, protein will make them feel full and satisfied, limiting the number of snacks they may ask for.
Eat Whole Foods
Whole food is the second secret. You can ensure that your children get the calcium, vitamin A, D, and B12, as well as some iron and protein, that their bodies require by eating real, whole foods at each meal. Consider limiting the amounts of processed foods to maximize their growing body's needs for nutrition.
Add More Vegetable And Fruits
Of course, you should always encourage your kids to eat plenty of fruits and vegetables. Fruits are sweet and often taste like candy to kids while still being packed with vitamins, minerals, and fiber.
Vegetables might not be as sweet, but they offer many benefits, including essential nutrients, vitamins, minerals, and antioxidants.
Frozen vegetables are another excellent option to increase nutrition on a budget. Some claim that vegetables cooked from frozen are healthier than those prepared from fresh.
Freezing prevents the leaching out of nutrients (that would otherwise start as soon as the vegetable is taken out of the ground) and locks them into the vegetable right away.
Avoid Overly Processed Cereal
Oatmeal is an excellent source of vitamins, minerals, and fiber. Sugary cereals should only be consumed occasionally as a treat, though. Instead, add some berries or bananas to oatmeal or plain cereal to make it more filling and satisfying!
There are many additional methods to spruce up a non-sugary cereal that kids might otherwise consider boring. Kids can also eat fruit (mainly bananas, an excellent energy source) and berries for breakfast. Avoid drinking too much juice as it's detrimental to a child's teeth and sugar consumption.
Whole Grains
Whole wheat bread is not essential to a child's nutrition if they aren't fond of sandwiches, as long as they get fiber from other sources. Switching the white bread for a whole grain version on their favorite sandwich is an easy first step to better nutrition.
Limit Dried Fruit
Some foods may seem like a sensible choice as a snack or addition to a meal, but you should avoid them. Dried banana chips are at the top of this list.
A handful of these dried fruits, often deep-fried in oil, can have more fat than a Big Mac! So before deeming the food, you are feeding your children to be a healthy decision, make sure you are aware of how it is processed.
The fruit is dehydrated, leaving a concentrated ama tinyr in a tiny morsel. Many other dried fruits contain a large amount of sugar. Use these as additions to healthier meals, not as snacks.
Variety Is The Key To Easy School Lunches
There are endless possibilities when packing a nutritious lunch for your children. Just remember to focus on variety, freshness, and simplicity!
As long as you make an effort to be label-savvy and look for foods that are high in nutrients and low in processed ingredients, you will have no trouble providing your children with nutritious meals on a budget!
Now that we've gone over some tips for ensuring your kids get the nutrition they need let's move on to some great ideas for cheap school lunch options that they're sure to love!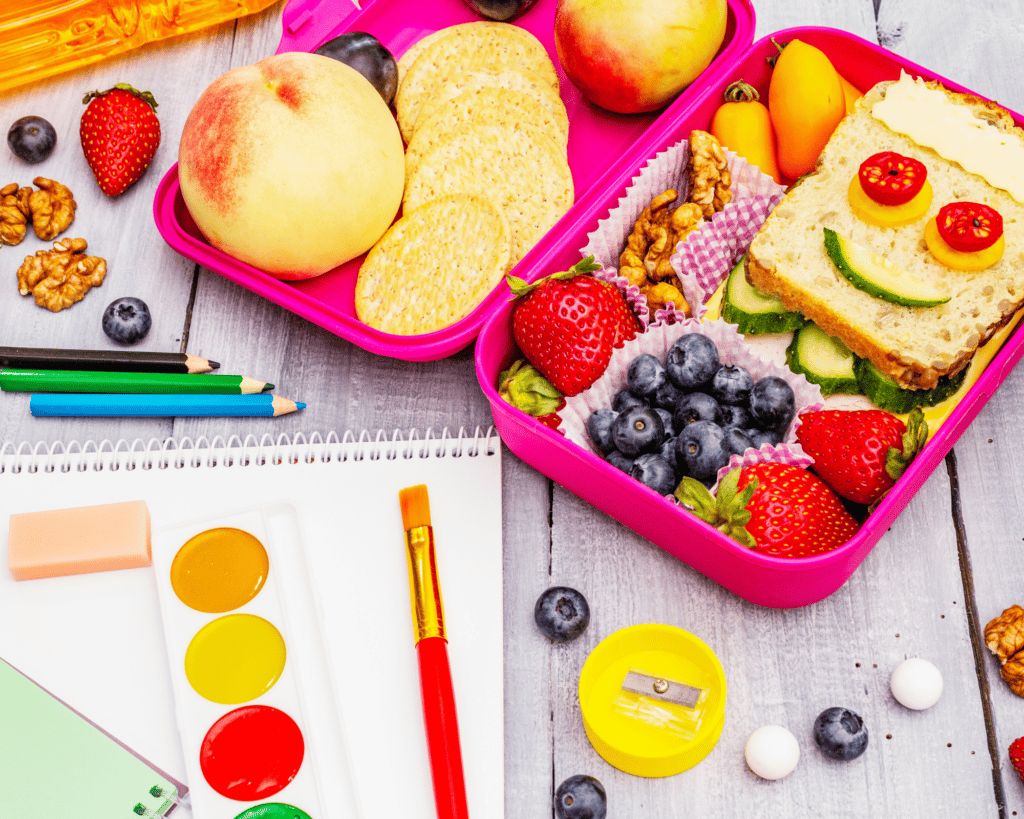 Healthy Lunch Ideas for Kids
To avoid being bored with brown bag lunches and to give you and your children additional nutrient-dense options, use the following tips to come up with easy, nourishing recipes and "out of the box" lunches.
• Use bread substitutes: Make sandwiches every day of the week with a different kind of bread. For example, try a sesame seed bun, flatbread, French baguette, or flour tortilla.
Or use lettuce wraps as a replacement for bread. Make meat and cheese kabobs on toothpicks or tiny bamboo skewers instead of sandwiches or wraps.
• Spice up your sides: Add some flavor by including creative fruit and veggie sides. For example, to make "ants on a log," combine raisins, peanut or almond butter, and celery.
You can combine three or more vibrant, tasty fruits to create a lovely fruit salad. Or use green, orange, and red spaghetti to make a colorful pasta salad.
• Keep it natural: Try Hormel Natural Choice Deli Sandwich Meats as a more nutrient-rich, delicious substitute for lunch meat that contains preservatives. They are entirely natural, free of preservatives and synthetic flavors or colors.
• Add some fun: In addition to changing the ingredients, there are additional methods to spice up your child's lunch. For example, consider writing a fascinating fact or entertaining quiz question on their lunch bag.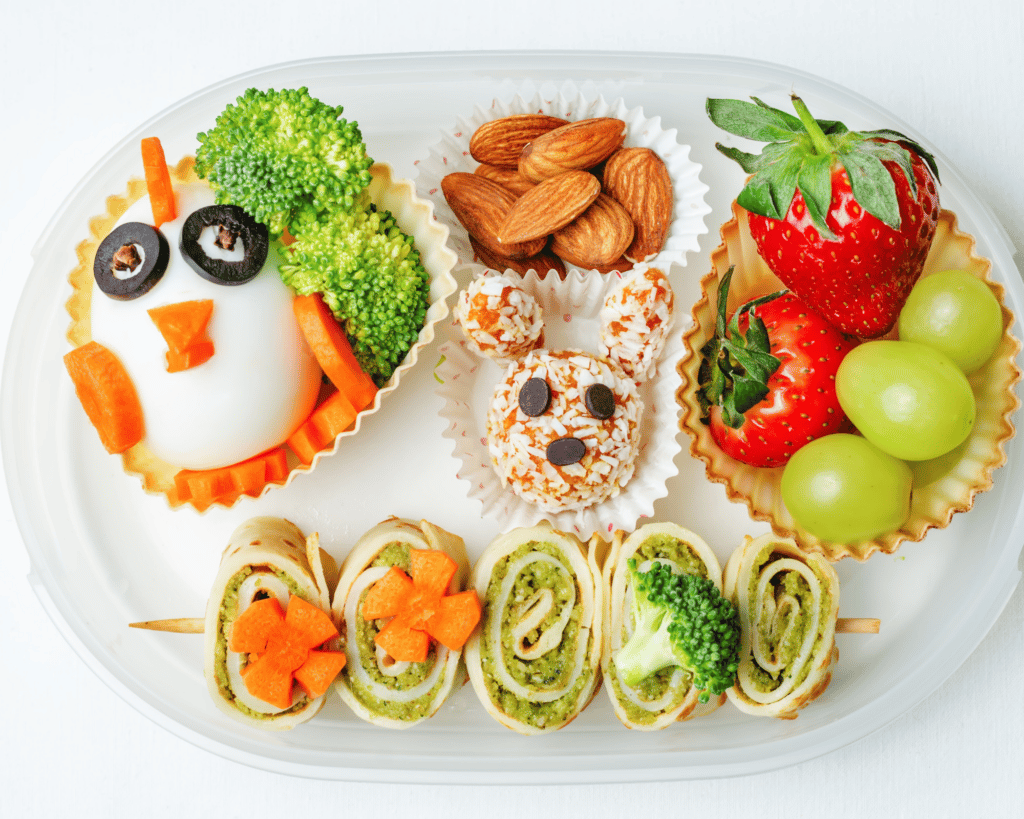 • Include some stickers, colored picks, or cupcake liners. Use something other than the standard brown bag to carry the food, like a lunch box or a fun bag with their favorite characters.
• Get the kids involved: Involving your children in preparing their lunches will increase their buy-in. Let them choose what goes into their lunch from a list of healthy options.
If they are old enough, let them make their lunch the night before. Or allow them to help with the preparation. That will teach them responsibility and good nutrition habits that will last a lifetime.
With these tips, you'll be well on creating healthy, delicious, and affordable school lunches for your kids!
Now that you have some great ideas for creating cheap, nutritious school lunches, put them into action! Your children will love the variety, and you'll love knowing they're getting the nutrients.
Budget Friendly School Lunch Ideas Under $1
The following budget lunch ideas come at about $1 per serving or less. These kid-friendly lunch ideas are super easy, are ones that kids love, and will help you save money.
Eggs and toast
Eggs are less expensive than many other proteins and are good for other meals besAddings breakfast. Add a slice of cinnamon toast cut into fun shapes is also a great way to add interest.
Consider other forms of eggs, too. Deviled eggs, egg cups, and mini omelets will work, too. Keep them warm in a thermos.
Pancakes with peanut butter
Make a big batch of mini pancakes and top with peanut butter for a protein-packed lunch a thanle different that the traditional pb sammy. Consider other kinds of nut butter and fruit, also.
Tuna and crackers
Tuna fish is a great choice for lunch at less than $1 a can (and three servings for small people). Serve on crackers and get a little fancy with a thin slice of a cucumber and a little red bell pepper.
Cheese, crackers, and lunchmeat
Making your child their very own custom Lunchable saves you more money. The deli will sell you a few slices of whatever you need to mix them up during the week.
Quesadilla and beans
My son loves refried beans. Adding them to the quesadilla or on the side will make a special Mexican-style lunch. To top it all off, a dollop of sour cream on the side or some salsa.
English muffin pizzas
Who doesn't love these kid-friendly favorites? I remember having them as a child (and, let's face it), even as an adult! Grabbing the store-brand English muffins, topping them with sauce and some shredded cheese, and toasting them make a great frugal lunch.
Pasta and veggies
You can add pasta and any leftover veggies with some butter and cheese to make a special lunch for your littles. You can even turn it into a pasta salad with Italian dressing, cheese, and pepperoni.
Peanut butter sandwich with jelly
Traditional pb & j still works. My son doesn't like jelly. Since he was three years old, he's always said it was "just too sticky." He eats peanut butter and butter and has since he was in preschool. He's 21 now and still loves them, particularly on a good hard roll paired with a glass of chocolate milk.
Tofu and rice
When tofu is made with a marinade or lots of spices, it transforms the taste into something special. It's also a great plant-based protein. It's also a great plant-based protein. It's very inexpensive and, paired with a nice dipping sauce, add those same sauces or spices to the rice, and you have a filling and balanced meal.
Pita and hummus
Making your hummus is a cheaper alternative to buying hummus. All you need is a can of beans, some garlic, and whatever other additions you might also want (lemon, dill, roasted red pepper, or olives). The beans are an excellent protein source, and it's supper yummy to dip the pita wedges.
Meatballs and Sauce
Make mini meatballs in the oven, slow cooker, or Instant Pot. Portion them out and freeze them. This is the most economical way to make this great kids' school lunch for cheap. Consider other ground meats like turkey, chicken, and pork while you search for the best price or meat markdowns.
Fruit and yogurt with veggies and dip
Veggies and dip are great finger foods for kids and an excellent way to get those veggies in. Ad some yogurt with berries and a little granola to make it extra special, and you have a well-rounded lunch.
Sloppy Joe's
Anytime I can make dinner and use the leftovers for our lunches the next day is a win in my book. Add the leftover warm sloppy joe mix in a thermos and include a spoon and excellent This is a great way for your older child to make their sandwich, so it doesn't get soggy. If your younger children don't mind a soggy bun, warm it already made and wrap it in foil.
Pumpkin sauce and pasta
Empty a can of soft white beans, a can of pumpkin, and a block of softened cream cheese to a blender until blended well. Warm in a pan and top pasta. I make this for my oldest son, who could eat pasta daily. Its a favorite, and there's a veggie and a protein in there.
Mac and cheese
Another one of those meals you can eat for dinner and then add the leftovers for school lunch the next day. Making mac and cheese from scratch is almost as easy as using the pre-made box stuff. And it tastes better than that powdered cheese, too!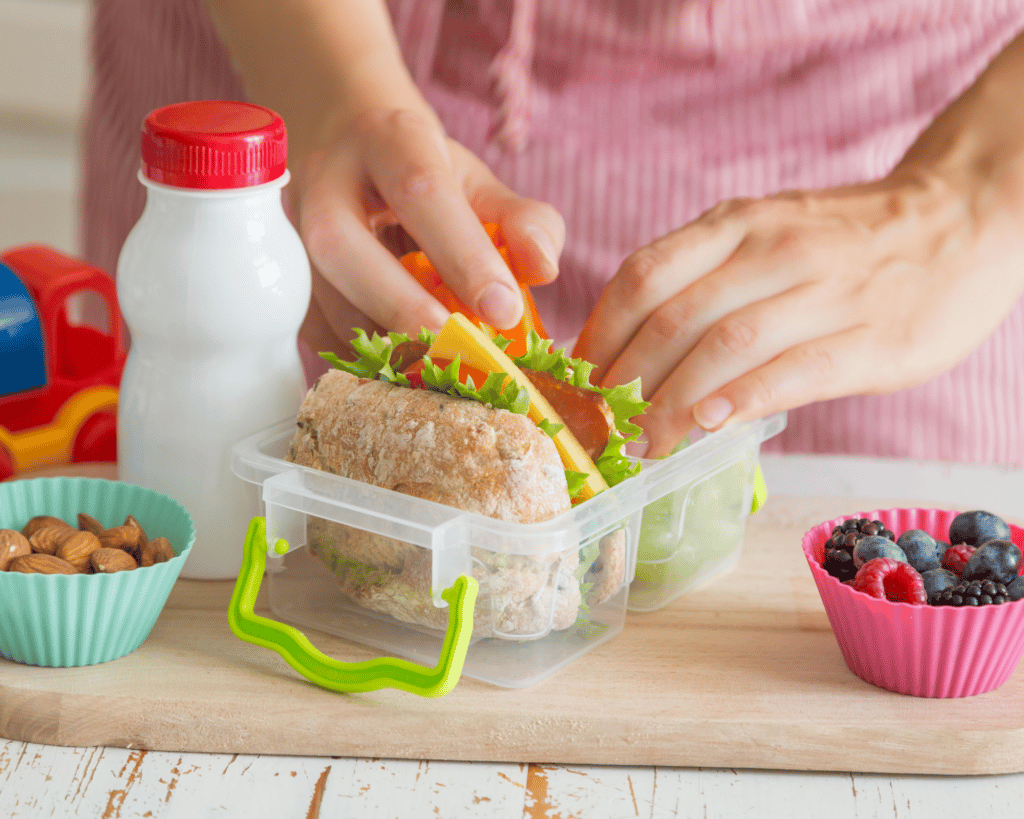 Grilled cheese sandwich and tomato soup
A simple, frugal, and classic lunch that kids of all ages still love. Cut the grilled cheese into strips perfect for dipping into the soup. Be sure to warm the soup and store it in a thermos, so it stays warm for lunchtime.
Soup
We love soup in this house. Whether a creamy cheese soup or a vegetable beef, homemade soups nourish the body and soup. Plan when making a big pot and portion out individual containers for school lunches. This way, you can microwave them straight out of the freezer in the morning and throw them in a thermos.
Marinated chicken nuggets
Marinate the chicken and cook it for dinner. Use those leftover chunks and dredge them in egg, then panko bread crumbs. Throw them in the toaster oven or air fryer to toast the outside and make it an excellent way to use leftovers for lunch.
Spaghettios and mini meatballs
I'm not talking about the chef in a can here. I'm talking about a super easy and cheap way to make your own spaghetti-o's, then add some of those mini meatballs you created above. A fun and healthy school lunch!
Beans and rice
Does it get any cheaper than beans and rice? I like to mix black beans, rice, and salsa. Then top it all with shredded cheddar cheese. Tortilla chips to scoop up the goodness will make it frugal and fun.
Tortilla roll-ups with cream cheese
Making these roll-ups with all the vegetables can be a colorful and healthy way to get your kids to eat more veggies. Spread cream cheese on a tortilla and add finely shredded purple cabbage, orange carrots, yellow peppers, green spinach, and red tomatoes for a rainbow of flavor. Roll them up and slice them into pinwheel shapes.
Breadsticks with pizza sauce to dip
You can buy the pre-made pizza dough or make your own for an even cheaper version. Roll the dough out, cut into strips and bake it in the oven. Top with some cheese, and add pizza sauce on the side for dipping. Like pizza but better.
Ham and cheese roll-ups
As you can see, there are many affordable and delicious lunch options for kids. You can easily find something to please even the pickiest of eaters with creativity. And remember, leftovers are always a budget-friendly option!
Nutrition Improvements For Lunchtime
The everyday struggle for busy parents is to pack a nutritious school lunch while maintaining their kids' favorite flavors.
The good news is that this lunchtime puzzle has a solution. Here are a few simple tips for packing a great lunch for your child:
• Sneak veggies in wherever you can. Include carrot or zucchini muffins or sauces with lots of different vegetables disguised in a pasta topping.
• Have a conversation with your child to learn about his favorite lunches and some lunches that they would like to try.
• Arrange your child's lunches for the upcoming week so that you can both approve their selections. Your kid will be more likely to eat their lunch instead of trading if they help to pack it themself!
• Make it simple for your kid to have a healthy lunch. Pack a variety of simple-to-eat fruits and vegetables, such as grapes, tiny carrots, apple slices, orange slices, or a half-kiwi with a spoon.
• To let your youngster know you're thinking of them, write a note on their napkin. It's a simple action that makes a big impression!
Your kids are lucky to have you. So keep up the good work, parents! Following these tips can help ensure your child gets the nutrition they need while also enjoying their lunchtime.
Final Thoughts On Cheap Lunch Ideas For Kids
Packing a healthy and delicious lunch for your child doesn't have to be complicated or expensive. Healthy, affordable, and delicious lunches can be a breeze with a bit of creativity.
Using some of the tips in this article, you can pack your child's lunchbox with all their favorites while maintaining a nutritious diet.
You can also easily come up with budget-friendly meals that will fill them up and keep them satisfied all day long. So get cooking and remember to have fun with it!