Baby showers are amazing! But throwing a fun baby shower doesn't mean spending all your money and going broke. You can have an outstanding party within your small budget if you plan it strategically and mindfully.
Budget-friendly food ideas don't need to be cheap at all. You can celebrate this big day of yours with joy and enthusiasm, and your guests will surely be impressed with the baby shower food you serve at the party.
All you need to do is plan an affordable menu without being boring. People love to attend baby showers, and they love the food. It doesn't have to be too fancy or expensive.
30 Great Baby Shower Foods On A Budget
Desserts
Rose Scented Shortbread
Found On What A Girl Eats
The delicate floral scent of rose-scented shortbread is perfect for enjoying with your favorite tea. The simplicity of ingredients makes it hard to resist — just flour, butter, and sugar come together to create melt-in-mouth cookie perfection! These treats are light enough to enjoy anytime, but they're especially great as an appetizer or dessert at a baby shower.
Strawberries and Whipped Cream Cupcakes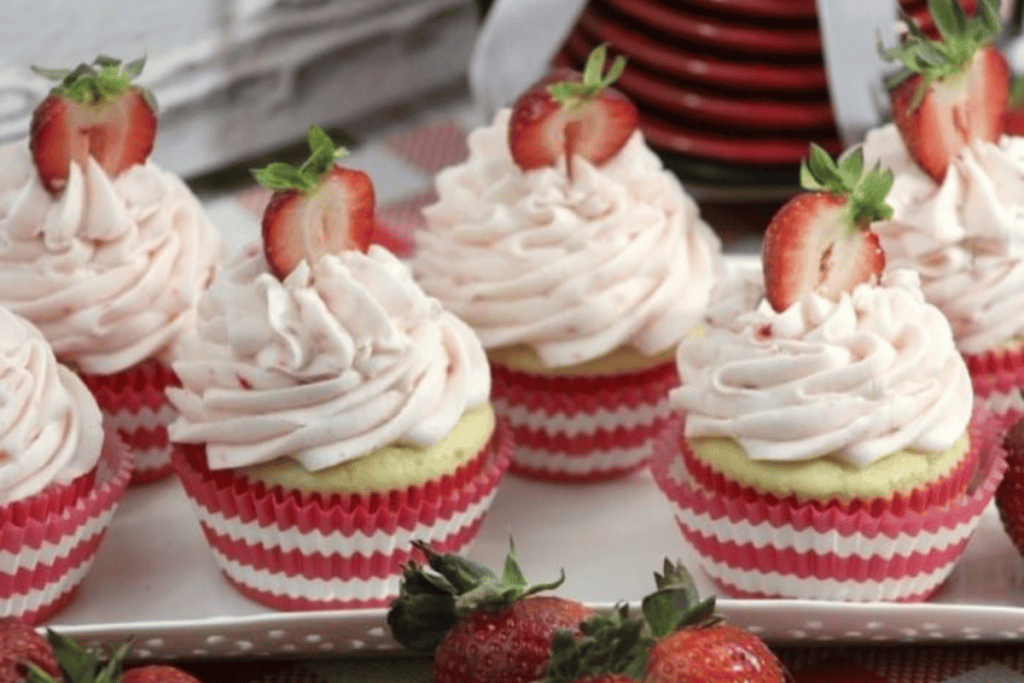 Found On Ottawa Mommy Club
These cupcakes will make your taste buds go wild! The tangy sweetness of the strawberries mixed with a rich cream is a perfect treat to enjoy at any celebration. If you're having trouble deciding what flavor should be served, this would also work as an alternative fruit-filled cake recipe – replace some or all ingredients according to preference.
Vegan Lemon Bars
Found On Strength And Sunshine
These easy, vegan lemon bars are entirely gluten-free and eggless! This healthier recipe requires only four ingredients to make a tangy shortbread crust layered with delicious citrus curd filling. No nuts or soy means this allergy-friendly dessert is perfect for any time of year – whether you need an appetite-stimulating snack on your lunch break or a treat to bring to a party or baby shower.
Fresh Strawberry Mousse Parfaits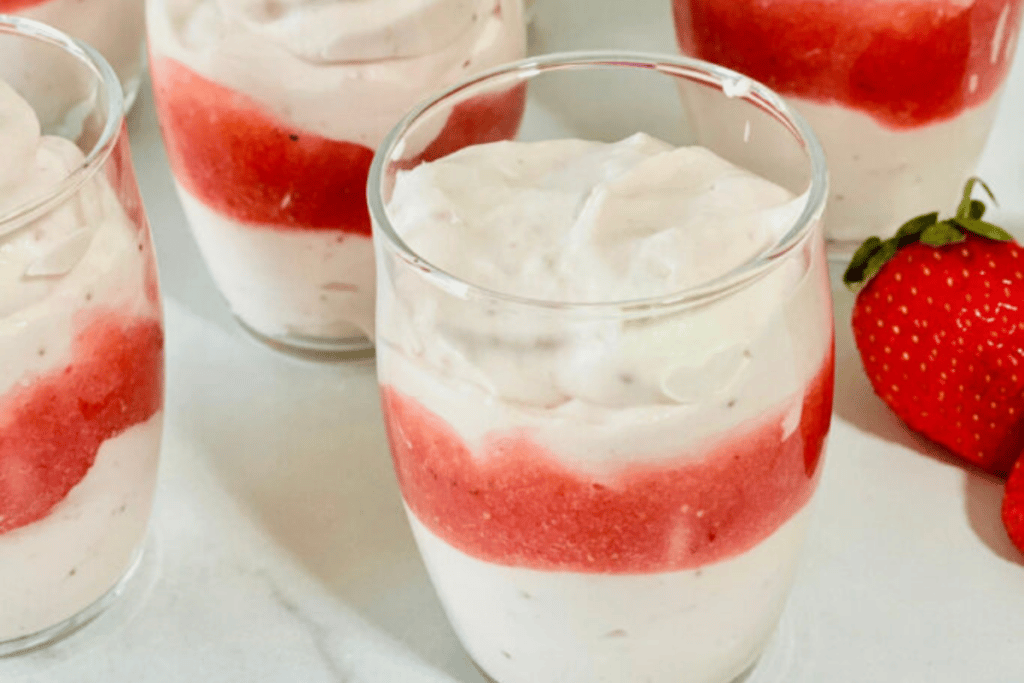 Found On The Short Order Cook
For a light dessert that is pretty & pink for a baby shower, these Fresh Strawberry Mousse Parfaits are a must-have. This fresh recipe is only a few ingredients and can be made ahead of time so you can enjoy all the fun. Are you expecting a boy? Substitute blueberries for strawberries.
Mini Cherry Cheesecakes
Found On Food Meanderings
These Mini Cherry Cheesecakes are individual, baked in muffin tins, quick and easy to make, with cherry pie filling and an easy Oreo cookie crust. They are great party food and the ideal individual dessert and finger food dessert for baby showers.
The Best Cream Cheese Fruit Dip
Found On Budget Delicious
Cream Cheese Fruit Dip is the perfect snack for your next baby shower. This tasty treat will have you pairing it with toasted coconut and eating this light, airy dish right out of hand!
We all know we should eat more fruit; what better way than dipped in a sweet but satisfying dip full of flavor? The secret ingredient here is the pineapple purée which gives an extra touch reminiscent of those amazing Hawaiian drinks everyone loves drinking on beaches everywhere.
Drinks
Raspberry Lemonade Mocktail Spritzer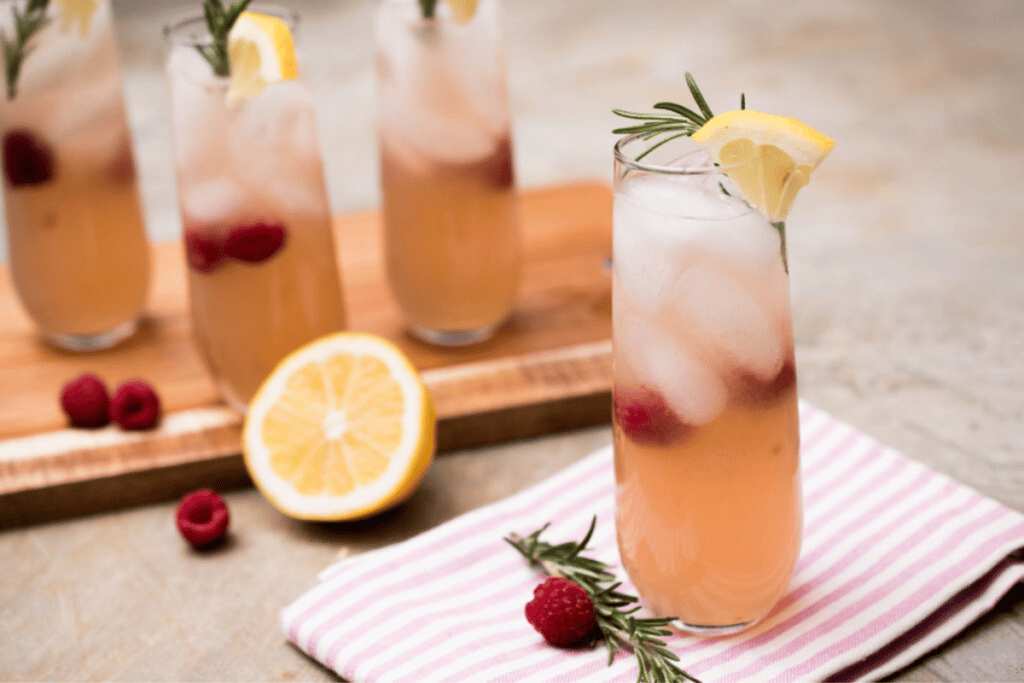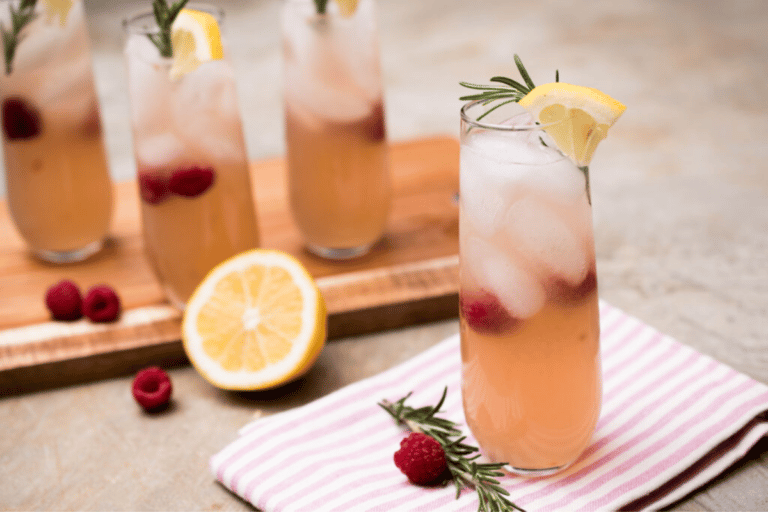 Found On Good To Gather
This lightly sweet, refreshing raspberry lemonade mocktail spritzer features a honey-sweetened- rosemary-infused simple syrup, fresh raspberries, and lemon. Perfect for a family-friendly special occasion, baby shower, or sunny afternoon!
Virgin Piña Coladas
Found On Strength And Sunshine
You won't believe how easy it is to make homemade Virgin Piña Coladas! This naturally sweet and creamy tropical treat is a refreshing combo of pineapple and coconut, ready to be enjoyed in minutes!
With three ingredients and a blender, these non-alcoholic frozen mocktails are naturally gluten-free, vegan, paleo, and perfect for kids!
Perfect Peach Punch
Found On The Savvy Mama Lifestyle
This delicious Peach Punch is a perfect drink for gender-neutral celebrations. This recipe isn't only refreshing; it's downright delectable as well!
One way to make those summer peaches last all year long? Pick them and freeze them before they go bad so you can use them specifically in this punch mixture without worrying about spending extra money on fresh fruit (store bought frozen peaches work, too).
It's made with peaches, ice cream and soda to make it sweet!
Appetizers
Whipped Spicy Feta Dip
Found On Homebody Eats
This dip is a super easy and great for feeding the crowd! It's made from feta cheese, Greek yogurt, Calabrian chili pepper paste (for some kick), garlic cloves mashed up in juice.
You'll have this creamy sauce ready in under 10 minutes thanks to ingredients like these two unlikely friends that come together so beautifully.
They're perfect paired side by side or on their own as an appetizer with pita wedges or crudites. This is a perfect addition to your baby shower menu.
Apple Polenta Bites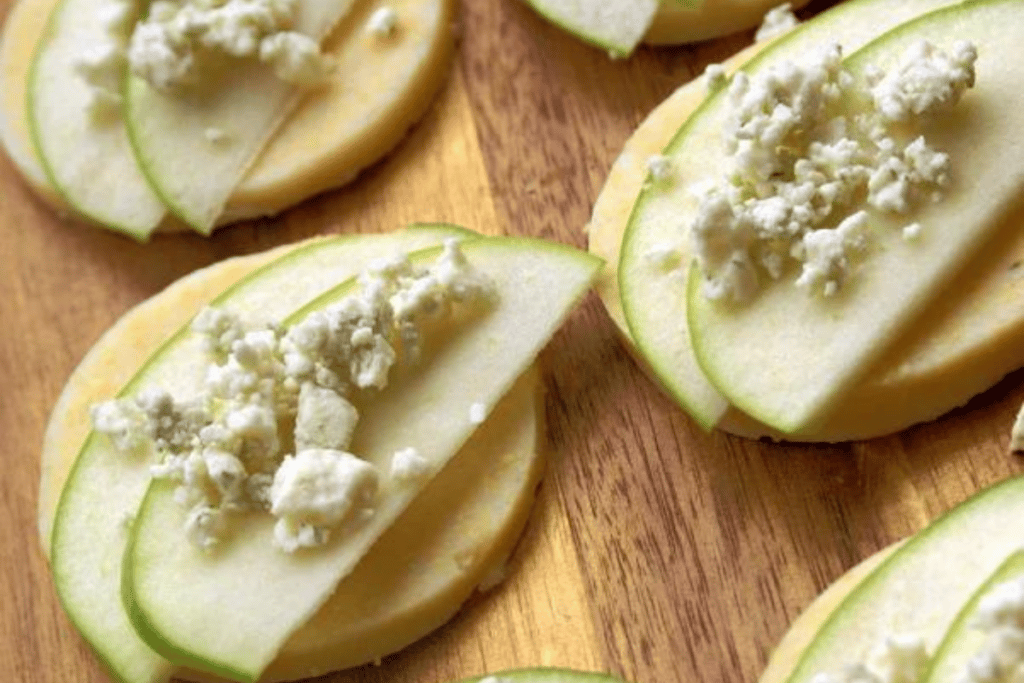 Found On Dancing Through The Rain
If you are looking for an easy appetizer with a twist, these Polenta Bites With Apple And Gorgonzola are going to be perfect for a baby shower. They are inexpensive to make for a group and anyone can prepare them.
Plus, with a twist on standard polenta appetizers, these should be fresh and tasty for your guests!
These Polenta Bites With Apple And Gorgonzola are a fantastic appetizer recipe for when you want to make something fancy-looking and need it to be easy.
Artichoke Hearts with Parmesan Breadcrumb Topping
Found On The Forked Spoon
Grab a fork (or spoon) and dig into these Easy Oven-Baked Canned Artichoke Hearts with Crispy Parmesan Breadcrumb Topping.
Budet friendly canned artichokes are delicious and this recipe is easy to make a large batch for a crowd.
Vegan Jalapeno Poppers
Found On Food Sharing Vegan
These vegan jalapeno poppers use simple vegan ingredient swaps to make this delicious vegan party food/appetizer with just four ingredients (and plenty of optional add-ins) and either baked or air-fried (not deep-fried). Ready in under 30 minutes.
Homemade Chips And Salsa
Found On Fantabulosity
This Easy Homemade Chips and Salsa recipe is quick to whip up as an appetizer for the next time you host a party with a "fiesta" flair.
An easy recipe that's perfect for serving as a stand-alone appetizer or alongside a dip. Great for a baby shower on a budget.
The Best Charcuterie Board
Found On Dinner At The Zoo
Who doesn't love a great charcuterie board? Here are the directions and a complete guide on putting together the best charcuterie board, with a selection of meats, cheeses, crackers, fruit, veggies, and other snack foods. It will look gorgeous for your baby shower.
Easy Keto Deviled Eggs Recipe With Bacon
Found On Wholesome Yum
The most delicious and satisfying deviled eggs recipe you will ever try! These super simple, easy keto-devil'd eggs use common ingredients to make a filling that takes just 20 minutes.
The best part? Bacon (who doesn't love bacon). A great twist on the traditional deviled egg recipe.
Lemon Dill Hummus
Found On Sunglow Kitchen
This Lemon Dill Hummus is perfect for serving at parties or gatherings because it's made without garlic so everyone can enjoy it, even non-garlic lovers.
This makes it a perfect addition to your baby shower menu. It's made with healthy pantry ingredients in just 10 minutes.
Salads
Salad Kabobs
Found On Sunglow Kitchen
Make a salad kabob that's exciting for everyone with these Easy Salad Kabobs! These delicious and healthy balanced bites are great as an affordable, easy baby shower idea.
They'll love the taste of everything on top their usual boring dish – even if they don't usually care for salads.
Chickpea and Orzo Salad
Found On World Of Vegan
This chickpea orzo salad is a perfectly bright and tasty centerpiece for any baby shower! Celebrate new life with this refreshing yet easy-to-make dish. You might be thinking that this salad is just average, but it's so much more than the rest!
The dish starts with a can of beans and ends up being better for your health and includes some perky pasta shapes.
All you need are some fresh chopped herb leaves (such as basil or oregano) and a great dressing to make an inviting salad perfect for your next baby shower.
Pasta Cucumber Salad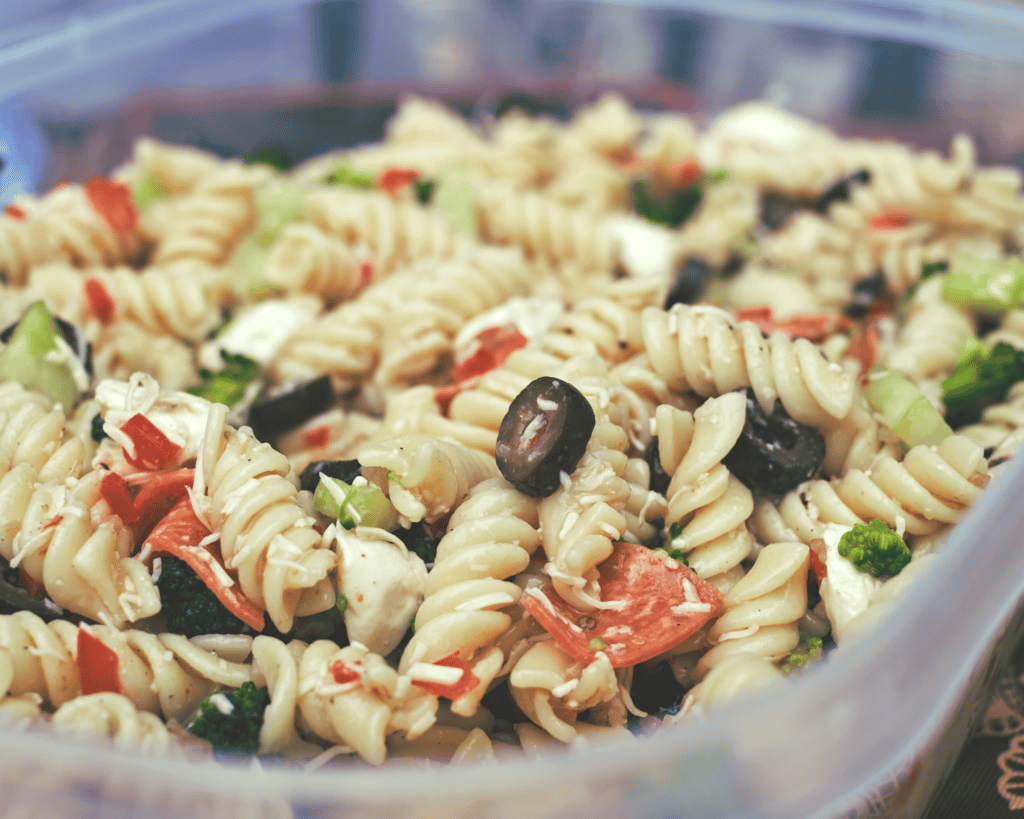 Found On I Heart Frugal
Are you throwing a baby shower on a budget? This super easy pasta cucumber salad is a hit at every party I throw, and it's cheap and easy to make! Try it, and it will be your new go-to party recipe.
Sandwiches And Main Dishes
Ham and Cheese Croissant Sandwich Melts
Found On Mighty Mrs. C
These baked ham and cheese croissants are delicious and super easy. Making a big batch and switching out the ingredients can add a great assortment ant your next gathering. These are the perfect finger food for a shower.
Found On Sustain My Cooking Habit
An easy-to-make, no-fuss slow cooker pulled pork recipe. Just put your slow cooker on warm to let your guest make their own. Add to mini rolls to make the perfect bite-size appetizer at your next baby shower.
Turkey Meatballs
Found On Recipes From A Pantry
If you are looking for an appetizer that's both filling and flavorful. Air frying them makes moister, giving off a unique flavor not found elsewhere! And since they're gluten free (or low carb), paleo friendly or keto diet-friendly–this dish will be sure to please everyone at your next baby shower.
Eggplant Rollatini
Found On Vegan Huggs
This Vegan Eggplant Rollatini is an excellent meal for your summer menu. It's light yet satisfying and brimming with a smoky flavor. Plus, it's easy to make, requires simple, budget-friendly ingredients, and is excellent for a baby shower.
Cucumber Finger Sandwiches
Bringing back the traditional cucumber sandwich for your next gathering. Simple, easy, inexpensive, and delicious, these cucumber finger sandwiches are the perfect choice for a baby shower!
Rainbow Lavash Wraps
Found On World Of Vegan
Full of flavor, color, and different textures, these Rainbow Lavash wraps are budget-friendly and super easy to throw together. Creamy hummus adds protein punch to the wraps while layering on extra flavor.
Tarragon Pecan Chicken Salad
Found On The Fresh Cooky
This make-ahead, flavorful, and oh-so-easy Tarragon Pecan Chicken salad is perfect for baby showers. Serve with croissants or let guests take a scoop; they will be coming back for seconds.
Herb and Goat Cheese Puff Pastry Bites
Found On Delicious On A Dime
These Herb and Goat Cheese Puff Pastry Bites make the perfect effortless party appetizer!
Whether you want elegant finger foods for a party or the holidays, or something light for casual entertaining, these puff pastry bites are easy and delicious!
Do You Have to Serve Food at a Baby Shower?
No rule says you must serve food at a baby shower. Your guests might visit you from far away and expect something to eat. It does seem to be normal to have yummy nibbles.
It's an excellent gesture, even if serving food at a baby shower is not mandatory. If you are worried about the cost of the food menu, there are some of the best baby shower food ideas on a budget below.
How Do You Have a Budget-Friendly Baby Shower?
Hosting a baby shower party is a great way to celebrate and embrace parenthood. If you're looking for baby shower food ideas on a budget, you will find hundreds of resources online that will help you design a perfect menu for the day.
Here are some tempting yet cost-effective baby shower food ideas that will blow away your guests, and they won't stop praising the food and you for sure.
Tips For Preparing a Baby Shower Menu on a Tiny Budget:
Limit Your Guest List
A baby shower is a very private function, and you might like to celebrate it with your near and dear ones only. You may want a cozy, more intimate baby shower with your loved ones rather than having a grand one with unwanted people. Just be selective about your guest list and keep the headcount to a minimum.
Please make a list of your guests and stick to it. Creating a specific guest list is the most cost-effective tip when you don't want to spend much on the food.
Throw Baby Shower at Home
Your home is the best place to throw a baby shower. Your backyard can be the best place to host a baby shower if the weather is suitable for an open-air party. And it is the most comfortable place for the mom-to-be as she will have everything handy if she needs anything.
Another reason to host a baby shower at home is that it will save you the cost of the party venue. You can decorate everything as you want, and you don't need to follow the instructions of the venue owner.
Skip The Invitation Cards
Oh, I don't mean that you won't need cards. But you can opt for digital invitations, which cost you nothing. There are premium digital invitation creators that will charge a small fee, but it's OK to use the free version of graphic designing apps like Canva.
Cook at Home
Ordering food from a caterer can cost you more than double the homemade food. Keep an easy yet distinct menu that you can cook at home. It will save you money and be healthy for the mama to be.
Consider asking friends and family to bring a dish. Most people are more than happy to get their favorite recipe to share. This will keep food costs low and allow your guests to participate in your day.
Avoid Fancy Food
Fancy is expensive! You may want to keep an exceptional food menu, but adding exotic ingredients can cost you more than you should be spending. It's better to buy local, efficiently available ingredients that don't cost you a lot. You can also check with the farmer's market if you can find the desired ingredients there.
Buy Ingredients in Bulk
When you have decided to have a menu made with local ingredients, you can buy them in bulk and store the extra for the future. Buying in bulk will help you have a lot of ingredients that won't go wasted after the baby shower.
Consider freezing leftover foods in single-serve portions for dinners made after the baby.
DIY Baby Shower Décor
DIY baby shower décor is the best way to save money on baby showers. You will find numerous ideas on Pinterest and Youtube. You can create some masterpieces by following simple steps.
Buy the basic materials from wholesale shops, or you can use coupons to get them online. It will help you save money and have a personal touch to your baby shower party décor.
No need to go overboard with decorations. Consider plant saplings potted in reusable jars for tables.
Keep it Simple
Budget-friendly baby shower needs to be uncomplicated and comfortable for everyone, especially the mom-to-be. Keep a simple menu and decor that won't take much preparation time.
What Kind of Food Should You Have at a Baby Shower?
When planning the menu for a baby shower, you need to consider a few points. The menu does not need to be vast and complicated. A simpler one can give you more time with your loved ones. The food needs to be pregnancy-friendly.
Your guests would be eager to celebrate their precious time with you—no need to focus a lot on food and its perfection.
Here are some tips for planning an incredible menu for a baby shower:
First thing first, keep it simple
Consider the weather and create a menu accordingly
Avoid extra spicy food
Don't add a lot of desserts to the menu (avoid too much sugar)
Select the food items that can be made in advance to avoid a last-minute rush
Serve some fillers like light snacks before mealtime; it helps in reducing the consumption of the main course
Avoid a mealtime baby shower as it can cost you a lot, keep it in between lunch and dinner to make it a frugal celebration.
Skip alcohol to save the cost
Make it a potluck and invite people with a variety of food
Buy a simple (non-expensive) cake or make it yourself
What to Serve at a 2 pm Baby Shower?
If you plan a 2 pm baby shower, you might have to look for lighter food options. Here are some lighter food options that can be arranged in jiffies and won't cost you much.
Vegetable sandwiches
Cheese and crackers
Beverages like tea, coffee, or lemonade
Candies and cupcakes
Italian pasta salad
Fruit kabobs
Final Thoughts On Baby Shower Food Ideas On A Budget
Hosting a baby shower for your family and friends can be a day full of happiness. People come together and celebrate the endearing moments with the parents-to-be. The gifts, the food, and the people will bring so much joy to the day.
Sticking to a pre-decided budget and not going overboard with the food and decor is the key to having a successful and not stressful baby shower. You have a lot of plans for the baby, and you won't want to exhaust the given budget before the baby arrives.
Throwing a baby shower on a budget is not hard. Planning the perfect budget-friendly food menu for a baby shower takes a few steps. When arranged in advance and curated, an ideal party and food plan, relax and enjoy a new beginning as a mom-to-be and dad-to-be.