Graduation is definitely something to celebrate, but graduation parties can be expensive! The food, in particular, can easily cost a lot of money.
But when you use the best graduation party food ideas on a budget, you can feed a large crowd, go beyond just hot dogs and not have to break the bank for months to come. Let's look at some of the best ideas.
Savory Menu Ideas
With layers of veggies and chicken, you won't be disappointed with this chicken bacon ranch trifle salad. Salad is a great way to add healthier options to a graduation party table, using favorite foods such as chicken and bacon.
With layers of veggies and chicken, you won't be disappointed with this chicken bacon ranch trifle salad. Plus, store-bought ranch dressing can be very budget-friendly and easy to use.
Use crescent rolls to make this delicious, picky eater-approved recipe! This can be one of the main dishes you offer and could even be part of a taco bar with other similar recipes such as bacon cheddar ranch pinwheels (use some more of that ranch dressing from the salad!)
You only need 15 minutes to make this simple pinwheel recipe perfect for an easy party meal. Buy a big pack of tortillas, and you can make two or three different pinwheel recipes as a great addition to the savory range of dishes.
If you're looking for a great no-cook option for your party, this self-draining party tray will make sure your shrimp is always fresh. It is simple to make by adding a few holes to a silver tray, meaning you keep the seafood fresh without dripping everywhere. Add a cocktail sauce or sour cream bowl in the center for dipping.
Sweet Menu Ideas
Customize this recipe with your favorite cupcake recipe for a festive and tasty treat. You can't have great graduation party food ideas without cupcakes in there somewhere! Personalize these for the star of the party, and everyone on the guest list will enjoy the sweet treat.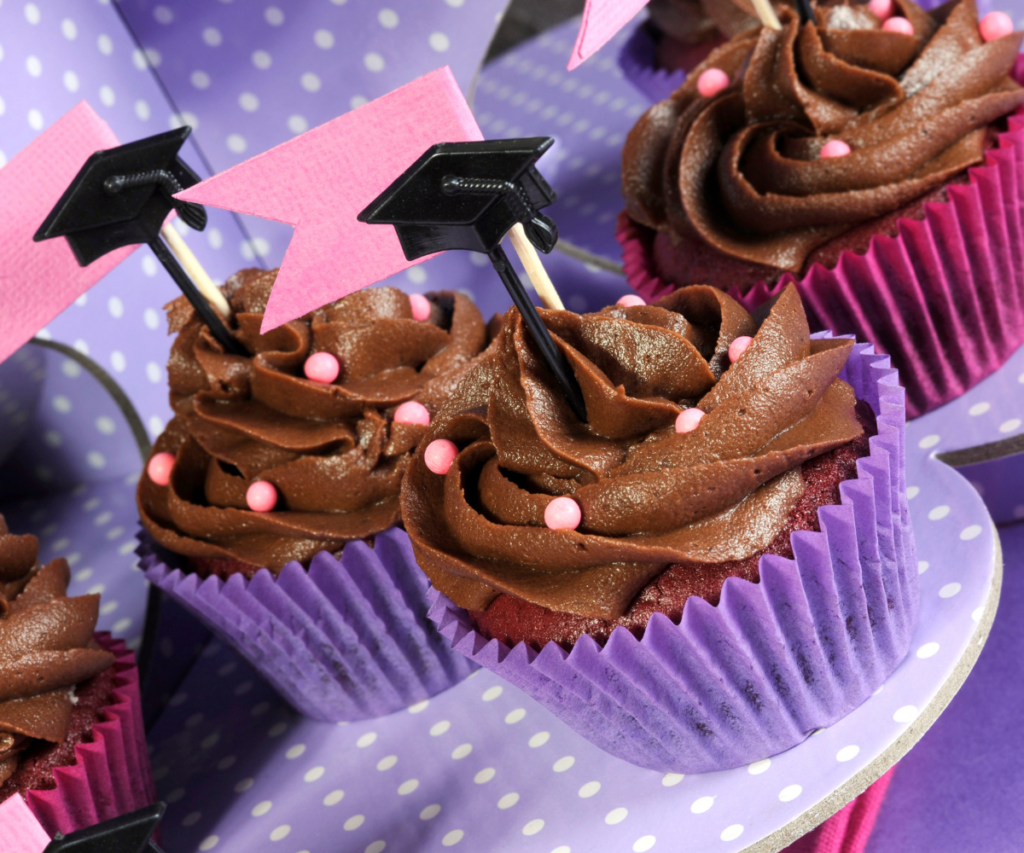 Make a festive dessert to celebrate your graduation with these easy graduation cupcakes. This is another version of the celebration cupcake with a cool graduation cap theme if you want to make something a little fancier or don't have a large group coming to the party.
Make your graduation caps out of sweets with this fun and easy graduation cupcake idea. These are also ideal for a high school graduation party; you can make the cupcakes as large or small as you want.
Make this easy cake pops just in time for graduation season for an easy bite-sized treat at your party. If you want to avoid trying cupcakes, these easy cake pops are an excellent idea for any party and work perfectly for graduation.
Cookie bars are a great way to get a good amount of food from a single baking session and are one of the top easy graduation party food ideas. These chocolate chip cookie bars make baking cookies a breeze and can easily serve a crowd. The last thing you sometimes want is a complicated recipe when making sweets for a party; this is a great option to avoid that.
Use candy to make these DIY graduation hats that your guests will adore! They are also quick to make, so if you run out of time, they are much easier to create than baking cupcakes.
Make your own cookie cake from scratch for a fun and festive dessert at your graduation party. The recipe only needs cookie dough and some icing, so it is cost-effective, and you can make the cake as big as you need depending on how many guests you'll have.
Serve a crowd with this mouthwatering dessert pizza idea that can easily feed many people. This is the best way to get pizza and chocolate into the same dish, delicious and simple. Add the peanut butter to the mix for an extra flavor that will always go down well at a grad party.
This delicious summer salsa will be a hit at your graduation party, with crunchy cinnamon chips and sweet fruit in every bite. Fruit salad is a must for any party, and you can use seasonal fruit depending on the time of the year. It is ideal for a hot summer day! The cinnamon tortilla chips add a little extra flavor to the dish.
Use this as a party favor or to serve your guest for an easy and fun graduation treat. With a little DIY craft skills, you can quickly transform the chocolates into little graduation theme treats or something you can give guests as they leave at the end of the day.
Impress your guests with this easily dipped fortune cookie recipe idea. Simple to make, these dipped cookies take the usual fortune cookie and give it an iced dip before adding some sprinkles. You could even use school colors for the sprinkles for a bit of a theme!
Put together an appetizer in minutes with this easy cream cheese and cracker appetizer idea. This combines fresh fruit with cream cheese to make a tasty twist on the usual crackers and cheese idea. Top these with honey for delicious graduation party appetizers, or serve them with other sweet treats.
You only need three ingredients to assemble this fun and easy snack idea. You get the delicious chocolate with the saltiness of the pretzel for an ideal bite-sized treat. Top them with M&Ms or other favorite round candies.
Finger Foods and Drinks
Sweeten up your snack table with the help of this delicious sweet and salty snack mix. Some people only want to eat a little food, so this finger food is ideal for the grazers.
Make your own meat and cheese tray easily using this easy tutorial for a crowd-pleasing appetizer. Charcuterie board ideas are trendy and can be budget-friendly as you can buy big packs of meats and cheeses that make it ideal for any number of guests.
Celebrate your grad with this delicious and festive mixed berry punch that is completely alcohol-free! You can use frozen berries, which instantly cool the drink and are cheaper than fresh fruit.
Final Thoughts on Graduation Party Food Ideas
There are many fun ideas for graduation party food, from pizza rolls and pinwheels to a pasta bar or pizza bar. These recipes can work with these ideas or in place of them, depending on how many people you will have coming. They work great for indoor or outdoor graduation parties; the best part is that they are budget-friendly!