Finding affordable yet stylish furniture options is key to farmhouse decorating on a budget.
New furniture can be expensive, but there's a solution: consider exploring local flea markets or thrift stores for second-hand treasures. In this article, we will delve into the world of budget-friendly farmhouse decorating ideas, focusing on the charm and sustainability of second-hand furniture.
You can create a cozy and inviting farmhouse haven without breaking the bank by visualizing how these pre-loved pieces fit into your desired farmhouse aesthetics and adding a personal touch through DIY techniques.
Let's dive into the world of affordable farmhouse decor and discover how to transform second-hand finds into cherished farmhouse treasures.
The farmhouse style is known for its rustic charm and cozy appeal. If you're looking for budget-friendly ideas to decorate your home in farmhouse style, here are 38 suggestions:
1. Chalkboard Signs
Create your farmhouse-style chalkboard signs with old frames or chalkboard paint.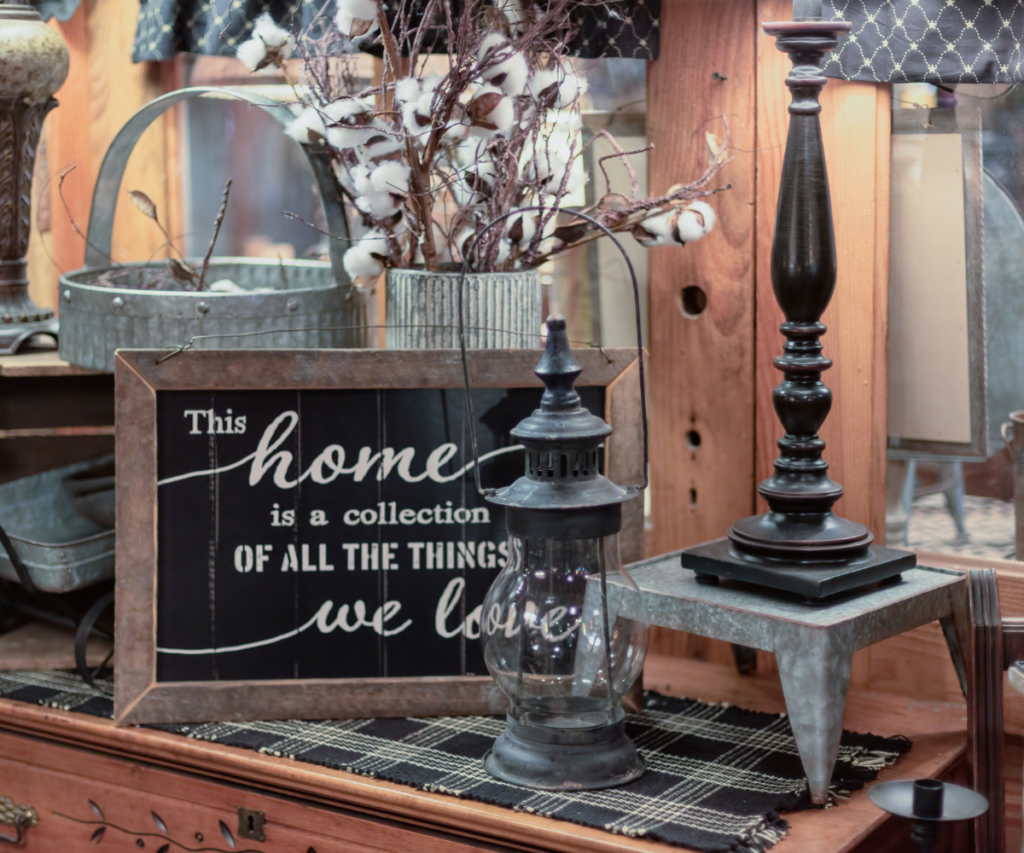 2. Pallet Wood Projects
Repurpose wooden pallets to make rustic shelves, wall art, or furniture.
3. Burlap
Incorporate burlap into your decor through curtains, table runners, or pillows. It adds texture and a farmhouse vibe.
4. Rustic Candle Sconces
Attach mason jars, small dishes, ort anything else that can hold a votive candle to a piece of reclaimed wood for charming wall sconces.
5. Galvanized Metal
Utilize galvanized metal buckets, trays, or planters for a farmhouse look. They're inexpensive and readily available.
6. Vintage Crates
Look for old wooden crates to use as storage or display shelves. They bring a rustic touch to any room.
7. Farmhouse Signs
Create your farmhouse signs using reclaimed wood, or find affordable options in stores or online.
8. Distressed Furniture
For a rustic farmhouse look, give your existing furniture a distressed or whitewashed finish.
9. Woven Baskets
Use woven baskets for storage or as decorative accents. They add warmth and texture to the space.
10. Cotton Stems
Display cotton stems in vases or incorporate them into wreaths for a farmhouse touch.
11. DIY Farmhouse Shelves
Build your farmhouse-style shelves using inexpensive lumber and brackets.
12. Farmhouse Tablecloth
Dress your dining table with a farmhouse-style tablecloth or a simple burlap runner.
13. Mason Jars
Mason jars of all sizes are perfect for displaying anything from beans to buttons. Add them to your shelf for decor, or use them as functional storage in your pantry. They can be both functional and pretty.
14. Wreaths
Create or purchase simple wreaths from cotton, grapevine, or dried flowers to hang on doors or walls.
15. Antique Farmhouse Decor
Visit antique shops or online marketplaces to find vintage farmhouse items at reasonable prices.
16. Wooden Bead Garland
String wooden beads together to create garlands draped over mirrors, vases, or door knobs.
17. Farmhouse Lighting
Opt for farmhouse-style light fixtures like pendant lights or mason jar chandeliers to add character to your space.
18. Window Shutters
Use old window shutters as wall decor or repurpose them as headboards or room dividers.
19. Rustic Picture Frames
Display family photos or artwork in rustic wooden frames for a farmhouse aesthetic.
20. Chicken Wire Decor
Incorporate chicken wire into your decor by attaching it to frames, cabinets, or memo boards.
21. Repurposed Tin Cans
Paint and repurpose tin watering cans or sap buckets as flower pots or pencil holders for a rustic farmhouse look.
22. DIY Farmhouse Art
Create your own farmhouse-style art using reclaimed wood, stencils, or printable designs.
23. Barn Doors
Install a sliding barn door to add a rustic farmhouse element to any room. You can find affordable barn door hardware online or at home improvement stores.
24. Vintage Books
Display stacks of vintage books on coffee tables, shelves, or mantels. Look for old books with worn covers or interesting titles at thrift stores or yard sales.
25. Tin Ceiling Tiles
Repurpose tin ceiling tiles as decorative accents on walls or as unique ceiling panels. You can often find these at salvage yards or online marketplaces.
26. Grain Sack Upholstery
Use grain sack fabric to reupholster chairs, pillows, or ottomans. Grain sack fabric typically features stripes and adds a farmhouse touch to furniture pieces.
27. Galvanized Tub Sink
Turn a galvanized tub into a sink for a charming farmhouse bathroom or laundry room. You can find affordable galvanized tubs at garden supply stores or online.
These additional ideas will help you further enhance the farmhouse aesthetic in your home without straining your budget. Have fun decorating!
Other Farmhouse Decor Ideas On A Budget
28. Buy Used and Multipurpose Furniture
Brand-new furniture can be expensive, so consider buying second-hand options at local flea markets or thrift stores. As you choose second-hand furniture, visualize how it fits your desired farmhouse aesthetics.
North America has the largest off-shelf second-hand furniture market worldwide. Here, finding a used yet complementary coffee table for your living room or kitchen table for your dining room is usually easier.
Consider getting used furniture that's multifunctional. A good example is a blanket ladder, similar to open shelving. This furniture and decor piece has several rungs to hang blankets, towels, and other cloth-based items.
It's also easy to set up since you must lean it against an empty corner or wall. It can work anywhere from a small bathroom to a guest bathroom or bedroom.
By choosing multi-purpose furniture, you can save money and floor space. This is important if you're going for a minimalist look or only have a small area to work with.
29. Use the Right Curtains
A curtain can block out the sun and be a piece of home decor that adds personality to your farmhouse. You can find many curtains in a thrift shop, so you don't have to break the bank.
Keep the curtain color, material, and design in line with the theme of your farmhouse. Neutral beige, gray, black, or white colors usually go well with farmhouses.
As for the material, you can go for curtains made of textile, silk, cotton, or linen for a more rustic feel. Make sure that nobody in your farmhouse is allergic to the fabric option you select.
You can get a vivid curtain for a more substantial farmhouse presence. However, this design style is only recommended if you have a big farmhouse since loud and bulky designs can make the interior of your house look small.
Alternatively, you may purchase one with a minimalist design if you have a small space or want a more modern farmhouse look.
30. Hang Wallpaper
Wallpaper can make a huge difference in your farmhouse's overall aesthetics. It's inexpensive, as one roll typically costs $25 to $35. Wallpaper comes in many patterns and designs. You can get a wallpaper coated in materials like fabric and vinyl, so you'll have different textures.
You can find wallpaper that fits your desired farmhouse look.
However, you may have to be patient and scour through physical stores like Home Depot or visit websites before you find the right design, whether looking for a rustic style or aiming to add a few modern elements with bright colors to any room.
31. Paint the Walls
If you don't like wallpaper, you can paint your walls. Almost 90% of homeowners and guests prefer a house with a well-painted interior. If the previous owner had already painted, you could freshen the look with a color scheme you like rather than need a complete renovation.
Using high-quality and non-toxic paint can enhance the look and mood of your farmhouse. It also prevents damage and improves the air quality around your home.
Moreover, adding paint allows for more design customization since you can use your farmhouse's wall as a canvas. You may use acrylic paint if you want a resilient and flexible solution that can be applied to other surfaces like your farmhouse's front door or barn doors.
The famous entrepreneur and home decorator, Joanna Gaines, has popularized another option — chalk paint.
This paint has a matte and chalky appearance, making it ideal if you are looking for a rustic and vintage aesthetic. You can also apply some paint on other areas like cabinets, bookshelves, and kitchen utensils for a better farmhouse appeal.
32. Get Decorative Pillows and Quilts
Get a few soft throw pillows for your sofa to give your farmhouse's living room a cozier and homier vibe. Imagine a sofa without pillows; it could seem a bit plain.
Aside from providing comfort, a pillow can also be a decorative piece. They work if you're on a tight budget since you could grab three to five pillows for just $50.
You can purchase unique pillow covers that complement your farmhouse's design for an added touch. Neutral colors are safe options, but you can spice things up by getting pillow covers that match the seasons or holidays.
Adding an afghan or quilt to the back of a chair, sofa or the end of a bed can add farmhouse charm to a room. Ask family members if they have these things laying around or look through thrift stores.
They can be a great way to add natural elements to a room using natural materials like linen or cotton.
33. Add Plants and Greenery
One of the most popular farmhouse decorating ideas on a budget is incorporating plants and greenery. Indoor plants go well with the rustic architecture and color tone of most farmhouse kitchens and living rooms. Popular options include succulents, cotton stems, lavender, aloe vera, and snake and spider plants.
Aside from being a decor piece, a non-toxic plant has other benefits. It can purify the air and reduce dust and mold buildup in your farmhouse. Moreover, plants can boost your concentration and productivity and decrease stress levels by 15%.
You also don't have to spend much on plant storage. You can use all types of containers to grow plants. Consider mason jars, wood crates, ceramic bowls, pitchers, and small buckets.
34. Hang a Couple of Paintings
Paintings can massively boost farmhouse design and appeal. Wall paintings can make the interior more complete, create a focal point and add another layer of character to your farmhouse. They also showcase your personality and preferences as the homeowner.
You can create gallery walls filled with your favorite artwork if you have large empty walls. However, it's recommended that you get farmhouse-themed paintings since unrelated images like cityscapes can throw everything off balance and create an inconsistent vibe.
While paintings can get expensive, you can find affordable art. You can get thrift store finds in your local gallery or pawn shop. Alternatively, you may visit websites and look for affiliate links to get discounts.
35. Place Floor Mats or Rugs
Another decorative piece for your farmhouse is a floor mat or rug.
Rugs with a natural color like beige and some intricate patterns in the middle usually blend well with typical farmhouse themes and can make a main feature in a room.
You and your family interact with the floor multiple times throughout the day, so a comfortable and vibrant rug design could be a good addition.
Floor mats can be placed in several areas like the living room, dining room, and bathroom. Home decor stores offer several inexpensive options to get a carpet or two, even on a tight budget.
If you want to spend a little money on one, then area rugs are popular.
36. Install Artistic Light Fixtures
Your farmhouse may look appealing and modern during the morning. However, does it retain the same allure when the night sets in? Lighting is essential when decorating your farmhouse as it helps illuminate and accentuate the design. Consider installing an adequate number of artificial lights.
You may take things up a notch by getting an artistic light fixture.
You can make your farmhouse shine bright in style with some recyclable materials, chalk paint, and ingenuity, and it is a perfect way to create a unique rustic look.
You can wait for an elegant fixture to be on sale or make your own vintage wall-mounted or hanging fixture.
37. Reorganize and Declutter
One of the most straightforward farmhouse decor ideas is to reorganize and declutter. You may already have everything you need to make your farmhouse beautiful.
You have to change the placement of certain things to make the most of the storage space.
There are a lot of things that a simple reorganization can do for the aesthetics of your farmhouse. You can maximize living room space by moving the sofa to the corner. Perhaps it's time to mount that television on the wall.
Sometimes less is more. Consider decluttering by throwing away undesirable and useless items.
This is one of the best ways free up space and makes your farmhouse look less cramped. It may even mean you can reduce the storage options you need in the room.
Reorganizing and decluttering can be done even by those with a tight budget since these activities don't cost much money. It is an affordable way to improve the look of any room, and there are many different ways to do it.
Final Thoughts on Best Budget-Friendly Farmhouse Decorating Ideas
In conclusion, second-hand furniture can be a smart and cost-effective choice when it comes to farmhouse decorating on a budget.
While new furniture can come with a hefty price tag, exploring local flea markets or thrift stores opens up a world of possibilities to find unique and charming pieces that align perfectly with your desired farmhouse aesthetics.
When browsing through second-hand options, having a clear vision of your desired farmhouse style is important.
Visualize how each piece could fit into your overall decor scheme, whether a vintage wooden table, a weathered cabinet, or a cozy armchair.
With creativity and an eye for detail, you can transform these pre-loved items into farmhouse treasures that exude warmth and character.
Also, don't relinquish these second-hand finds a personal touch. A fresh coat of paint or sanding can breathe new life into worn-out furniture, allowing you to customize it to match your unique farmhouse vision.
You can achieve a high-end look without breaking the bank by investing time and effort.
So, embrace the charm and sustainability of second-hand furniture as you embark on your farmhouse decorating journey.
With careful selection and a touch of DIY magic, you can create a budget-friendly farmhouse haven that reflects your personal style and invites comfort and tranquility into your home.