During the Pandemic, lots of people took up new hobbies to help deal with boredom. But just because life has returned to something approaching normal, this doesn't mean that having a hobby is something you should ignore. The thing that can put people off is that it can be expensive to start a hobby, or so they think. The reality is that a new hobby can be a cheap hobby and still be a great way to spend your free time. Let's look at some of the best hobbies you can start with little or no money.
Outdoor hobby ideas
Getting outdoors is always a good aim, and adding a fun hobby into that can be a winner.
Gardening
Yes, gardening can be an expensive hobby if you buy large plants and want to add a lot of elements to your garden. But you can keep it simple and learn a new skill that's beneficial and fun. One great example is to grow your own food. You can get online tutorials that teach you the basics of growing food that your family eats, and within a few months, you could have your first crop ready to add to your favorite recipes.
Learn to BBQ
If you've never mastered the BBQ, this idea is fun for a new hobby. You can buy an inexpensive BBQ or something and even pick up a used one in thrift stores. Then think about the kind of food your family enjoys and learn to make it on the BBQ. Plus, it saves a little money on the electric bill as you aren't using your cooker to create the meals.
Bird watching
This is a great hobby to do with the kids because it is a good way to get them outdoors, engaged, and interested. The best part is that you can do it anywhere from the local park to a massive nature reserve, and there are always birds around to spot. You can grab a book that lets them mark up what birds they have spotted or even apps on your phone.
Geocaching
Geocaching is a digital treasure hunt, and there are tons of places to do it, no matter where you live. Check out YouTube videos on how to get started and then get outdoors to enjoy the challenge.
Visit your Local Museums
Lots of local museums are low-cost or even free to enter. You can learn more about the history of where you live by visiting a local museum or even about a specific activity or event that happened nearby. Then you can branch out and go a little further to explore other areas around your home, as nearly every town has a museum about something.
Rock Collecting
In lots of parts of the country, there are places where you can go rock collecting. You can bring the rocks home and have a collection or even decorate them. It is a fun way to learn more about the history of where you live and a great hobby for the kids to enjoy.
Volunteer
Volunteering is something you can do in loads of different ways. From working with a local charity in a store to helping with an event, charities always seek extra help. It can be an excellent way to get out of the house and even meet new people.
Indoor hobby ideas
There are some times you don't feel like going outside or the weather is against you. That's when the best indoor low-cost hobbies are just what you need.
Reading
Reading is a great hobby for any age group and doesn't need to be expensive. That's because you can visit your local library to borrow books. You can also go for options such as Amazon Kindle Unlimited if you are an eBook fan, where you can get access to unlimited books each month as part of a single subscription.
Learn a musical instrument
This hobby is towards the higher end of the cheap hobby scale but you can do it without spending hundreds of dollars. You can choose an inexpensive instrument or find a second-hand one that you can pick up for a fraction of the cost of a new one. Then take online courses to learn how to play the more budget-friendly instrument, versus having one-on-one lessons.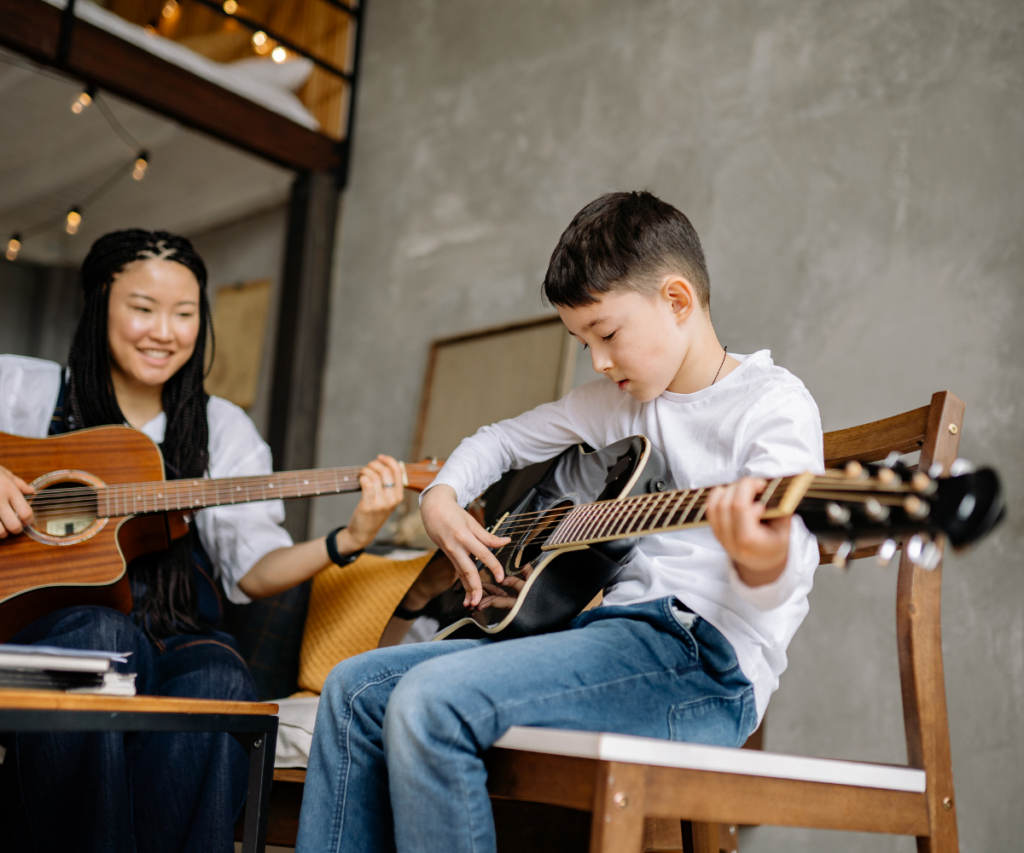 Sewing
Sewing is quite a useful hobby to try because you can do anything from mending the kid's clothes to making something from scratch. Or you can sew items for the home or sell things. A basic sewing machine can cost under $50, and many free or inexpensive patterns are available.
Cooking
For lots of parents, cooking won't seem like much of a hobby, more like a normal daily task! But it can be a hobby if you take up cooking something different from what you normally eat. You could even learn a particular cuisine and take up cooking it as your hobby. Or try something like baking cakes or desserts.
Knitting
Like sewing, knitting is quite a practical thing to learn. From making scarves for the winter to knitting cute little outfits for new arrivals in the family, there are loads of things you can make. Wool comes in a massive range of colors and styles and can be pretty inexpensive. Plus, there are hundreds of online patterns and tutorials to learn what to do.
Family tree
Genealogy is the study of your family history and is a great inexpensive hobby. There are loads of free resources that you can use to find family members as well as sites such as Ancestry that only charge a small monthly fee to access all of the records they hold as well as their software to record what you find.
Upcycling Furniture
Upcycling furniture could be a great idea if you want to do your bit to cut down waste and even make a little extra money. You can use your furniture or pick up cheap items at a thrift store. Then with a few basic supplies, you can update the look of things and create something fun and fresh.
Healthy Hobbies
With healthy hobbies, you can combine two goals in one – find a new hobby for your spare time and improve your overall health.
Walking
Walking can be a hobby when you walk to places you are interested in seeing. This can be anything from the local park to a nature area or even something more challenging. Not only is walking a great hobby but it is also an excellent way to improve your overall fitness and health.
Biking
If you already have a bike, then you have an instant hobby to try. Even if you don't, you can pick up inexpensive bikes or even second-hand ones if you visit local groups on social media where people sell stuff they don't need. Then all you need is a bit of practice to build up those muscles and you can use your bike to go anywhere you like.
Dancing
There are so many ways you can take up dancing as a hobby! From visiting dance studios to going to classes at a local college or even a community center, there are tons of dance-related activities to get involved with. Dancing is also a great way to meet new people and have a good time while improving your overall fitness levels.
Swimming
Whether you can already swim or want to learn, it is a great healthy hobby. The great thing is that you will get active, have a new hobby and also improve your fitness. You can use your local leisure center or if you have a little extra money, then you can join a gym that has a swimming pool. Plus indoor swimming is largely unaffected by weather conditions so you can do it all year round.
Yoga or Meditation
If the stress of life sometimes gets through to you, then a good idea for a new low-cost hobby is yoga or meditation. A good YouTube channel can teach you the basics or you can attend a class or try a guided meditation. For either, all you need is a little space, a mat, and some ideas on what to do.
Digital Hobbies
From smartphones to video games, there are loads of hobbies that you can try that are cheap and make use of an internet connection.
Video Games
Not everyone is a fan of video games but if you are looking for a new hobby that allows you to switch off from your busy life, they can be a perfect idea. Individual games can cost a lot of money but there are tons of free games. And you can also find subscriptions for some of the top consoles that let you play a range of games for a low monthly price once you have paid out the initial money for the console.
Start a Blog
You can start a blog on almost any topic you like; it is a great way to share your experiences. Starting a blog can be done for free on platforms like WordPress.com or you can invest a small amount of money to have a hosted domain. Then you can create content and even make some money with things like affiliate marketing and ads.
Learn a New Language
Learning a new language is very simple with apps such as Duolingo making it easy to pick up the basics and develop useful language skills. It can be an interesting hobby if you want to travel to countries where the language is spoken. Or just good fun to finally know what some of your favorite TV shows or movie characters are saying without a translation.
Listen to Podcasts
Podcasts are somewhere between an audiobook and a radio channel and there are thousands of them on every subject you can imagine. You can try ones for things you are interested in, for your stage of life, or just something random and fun. Most are free to listen to; you'll just need an app on your phone to access them.
Learn the Stock Market
If you have a little money to work with, you could try learning the stock market and investing some money into a company. There's lots of apps to help with this and you can make some real money if you are careful. But make sure you can afford to lose the money as there's not always a guaranteed return!
Photography
This one can be an indoor, outdoor, and a digital hobby! Most of us have a smartphone and that means we have a decent digital camera as well. So taking up photography can be a fun hobby that doesn't cost anything upfront. As you develop your skills, you may want to invest in better equipment but the phone in your hand is an excellent starting point.
Trying a New Hobby
Trying a new hobby doesn't need to be a super expensive thing. There are loads of great cheap hobbies and even things that cost nothing at all. You can find the best thing for your free time and enjoy doing something that's a change of pace from your usual routine.