Christmas morning has always been my favorite. Seeing the joy of the holiday through my little boy's eyes was precious. Now that the boys are older and they are not up at the crack of dawn, our Christmas mornings are different than they were when I had little boys. It is still filled with joy; it's just different! These days, my husband and I are usually up before them! We put the coffee on and start cooking the first round of food.
Our house is an open house for the day. We have people coming and going, stopping in for a bite or two and some gifts, then heading off to see their other family members. Its a good day of relaxing and grazing through the day with music or movies on in the background.
Our Christmas food is just snacks all day. Monkey bread in the morning with coffee, some type of egg casserole or french toast bake with bacon and sausage up next. For "lunch" it's a crescent ring with Italian meats and cheeses and then bacon cheeseburger sliders and desserts around "dinner" time.
Having a plan in place is important to me. I wrote about this in the post, How To Be Ready For Christmas. As of today, the middle of December, I am (almost) right on track. December first is the goal, but it doesn't always go as planned. I can say that next week, I plan on taking it easy and enjoying some holiday cheer!
Low Carb Christmas!?
We (meaning my husband and me) have cut back on refined carbs, so I am sure Christmas foods will look a little different this year. I will still make the monkey Bread because that is a definite favorite but might also add some other ideas. I found a recipe for sausage bites that are low in carbs. These might be a great addition as well as many other great egg dishes featured in this list.
Sometimes it is nice to try something a little bit different, and if you are on a hunt for some new recipes, this is the list for you. I am hoping to make your Christmas morning go a little smoother!
This year, I wanted to share with you a whole bunch of great choices for frugal breakfast (or all day) ideas from some of my friends!
There are 70 different recipes, so I am sure you will find something that you love.
Breakfast Sweets Recipes
Cranberry Chocolate Chip Scones | Foodal
Apple Crescent Ring | Who Needs A Cape?
Easy Banana Muffins | The Flying Couponer
Easy Cinnamon Rolls | Brooklyn Farm Girl
Gingerbread Doughnuts | Strength and Sunshine
Cheat's Stollen Croissants | Fab Food 4 All
Make Ahead Monkey Bread With Pecans | Uncommon Designs
Blackberry Cream Cheese Danish |The Country Chic Cottage
3 Ingredient Caramel Cinnamon Rolls |Baking With Mom
Strawberry Sweet Rolls With Vanilla Cream Cheese Icing | Delicious On A Dime
Crock Pot Cinnamon Rolls |Cook Eat Go
Whole Wheat Chocolate Chip Scones |Mighty Mrs.
Cinnamon Roll Waffles | Dancing Through The Rain
Easy Christmas Tree Pastries | Stylish Cravings
Easy Berry And Cream Cheese Pastries | Delicious On A Dime
Blueberry Cream Cheese Roll-ups | Two Kids And A Coupon
Pancake Recipes
Gingerbread Fluffy Vegan Pancakes | Veggie Desserts
Vegan Pecan Pie Pancakes With Brown Sugar Syrup | Foodal
Banana Almond Pancakes (GF) | Whitney In Wonderland
Fluffy Baked Blueberry Buttermilk Pancakes | The Kitchen Is My Playground
French Toast Recipes
Simple French Toast Muffins | GYCT Designs
French Toast On A Budget | The Flying Couponer
Cinnamon Roll Blueberry French Toast Bake | My Heavenly Recipes
Easy Blueberry French Toast Casserole With Streusel Topping | Sparkles Of Yum
Overnight Strawberry Raisin French Toast Bake | Mom Vs. The Boys
French Toast Breakfast Bake | Family Food And Travel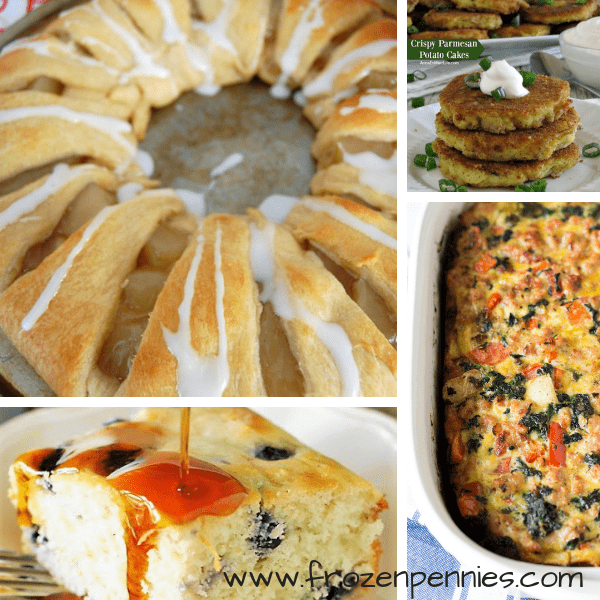 Christmas Morning Breakfast Casseroles
Hearty Tater Tot Breakfast Casseroles | Mom Vs. The Boys
Easy Bisquick Breakfast Casserole | A Mom's Impression
Classic Holiday Brunch Casserole | Mission To Save
Delicious Breakfast Casserole | This Ole Mom
Crockpot Breakfast Casserole | Recipes From A Pantry
Pierogi Breakfast Casserole | Food Meanderings
Healthy Mexican Breakfast Casserole |Evolving Table
5 Ingredient Breakfast Pizza | Team Tired Mom
Cheesy Hashbrown Casserole | My Heavenly Recipes
Potato Breakfast Bake |That Guy Who Grills
Veggie Loaded Potato Breakfast Bake |Hungry Hobby
Sausage Apricot Breakfast Casserole | Dukes And Duchesses
Low Carb Breakfast Casserole With Bacon | Low Carb Yum
Healthy Egg Breakfast Recipes
Prosciutto and Asparagus Egg White Quiche | Earth, Food, And Fire
Overnight Breakfast Strata With Chorizo | The Cookware Geek
Bacon and Egg Cups | Dancing Through The Rain
Ham and Cheese Egg Puffs | The Flying Couponer
Easy Egg Muffin Recipe | A Mom's Impression
Low Carb Egg Muffins Wrapped In Bacon | Low Carb Yum
Mini Crustless Quiche With Sausage And Cheese | Two Healthy Kitchens
Crustless Quiche with Broccoli And Cheddar |Savory Tooth
Ham And Cheese Frittata Muffins| Low Carb Yum
Potato, Bacon and Egg Sheet Pan Breakfast | Delicious On A Dime
Sausage And Egg Breakfast Pinwheels|Drugstore Divas
Healthy Spinach Egg Muffins | Evolving Table
Instant Pot Egg Bites | (Mostly) Low Carb Recipes
Breakfast Side Dishes
Sweet Corn Frittas | Fab Food 4 All
Ukrainian Breakfast Hash | Food Meanderings
Cauliflower Fritters (Like Hashbrowns) | Savory Tooth
Cheesy Ranch Biscuits | Trisha Dishes
Roasted Brussel Sprouts | Savory Saver
Candied Carrots | Dancing Through The Rain
Crispy Parmesan Potato Cakes | Ann's Entitled Life
Roasted Skillet Breakfast Potatoes | Strength And Sunshine
Zesty Avocado-Lime Deviled Eggs | Tasting Page
Ghee Roasted Sweet Potatoes | Mama Likes To Cook
Low Carb Hashbrowns Using Radishes | Low Carb Yum
Best Spicy Roasted Cauliflower | (Mostly) Low Carb Recipes
Sauteed Asparagus With Garlic, Butter, And Parmesan | The Rising Spoon
Oats and Other Recipes
Slow Cooker Vegan Eggnog Oatmeal|Thyme and Love
Vegan Hazelnut Cinnamon Overnight Oats | Cinnamon and Corriander
Vegan Banana Oatmeal | Rhian's Recipes
Strawberry Fluff Cottage Cheese Salad |Trisha Dishes
I hope you have found some recipes to try from all of my friends. Please let me know the ones you have loved the most. I hope the Chrismas Holiday brings you all you have ever wished for and may you and yours find health and joy in the season!