Downsizing your home can be a difficult decision, but it can also be a liberating one. Whether you're looking to save money, simplify your life, or reduce your environmental impact, downsizing can offer a range of benefits.
However, the process can be overwhelming, and it's important to approach it with a clear plan in mind. In this article, we'll explore some tips and tricks for downsizing your home successfully, including how to declutter, make the most of your space, and prioritize your belongings. Following these steps, you can downsize your home confidently and enjoy the benefits of a simpler, more efficient lifestyle.
Why Would You Want To Downsize Your Home?
There are many reasons why someone might want to downsize their home. One of the most common reasons is to save money, as a smaller home often means lower mortgage or rent payments and reduced utility costs.
Downsizing can also be a way to simplify your life, reduce clutter and stress, and increase overall happiness and well-being. Additionally, it can be a way to reduce your environmental impact by living in a smaller, more energy-efficient space.
Finally, downsizing can be a practical choice for those approaching retirement or facing health issues, as it can make it easier to maintain a home and reduce physical strain.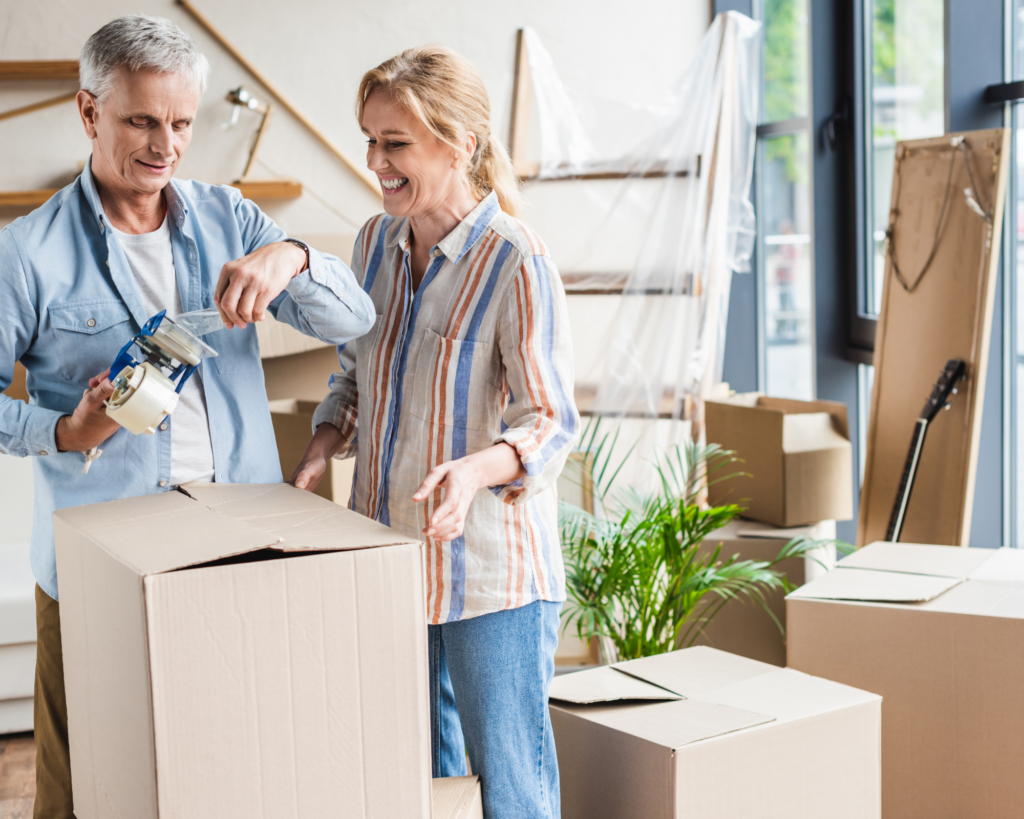 10 Things To Do Before You Downsize Your Home
Here are ten things you should consider doing before downsizing your home:
Make a list of your priorities and reasons for downsizing
Research the housing market and determine your budget
Declutter and get rid of items you no longer need or use
Measure your new space and plan your furniture layout accordingly
Evaluate your storage needs and plan for appropriate storage solutions
Determine what items are essential and what can be replaced or sold
Consider how downsizing will impact your lifestyle and make adjustments accordingly
Create a moving plan and timeline
Hire a reputable real estate agent or downsizing specialist
Take the time to say goodbye to your old home and neighborhood, and embrace the new opportunities that come with downsizing.
How To Downsize Your Home
Downsizing your home can be an emotional job, but there are several steps you can take to make the process smoother. Here are 14 tips to get you started in the process.
1. Consider Your Lifestyle
Before downsizing, the first step may be to consider if a smaller space is suitable for your lifestyle now and in the future. Consider if you can easily transition to a smaller house and the advantages of smaller living, such as less maintenance and lower utility bills. You may want to ditch the larger home and opt for a smaller place, but there might be a better time for you or your family.
A smaller home may not be the best option if you enjoy entertaining guests often. You'll have to consider whether you'll have enough room for all your belongings and if you'll be able to entertain guests in spare rooms.
On the other hand, downsizing may be a good option if you're looking to simplify your life and spend less time cleaning and maintaining a large home. Remember to weigh your options carefully before making a decision that will likely impact your life significantly.
2. Find the Right Home
If you've decided to embark on the downsizing process, the best way to start could be to research different homes for sale and select what type of new home best suits your lifestyle and budget.
You could look at apartments, townhouses, smaller family homes, and even smaller single-level houses. Figure out the number of bedrooms and living areas you need to fit your family comfortably.
One tip for living in a smaller new space is to consider how you can use the home for multi-functional purposes. See if there is enough outdoor storage space or if additional storage solutions will be necessary.
3. Declutter and Sort
Before packing your belongings, starting the downsizing process early by decluttering while you're in your old home is often a good idea. You can eliminate items that haven't been used or are no longer helpful. Consider donating them to charity or selling them at a yard sale or garage sale for extra cash.
Sort through each room and organize your belongings into categories based on what can be kept, donated, sold, or thrown away. Pack the items you plan to keep and label each box according to the room. This will make unpacking much easier when you reach your smaller home.
You can also have a yard sale to sell things you don't need anymore, which will help cover the cost of your new place.
4. Focus On One Room at a Time
Tackling the entire process of downsizing your home can be overwhelming, so you can break it down into smaller tasks and focus on one room or area at a time.
Try to formulate a plan and follow it through until completion. This can help you focus on one task without being distracted by the rest of the house.
Tasks you can complete in a day might include:
Going through your books and magazines
Sorting through the kitchen cabinets
Going through your clothes in the closet
Discarding past bills and unused papers in your home office
Checking the coffee table for souvenirs, old magazines, and other items you can discard
A smaller space typically requires careful organization and planning to make the most of your new house.
5. Don't Forget To Measure Your New House
Less space can often mean smaller furniture and appliances. When visiting your new home, take measurements of the rooms you plan to furnish. This will help you determine what size items fit in each room and avoid surprises when shopping for smaller furniture and appliances.
An easy way to do it is to measure the square feet of each room and draw a floor plan for your new home. This will help you visualize how to place each piece of furniture in the room.
Even if there is less square footage, there may be extra space you can use for storage.
6. List Your Inventory
As you finish decluttering and packing your belongings, create an inventory list of items you plan to move with you.
Write down the item's name, quantity, condition, size, and any other details that may be necessary. This can help when unpacking in your smaller home.
It also minimizes time-consuming tasks when searching for items you need to unpack. For example, if you are looking for kitchenware, you can quickly refer to your inventory list and locate the box that contains those items.
7. Offer Sentimental Items to Family Members
Your current home might have family heirlooms and sentimental items you would like to pass down to family members.
Ask your family and close friends if they would be interested in taking the item. This will help reduce the furniture and other belongings you need to move into the smaller home.
You can still remember your family home through these items, and they can become cherished family traditions. Family members receiving these items can also add their memories to them.
8. Minimize Duplicates
Anyone who has ever moved knows the feeling of being overwhelmed by everything they own. Suddenly, every knickknack and piece of clothing can seem essential, and the thought of packing it all up can feel daunting.
Go through your things and get rid of anything you don't need or use anymore. This includes duplicate items — do you need three sets of sheets? — as well as clothes that no longer fit or you don't like.
Once you've consolidated your belongings to the essentials, you can start packing confidently, knowing you only bring what you need. Not only will this make a move more straightforward, but it will also help you create a more peaceful living space in your new home.
9. Make Use of Storage Options
Downsizing your home doesn't mean you have to get rid of everything. Consider using different storage options for items you don't use daily but still want to keep — like books, electronics, and seasonal decorations.
You could rent a nearby storage unit or use small spaces in your current house, such as the attic or basement, to store items you don't want to move with you. This will allow for easier packing and unpacking when it's time to relocate.
10. Consider Digital Files
With smaller homes, it can help to cut down on physical items. Think about digitizing documents, photos, and other things you can store digitally. This can help reduce the amount of paper clutter in your smaller home.
You can also scan family mementos such as paper greeting cards or handwritten notes to share with family members nearby.
There are apps and websites dedicated to digitizing documents and photos, so it's easier than ever to go paperless.
11. Hire Professionals
Marie Kondo said it best, "The question of what you want to own is the question of how you want to live your life."
If you are overwhelmed by the downsizing process, don't hesitate to ask for help. Hiring professionals may be a good idea and can make the entire experience much easier and more efficient.
Professionals can help you organize and maximize the space in your smaller home. They can also assist with packing, transportation, unpacking, and even furniture assembly!
12. Stay Positive
Downsizing your home doesn't have to be as daunting as it seems. With a little planning and organization, you can make the process run smoothly — and maybe even enjoy it!
Remember, you are making this move for a better life in a smaller space. Stay positive and motivated throughout the entire process — you will be happy that you did.
Additionally, take the transition as an opportunity to learn more about yourself and what is truly important. As you downsize, ask yourself: What do you need? What will make your life easier? What will bring you joy?
Once you answer those questions, downsizing your home can be a freeing experience — and it doesn't have to be complicated.
13. Get Rid of Paperwork
One of the most important (and often least fun) tasks on the to-do list is sorting through all the paperwork that has been piling up over the years.
It can be overwhelming to know where to start, from old bills and school records to tax documents and warranty cards. However, taking the time to review everything can be well worth it. Not only will it help reduce clutter, but it can also make it easier to find important documents when needed.
If you're unsure what to keep and throw away, there are a few general rules of thumb to follow.
For example, most experts recommend shredding old bills, bank statements, and documents with sensitive information, such as social security numbers or account numbers.
Tax records can typically be kept for seven years, while you should keep school records until your child graduates high school. As for those warranty cards and instruction manuals? Unless you're sure you'll need them in the future, it's probably best to let them go.
14. Look for Ways To Save Money
Downsizing your home can save you money in the long run. You're likely to have smaller bills, lower monthly mortgage payments, and lower costs overall. Plus, smaller homes require less energy to heat and cool, so you can also expect some savings there.
When shopping for new furniture or decor items for your small house, look for ways to save money, such as second-hand items, DIY projects, or estate sales. You'll also want to ensure that everything you purchase is necessary and will fit in your smaller home.
Final Thoughts On How To Downsize Your Home
In conclusion, downsizing your home can be a challenging but rewarding process. By planning, decluttering, and organizing your belongings, you can create a more efficient and comfortable living space.
Downsizing can also provide financial benefits, simplify life, and reduce environmental impact. By following these steps and enlisting the help of a professional, you can downsize your home with confidence and embrace the opportunities that come with a simpler, more streamlined lifestyle.
Remember to take the time to say goodbye to your old home and embrace the possibilities of your new space.