Food is the day-to-day financial decision that can make or break a budget. It's a necessity for life, yet it can cost a fortune if you let it. When you're broke or just watching your spending, it is also the one area where you have the most flexibility.
There is a way to reduce your grocery budget without sacrificing too much. But it'll require a plan and some mad skills.
Let me introduce you to one area in which I get super excited—cheap groceries to buy when you're broke.
You know a few, but I'm giving you some ideas on what to do and which foods typically have low prices.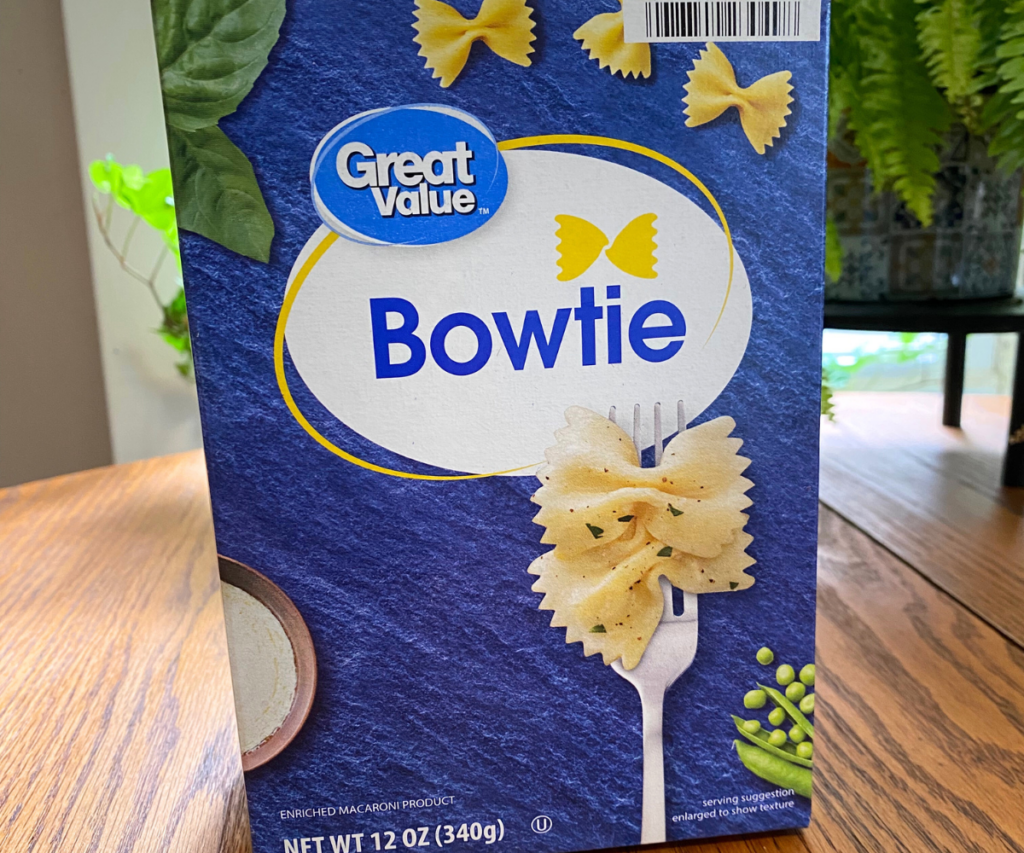 Cheapest Grocery List on a Budget
Pasta
The great thing (besides the price) about pasta is how versatile it can be. Make it a main dish or a side dish. You can top it with sauce, cheese, or butter.
Who doesn't love pasta at less than a dollar a pound? It's one of the best cheap groceries on this list. It can serve as a vehicle to stretch the meat portion of dinner.
Bananas
We can get bananas all year round here, which are about twenty-five cents each. They're a favorite and are often the best price. Packed with vitamins and minerals, you can add them to muffins, pancakes, yogurt, and cereals. This reason makes it my favorite fruit on the cheap grocery list. Fresh produce is hit or miss. Look for sales.
Canned vegetables
I understand the lack of nutritional value in canned vegetables, but you can't dismiss a thirty-nine-cent can of peas when you are broke and need food. It's one of the best foods to buy on a budget.
Don't get me wrong, eating canned vegetables will give you some nutritional benefits. And when you are broke, it's about doing your best. Consider leaning into store brands as they are often comparable to national brands.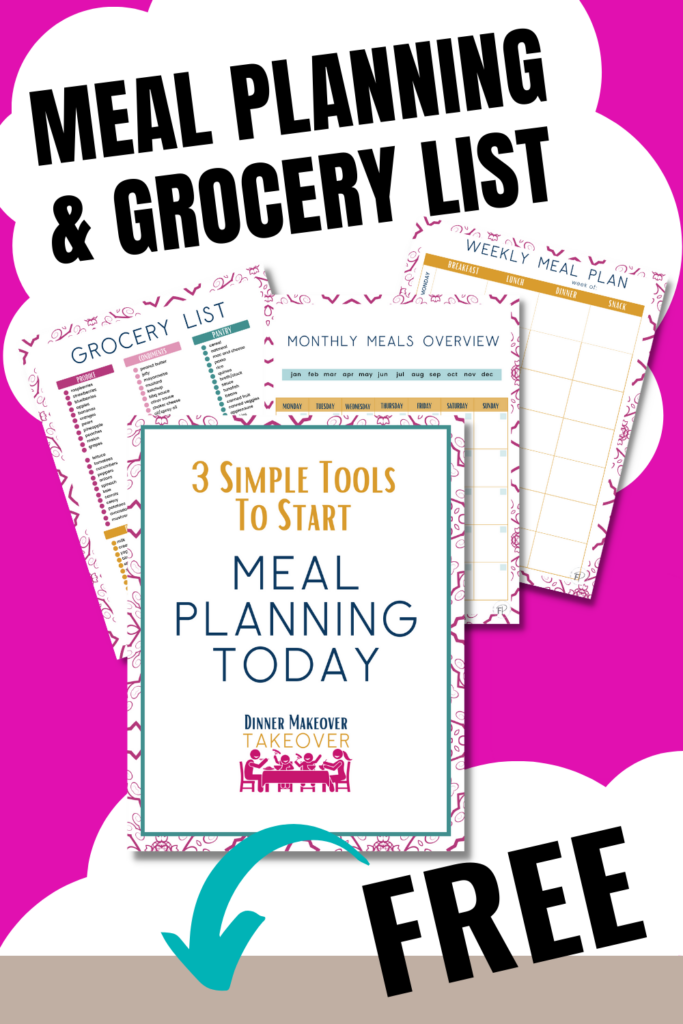 Rice
It is the most filling and cheapest food to buy when you're broke. Also, great cheap food if you are gluten-free.
Like pasta, rice is versatile. It can be used as a filler to stretch meat or a side dish. It is also number one on most people's "cheapest grocery list food" list, including Dave Ramsey's rice and beans analogy.
Remember to add some spices. Salt, garlic powder, parsley, and a little shaker cheese will turn rice into a delicious side dish. You could even add milk and a sweetener to eat for breakfast.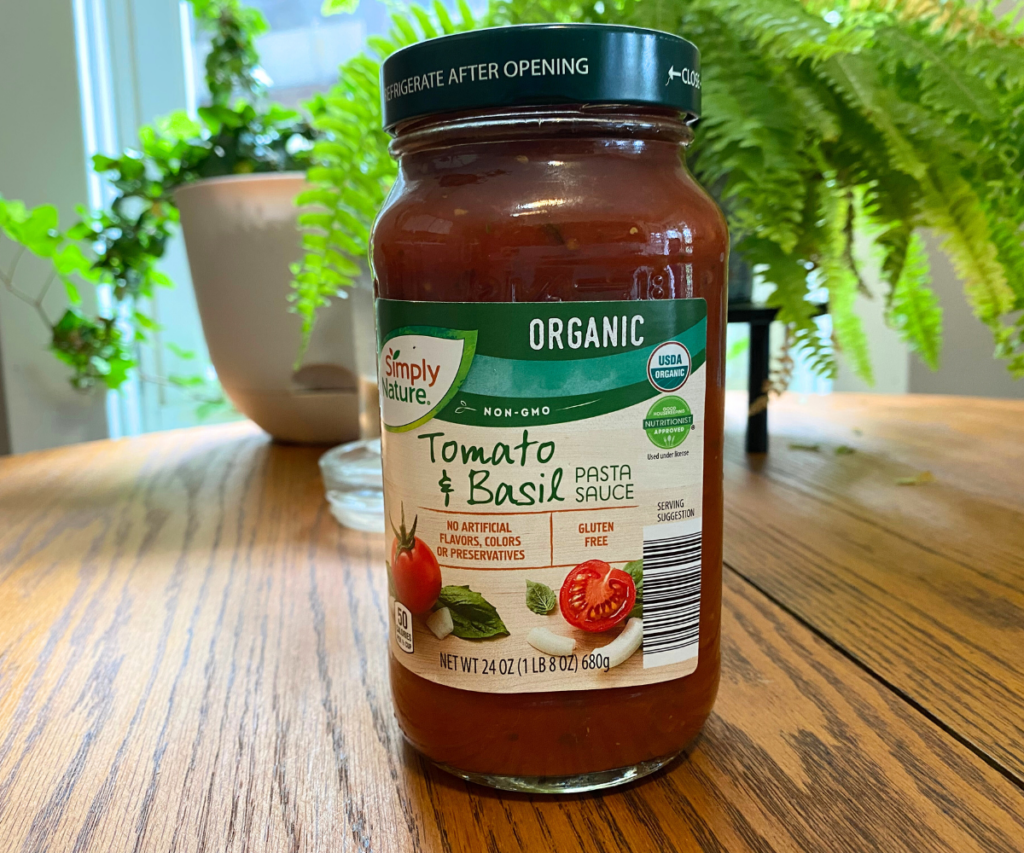 Pasta sauce
For under a dollar for a big jar. Any tomato sauce is going to be a good deal. One can use it for so many dishes. Soups, stews, and pasta toppings as well. Adding some spices, you can turn them into BBQ sauce, pizza sauce, or salad dressings. Consider using tomato paste as your base.
Macaroni and cheese
Sometimes, boxed macaroni and cheese is a need. It's a great lunch or side dish. But, sometimes, the cheapest could taste better. Adding some spices or some extra cheese can make all the difference. I prefer adding hot sauce to mine.
But for around twenty-five cents a box, it's one of the cheapest foods. Most of the time, it's cheaper to go with whole foods rather than processed. That is one case that it might be cheaper to go with a box.
Also, adding some ground meat like beef or turkey and some sauce can turn a plain box of macaroni and cheese into a knock-off hamburger helper one-pan dinner!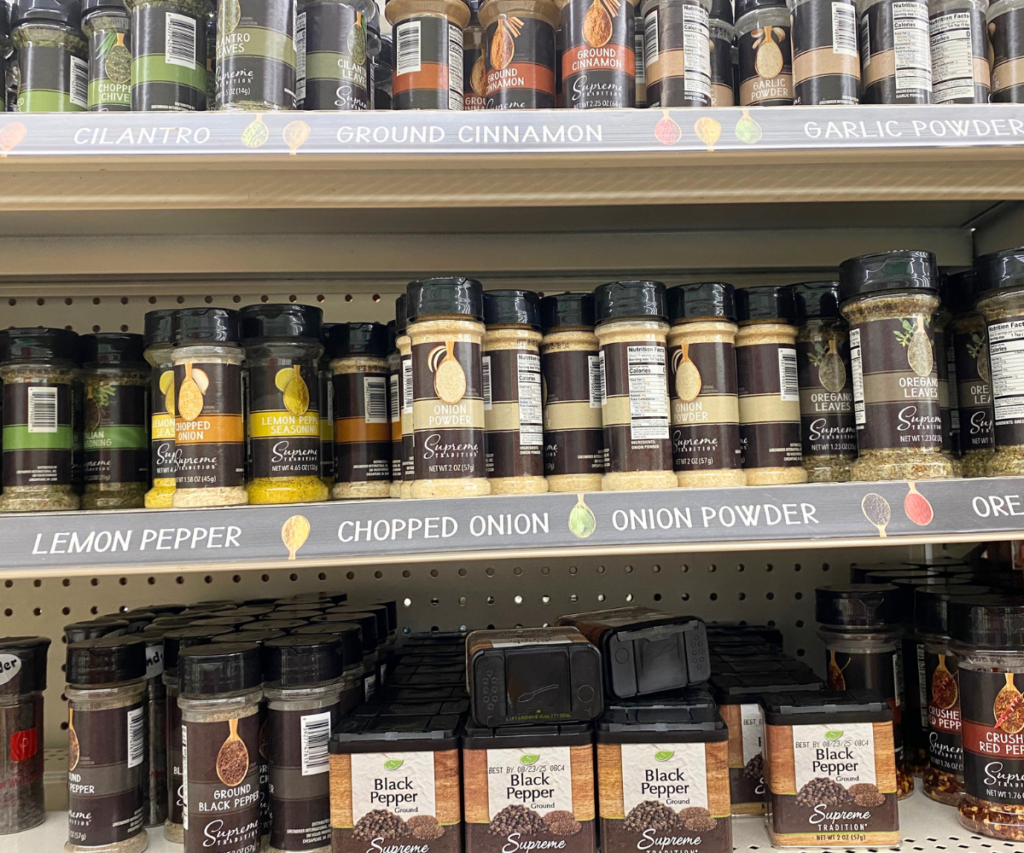 Spices
One of the best places to get inexpensive spices is the Dollar Tree. You can find many spices at Aldi or Dollar Tree for a dollar or less. These little jars are a gift from the dinner goddess and can transform bland chicken into a gourmet dinner with some research and creativity.
They are a must when grocery shopping on a tight budget, and you can't beat the great prices.
Canned fruit
It's not as great as fresh, but it's an excellent cheap grocery list item. You can use canned fruit as a more economical alternative or addition to fresh fruit.
A can of pears would make a sweet side dish for breakfast or a snack for fifty cents. And adding canned fruits like peaches or pineapple to a cake makes it a little extra special.
My mom loved adding canned fruit to cottage cheese. Also, canned fruit is a great addition to plain yogurt.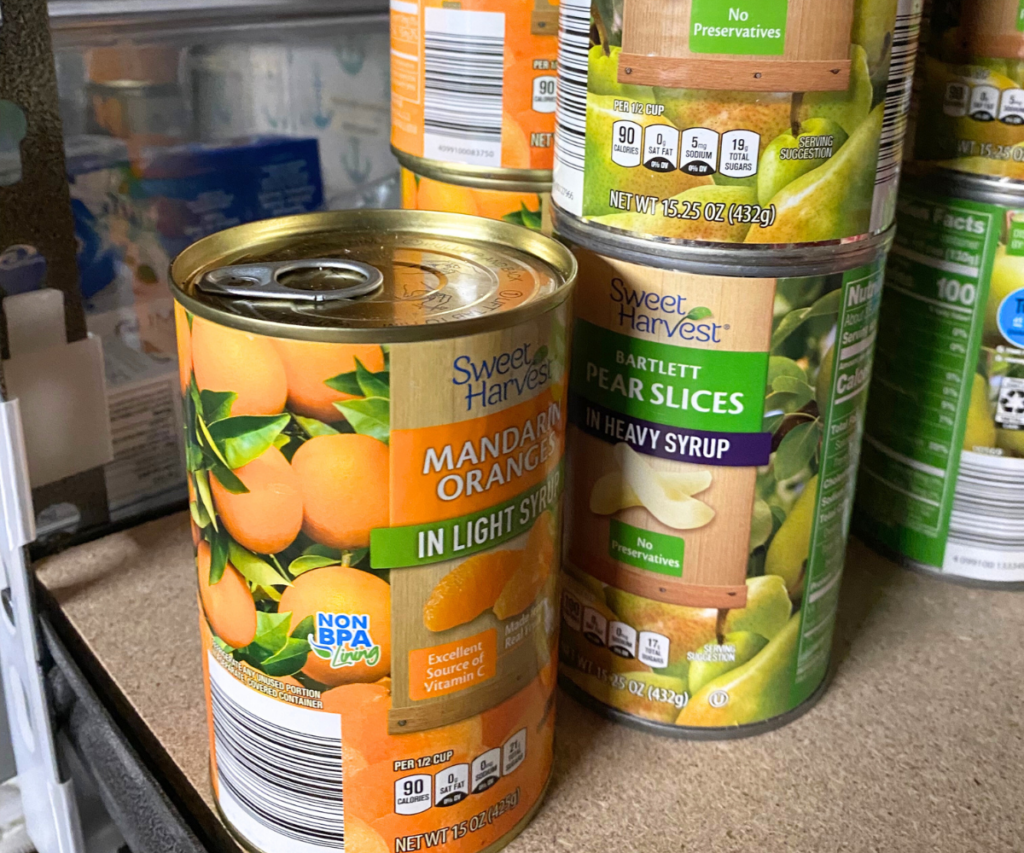 Potatoes
Both white and sweet potatoes are one of the cheapest grocery items to pick up when you're broke. Its uses are endless, and it's one of my favorite foods.
Potatoes are the main ingredient in a delicious casserole, a meal of baked potatoes with an assortment of toppings, or a side dish for breakfast or dinner. You can use potatoes in so many different ways.
Chicken thighs or legs
Dark meat seems cheaper than white meat, making it an excellent addition to the most affordable grocery list. I encourage you to look for the best prices.
You can make a rub with all those spices above, top them with BBQ sauce, or cook them and pull off the meat for many other meals. Whole chickens can also be a reasonable price and allow many more options.
Remember to simmer the bones and make a broth for soup. Also, marinating them in a homemade marinade of oil, vinegar, and spices can make a tasty and tender dinner. Sometimes in-store shopping is better. You can find better deals on meat, and it's cheaper to pick out your groceries. Consider a whole chicken and use every part.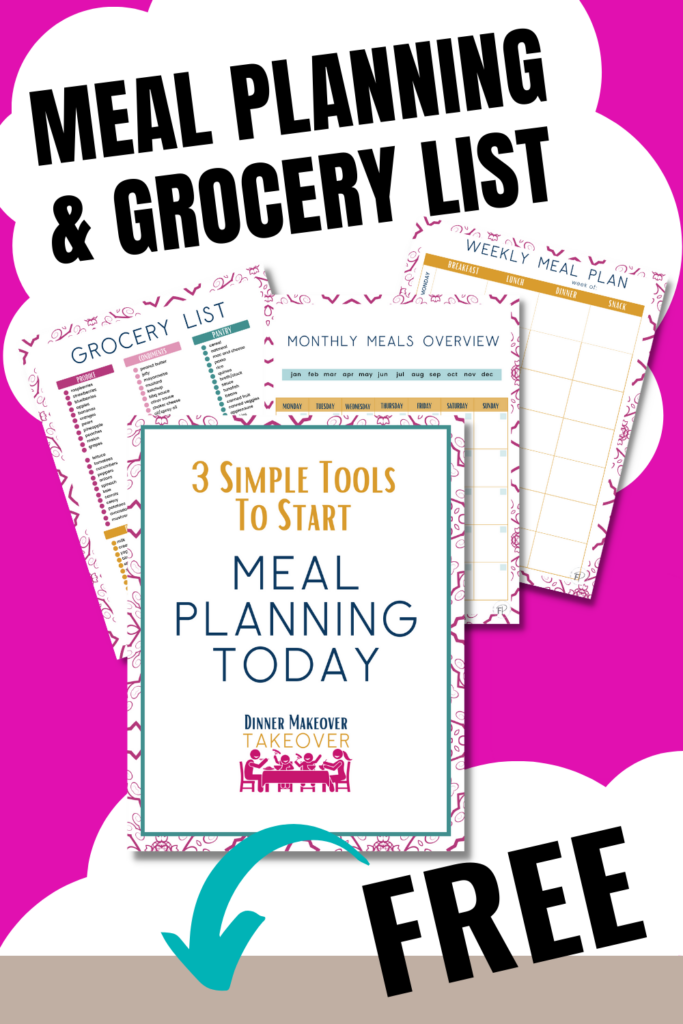 Canned fish
Tuna sandwiches are a favorite of mine, especially on homemade bread. But you can also make things like tuna patties or substitute tuna for salmon and do the same. Add these canned fish with some noodles and vegetables to make a casserole.
You can make cheap casseroles to use leftovers and stretch meats. Check out Pinterest for recipes.
Oats
Oats are a versatile member of the cheap food on a budget club. Of course, when you think of oats, you think of oatmeal for breakfast. Top with some canned fruit or frozen berries, and it's a warm, filling breakfast.
As a filler for meatloaf, meatballs, salmon patties, or any other place you are using ground beef, oats aren't just for breakfast. Consider using them for cookies, granola, or the topping of crisp or cobbler.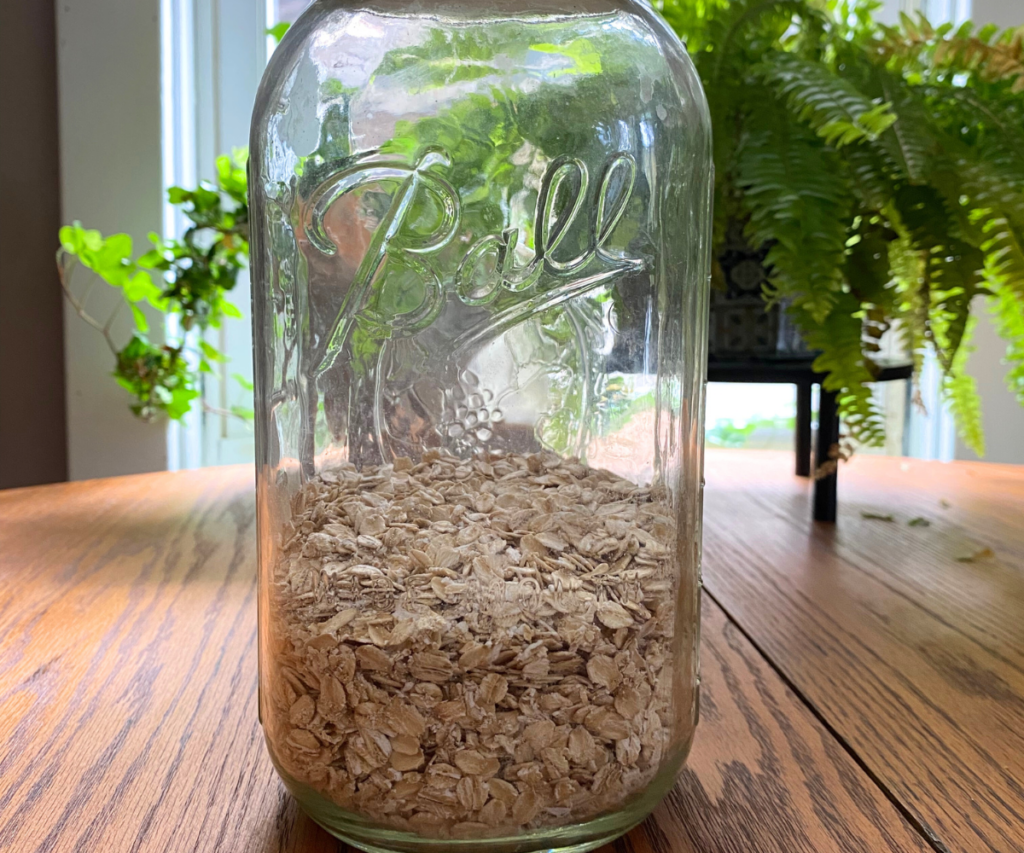 Generic cereal
The significance of pricing between off-brand and popular brand cereals is staggering. Most adults and children can't tell the difference, particularly in cereals like rice crispies, cheerios, and frosted flakes.
They are an excellent alternative to the more expensive ones and a nice addition to homemade muffins and canned peaches for breakfast.
Flour
You can make almost any breakfast, lunch, dinner, or treat with the pantry trifecta (flour, sugar, yeast). It's cheap and can set you up for many foods from scratch.
Flour is a staple on our cheapest grocery list.
There is a neverending list of possibilities with the internet FULL of free recipes.
Sugar
Sugar is the second part of the pantry trifecta, a saving grace when you are broke and need snacks. Making bread, cookies, and cakes is a great way to cut costs and give mental relief, knowing you can make a dessert or snack without depriving yourself.
Plus, cookies and snacks aren't the cheapest foods. Almost four dollars for Oreos!
Yeast
The last of the pantry trifecta is yeast. At less than $1 for three packets, it's an easy way to supply pizza and bread for pennies. I made my bread the last few weeks, and nothing tastes better. I may never go back to store-bought bread again!
Here's my recipe for our favorite bread:
Ingredients
2 cups warm water
1/2 cup white sugar
1 1/2 tablespoons active dry yeast
1 1/2 teaspoons salt
1/4 cup oil (olive or avocado)
5-6 cups of all-purpose flour
Instructions
Dissolve the sugar in warm water in a large bowl, stirring in yeast.
Allow proofing until yeast resembles a creamy foam, about 5 minutes.
Mix salt and oil into the yeast.
Mix in 5 cups of flour.
The dough should be tacky, and clean the sides of the bowl.
Add a little more flour as needed.
Knead the dough for 5 minutes.
Place in an oiled bowl. Cover with a damp cloth.
Allow rising until doubled in bulk, about 1 hour.
Punch the dough down. Knead for 1 minute and divide in half.
Shape into loaves and place into two greased 9×5 inch loaf pans or one square pan.
Allow to rise for 30 minutes or until the dough has risen 1 inch above the pans.
Bake at 350 degrees F for 30-40 minutes.
Cool, brush with butter, and enjoy!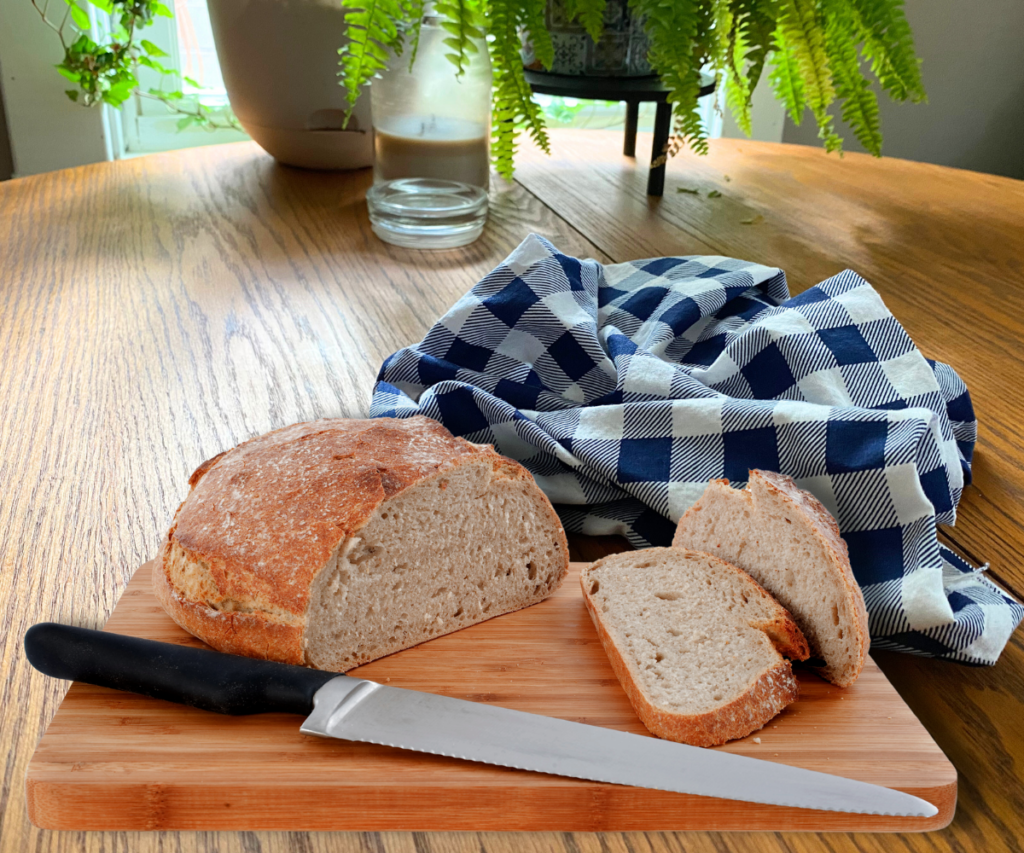 Eggs
The perfect food. You can't "beat" an eggsalad sandwich on homemade bread! Eggs are great for breakfast, lunch, dinner, snacks, and baking at less than ten cents per serving.
Carrots
Full of Vitamin C and is a great snack, side dish, or addition to a soup or stew. Add a little honey or syrup to make a fancy version if you have it.
Cabbage
Cabbage is cheap food. You can use cooked or raw for less than fifty cents a pound, and it is the best-budget food.
Frozen vegetables
More expensive than canned vegetables, frozen is a great alternative to fresh. Flash-frozen and at the peak of freshness, you won't have to worry about the broccoli going bad before getting to it.
Steam, roast, boil, or microwave these frozen nutritional nuggets for pennies per serving.
Canned chicken
Canned chicken isn't my favorite, if I'm honest, here. But I use it in a pinch for casseroles and chicken salad sandwiches. It's not as cheap as canned fish but is more frugal than fresh chicken.
Cucumbers
Cucumbers might be my second favorite vegetable. Depending on the season and where you look, you could find them as low as ten cents apiece—an excellent salad addition or side. Make your dip, add salt and pepper, or eat them plain.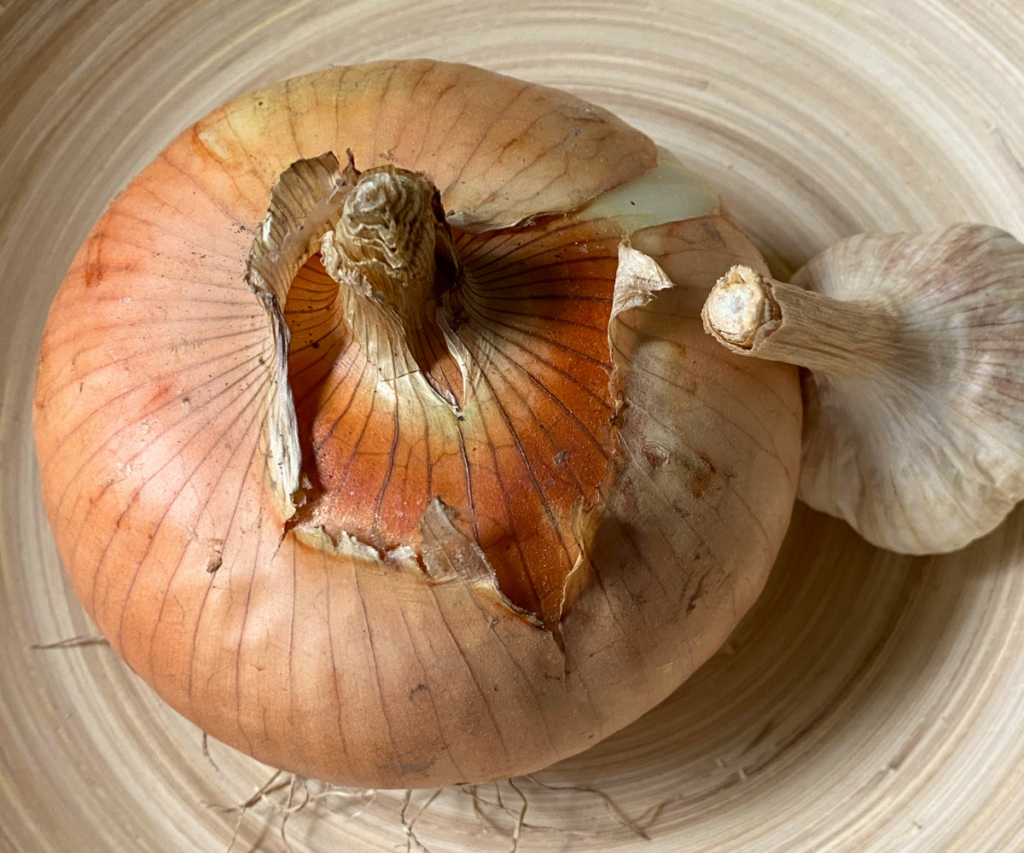 Onions
Onion is a great addition to spice up any dish. Cooked onions add a sweet flavor for some sass, while raw will give you a reason to cry. No matter how you slice them, they are cheap. They can add a little something when needed for your cooking.
Peanut butter
I don't know if I would ever want to be without peanut butter—fantastic support for homemade bread and the perfect treat when you need something.
Grab a spoon.
Also, peanut butter will make an excellent Thai salad dressing or a sauce for a stir fry. Considering the protein-packed jar, the price of peanut butter beats any other nut butter, making it a part of our "cheapest groceries" list.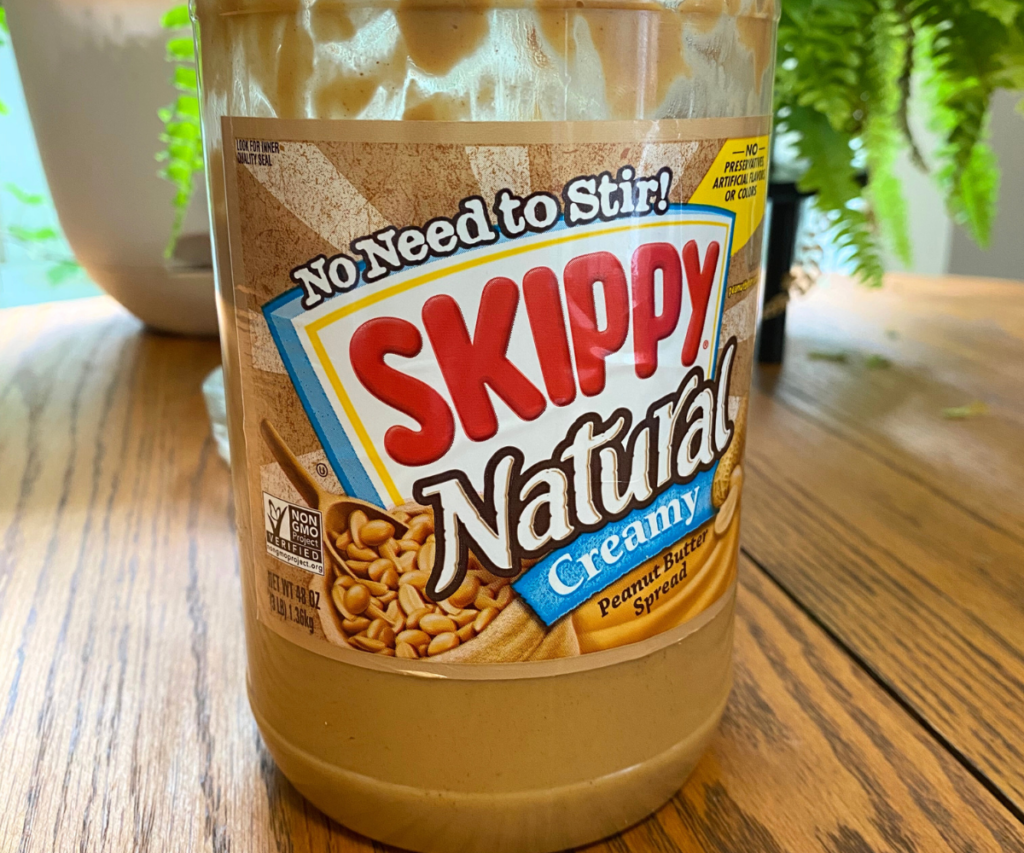 Baking powder & baking soda
When looking for cheap foods to buy when you're broke, you must invest in items that will set you up to make many other things. If you have baking powder and soda, you can bake. Both are part of a small investment.
Also, baking soda is an excellent cleaning agent.
Canned beans
Beans are the perfect staple of any frugal diet and the number one stereotype of cheap groceries.
They are the perfect filler or side dish, high in protein and fiber. Adding items to soups, stews, and casseroles will stretch out meat.
Add white beans to a chicken and broccoli casserole—mash up some kidney beans and mix with some salsa for a side dish or dip.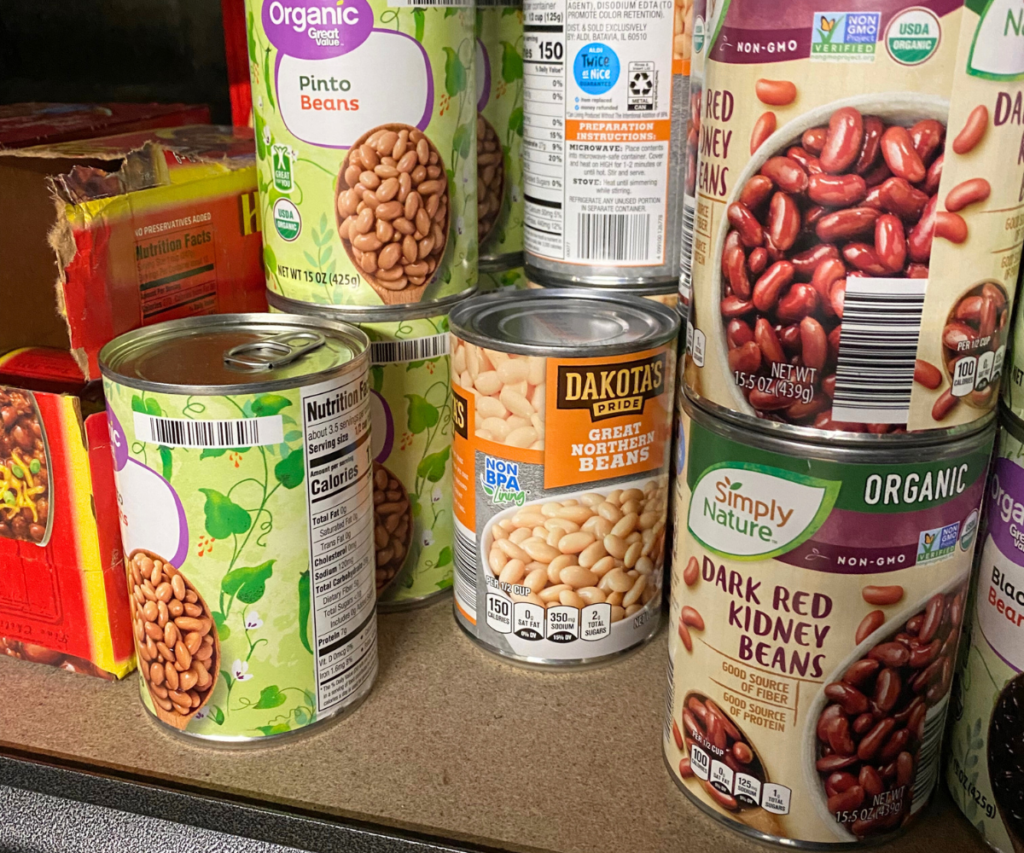 Peppers
We love stuffed peppers. They can be a vehicle for all sorts of inexpensive items. Add a little sausage, rice, beans, and cheese, and it's a delicious meal for less than a dollar a person.
Dried lentils
One of those foods that are so cheap, we must add it to our cheap foods to buy when we're broke.
But I'll be honest; I have no idea what to do with lentils except add them to soups. If you have any thoughts, please comment below and tell me what to do with them!
Popcorn
You don't have to buy this one to survive, but what a great snack for pennies. You can pop it in several ways, and Google can even show you how to do it on a stovetop with some oil. But buying popcorn kernels in a bag will cost you a fraction of those microwave bags. And they are so much better for you.
Apples
An excellent source of fiber and sweetness, apples are a perfect choice. Great for snacks and dessert. Add to that five-a-day fruit and veggie consumption.
Pork
Pork is cheap and versatile. You can add spices and sauces to it and completely change the flavor. There is a definite trick to cooking it – otherwise, it seems to come out as tough as leather.
Yogurt
A large tub of yogurt will offer nutrition and a side dish for under two dollars. Packed with tasty things like protein and probiotics, you can customize it with sweetener, fruit, nuts, or granola. Good for breakfast or a snack, too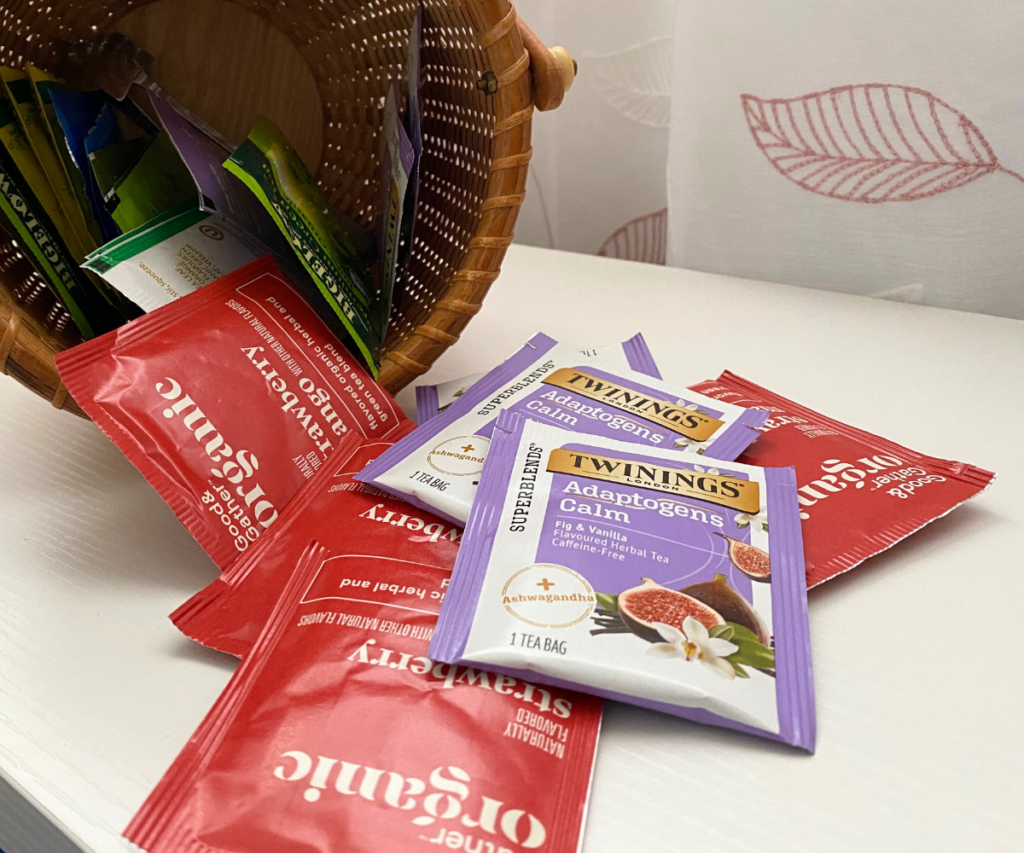 Teabags
It's a decent alternative to coffee and soda if you are frugal. One of the cheapest foods to buy when you are broke, tea can offer you the caffeine many of us need and a refreshing cold beverage to replace soda or juices.
It is an excellent addition to the foods to buy on a budget.
Tap water
Stop buying bottled water. You don't have the money. Buying a filtered water pitcher is a good deal if you don't care for the taste of your tap water. Drink the free water (or that you are already paying for).
You can't get any more frugal than tap water.
Ground beef or turkey
Depending on stores, location, and sales, one of these will be a big part of your cheap grocery list. They can make a great addition to any dish and are interchangeable in many recipes.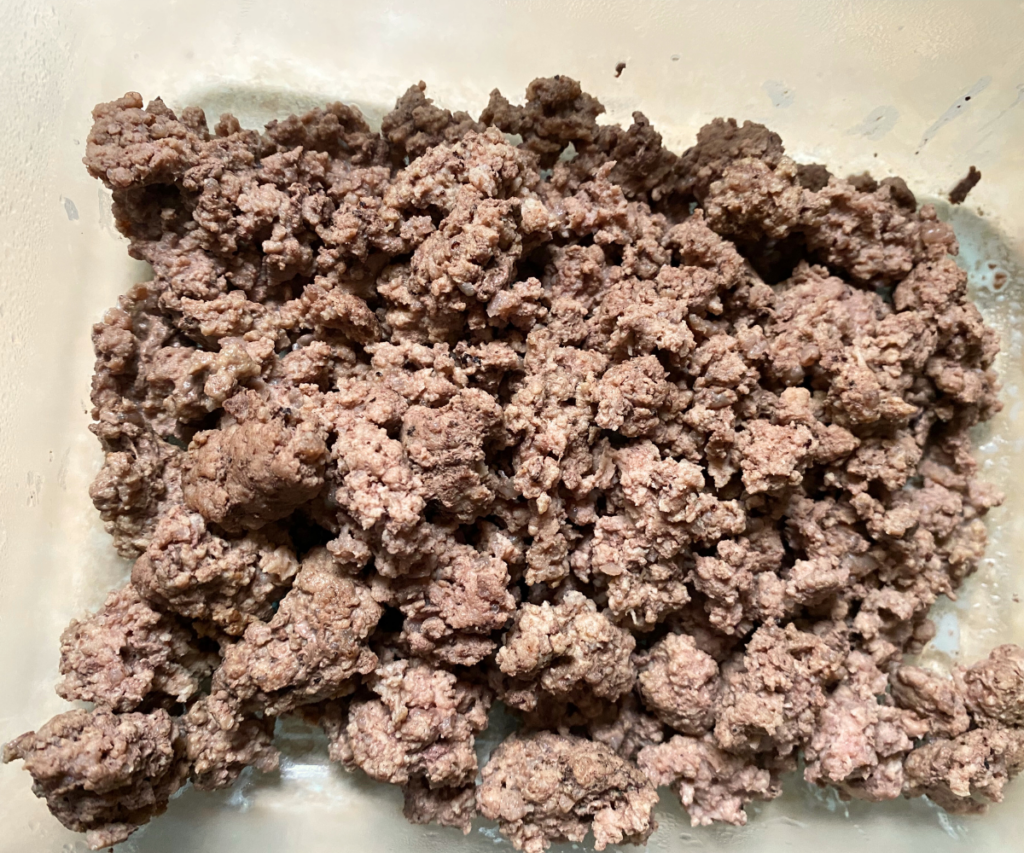 Milk
Milk is cheap at just over two dollars a gallon here. However, the family must use the milk sparingly and as a supplement instead of a staple. One small glass of milk a day is plenty to drink. You should use the rest for cooking, baking, and cereals.
Sour cream
Sour cream is an excellent condiment and a fantastic addition to your cheap grocery list. Use it in cooking for a cream sauce, make dips and casseroles, or top a baked potato. In my area, 16 ounces is less than a dollar.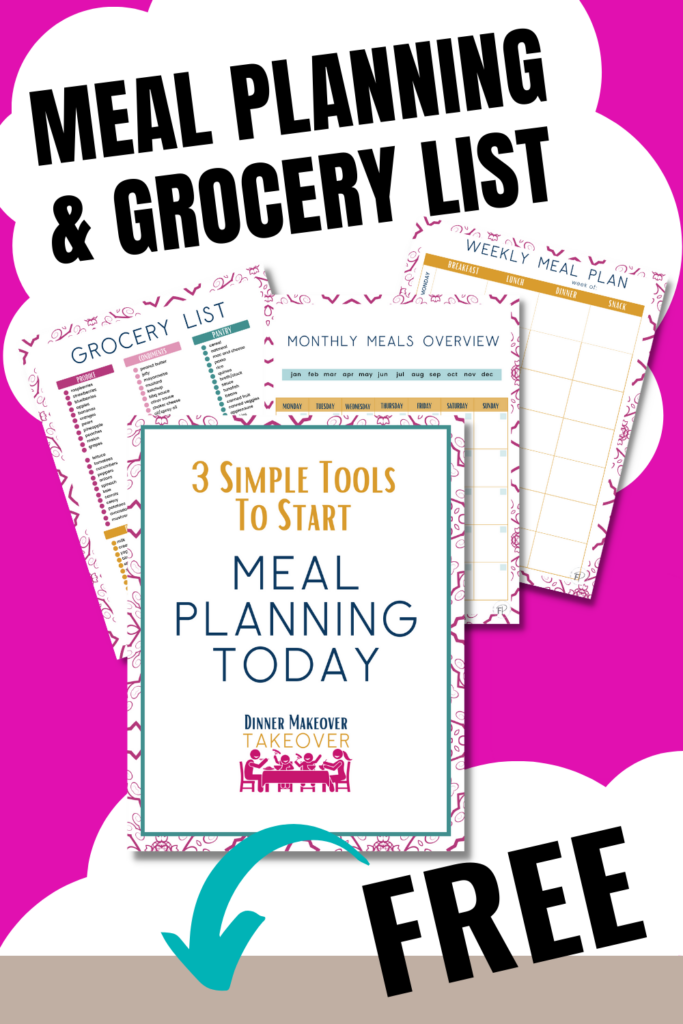 Grocery Shopping On A Budget
There are so many reasons to cut back on your food spending. Decreasing your grocery budget would be a great way to catch up on bills if you are behind. It's also an excellent way to kick-start that emergency fund you've been avoiding.
Building a stockpile of cheap foods at the grocery store will prepare you for emergencies, layoffs, and other hard times. There's comfort in knowing you can feed your family and yourself when your income is low.
I aim to give you a list of foods to make family and budget-friendly meals.
Saving up for something fun like a vacation, a wedding, or the downpayment on the house would benefit from this cheap shopping list.
Cash-flowing college, home improvement or repair, or a large purchase like a car, camper, or boat, saving money will expedite the buying by sticking to a low food budget.
But what if you are just broke? All your money is gone, and you only have $25 to spend this week?
What are the best cheap foods?
How to Buy a Lot of Food With a Little Money
When you don't have much money, it forces you to get the biggest bang for your buck, whether by choice. Your return on investment needs to be significant. Our goal here is to keep your grocery bill low.
Making foods from scratch, including bread products, and skipping the premade prepackaged food from the shelves or freezer section will significantly reduce your grocery budget.
Baking your snacks and creating your take-out like pizza will also decrease your food spending. You can make these things with as little as a dollar a meal.
Think (when grocery shopping on a budget) about how you can make many things at home instead of buying them already made; even items like tortillas for tacos and buns for hot dogs you can make at home instead of buying them.
When my husband's company laid him off, I wasn't sure how to feed my young family. We had been married for five years and had just bought a house.
We had two little boys, ages three and one, and my husband's company had closed its doors.
I was so grateful for the library and its books about frugal living. I was also thankful for generations of women who knew what it was like to live a frugal lifestyle. We would never have made it. The majority of my cart was full of the cheapest foods to buy
So, for 18 years, my habits of buying the best groceries for the least amount of money ran deep. Even today (after paying off over $100,000 in debt, including my house), I'm leaning into once-a-month grocery shopping. I'm always looking for a way to cut those costs.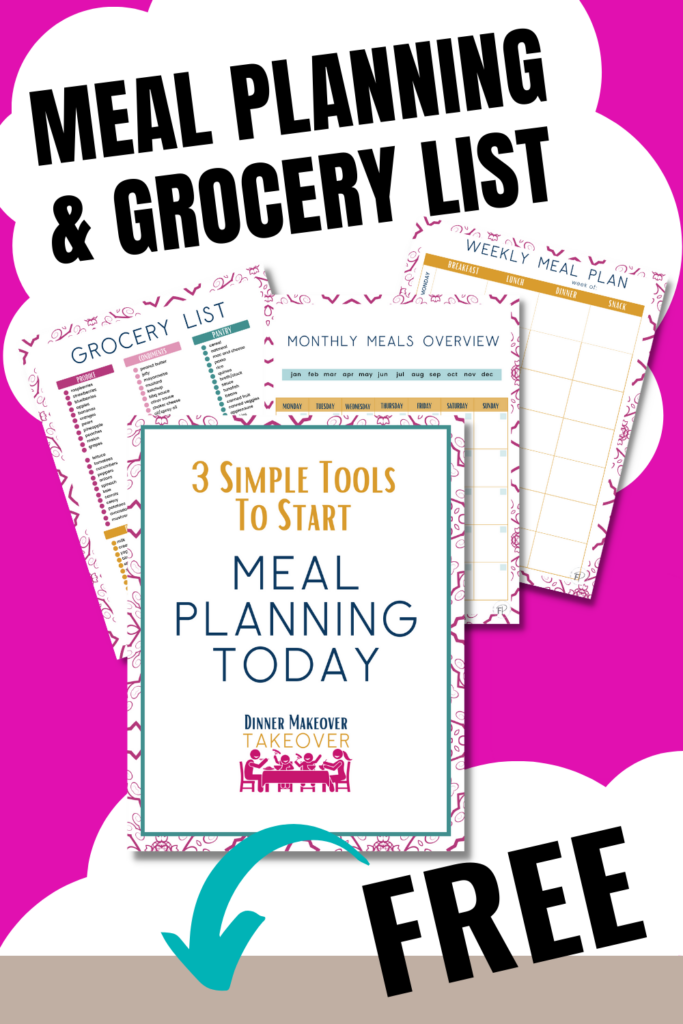 Grocery List Ideas for a Month on a Budget
When heading to the grocery market, remember essential tips like comparing prices, choosing store brand items, and understanding price and quality. It may come down to cheaper foods rather than quality.
For example, I've decided to buy canned or frozen instead of fresh vegetables.
If you are looking for more ways to save money at the grocery store, I have a fantastic resource that will provide a way to feed a family of four for under $200 a month.
It will provide price comparisons for three stores, meal planning, grocery lists, recipes, and a cheap grocery list for the entire month. I found the best food prices to make sure you can reduce that monthly bill without sacrificing health, taste, and comfort.
Consider where you shop. You can find great deals at Whole Foods, Trader Joe's, Market Basket, and other higher-end stores (always check the weekly ad for the best deals).
But consider other places like the grocery outlet, Aldi, Dollar stores, and other discount grocery stores. These are often the cheapest grocery stores to get cheap food.
Dollar General might be one of the best grocery stores for getting a deal on their food items at lower prices.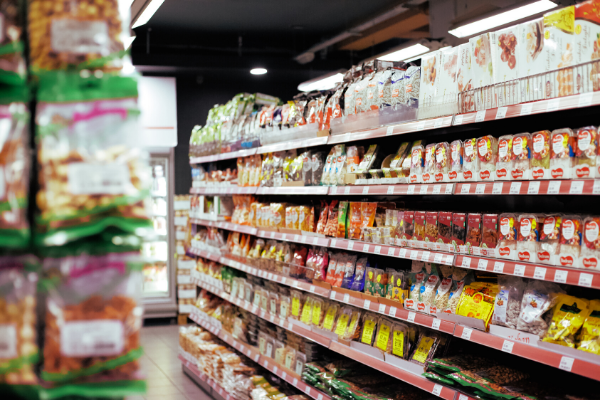 Final Thoughts On Cheap Groceries to Buy When You're Broke
Finding those foods is only half of the battle when looking for cheap eats to buy when you are broke. Planning meals and making those foods at home is the key to success.
Stock up on those pantry staples when they go on sale, and fill your freezer when you find those low prices. Aldi Stores will always be my favorite, even if I do have to rent their shopping carts.
The biggest challenge is learning to cook and finding recipes that can stretch those chicken legs. The world has recipes and resources to help you do just that.
As a financial coach, I always encourage using cash instead of credit or debit cards, especially if you are on a tight budget.
For more information on using cash to get out of debt, check out this article on Cash Envelope Wallets.