Throwing a birthday party for your teenager is a great way to connect with them and show them how much you love them. But getting everything you need for a party (especially for big kids!) can really add up. Throwing cheap birthday ideas for teenagers doesn't have to suck.
This is where creativity comes in handy. There are lots of ways that you can make an inexpensive party fun for your teen when you think outside of the box. Consider birthday party themes when making a plan.
If you are trying to stay on budget (but want to plan an epic birthday party for your teen), I've got you! Read on to find 25 cheap birthday ideas for teenagers will actually love.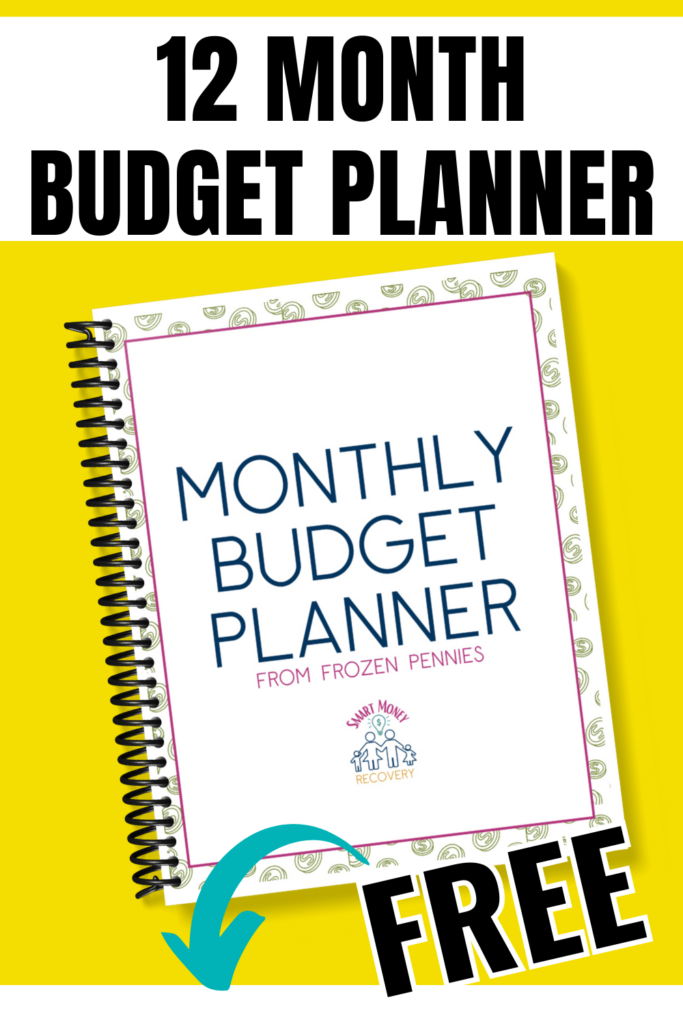 Teenage Party Ideas At Home
One major way to save money on birthday parties is to have the party at home. Your teen might be begging for a venue that costs hundreds of dollars but there are simple ways to make an at-home birthday just as fun (and less expensive!)
Here are some at-home teenage birthday party ideas.
Card Sharks: This party is great for teens and the cost is mostly food! Get several decks of cards and purchase some poker chips. Look up card game rules and either write them down and post them around the room on poster board or be prepared to be the "dealer." Have snacky foods, drinks and take a pizza break mid-way through your poker party. You can either have the kids each bring $5 to "buy" poker chips OR have the chips exchangeable for candy. Some super simple and inexpensive party ideas your teens (including boys!) will love.
Game Night: You could either use board games you have or create your own game similar to pictionary. Have music playing and snacks available and the kids will have so much fun!
Great Birthday Bakeoff: If you have a wannabe teen chef, a birthday cooking party can be so much fun! Purchase basic "pantry" ingredients, provide mixing bowls, spoons and disposable pans for cooking. You'll need to choose some sort of theme for the cookoff and either have judges or have partygoers do a "blind" taste test to determine the winner. Be sure to consider the cooking method and choose small pans that won't take long to bake!
Gaming Showdown: Teen gamers will love the chance to show their video gaming skills. If you can put a few screens in one room and borrow one or two extra gaming consoles you'll be in business for a gaming party. Have lots of comfortable seating and tons of snacks and drinks. For extra fun, draw a bracket on posterboard and hang it in the gaming room. Teens can battle it out to be the ultimate gaming champion. Purchase a $25 gift card for the grand prize winner.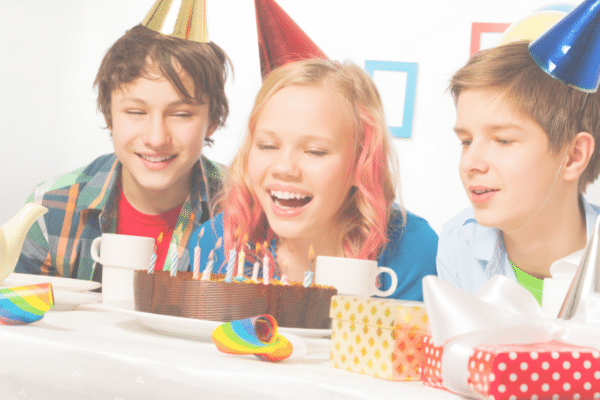 Fun Places To Go For A Teen Birthday
If your teen is insistent that they MUST have a party that isn't at home, there are "location" birthday parties that are free or low-cost. Here are some fun places to go for a cheap teen birthday party:
Park: Meet at a local park for a game of kickball, softball, soccer, or ultimate frisbee.
Scavenger Hunt: Make a list of activities that have to be completed (including photo proof!) in your city. Divide the party into a few groups and have a time limit. As a bonus, you can make all the activities some type of service (i.e. put away shopping carts, mow someone's lawn, take a dog on a walk, say thanks to firefighters). When the groups get back you can celebrate with pizza or cake.
Community Pool: You provide the poolside food and the kids pay their way in (or you can pay!).
Drive-in Movies: Much cheaper than the regular movies and you can tailgate with lots of snacks or even pizza. Don't forget the bug spray!
This post may contain affiliate links. Please see the disclosure statement for more information.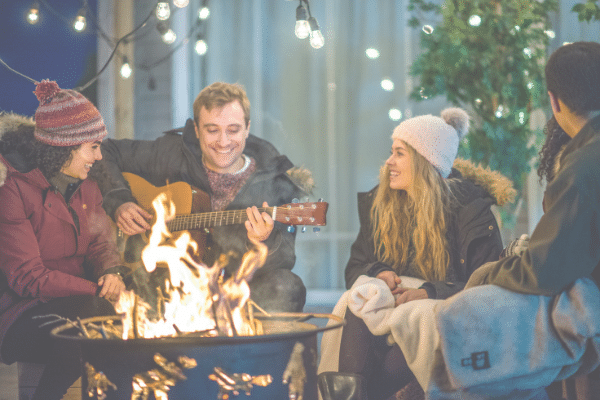 Cheap Birthday Party Ideas For Your Teenager In The Backyard
Your backyard can be an amazing venue for a fun teen birthday party. With some decorations and a creative theme, your teen will have so much fun being celebrated!
Slip N Slide: If you have a hill in your yard, you can set up an epic water slide! One of our favorite ways to DIY a huge slide is using thick plastic sheeting from a home improvement store. Use garden stakes to hold the plastic down and keep the hose anchored at the top. You can also add foam or bubbles for extra fun.
Beach Party: Set up small blow up pools for a pool party or just hook up the sprinkler. Pretend your at the beach or even throwing a luau party on a tropical island. Pick up some faux lays from the dollar store and some little unbrellas for a signature fruit punch.
Outdoor Movie Party: Take your movie night to the next level by having an outdoor party on a blow-up screen! You can ask to borrow a screen and projector from a neighbor or rent one from a local company. If you have several kids, a $200 investment can get you your own screen and projector that you can use again and again. Set up a snack stand with sodas, popcorn, and other treats. Let the birthday kid choose the movie and have blankets, pillows, and camp chairs available.
Backyard Roast Party: If you have a backyard firepit, you can purchase hotdogs and s'more fixings. Have music playing and camp chairs available for a simple but fun celebration. Set up a photo booth and grab some inexpensive camping photo props to create memories.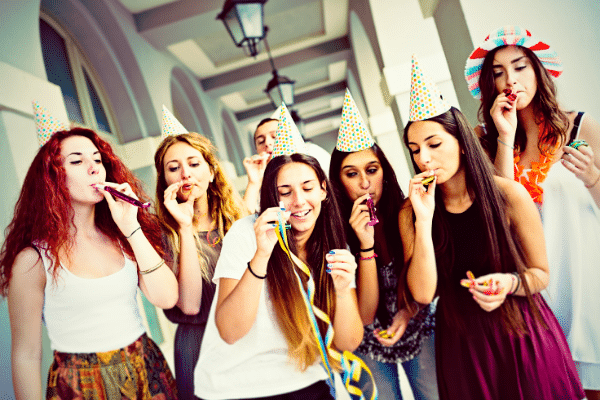 Teenage Girl Birthday Party Ideas
There are many different ways to celebrate your teen daughter's birthday without breaking the bank. We all know that the gift for a teenage girl is the expensive part. Here are a few teen girl birthday party ideas to consider:
DIY Spa Party: Pamper your teen and her guests with a spa-themed party. You can purchase a set of inexpensive face masks, fancy hand cream and fingernail polish. Put on some music and have appetizers and fancy drinks available.
Pajama Chick Flick Party: Put on some classic chick flicks and have a popcorn bar (buttered popcorn, caramel popcorn, cheese popcorn etc). Choose a chick flick from your own teenage years to make it extra unique.
Makeup/Hair: If you or a neighbor are experts in hair or makeup, you can throw a party that will teach the girls basics.
Painting Party: Purchase a set of inexpensive art canvases, some paint and find a artwork tutorial on YouTube for the girls to follow. They get to take home their own piece of art as a party favor!
Favorite Things Party: Have every girl bring three of their favorite item that is under $5. Put everyone's name in a basket three times and then go around the circle with each girl sharing what item she brought and why it is her favorite. Then the girl speaking draws three names from the bag and gives her item to each of them. Everyone will go home with three new favorites! Have some fun drinks and appetizers.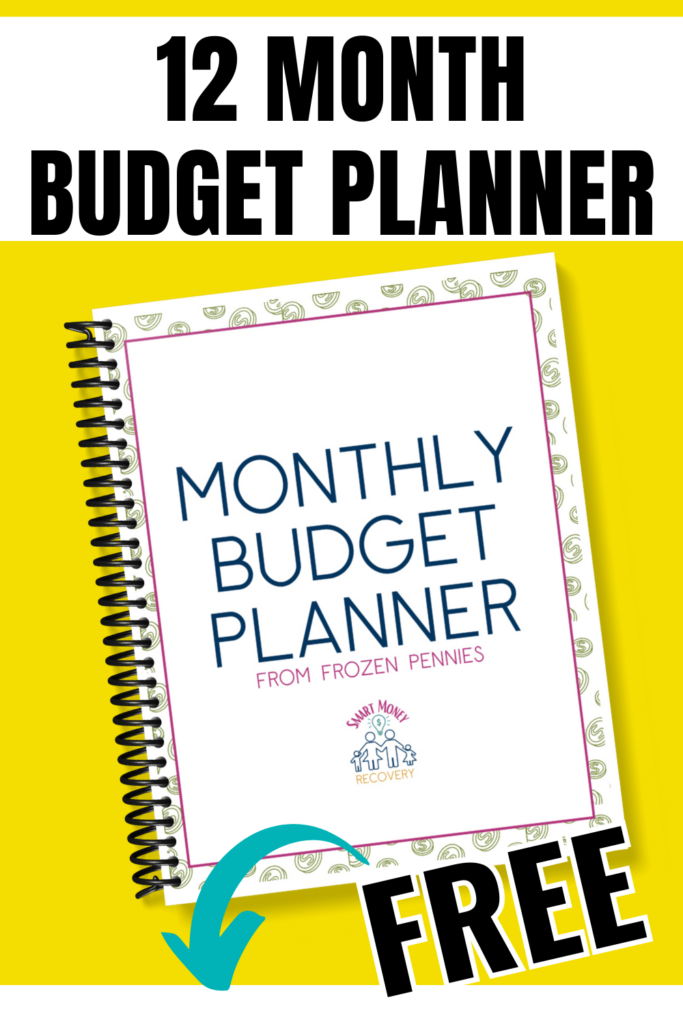 Teen Boy Birthday Parties
The most important thing to remember when throwing a teen boy a birthday party is that underneath all that height and hair is the same little boy you know and love. Choose an activity that they love and plan a fun party around that! Most boys I know are not extravagant and over the top when it comes to parties. This makes it easier to come up with cheap birthday ideas for your teenager. Here are a few ideas:
Night Games Party: Plan a few night party games including Capture the Flag and Fugitive. Have the boys bring their own flashlights or buy a set of inexpensive glow in the dark sticks to hand out.
Sports Party: If their birthday is around a big sporting event, have your son's buddies come over to watch the game together. Provide LOTS of food and drinks and they'll be thrilled.
Scary Movie Party: If your teen boy likes to be scared, pick an appropriately scary teen boy movie for a party. Bonus points if the party falls on Friday the 13th.
Olympics: You could make the events true to Olympic events OR do a silly version. Make medals out of ribbon and peanut butter cups for the big award ceremony. You could do this party at a park or a swimming pool.
Looking for a gift for Teen guys? Check out these great Teenage Boy Gifts On A Budget.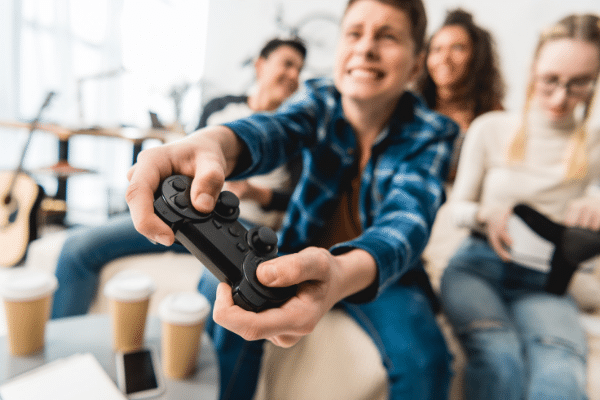 Cheap Teen Party Decoration Ideas
If you have a tight party budget, decorations are definitely something you can eliminate or skimp on. Especially if you are decorating for a teen BOY birthday party (believe me they won't notice!).
However, there are some tricks that will help you decorate a teen party on the cheap.
Borrow: Ask friends and family members if they have any decorations that you could use. You'll be surprised how many people hang onto decorations and how happy it will make them if they are used again.
Use items you already have: Go shopping in your own home first. Keep the theme in mind and see how you can creatively use your own decor.
Check Facebook Marketplace: Lots of people will sell their old decorations for cheap!
Look at a dollar store: You can find party decoration basics like crepe paper and balloons as well as tablecloths. You can add a pop of color for cheap that will make the room look festive.
Get Creative: look through the craft stash and cut out flag banners, letters spelling out Happy Birthday, and even make paper chains to take the place of streamers. Bonus points if you have a cricut. There's endless possibilities for cheap birthday ideas for your teenager.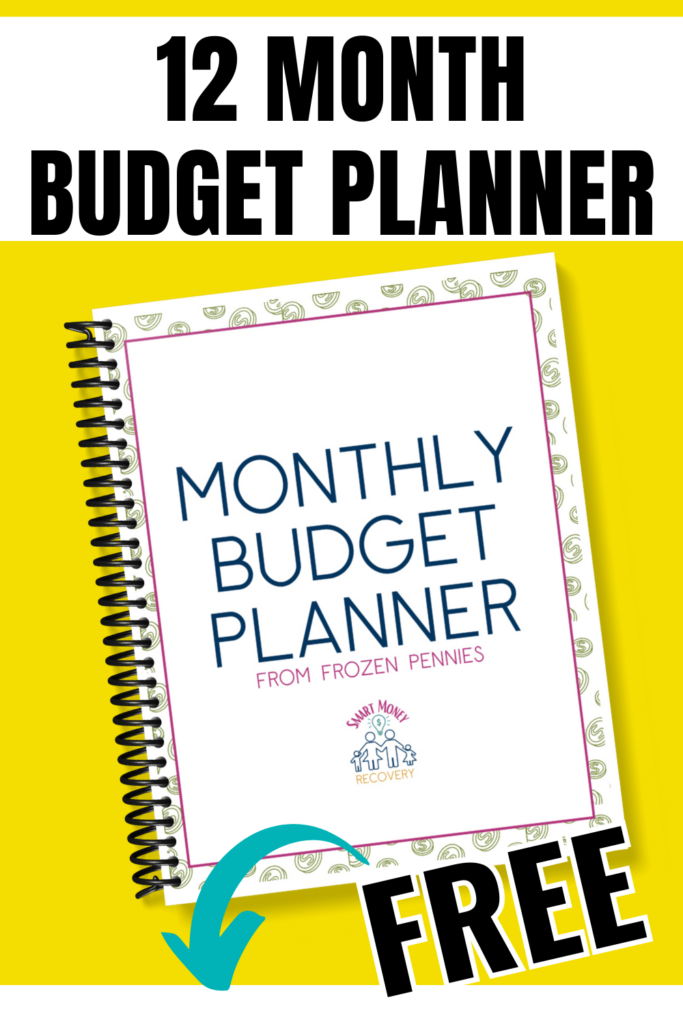 How to make Cheap Invites for your teen birthday party
Sure, your teen can just send out a text, but you can make a super cute invitation for FREE using the website www.canva.com. Set up a free account and choose from fun templates to make a png (picture) file that can then be texted out to friends.
Just because your kiddo is all grown up doesn't mean that you can't plan a memorable and exciting birthday party for them. And, contrary to popular belief, a party that is memorable and exciting doesn't have to cost hundreds of dollars! By creatively considering the things that your teen likes and using items you already have on hand you can make your teen's next birthday party the best one yet.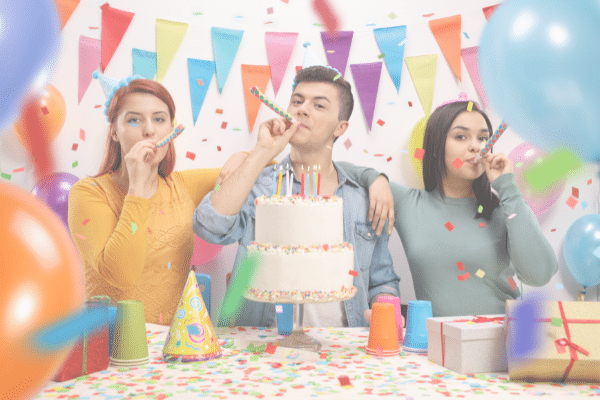 Final Thought On Cheap Birthday Ideas For Teenagers…
You don't have to spend an arm and a leg on a teen party. Honestly, I think teenagers just want to hang out with friends and NOT be mortified by their parents. So keep it simple and not over the top (unless your teen is into that) and give them a few hours with friends and a lot of food – especially the birthday cake and ice cream.