Are you dreaming of a backyard oasis but don't have the budget for a total backyard overhaul? Don't worry — you can create a gorgeous outdoor space without breaking the bank.
With these low-budget DIY backyard makeover ideas, you can transform your yard into an inviting and peaceful retreat.
All it takes is some creativity and elbow grease to turn your drab backyard into a swoon-worthy haven.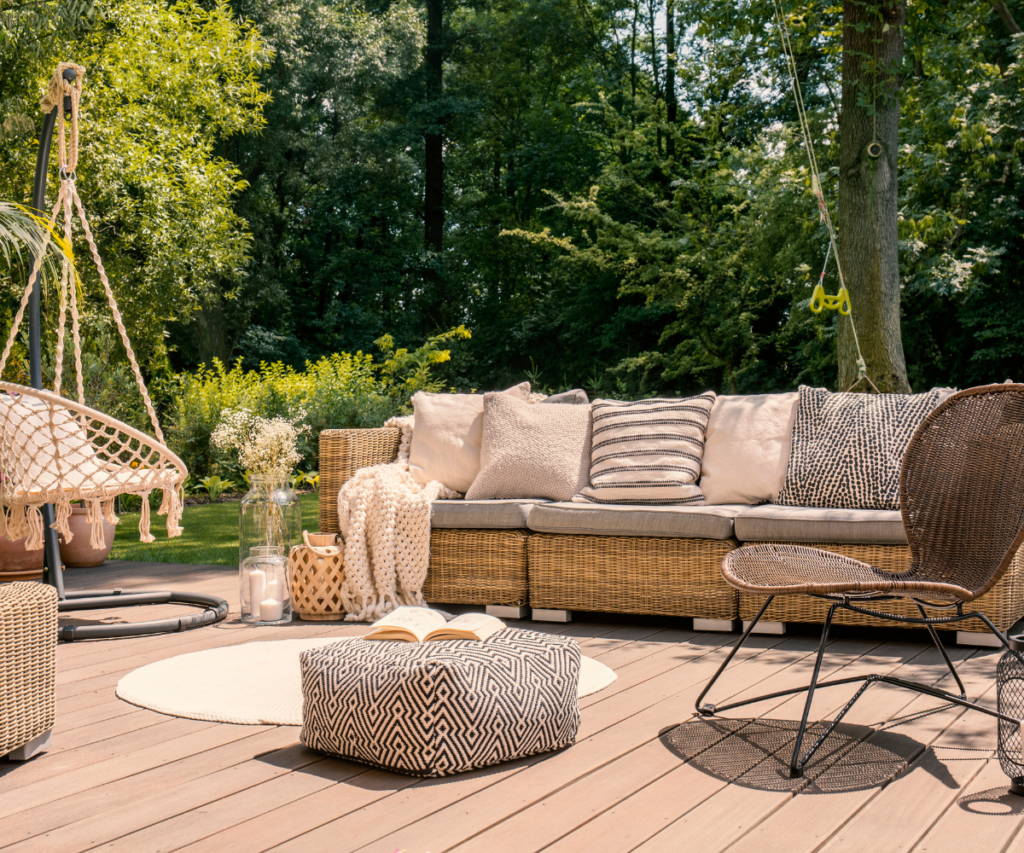 This post may contain affiliate links. Please see the disclosure statement for more information.
1. Build a DIY Patio or Deck
If you're unsure what to do or where to begin with your backyard space, filling up your empty deck area is perfect.
Building a DIY patio can instantly increase your yard appeal and add value to your home. You could lay down a concrete patio, build a wooden deck from scratch, or pick out a rug to achieve this.
Concrete Patio
The first step to building a concrete patio area is to lay out your plans. You can use a garden hose to create a rough outline.
Then, drive stakes at least a foot outside your designated area to secure the section. Once that's done, it's time to excavate your patio space.
Try to keep the excavation as flat as possible, so your footing remains even throughout. If you're satisfied with the results, you can build the formwork and pour the concrete.
After it has dried, you can have a concrete patio, which you can then decorate to your heart's content. 
Wooden Deck
Now, if you want to make a wooden deck, you can use deck blocks and treated lumber to form the foundation of your structure.
Once you have the materials ready, you can determine the height of your deck. With this approach, the ideal height is anything less than six feet high. 
You can place your deck blocks in their positions to make a wooden deck. Then place the beam planks on top. You can also use a leveling tool to ensure the planks are even and aligned correctly.
If you're happy with everything, the last step is to install joist hangers and shed anchors to strengthen the foundation and make your deck as resistant to wind storms and other natural conditions as possible. 
Outdoor Rug
If you think creating a patio or wooden deck is hard and time-consuming, another great option is to lay down an outdoor rug. This simple piece of furniture can clearly divide the seating area and the rest of your small yard. 
Once you've laid down your rug, you can decorate it with other outdoor furniture like weather-resistant tables and chairs, plants, and other accessories.
2. Buy Furniture for Your Small Backyard
Want to know where to shop for high-quality yet affordable furniture? You can check out The Home Depot for all your garden accessory needs.
They house a vast collection of items, ranging from patio conversation sets to a complete dining setup. No matter what you need, Home Depot can be your supply source. 
Also, consider Amazon, Facebook Marketplace, and garage sales if you are on a super tight budget. My mom finds things for free on the side of the road and gives them makeovers.
Those things are harder to find, so you must practice patience.
3. Create a Simple Pathway
If you have a plain and flat backyard, a great way to make it more interesting is to create a simple pathway with materials like composite, bricks, stones, and mulch. This idea can connect different parts of your outdoor space while directing people where they can go. 
If you want to add a little flair to your DIY pathway, you can add inexpensive yard decorations like garden stakes, rock formations, and flowers.
4. Design a Garden Bed
Another one of the cheap backyard makeover ideas that you can try is to design a garden or flower bed. This is an easy way to spruce up your yard and add more character to the space. 
Here are some tips to ensure that your garden beds stay fresh and vibrant throughout the years. 
Try to work with the soil when it's moist, not wet.
Ensure that the soil you're working with is at least 12 inches deep.
Add two to three inches of compost to maximize soil health and fertility.
Cover your bed with three to four inches of mulch to keep weeds from growing.
Preserve moisture by adding a top layer of compost.
With these tips, you can grow virtually any flower or plant you want. Be as creative as possible and play around with different flora sizes and variants. This can make your flower bed stand out and add a pop of color to brighten your outdoor living space. 
Ask friends and family for clippings from their perennials. They are often willing to separate them for you and share the love.
5. Incorporate a Water Feature
The best part about having a plain backyard is that you can treat it as a blank canvas.
You can do whatever you want with it, and if you're on a tight budget, one way to make a significant impact is to have a focal point that can immediately draw people's attention. 
An excellent idea for this is to incorporate a water feature. Whether it's a swimming pool, a small pond, or a backyard fountain, adding an element of water can add a "wow" factor to your outdoor space. 
An easy and popular project among homeowners is to build a stock tank pool. Follow these steps to make your own at home:
Pick a size and location: Consider your home's available space. As much as possible, situate your pool in a flat, level, and open area. Then, pick a size that can fit the whole family. You can choose between round or oval pool sizes.
Install the filter: Once your pool is set up, it's time to install your filter pumps. This component can keep your pool fresh and clean all summer long.
Maintain clear waters: While the filter can do the initial job of cleaning your pool through water circulation, there's still a chance that leaves, dirt, and soil can make their way into the water and turn it murky. To avoid this, don't forget to maintain your stock tank pool by adding chlorinating tabs every week.
6. Build an Outdoor Kitchen
If you're thinking of another investment for your outdoor space, building an outdoor kitchen is a practical backyard idea, especially if you're someone who enjoys bringing friends and family together.
It doesn't have to be expensive. You can build a makeshift kitchen with a simple grill and a couple of tables and chairs.
This can put your backyard to good use and allow everyone to enjoy their time outside your house. 
7. Add a Fresh Coat of Paint to Your Fences
It may not seem like much, but your fences play a role in the appeal and appearance of your yard.
If the paint job is too outdated and the color is saturated, it can make your outdoor space look worn out.
To alleviate this issue, one of the best ways you can approach is to add a fresh coat of paint. 
Fence revival is a simple and inexpensive way to breathe life into your lawn. You can do this task every two to three years to maximize the results. Some tips to get you started include the following:
Prep the area for painting: This means trimming shrubs by the fence and mowing the surrounding grass. If you notice any cracks or loose screws in your fence, you can make minor repairs before starting your paint job.
Smoothen out the surface: If you want a clean and even coat, one solution is to scrape chipped wood and sand any rough surfaces. This can make a whole lot of difference in the end result.
Layer a primer before painting: This can make your paint more durable in the long run and help you achieve a more vibrant finish. Plus, if you live in an area with frequent rain, the primer can help protect your wood and paint from major damage.
8. Grow a Vegetable Garden
Imagine having produce that you eat and need right outside your home. That's what a vegetable garden can help you achieve. 
Through this simple DIY project, you can add more vibrant colors to your lawn and make it worthwhile for the whole family. Through this project, you can save money on buying fresh ingredients from the market.
You can plant anything from basil and peppermint to cilantro, spinach, and parsley.
Further down the line, once you've mastered the art of gardening, you can advance your vegetable collection to include peas, carrots, broccoli, and lettuce.
9. Hang Outdoor Lighting
Regardless of what elements you incorporate into your backyard, one thing to remember is the atmosphere you want to set.
Do you want to make it more cozy, romantic, or sophisticated? You can do so by adding one simple piece: lighting. 
Lighting works wonders in your outdoor space. However, hanging lanterns can do just the trick if you're going for a more romantic vibe.
For instance, if you're going for a more whimsical feel, you can drape twinkle or string lights. 
Whatever ambiance you want to achieve, outdoor lighting can make it come true. You can find pieces for as low as $20, so you can buy an array of fixtures to bring your vision to life.
10. Create An Outdoor Fire Pit
You can find the fire rings relatively inexpensive and add some comfortable chairs for an instant gathering place in your yard. A great place to be social with friends and bond with family over roasted marshmallows and warm drinks.
You can get fancy with a concrete pad and a masonry fireplace or set a fire ring on a cleared-off area with Adirondack Chairs. Get as detailed in the design as you want!
Final Thoughts On Low-Budget DIY Backyard Makeover Ideas
With just a few low-budget DIY projects, such as adding potted plants or creating an outdoor seating area with string lights, you can easily transform your backyard into an inviting oasis on a budget.
So why not take advantage of these warm summer days by turning your dream backyard into reality? With these simple ideas, you can transform any drab backyard into an inviting escape that will make all your friends swoon!