Your relationship with money becomes one of the most important aspects of your life as a couple. Similarly, this can also cause stress in a relationship. Couples face many financial challenges as they grow. Keeping your relationship from being damaged by them is really important, avoiding money imbalance in relationships.
The large income gap between two people in a relationship could potentially cause them to part ways. A minor income gap does not make a huge difference though. But a huge gap surely makes things critical between the two.
It's always smart to talk about money at the beginning of the relationship to make sure you're on the same page when it comes to credit card debt, and tactics to save money. Both long-term and short-term financial goals.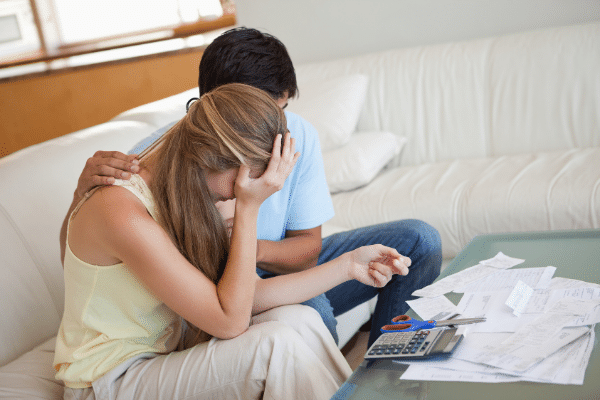 Unequal Finances in Relationships
Many couples do not feel comfortable mixing up their personal finance and personal lives. If you are successful in keeping these two things separate, you can find success in a relationship. But most of the time people cannot forget one thing for the other.
If one partner is earning more than the other, it starts to create an imbalance in a relationship. Especially when the husband is earning less than the wife, things get worse.
Traditionally, men have always been contributing more to the household finances, not because women are any less but because women always got occupied with other household responsibilities and the kids of course. But in this modern era when things have become equal for both partners, it's quite difficult to manage with each other if one earns less than the other.
Many marriages are ruined by arguments over money. In a committed relationship, it is crucial, to be honest about money, habits, and goals.
How Can Financial Problems Affect a Marriage?
The most common financial issue in marriage arises from the fact that both partners view money differently. When partners have different ideas about money, saving, and spending; managing household finances becomes challenging.
A money issue can lead to a broken relationship. You may have a difficult time living with someone if they don't want to improve their financial habits. A poverty-stricken couple will live a substandard life, and not everyone wants that. Hence, if you two
Should You Marry Someone Who Makes Less Money?
Marriages struggle when wives earn more than their husbands. But it is not the same case for every couple. If love, trust, and respect are more important than money, a couple can thrive in their relationship for sure.
There is no harm if your guy earns less than you do. But when you have chosen him over money, you always need to make sure that money never becomes an issue between the two.
Marrying someone who earns less is always a personal decision. Love should be always more important than money. But, there is no turning back once you get hitched. Hence, know the pros and cons of marrying someone who makes less money before taking any decision.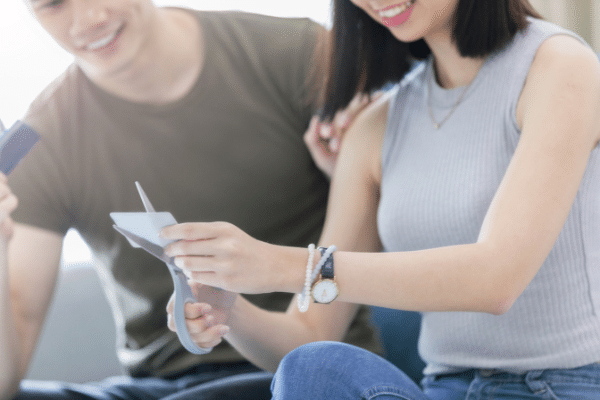 Power Imbalance in Relationships
Another reason for the arguments is unequal control and power between partners. If one partner earns more than the other, he or she always gets more power and authority in a relationship. What really causes power imbalances in relationships?
Lack of respect and trust, financial instability, and abuse can be some of the prominent reasons for the power imbalance in a relationship. Money plays a significant role again. If one partner thinks he is superior to the other in earning and managing the money, he or she may overpower the other partner.
How to Fix a Power Imbalance in a Relationship?
Every kind of imbalance can be corrected with timely actions. Discuss your finances, goals, ambitions, and insecurities with each other. Try to respect each other's financial life too. Handling the finances as a team can be one of the best solutions to have a power balance in your relationship.
Money Imbalance in Relationships
Can money break up a relationship? Yes, it definitely can. Whenever there is an imbalance of money in a relationship, there is a much higher chance of conflict. Constant stress over money issues can ruin your relationship with your partner.
If you force each other to contribute the same amount of money despite the fact that one of you earns much less than the other, it will ruin your financial and family health badly. Putting the burden of contributing an equal amount is really a bad thing to do while being in a relationship. You both need to take the right steps to ease money problems.
It's not necessary for you two to contribute equally when you do not earn equally. Your bills do not have to be split 50/50 if your incomes differ. A better solution to handle family finance is to contribute a specific percentage of your individual income. This way, you both will add a fair share of your respective incomes to your household expenses.
How Money Can Affect Relationships
Does money make or break relationships? The answer could be yes or no. Some couples do not pay much importance to monetary things including their individual income and expenses. But yes, not all couples can just live with a sense of love when they start seeing financial issues arising.
Money problems can endanger relationships, resulting in a breakup or divorce. Income inequality is one of the biggest contributors to relationship conflict when it comes to finances. Regardless of the length of the relationship, financial issues are bound to affect a committed couple.
When you are in a relationship, you need to be honest about your financial health to each other. Discuss your monetary responsibilities, debt, and every kind of loan at the beginning itself. There is no need to be embarrassed, as your partner may also be in debt.
Hiding such things can ruin a beautiful relationship. Don't let it happen to you. Being transparent about your financial goals and budgets always helps to have a strong and steady bonding with your spouse.
How To Manage Money In Relationships
Getting married is a partnership. In marriage, partners work together. The "your money, my money" thing is over. When it comes to managing finances as a couple, you can have a mutual decision to have joint or separate bank accounts.
The following are some methods for dealing with money and preventing money imbalance in relationships.
1 Combine All Your Incomes
When you combine your finances with your partner, you share a sense of unity and responsibility. You can ensure your finances are compatible before you get married by opening a joint or shared account.
Deposit your individual incomes to this account each month. You will spend from this joint account for all bills and can also decide to spend on personal expenses keeping a pre-decided budget in mind.
To make it more successful, you need to talk to your partner and plan your monthly budget based on your combined income. This way, you both will have transparency while handling family finances successfully.
2 Combine A Specific Percentage of Your Income
This is another method that can help you manage money in a relationship. You both can combine a specific percentage of your income with your joint bank account. This amount can be used for your grocery bills, electricity bills, and anything else that is not a personal expense yet are shared bills.
It will help you share the family responsibilities together while you still can enjoy your independent lives from your personal bank accounts.
3 Don't Mix Your Finances
Well, this method can be a bit tricky when it comes to you as a couple. Hard to follow but not really impossible to implement, right? If you do not wish to mix your finances, it's absolutely fine.
You still may discuss a few things with each other and follow separate budgets individually. This method has its own benefits. If any one of you is not that great in financial management, the other partner's money is not harmed at all.
You may take up the job of paying specific bills only and your partner may agree to pay the others. This works, too if you are splitting the bills and have shared expenses; you get to decide who will pay bills for which expense.
4 Live On A Single Income
This is another effective method when it comes to family budgeting and money imbalance in relationships. It is possible to save your second income for other monetary goals with just a bit of adjustment to your spending habits.
Is it really possible? Yes, it may sound difficult but you both can live a comfortable life while implementing some of the best budgeting methods and live off one income.
Living on a single income means you have another paycheck left over to spend however you like. You can plan some of your biggest dreams by saving an entire income every month. This method may add beautiful colors to your personal and financial lives.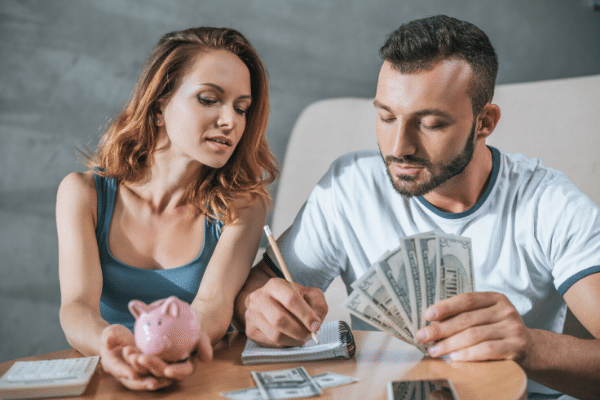 Final Thoughts on Working Through Money Imbalance in Relationships
Is your marriage strained by money? What can you do to make it work better? Every step you take towards making your relationship work is proof that you hold your spouse in high esteem over money to help with money imbalance in relationships.
Financial health between a couple can be improved by various steps discussed above. Most importantly what you need as a couple is the desire to have a balance of every kind. When you work towards having this balance with various methods to work through money imbalance in your relationship, you are sure to thrive as a couple. Focusing on spending money, how you each handle money, and financial planning will make a relationship that much stronger.