Being Organized With A Budget Binder
First of all, let me say that organization is my number one tip for saving money. My finances run so much smoother when I know how much is going in and how much is coming out as well as when things are due. I have had a budget binder for a long time and I have noticed that it was getting a little plump. So, I decided to separate it into two different binders. One will hold the 'every paycheck' papers that I need and the other will hold the papers that I don't have to frequent as often. The new binder came in a set of six with three very pretty colors and the almost matching dividers were something I searched and searched for! The other binders will be used for my office as soon as the renovation is done!
You can see the first post where I introduced the old Budget Binder here. I am going to give you a tour of those binders and show you what my sections are and how I work my system. Everyone wants to know the details and the designs.
Budget Binder Section One:
First, this section is labeled Current Budget.
It holds a printable I made with the full budget expenses entitled This Month's Budget. Catchy, right?? There are four columns labeled Budgeted, Paycheck #1, Paycheck #2, Paycheck #3 (for those months that have a third paycheck) and Actual.
These categories are: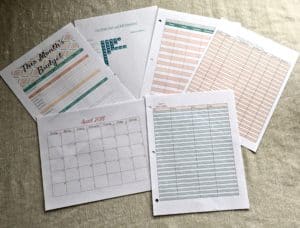 Income (one family income)
Giving (Food Pantry, Other, Christmas, Birthdays, Other Holidays)
Home (Maintenance, Taxes) (We are mortgage free)
Utilities (Electric, Cell Phones, Cable/Internet, Car Ins, Sirius, Netflix, Dad's house, YMCA)
Transportation( His Gas, Maintenance, Licence/Registrations, Her Gas)
Food (Date Night, Groceries)
Household (Clothing, Haircuts, Bella The Dog, His/Hers Money, Camp, House and Hygiene, BJ's, Misc)
Debt (Van, Student Loans)
This section also holds the Cash Worksheets. I created a worksheet that I use every two weeks to evaluate the month and get our cash out as needed. This also has squares to mark off the denominations we need. I utilize this when I come back from the bank to put cash where it belongs.
The third component of this section is the current month calendar. The current calendar printable that I made goes right in the front with the dates of all bills. Every paid bill gets a check mark.
Budget Binder Section Two:
Check Registry. This is where I keep my checking account register. I created a full page size of an "old-fashioned registry" so I can keep track of everything that comes out of the checking account. Every dollar is accounted for. This way, if something comes out that I didn't authorize, I will know. Or if the electric company doesn't get a payment because it is lost in cyberspace (it has happened), I will know that before it goes too far. There isn't much to do. Since we use cash, our checking account doesn't see much action.
Budget Binder Section Three:
The next section I like to call The Safe. It sounds powerful and strong! And it really is! This is a breakdown of what is in our savings account. I have it separated into four categories (Taxes, Dad's House, Snowblower, and Renovations) and a final Total Balance. This way, I can keep track of how much we have versus how much we need. It's the better alternative to having four other savings accounts.
Budget Binder Section Four:
I keep a printable of an Expense Tracker here. This isn't something we use all the time but if there is something specific we are doing and I want to track how much we have spent, it's a great tool to have so I don't have to try to keep it all in my head.
Budget Binder Section Five:
Section Five of this Budget Binder is just for Past Budgets. It is a good place to look back if ever I wanted to and if there were ever any questions about where money was spent, I have a reference.
In conclusion, here is the honest truth about budgets. Unless you are tech savvy or really creative and like to spend time putting these together, you just don't have to. You just need a piece of paper and a writing instrument (pen, pencil, and the ever so popular among Mama's and Dad's…crayon). Just make sure you get it down. There is also some great app's that will allow you to do it all on your phone or computer. I have heard good things about Every Dollar.
If you want to take control of your money, you need to know where it is going. Maybe, you can gain a better understanding of where it is going if you are telling it how to get there.
How you want to do it, whatever your thing may be. Most of all, you really just need to do it. DO. A. BUDGET. Every month. On time. On purpose.
If you like this post, please consider subscribing!

SaveSave
SaveSave
SaveSave
SaveSave
SaveSave
SaveSave
SaveSave
SaveSave
SaveSave
SaveSave
SaveSave
SaveSave
SaveSave
SaveSave
SaveSave
SaveSave
SaveSave
SaveSave
SaveSave
SaveSaveSaveSaveSaveSaveSaveSave
SaveSave
SaveSave
SaveSave
SaveSave
SaveSave
SaveSave
SaveSave
SaveSave
SaveSave